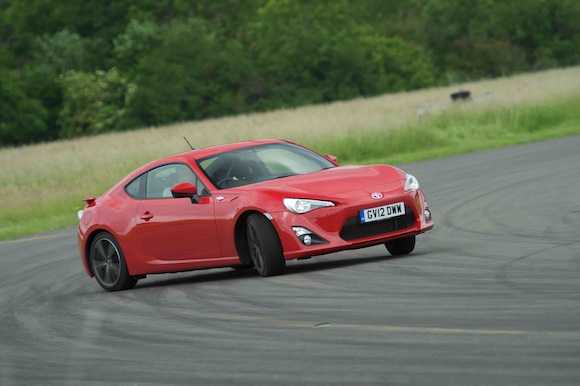 The Toyota GT86 has made its long-awaited television debut with Top Gear – continuing its run of superb reviews.
Jeremy Clarkson described the GT86 as 'brilliant' and said it 'would put a smile on the face of every motoring enthusiast in the world'.
He also praised its low centre of gravity and focus on driving dynamics and handling over horsepower, saying: "The engine is a flat-four boxer unit, and that means it can be mounted low down – and that means a low centre of gravity. There's no turbocharger, so there's no lag.
"Everything about the GT86 is immediate – and brilliant."
He added: "It's obvious the GT86 was not designed to set new lap records at the Nurburgring, and with a 197 horsepower two-litre engine it won't win many drag races either.
'What it will do though, is put a smile on the face of every motoring enthusiast in the world."
And in a break from normal Top Gear service, Clarkson even praised the car's real-world ownership credentials, saying: "It isn't even stupid. It comes with easy finance and a five-year warranty. Cruise control and Bluetooth and air conditioning come as standard."
After Clarkson's review, Top Gear's famed test driver, The Stig, took the GT86 around the track, setting a lap time of 1:31.3 – fairly low on the supercar-filled league table, but still a respectable two seconds behind the £73,000 BMW M5 and another two behind the Porsche 911 GT3.
But as Jeremy noted himself, what matters is not how fast a car is, but how much fun you can have in it.
The segment on the TV show was the third time Top Gear have got their hands on the GT86 – it won the magazine's Speed Week performance car test last summer (from which these images are taken), and was named the Top Gear Car of the Year in December.
If you missed the show, you'll be able to watch it again until Sunday, February 17th on the BBC iPlayer.
Read more of our posts on the Toyota GT86 here, or book a test drive on the Toyota website.