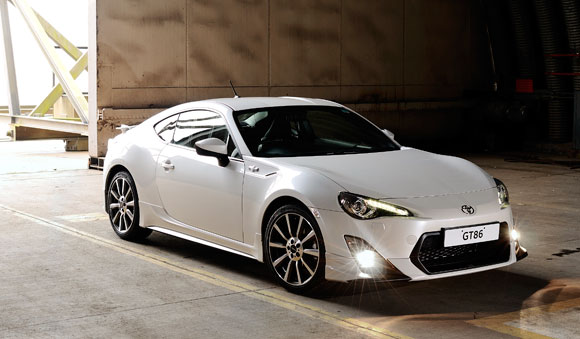 After months of speculation, Toyota has finally confirmed that a TRD tuned version of the Toyota GT86 will be sold in the UK.
The Toyota GT86 has proved a huge hit among car enthusiasts since its launch last year. The new Toyota GT86 TRD will build upon that with a series of subtle modifications aimed at improving the car's looks, and its suspension.
Just 250 examples of the GT86 TRD will be available, each equipped with design and performance features from TRD (Toyota Racing Development), one of the world's most accomplished and successful after market engineering businesses.
On sale from March 1st, the GT86 TRD will be available with either a six-speed manual or automatic gearbox and in a choice of two colours: Pearl White and GT86 Black. On the road prices are £31,495 for the manual and £32,995 for the auto.
The TRD equipment package includes 18-inch cast TF6 alloys, deep front and side skirts, a rear bumper spoiler and a fast-response quad-exhaust system with a rear diffuser to increase stability. A TRD-branded radiator cap and fuel filler cover are also included, as well as a new TRD gear shift lever.
Acceleration and maximum speed are unchanged at 7.7 seconds for 0-62mph and 140mph for the manual and 8.4 seconds and 130mph for the automatic. There are slight changes in fuel consumption and emissions: 192g/km and 34.9mpg for the manual and 181g/km and 36.2mpg for the automatic (all figures official combined cycle).
GT86 is the first UK Toyota for which official TRD parts have been used to create a specific production model grade.
[youtube width="560″ height="340″]https://www.youtube.com/watch?v=3Pfw0Hr2fio[/youtube]
An early GT86 TRD concept first appeared at the Goodwood Festival of Speed last summer, while TRD announced its own plans to build a GT86 race car in January.
It has also received major accolades from Top Gear magazine, Autocar, Auto Express and many more top motoring publications, while earlier this week the first GT4 racing version was announced by race specialists GPRM.
You can read our GT86 reviews round-up here, or find out more on the Toyota website.