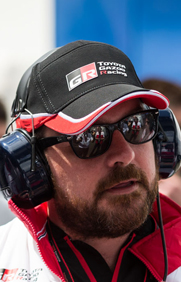 James Clark recently joined Toyota PR & Social Media team as PR Manager, but before he came on board we lent him one of our race livered GT86s. He rather liked it. Here's his blog…
Home for lunch and I can't help writing about this thing. No car has had such a dramatic effect on me since… well, I can't remember, but I was almost certainly at an age where I still thought a career in a rock band was a genuine possibility.
The dynamics of the Toyota GT86 you know all about, I'm sure. If you're in to your cars you'll have read the reviews. I'm not going to rehash them here.
But if you are into your cars you rarely admit to chinks in your driving armour, which is understandable. We rarely do. But the GT86 has made me think I can admit to them and it's what it turns me into which is intoxicating, and slightly alarming.
Find out more: Toyota GT86 inspired by the IMSA GTU class Toyota Celica
Firstly it's been a long time since I found so many excuses to go for a drive. Despite the speed cameras and potholes and traffic, I can't spend more than 15 minutes in the house without getting jumpy, unable to concentrate on anything and going out in it again. Like the Lancia Beta Coupe I had when I passed my test at 17, I just want to be in it all the time (pleasingly that's where the similarities between them start and stop).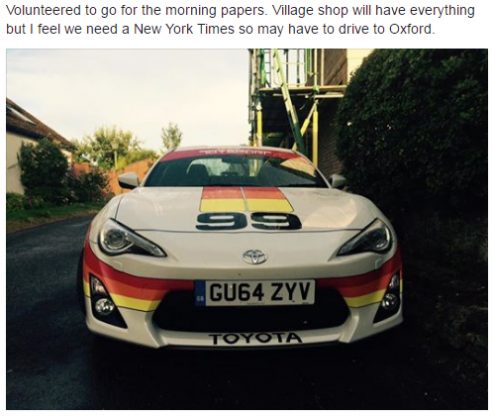 Secondly age, income and work have allowed me to knock about in some magnificent cars over the years. Huge power in many cases, and that's great, but the GT86 has made me realise how I drove them, or rather how they drove me.
For example, my son wanted a ride in it so I took him to his friend's house this morning. I'm not in any way daft with him and I would never put him at risk, but we went off down the twisties from our house with all the electronic aids off in sport mode (as if normal wasn't sporty enough). We got stuck behind two cars doing 40mph, and over took both of them on a short straight which ends in a right-hand hairpin then a set of double esses.
There was room to do it, working the box and braking right, but I would never have done it in a 500bhp car. I'd have sat there and done them on the B-road five minutes later, effortlessly.
Then there's solo running. I'm coming home physically feeling it, mentally pooped, senses up. I'm not going silly fast but I'm carrying the speed through the bends, back end skipping a little (the lower ride and big tyres in this modified car perhaps change the character from the standard car).
I can feel in places where if I cock it up there'll be tears before bedtime, rather than what I'd do in a big grand tourer – which is sweep through bends actually not that fast and then point and squirt the insane power between each one.
It's what the GT86 turns me in to which is intoxicating
And that specially fitted race suspension, which is so wonderful in the bends, also means it can be a bit of a bone shaker on the badly maintained straights out here. The revs jump as the back bounces over a pothole, the whole thing can crash and bang a little here and there. It requires fierce concentration and endless correction.
All of which is fabulous, and so much more deeply fulfilling than just wafting along while 25 computers deal with everything and you're reduced to thinking about your tax return. Admittedly, I'm of an age where I appreciate the air-con, the Bluetooth phone and the sat-nav, but they just make the thing every day practical/usable.
Find out more: Toyota GT86 pays tribute to its heritage with classic liveries
And finally the power… the "contentious" thing about GT86. I've noticed that people I know who regularly drive powerful cars, or race, all love the GT86. Those who don't do either are the first to say "it needs more power".
I don't know who or what is to blame, possibly 20 years of "Car X versus Car Y, which is 0.1s faster to 60?" articles, but folk seem to have forgotten that a light, 200bhp car is very capable of putting you 300 yards into a field on your roof. The joy, and that's what it is, of this thing is there's plenty of power to go very fast…if you know what you're doing and can carry the speed.
And those of you who do understand that also understand that's where the magic is, being near the limit, sometimes over it, correcting a little, feeling like a cross between Ari Vatanen and Johnny Dumfries as opposed to your boring mate who is prattling on about his 550bhp whatever.
I've come to realise I'm long out of practice at this stuff on four wheels (I ride bikes). Despite a litany of madly fast cars on the drive over the years, it turns out I haven't actually done that much "driving", so I'm scaring myself a little. So that's good, empowering, a complete ball and a lesson to get some track time in somewhere.
GT86: better for self-analysis than a New York psychiatrist, plus vastly cooler, a lot cheaper and so much more fun.
See also: Toyota creates manga-inspired GT86 Initial D concept