On its UK launch in 1979, the new four-wheel drive version of the third-generation Toyota Hilux was pitched as two vehicles in one: a tough, go-anywhere workhorse that was also pleasant and comfortable to drive.
At the time, all-wheel drive was a unique proposition within the compact pick-up market. It didn't take long for this variation to become the most popular in the Hilux range. But how was the potential and dual-purpose nature of this new Toyota model first expressed to potential owners?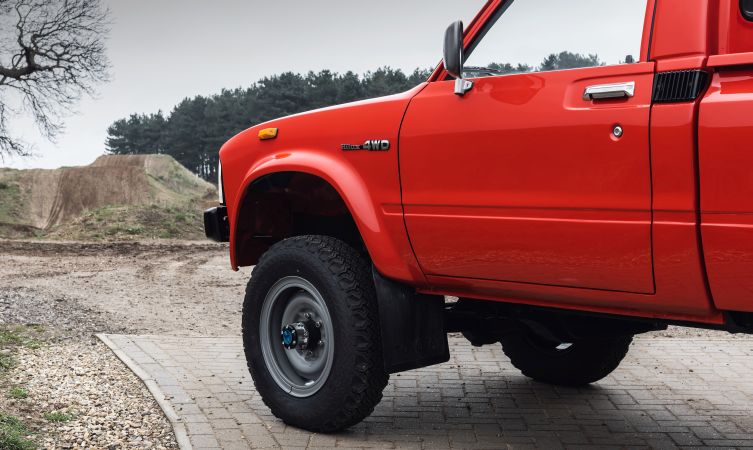 The following text is taken from the UK launch brochure, which helps us understand the vehicle's abilities within the intriguing context of late 1970s motoring. The Hilux pictured is a fully restored example from June 1980, owned by avid collector Guy Nicholls.
The new Hilux 4WD by Toyota
The heart of the Hilux is its four-wheel drive system – a new transmission combination that gives this new Toyota the skill to work where others would not dream of going. Its 16-inch wheels and 12-inch ground clearance help make it a go-anywhere vehicle, even with a payload of more than one ton. And Toyota's 2.0-litre engine not only produces the performance you need but is economical too.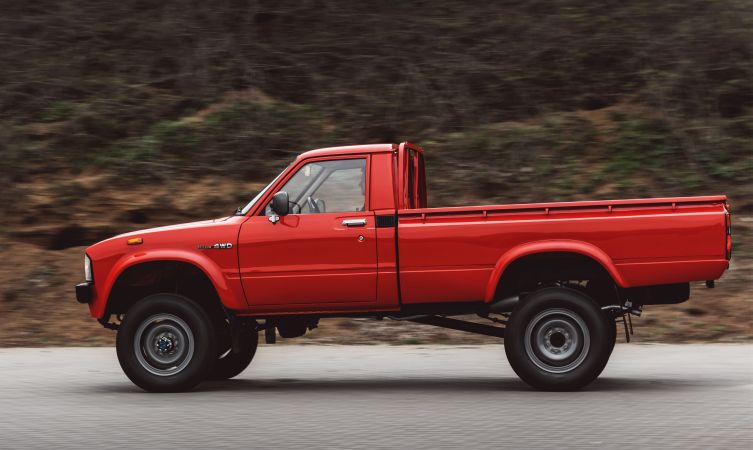 One of the big Hilux plusses is that when you want to take time off, it's happy to go along with you
One of the big Hilux plusses is that when you want to take time off, it's happy to go along with you – towing a boat to the beach or a horsebox to the gymkhana, even on a shopping trip. It's built to ride, fully furnished, trimmed and heated just like a car. Cruise up the motorway at 70mph with power to spare, mingle with town traffic, or let Hilux 4WD tackle the toughest conditions where you want to put it to work.
As well as building sturdy commercial vehicles, Toyota is one of the world's biggest car manufacturers, so we have plenty of experience when it comes to creature comforts. This has helped us design a driver/passenger compartment that's quiet and comfortable and a driving position with all the instruments and main controls grouped around the steering column. A vehicle that is light and easy to handle with a comfortable ride, a cab which is sound-proofed, gives the occupants plenty of room and cuts down on driver fatigue; that was our aim and that's what we have achieved.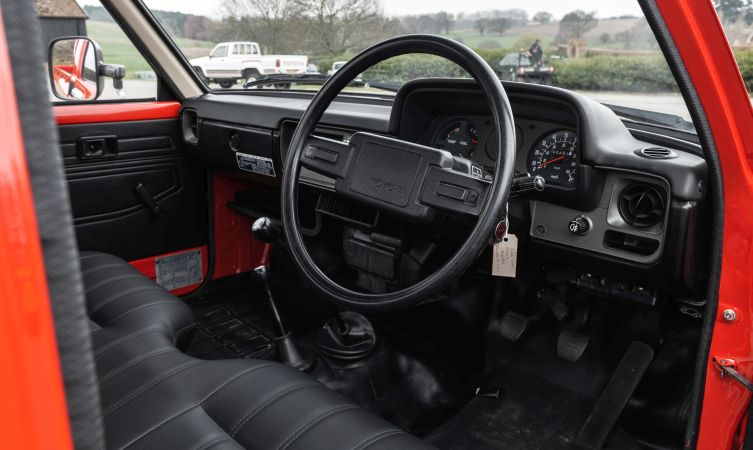 First, it looks right – an adjustable bench seat with head restraints and room for three people; fold the back of the seat forward and there's the tool kit, wheel changing equipment and extra stowage space. Seat belts are part of the standard specification, so are the eyeball air vents at each end of the fascia and the high-performance heater with a three-speed booster fan.
There's a locker on the passenger side and a large shelf under it. Also standard are the two-speed wipers with intermittent wipe, electric screen wash, steering lock, sun visors, a rear-view mirror and two big door mirrors. We have also fitted our chunky two-spoke steering wheel, which is comfortable to handle even in really hot conditions.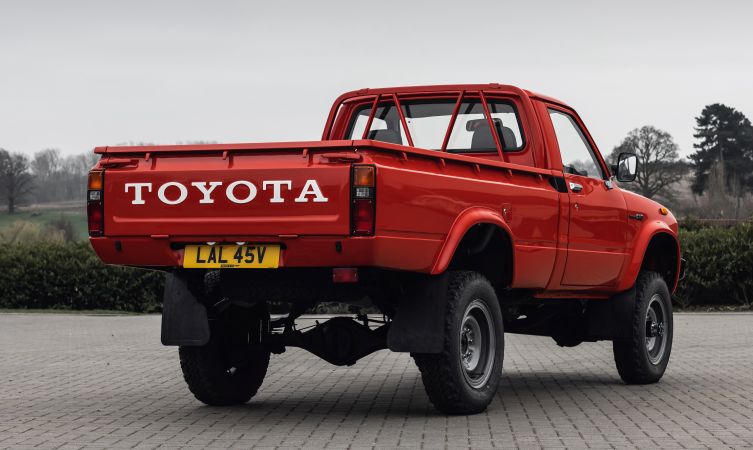 This is Hilux versatility and Toyota know-how
Our new four-wheel drive system is what makes Hilux indispensable when it comes to getting down to a real job of work – yet it's so simple to operate. The longer, conventional gear lever controls the Toyota synchromesh gearbox and the single lever behind operates a transfer box to select high-ratio two-wheel drive, high-ratio four-wheel drive, or low-ratio four-wheel drive. This is Hilux versatility and Toyota know-how.
For exceptionally difficult conditions or maximum hill-climbing ability, lock the front hubs and select L4. This engages a low ratio that will take you safely over ground where lesser vehicles fear to tread, aided and abetted by the big, strong-gripping semi-lug tyres.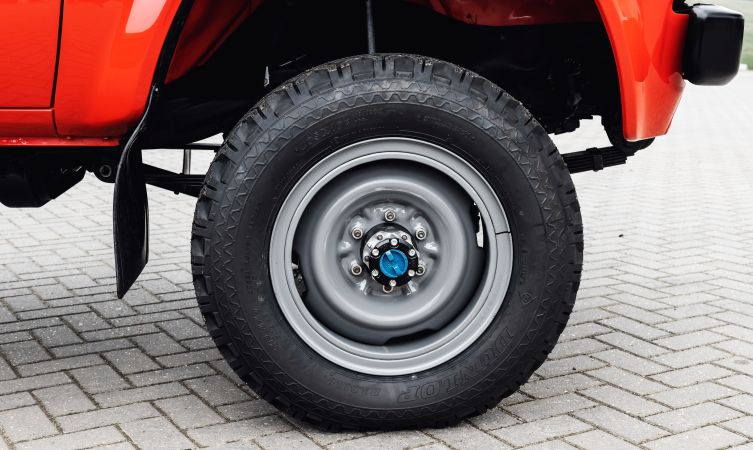 If conditions aren't quite so bad but still a little sticky, then H4 is the answer. You still have four-wheel drive but you can now travel faster with less effort and more economy. Then for surfaces which aren't demanding, it's H2 you need. Turn the front hub control to 'free wheel' and you have conventional rear-wheel drive for maximum economy and even lower fuel consumption.
Drive to the rear axle is by a conventional two-joint prop shaft. For the more acutely angled drive to the front wheels the short shaft has a universal joint at the transfer box end, reducing noise and vibration. Separate grease nipples are fitted to the joints of the forward shaft and constant-velocity joints are fitted inside the front steering swivels.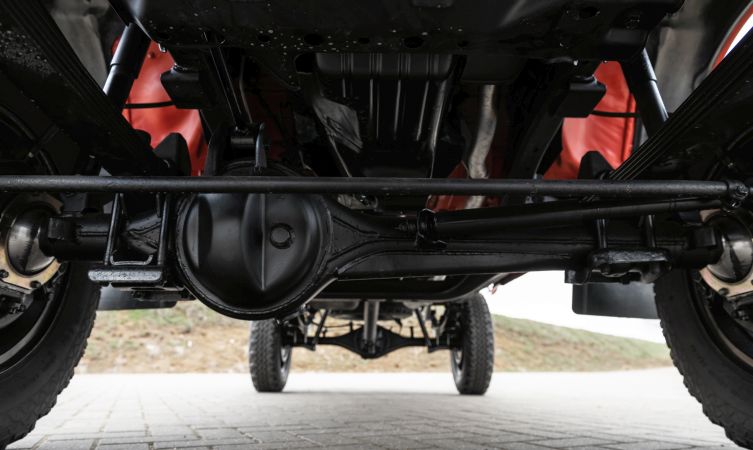 The long wheelbase of the Hilux means there's plenty of cargo area. In fact, there's over three square metres of steel deck with a maximum length of 2185mm, maximum width of 1430mm, and a payload capacity of 1085kg with heavy duty rear springs to cope. The hinged tailgate is held by two powerful, swivelling handles and small hooks around the sides and tail allow the optional tonneau cover to be lashed down over the cargo. A guard rail protects the rear of the driving compartment, with ladder stops fitted to help keep long loads in position.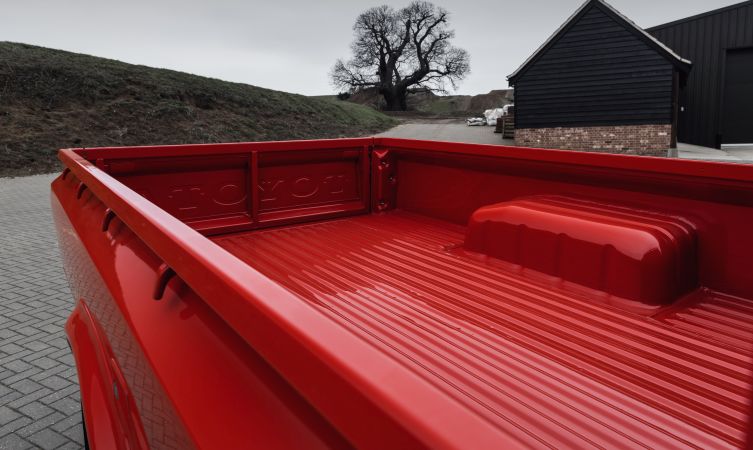 Hilux is built to stay at work with the minimum of attention
Mud flaps behind all four wheels cut down spray and plastic liners help protect the front wheel arches from corrosion. Other anti-corrosion treatments include the use of rust-prevention oil and sheet steel galvanised on both sides for over 50 parts of the bodywork.
Toyota designers and engineers have always put safety at the top of the list. Their exacting standards have been applied to the Hilux – suspension developed to give safe handling in all conditions and yet reliable and easy to maintain or repair. A double-jointed safety steering column – excellent visibility – front disc brakes and drum brakes on the rear wheels operated by independent circuits with a warning light to indicate low fluid level in the master cylinder – the fuel tank mounted inside the chassis frame is protected underneath by a shield – a guard rail to protect driver and passengers from a load shift in the event of sudden hard braking or an accident.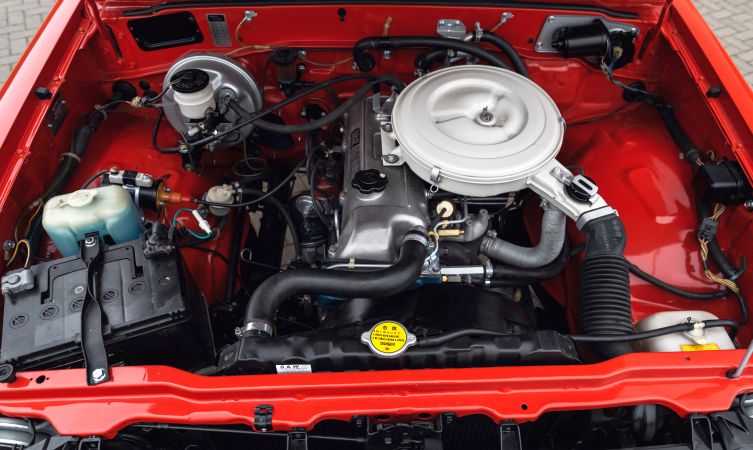 Finally, Hilux is built to stay at work with the minimum of attention. A heavy-duty starter motor and battery, and automatic choke ensure easy starting, even in the coldest conditions. The four-cylinder 18R engine has a history of reliable service in Toyota cars. And a 3.5-hour service at 6000 mile intervals means that for work or pleasure you get the maximum use from Hilux – two vehicles in one with safety, reliability, economy and comfort.
1979 Toyota Hilux 4WD specifications
| | |
| --- | --- |
| ENGINE: | Four cylinder, petrol, single OHC, water-cooled, five-bearing crankshaft. Bore and stroke – 88.5x80mm. Capacity – 1968cc. Compression ratio – 8.5:1. Max power – 89bhp at 5000rpm. Max torque – 107 lb/ft at 3600rpm. Nikki twin-choke down-draught carburettor with automatic choke. Battery – 12V 60Ah. Alternator – 12V 40A |
| CLUTCH: | Single dry plate, 254mm diameter |
| GEARBOX: | Manual four-speed, all synchromesh, floor change. Ratios – first 4.016, second 2.510, third 1.534, fourth 1.000; reverse 4.571:1 |
| TRANSFER BOX: | Two-speed helical gear, 2/4 wheel drive. Ratio – high 1.000, low 2.277:1 |
| FINAL DRIVE: | Semi-floating, hypoid, ratio 4.875:1. Free-wheeling front hubs |
| PERFORMANCE: | Max speed – 85mph |
| STEERING: | Recirculating ball, variable ratio 20.5 – 23.5:1 with damper |
| BRAKES: | Dual-circuit hydraulic with 254mm front disc, 254mm rear drums, load sensitive pressure valve. Tandem master cylinder with 190mm servo |
| SUSPENSION: | Front – live axle, semi-elliptic leaf springs, radius rods and double-acting telescopic shock absorbers. Rear – live axle, semi-elliptic leaf springs, double-acting shock absorbers |
| EQUIPMENT: | Bench seat with head restraints, steering lock, interior mirror, two door mirrors, driver and passenger sun visors, cigarette lighter, parcel tray, rubber floor mats, two-speed wipers with intermittent wipe, locking fuel cap, heavy duty heater/demister with side demister, fuel tank shield, heavy-duty rear springs, front free-wheel hubs, hazard flashers, guard frame, front towing hook, seat belts, brake low level warning light, wing liners, rear deck guard panel, mud flaps, rear fog warning lamp |
| WHEELS AND TYRES: | Pressed steel 5.5×16 wheels with 205R16 semi-lug Dunlop tyres |
| FUEL TANK: | Capacity – 61 litres |
| DIMENSIONS AND WEIGHTS: | Wheelbase – 2800mm. Track front – 1420mm. Track rear – 1400mm. Overall length – 4725mm. Overall width – 1690mm. Overall height – 1775mm. Ground clearance – 305mm. Kerb weight – 1315kg. Gross weight – 2400kg. Towing capacity – 1200kg braked or 400kg unbraked |
Learn more: History of the Toyota Hilux