Models such as the Starlet and Yaris have both been shining stars in Toyota's small car galaxy. However, as the supermini launch pad of the early 2000s demanded ever larger dimensions and safety kit for town transport, the stage was set for even teenier townies – and that's where the history of Toyota Aygo begins.
History of Toyota Aygo – first generation
The first-generation Aygo arrived in 2005, and not only was its entry into the busy city car market new, it brought with it a fresh nameplate. A play on words from the phrase 'i-go', the Aygo was aimed at the young about town, its 3415mm length almost 300mm shorter than its larger Yaris stablemate.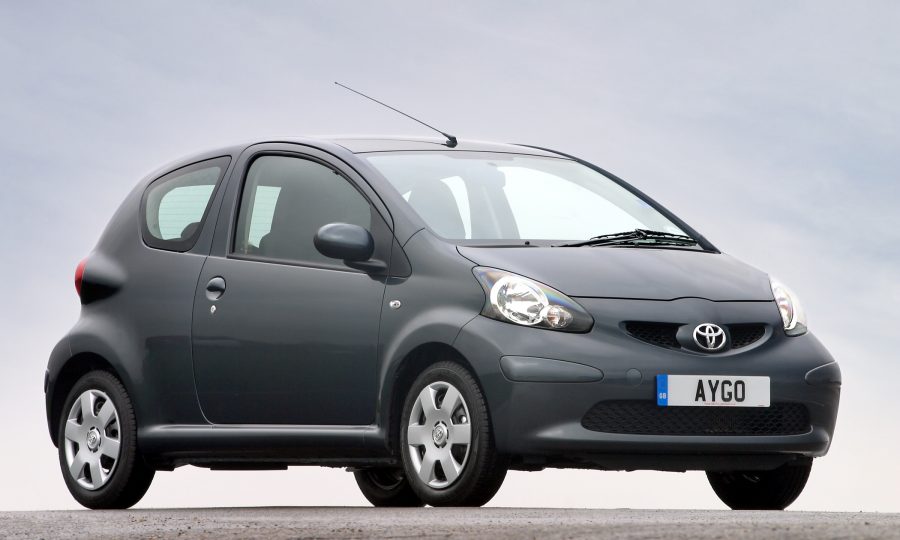 Also new was its origins, a result of a tie-up with French car manufacturing conglomerate Groupe PSA. Now, Toyota has been partial to partnerships before (VW Taro/Toyota Hilux of the 1980s, anyone?), but the Aygo was specially designed for Europe, and produced at a new TPCA (Toyota Peugeot Citroën Automobile) factory in Kolin, in the Czech Republic.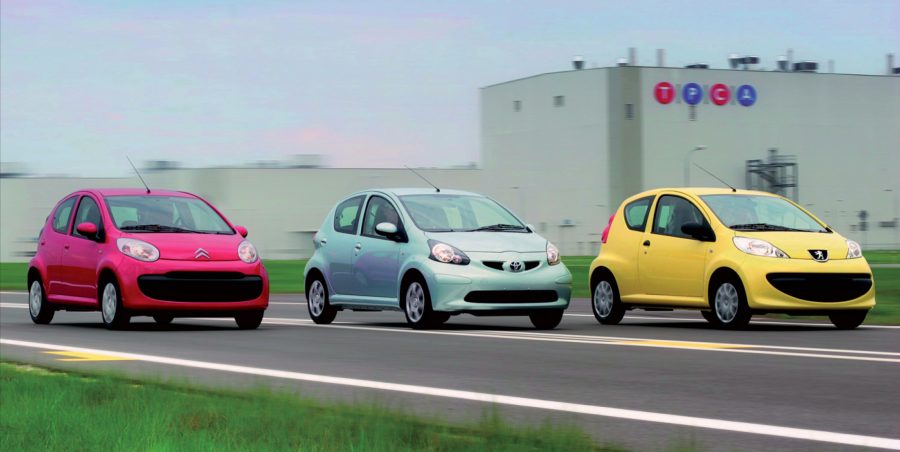 Sharing the same basic chassis, running gear, and mid-body section with its equally new Citroën C1 and Peugeot 107 cousins, the Aygo's front and rear body work were unique.
Read more of our model history series
Its wide grinning front grille and curvy all-glass rear hatch gave it a cheeky appearance, and the dinky Toyota soon made many friends. Playful in spirit and in design, the Aygo's cabin featured a single speedo which sprouted a rev counter and semi-opaque, vertical sliding heater controls.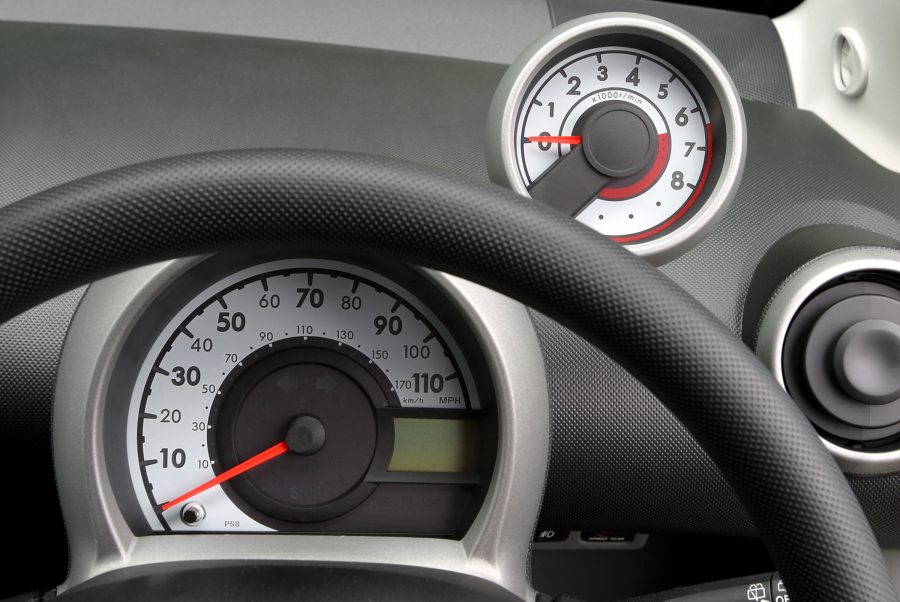 Being small in stature didn't mean the Aygo skimped with safety kit. One of the safest cars in its class, selected models had the option of side and curtain airbags, Isofix rear child seat mounts, as well as Vehicle Stability Control (VSC) and Traction Control (TRC). ABS, driver and front passenger airbags, and front pretensioners were standard on all Aygos.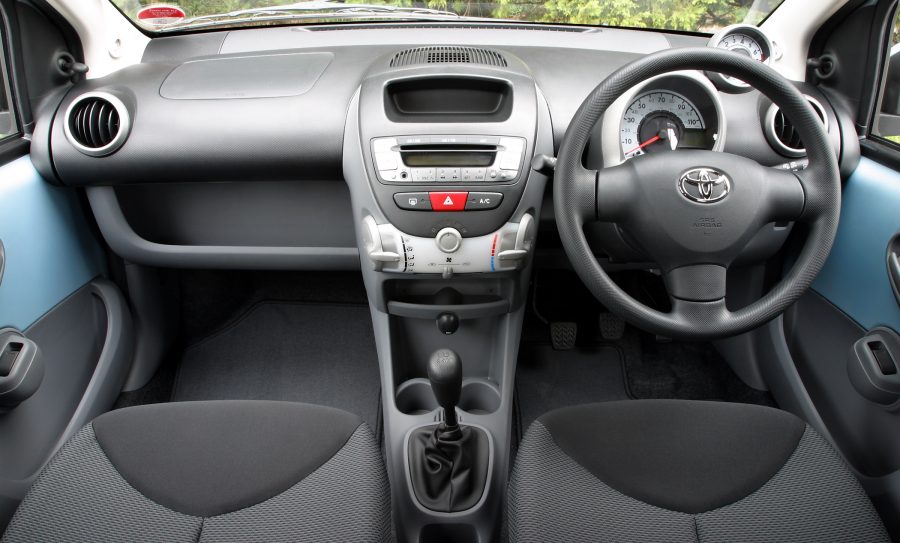 Powered by a 68bhp 1.0-litre three-cylinder variable-valve technology (VVT-i) petrol engine at launch, a 54bhp 1.4-litre HDi diesel motor followed soon after. The petrol model could return an official 61.4mpg, and with CO2 emissions of just 109g/km. Married to a five-speed manual gearbox, a clutchless 'MultiMode' transmission could also be chosen. Toyota's tiny urban runabout launched at £6,845 on 1 July 2005, the 890kg flyweight available in either a three or five door configuration, with annual production pegged at 100,000 units.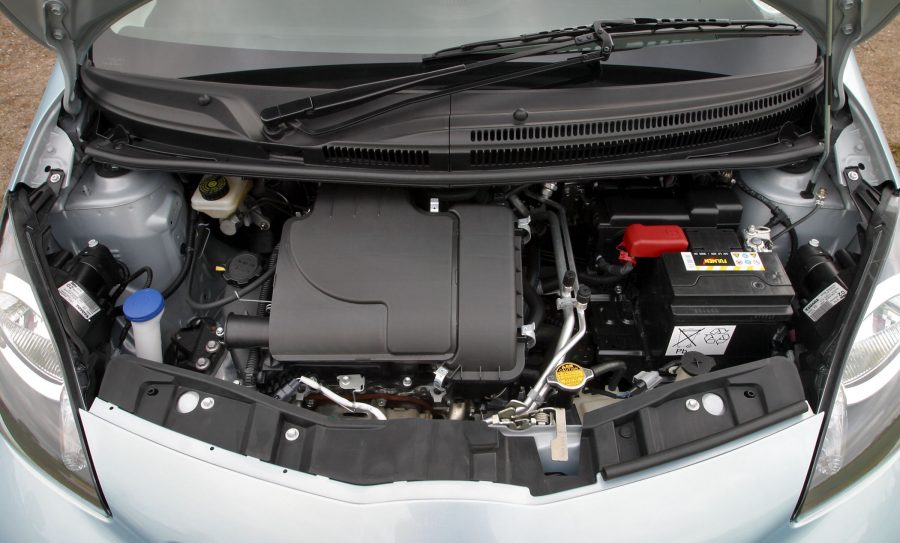 A revolving door of special editions, colours and trim options kept the first generation Aygo at the head of the city car pack, with major updates occurring in 2008 and 2012. The range-topping Platinum model had real 'big car' features such as alcantara and leather upholstery, and helped make Aygo a grown-up and popular town tot. Drivers thought so, too, and with total sales of more than 760,000 units, the original Aygo set the bar high.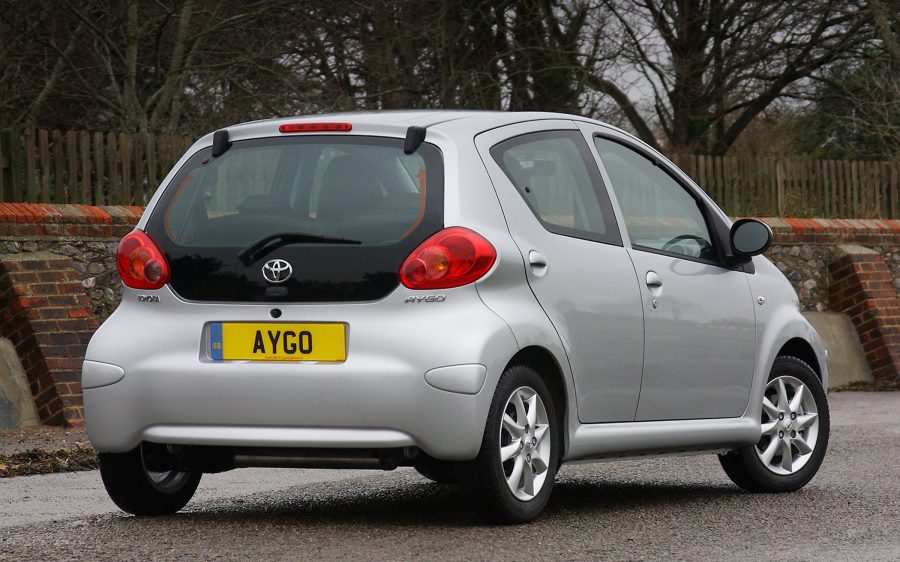 The Aygo had reason to celebrate, too. A consistent award winner, it scooped the 2005 Top Gear Car of the Year Award – with the Bugatti Veyron! – and Toyota's 1.0 VVT-i engine also won the sub-1.0-litre category in the International Engine of the Year awards from 2007 to 2010.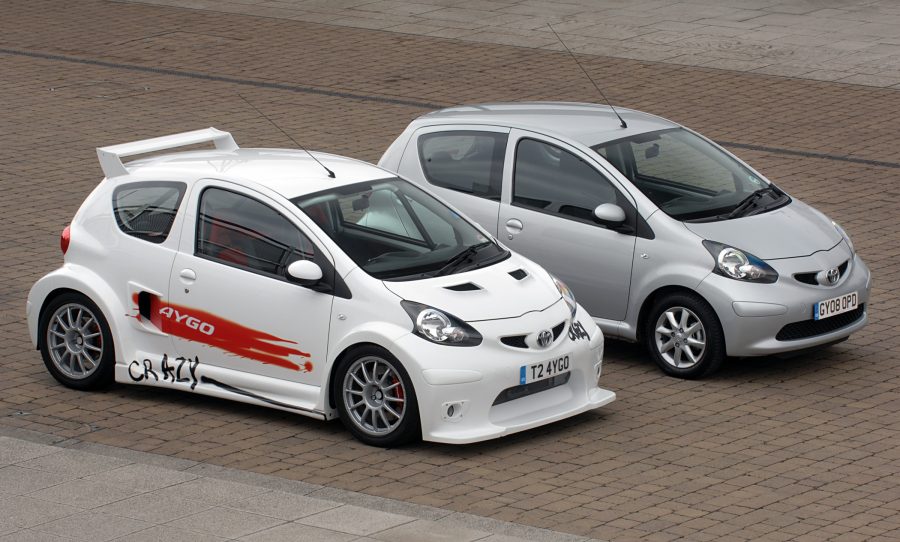 Elbowing out its award-winning powerplant, replacing it with a rear-mounted 1.8 VVT-i engine usually found in the MR2 Roadster, the one-off Aygo Crazy was a rear-wheel drive 'shopping supercar'. A Toyota Motorsport turbo kit boosted power to a hilarious 197bhp, enough for the mad 1,050kg Aygo to pick up its wide-body skirts and scamper to 62mph in 5.7 seconds. Wearing a carbon rear spoiler designed for the American Champ Car series, the Aygo Crazy was just that!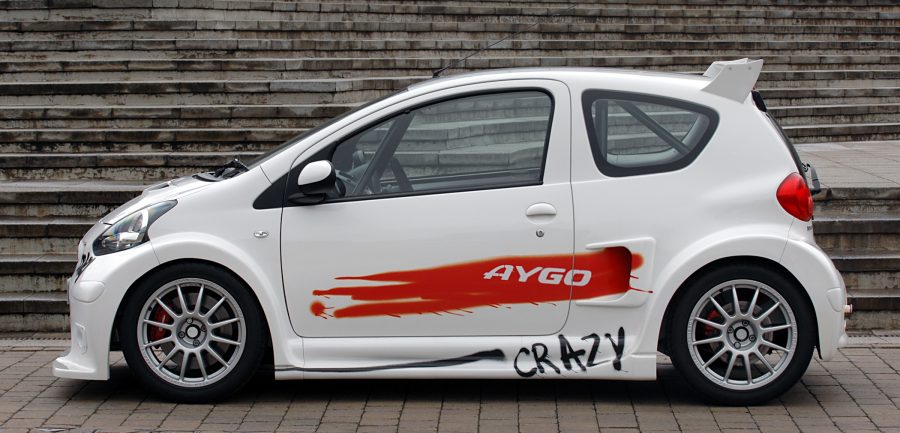 History of the Toyota Aygo – second generation
When the time came for a second generation Aygo, Toyota was inspired by Japanese Manga culture. Most striking at the front, chief designer Nobuo Nakamura's 'X' motif was much bolder than the first generation car's soft curves. No panel was shared with its French relatives this time, and though just 25mm longer than before, front headroom increased by 7mm, with roof height 5mm lower.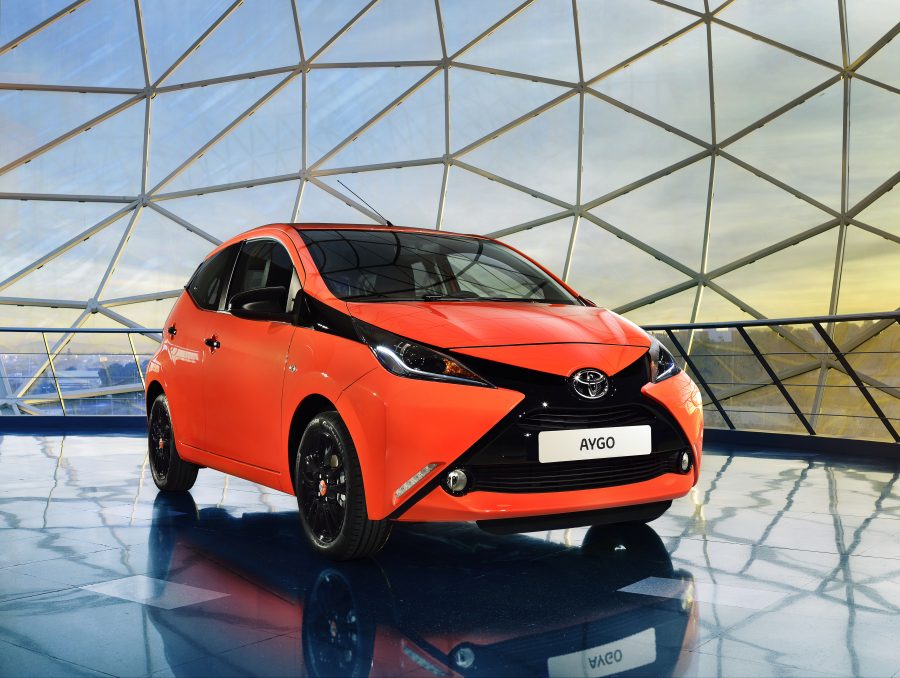 A bigger cabin housed a funkier interior with swivelling air vents, a seven-inch 'x-touch' colour infotainment system, and a 'bar' rev counter. This illuminated upwards depending on engine revs, recalling KITT, the beloved wheels of 1980s crime fighter Michael Knight. Funky with a capital 'F', Toyota marketed the car with the attention-grabbing 'Go Fun Yourself' tagline…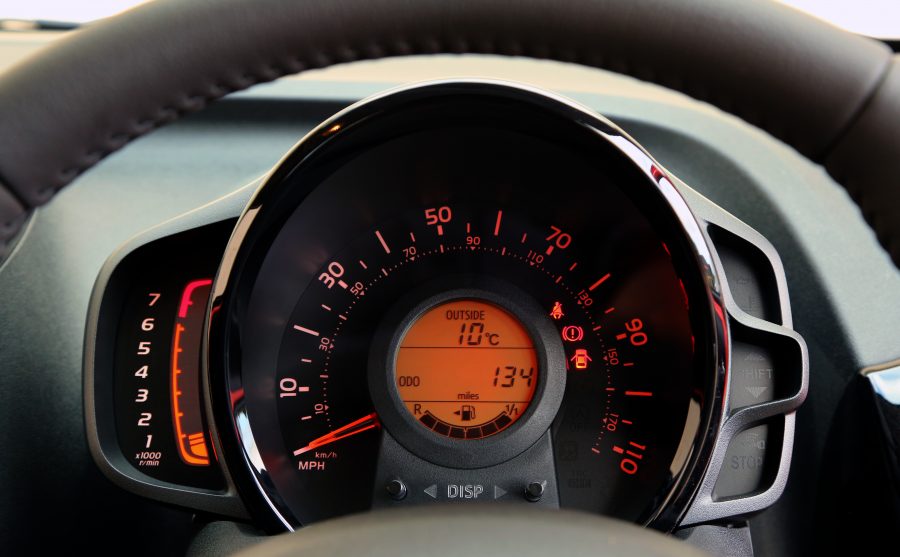 Powered by an updated version of the previous Aygo's engine, the three-cylinder unit was more eager than ever before, its thrummy note encouraging spirited driving. A cleaner 95g/km of CO2 emissions placed it below the 100g/km threshold for annual road tax exemption in existence at the time. As before, a five-speed manual gearbox was standard, alongside an 'x-shift' auto option.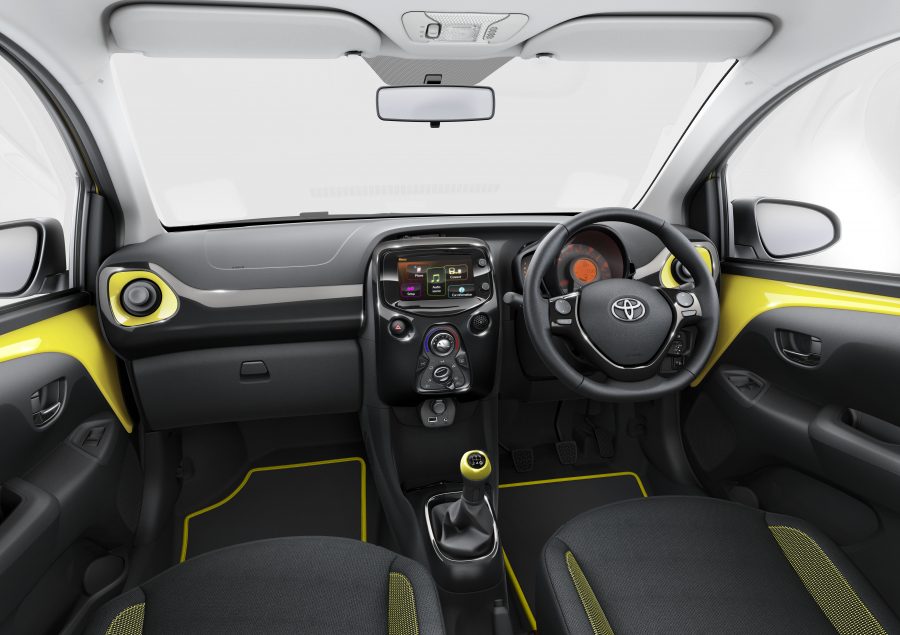 On sale from 1 July 2014, priced from £8,595, personalisation was key. Never before had a Toyota offered so many personalisation options, with up to 10 interchangeable elements, customisation packs, and a raft of special editions. Eye-popping colours – Cyan Splash! – and options such as the 'x-wave' electric canvas roof gave the Aygo even more appeal, but just like its predecessor, 'big car' kit also featured.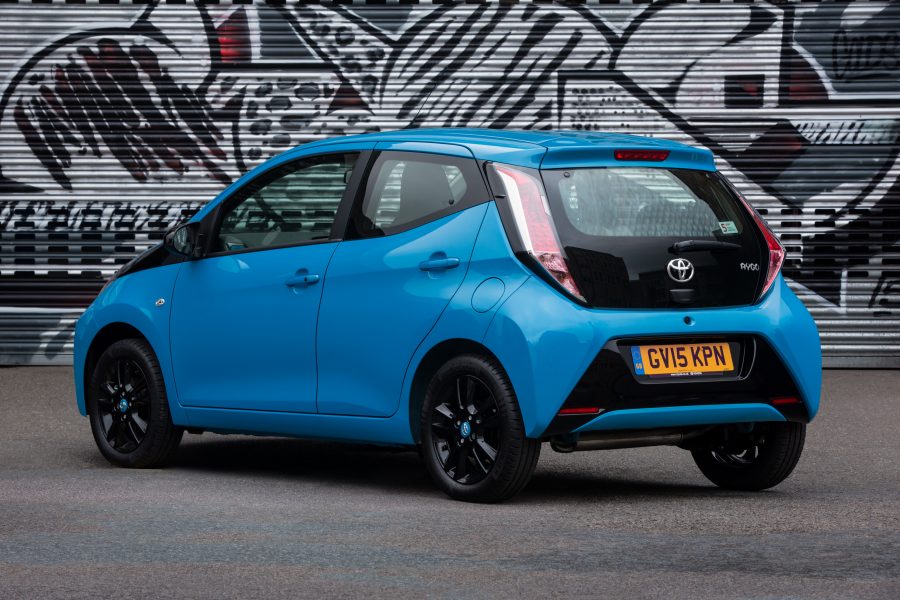 A rear view camera, and keyless entry were firsts in the city car class, the high spec x-clusiv model adding more swagger with its rear privacy glass, climate control and leather trim. Toyota's Safety Sense suite of driving technologies made the Aygo safer than ever before.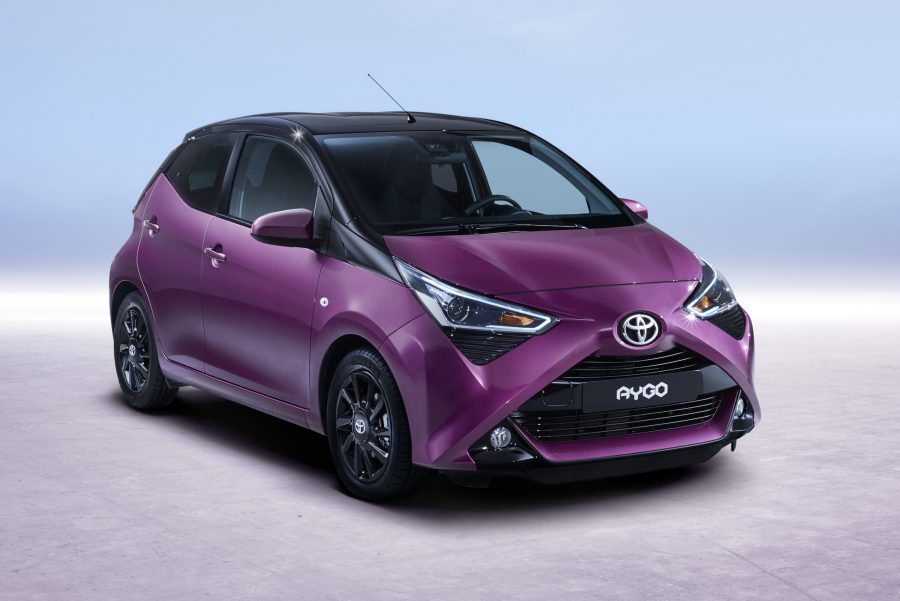 Refreshed in 2018, the latest Aygo updates the sharp styling with LED light signatures, a redrawn 'X' front graphic, an upgraded interior, and a smidge more power. There was little reason to change that much: over 278,528 Aygos have found UK homes since 2005, and the tiny terror is a very popular member of the Toyota family.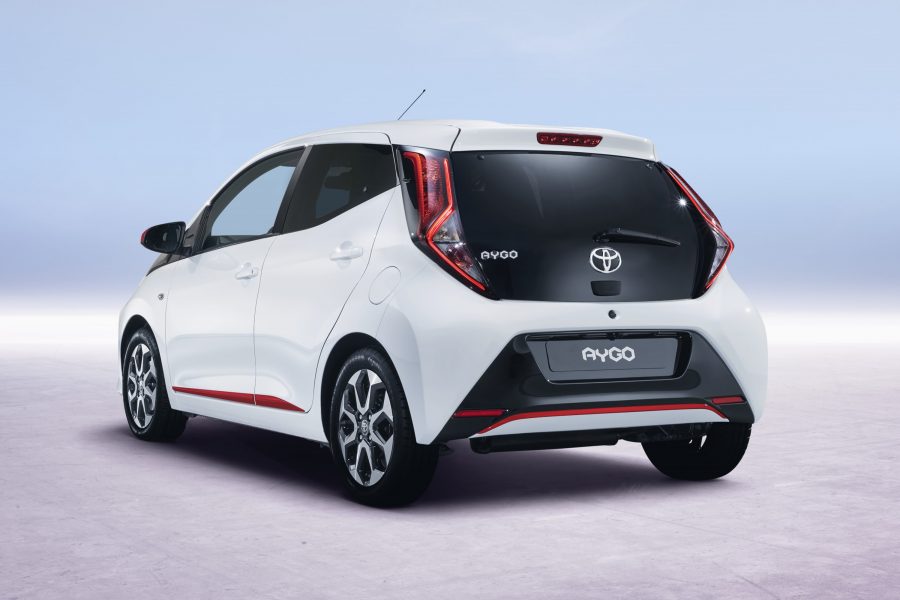 History of the Toyota Aygo – the future?
Perhaps an Aygo of the future, the Aygo X prologue concept has been designed by ED2, Toyota's European design headquarters in the south of France. Marrying a sharper silhouette with pumped-up wings and a very eye-catching colour scheme, key highlights include the hatch-wrapping rear lights, roof rails, and skidplates.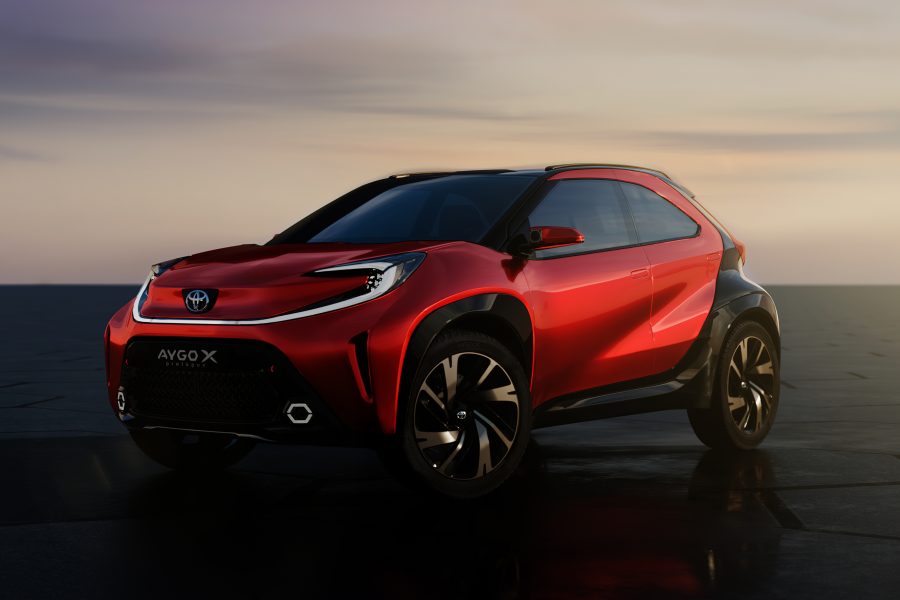 With more crossover style, the almost-SUV dazzles with its Sparkling Chilli Red paint finish and gloss black details. The X prologue concept features a bicycle carrier and door mirror cameras for capturing those lifestyle moments. 'Prologue' means an introductory event, so does this Aygo concept signal a new direction? Only time will tell…
By Richard Gooding
For prices, specifications and full details of the current Toyota Aygo line-up, click here.