In the spirit of Toyota's Kaizen principle of continual improvement, Land Cruiser draws on 60 years of all-wheel drive engineering by Toyota. During that time, it has built a legendary reputation for toughness and the ability to go anywhere, whether on- or off-road.
The latest Land Cruiser continues in the wheel tracks of its ancestors, combining advanced off-road technologies with the style, comfort and reliability that Land Cruiser owners have come to expect. Offered in two body styles – three- and five-door – and three trim levels – Active, Icon and Invincible – the versatile Land Cruiser can transport as many as seven people safely to their destination thanks to its reliable 2.8 D4-D diesel engine and permanent all-wheel drive system.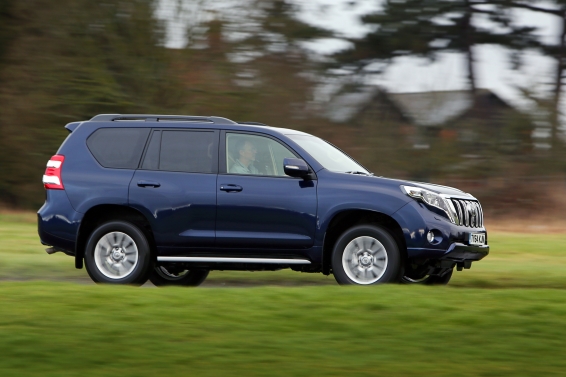 Driving
The key to Land Cruiser's incredible capabilities lie in its combination of a powerful 2.8-litre D4-D diesel engine, six-speed automatic sequential transmission (six-speed manual on selected Active models), and specially-designed suspension. On-road, the engine and transmission give impressive performance for a vehicle of Land Cruiser's size – it accelerates to 62mph in as little as 12.1 seconds (three-door Active model) but still achieves 39.2mpg on the combined test cycle.
The suspension delivers admirable on-road handling, while still able to cope with the rigours of off-road driving; Icon and Invincible models are equipped with Toyota's Kinetic Dynamic Suspension System that minimises body roll and improves steering response while damping vibrations on uneven surfaces. Top-of-the-range Invincible models also have Adaptable Variable Suspension – three pre-set suspension settings (Normal, Comfort and Sport) that the driver can select – and clever rear air suspension to keep the Land Cruiser steady regardless of its load.
These same suspension innovations give Land Cruiser its renowned off-road abilities, capable of tackling steep gradients and fording water up to 700mm deep. Additionally, a raft of off-road technologies and high- and low-ratio gear settings enable Land Cruiser to make steady progress over a multitude of different surfaces (including mud, sand, snow and rock), and assist with hill-starts and steep descents (five-door Active and Icon models) or provide full crawl control (Invincible models) for all manner of off-road situations.
Comfort
The Land Cruiser is designed to tackle anything and everything that can be thrown at it, yet do so in a composed, controlled and comfortable manner. That's why Toyota engineers have done everything possible to shelter occupants from the harsh conditions outside, starting with Land Cruiser's construction that insulates the main body from the tough chassis to limit noise and vibration from the road surface or terrain, and its previously discussed suspension design. Also, Land Cruiser's aerodynamic styling lessens wind noise, as well as helping fuel economy.
Inside the cabin, sound-deadening materials and insulation further contribute to the calm, comfortable atmosphere. Land Cruiser has a refined interior that uses high-quality materials, and is packed with creature comforts like automatic air conditioning, a multi-way adjustable driver's seat (manual on Active models, electric on Icon and Invincible), and sliding second row seats for greater legroom and better access. There's also a premium JBL Synthesis audio system with Bluetooth connectivity (Icon and Invincible), and Invincible models also have a rear seat Blu-Ray entertainment system with a ceiling-mounted 9″ screen and 7.1 channel DVD surround sound.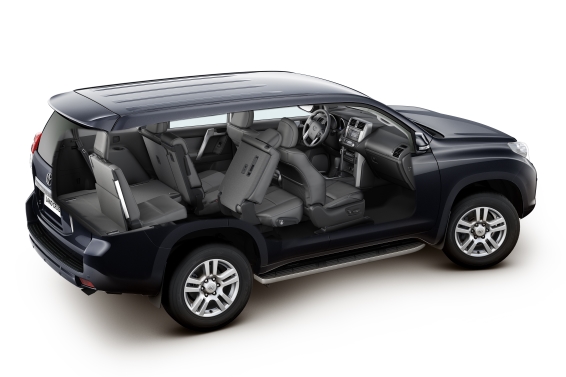 Practicality
The latest Land Cruiser is more spacious and therefore more practical than ever before, capable of seating up to seven people (five people in three-door Active models). The third row seats fitted as standard in five-door Land Cruisers can be electrically-folded completely flat into the loadspace floor, which gives a longer and wider area for luggage than previously.
The rear load area is equipped with a luggage net and tie-down hooks to keep luggage secure during travel, and throughout the passenger cabin there are many different pockets and cubby-holes for storage. Icon and Invincible models even have a coolbox function in the armrest storage space. 12V power outlets are accessible from the front and second row seats, while in the back there is a 220V AC power socket for the more demanding off-roader.
Safety
Safety is always a top priority for Toyota, and more so with Land Cruiser as it's likely to venture places where other vehicles couldn't go. Therefore, Toyota uses high-strength materials throughout the vehicle to provide high levels of collision protection, designed to absorb energy and minimise injury. Land Cruiser also has active safety features, including seven airbags, whiplash-reducing headrests, traction and stability control to maintain control in challenging conditions, and anti-lock braking technologies to provide maximum braking effect in all conditions. Of course, Land Cruiser's off-road technology also contributes to a safe driving experience.
A new innovation is Trailer Stability Control, a system that monitors a towed trailer to detect swaying and then automatically decelerates the Land Cruiser to help regain control. Also newly introduced in 2014, Invincible models now come with extra radar-based monitoring technologies that keep an eye on the area in the driver's blind spot and a rear cross-traffic alert system that warns of traffic or pedestrians unseen through the rear window or door mirrors. An optional safety pack for the Invincible adds speed-sensitive cruise control and a pre-collision system that activates if a collision is anticipated. These technologies are available on Active and Icon models as part of the optional Safety Pack.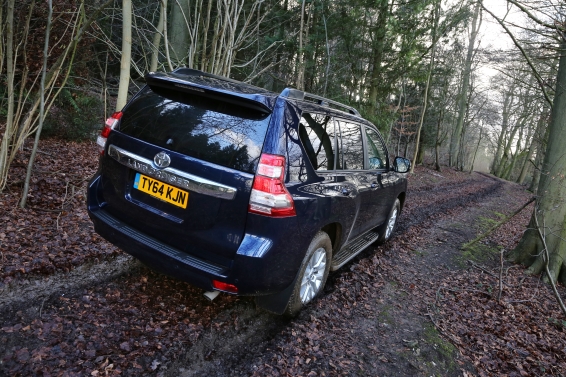 Running costs*
The Land Cruiser's 2.8-litre D4-D returns up to 39.2mpg on the combined test cycle, impressive fuel economy for a vehicle weighing two tonnes. As the engine has been updated to meet the latest Euro 5 emissions regulations, road tax is kept as low as possible too, costing £265 per year (£490 for the first year) for all Land Cruiser models.
Quality
Toyota builds the Land Cruiser to be tough and durable, so build quality is given close attention. That's why Toyota can confidently provide a five-year/100,000 mile warranty against mechanical defects, a three-year/unlimited mileage warranty against paintwork defects, and a 12-year anti-corrosion perforation warranty. Peace of mind is supplied as standard.
Prices*
On-the-road prices for the Land Cruiser start at £35,895 for the three-door, five-seat Active model with manual transmission. A five-door, seven-seat Active costs £37,695 with the six-speed manual, or £39,295 for the six-speed automatic transmission. With seven seats as standard, Land Cruiser Icon costs £48,395 and the range-topping Invincible model is priced at £54,895. Metallic paint is offered on all models for an extra £700, or you can specify pearlescent paint for £900. Dependent on model, other popular options include the Safety Pack (£2,635) and leather interior (from £1,395).
*Prices correct as of 10/9/15