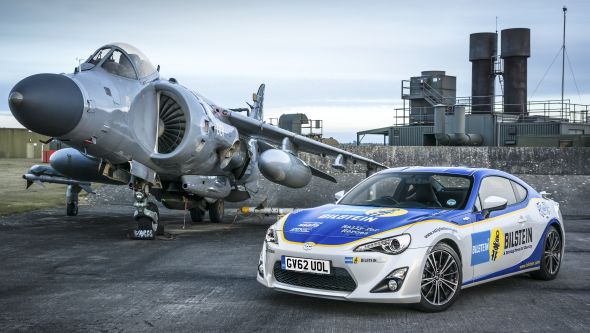 The Toyota GT86 is often seen as an ideal track day car or a Sunday morning cobweb-blaster. But just as our recent interviews with enthusiastic owners proved, the GT86 can become your driving 'wingman' in many other ways too.
James Mortimer is another owner aiming to prove the reliability and all-round usefulness of the GT86 via a worthy cause – the gruelling pan-European Rally for Heroes challenge that raises money for the forces charity SSAFA.
Mortimer's car is one of 50 that will be taking part in the challenge that covers 11 countries in just eight days, in the hope of raising over £100,000 for the charity. The SSAFA's aim for this event is to cover five miles for each member of service personnel that has fallen since the beginning of the Afghanistan conflict. This equates to a total of around 2,600 miles.
Keen to get the very best performance from his car on occasionally rough, cross-country roads, James approached suspension manufacturer Bilstein to ask for its advice. Happy to sponsor this effort, Bilstein created a bespoke version of its B16 suspension setup to help the Toyota cope with any type of road surface James was likely to encounter on this mission. Fitting and a full geometry service was carried out by tuning specialist Litchfield, which also joined the action by enhancing the GT86 with uprated Eibach anti-roll bars and a full set of alignment products. It is hoped that this fettled chassis will plaster a smile across Mortimer's face for every one of those 2,600 miles.
We hope to catch up with James after the conclusion of the Rally for Heroes challenge to hear how he and the GT86 got on.
Read more: Toyota Land Cruiser crosses continents for charity