With sharp looks, impressive levels of equipment and low running costs, the Toyota Auris is all the car you'll ever need. We take a look at 10 reasons to try the Toyota Auris.
1. The engine line-up is strong in the small family car class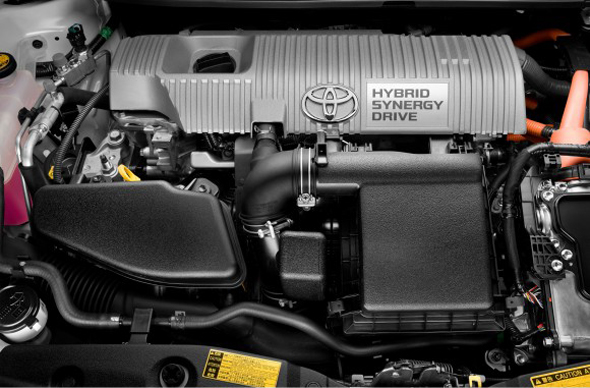 You're spoilt for choice when it comes to choosing an engine to power your Auris. It is offered with a choice of petrol, diesel and full hybrid powertrains. At lunch, there were four engines available: a 98bhp 1.33-litre Dual VVT-i petrol; 130bhp 1.6-litre Valvematic petrol; an 89bhp 1.4-litre D-4D engine and a 134bhp 1.8 litre VVT-i petrol and electric hybrid.
2. The Toyota Auris was built in Britain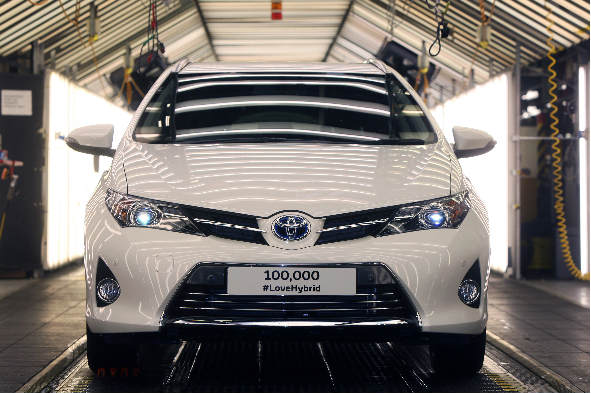 The Auris was produced by Toyota Motor Manufacturing UK (TMUK) at its Burnaston plant, near Derby. Meanwhile, the petrol engine fitted to hybrid models was manufactured by TMUK at Deeside in North Wales.
Burnaston is the country's fastest-growing vehicle plant and is now producing a quarter of all the Toyotas sold in Britain – and exporting many more. Each year Toyota in Europe is spending around £850 million with its UK suppliers. This is important because doing so creates and secures jobs in the UK's burgeoning manufacturing sector.
3. Emissions were competitive in the class at the time*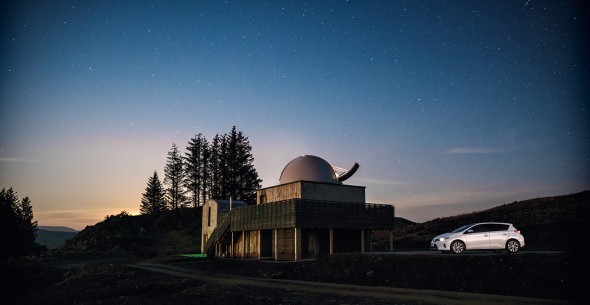 The Auris Hybrid boasts CO2 emissions which start at 84g/km, which was class leading at the time of launch. All hybrid variants dip below the magic 100g/km barrier. Petrol and diesel variants of Auris benefited from emissions-cutting stop/start technology.
4. On-board tech knocks rivals for six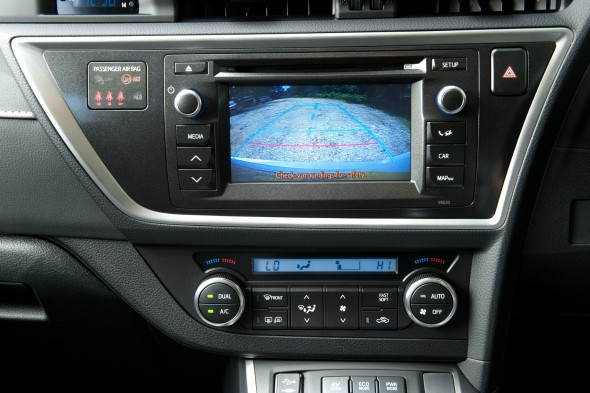 An array of cutting-edge technology – found on the options list of many rivals – was fitted as standard on selected Auris models.
All models bar entry-level 'Active' grades featured Toyota Touch 2, which includes Bluetooth, a Rear View Camera, USB and iPod connection. Icon Plus and Excel models gain Toyota Touch 2 with Go which adds navigation and Google Street View™ and local search. The system was also the first of its kind to feature Panoramio™, which provides imagery of the vehicle's location or a chosen location to help pinpoint and recognise destinations.
An Intelligent Park Assist system – fitted as standard to Excel models – makes light work of parallel parking. Activated using a button on the centre console, it uses ultrasonic technology to determine whether a parking space is large enough for the car and then steers the car into the parking space, while the driver controls the accelerator and brake.
5. Class-leading aerodynamics mean Auris cuts a dash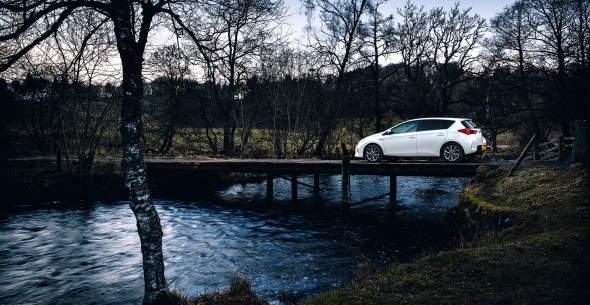 The second-generation Auris was 55mm lower than its predecessor. Reducing the car's overall height by 55mm meant that it benefited from a sportier silhouette than before and slipped through the air with less effort than its predecessor – reducing emissions and increasing fuel economy. Drag coefficient was reduced from Cd 0.292 to Cd 0.277.
6. There's a low centre of gravity and lower driving position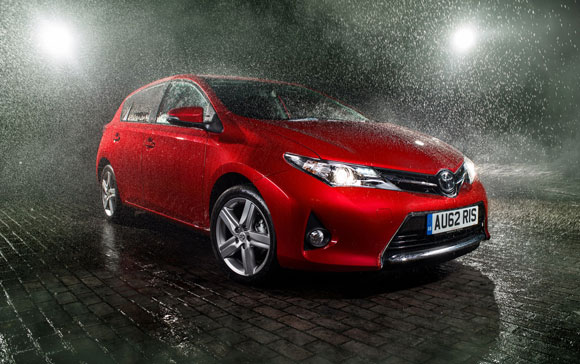 Much like the GT86 sports coupé – which has been universally praised for its sublime driving characteristics – Auris has a low centre of gravity. Cars with a low centre of gravity are exposed to less body roll – delivering a significantly more involving drive through corners. Furthermore, the driving position of the current Auris is up to 40mm lower than its predecessor.
7. Owners love them

A quick trawl of owner reviews on automotive news and reviewing website Honest John reveals just how much adoration Auris owners have for their cars.
One user writes: "There is only one word for this car. Brilliant! The Toyota is simply superb. Handling is exactly as one would wish, totally responsive, with first class braking and absolutely positive steering. Mileage per gallon is excellent, averaging around 60mpg most of the time. Although I once achieved 77.6mpg on a longish journey. I cannot stress too much how helpful and attentive Toyota have been with this car."
Another user, ACKERKENTON, writes: "My Auris is a brilliant town & motorway car, extremely quiet at high speeds and still good on fuel.
"…to top it off even with the low profile alloy wheels, the suspension is lovely and compliant."
8. A host of luxury options were available 

A 'Skyview' panoramic roof was available for Icon Plus and range-topping Excel models and was one of the largest in the small family car class. Leather upholstery was available as an option on Icon, Icon Plus and Excel grades. For a dose of genuine luxury, a full black leather interior with white or blue contrast stitching was available as an accessory.
If entertaining back seat passengers is a priority, a dual screen DVD system was available as a dealer-fit option. You could add greater ambience to the cabin with a footwell illumination kit that bathes the lower section of the cabin in soft blue light.
9. A terrific range of finance offers** is currently available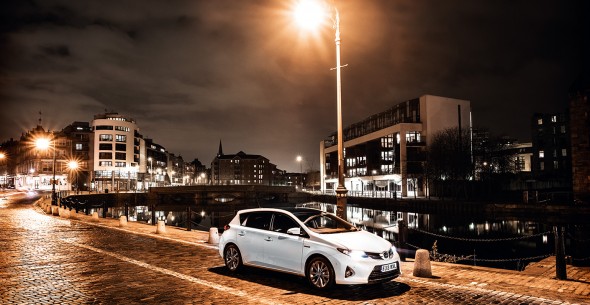 Right now, Auris Icon models are available to retail buyers with a £2000 deposit contribution with a low representative APR of just 4.9% in petrol, diesel and hybrid variants. Business users can get behind the wheel of an Auris Icon 1.4 D-4D or 1.33 VVT-i from £169 p/m + VAT with an initial rental of £1,014 + VAT. Company car drivers will delight in the knowledge that Auris has a benefit-in-kind rating of 11 per cent.
10. They sold like hot cakes!

Few things demonstrate just how good a car is better than people actually buying them – and people bought Auris in their droves. In March 2014, the car recorded its best-ever share of the C-segment, grabbing 5.7 per cent.
*Claim applies to hybrid variants only
**All finance offers are subject to terms and conditions. Further information is available on the offers and finance section of the Toyota UK website.