It's a case of another week, another accolade for our new sports coupé, the Toyota GT86!
Last week, our car was voted top of the pile in Top Gear Magazine's Speed Week test of 2012's best performance cars. Now the GT86 has again clinched pole position – in Autocar magazine's B-Road Heroes review.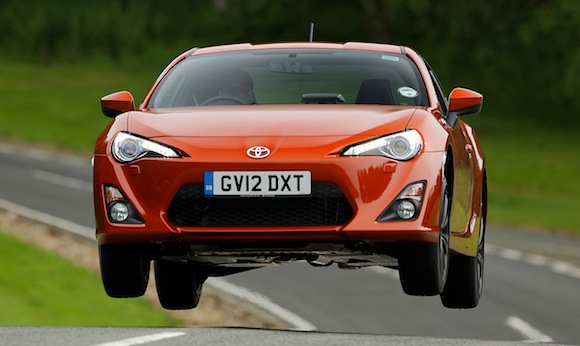 The GT86 went head to head with a varied field, including models from Porsche, Mercedes-Benz AMG, Lotus, Radical and newcomer BAC.
But even though our £24,995 machine was one of the most affordable cars in the line up, it compared closely with the £168,500 McLaren MP4-12C supercar.
Steve Sutcliffe, Autocar's editor-at-large, tested the cars on the alpine hill route of the Millbrook proving ground – a specially-designed track comprising tight corners, fast bends and sudden inclines – to find out which was fastest, and which was the most fun to drive.
Sutcliffe wrote: "The Toyota is a long way from being classed as slow, but in this context it is nowhere next to the [McLaren] 12C for pure speed – and yet that matters not one iota to whoever is at the wheel… it is one of the most significant sports cars to go on sale in the past 10 years."
He added: "There's one very obvious lesson to be learned from this particular story: that pure speed across the ground may well be fun to experience once in a while, but it is not the be-all and end-all when it comes to pure driving pleasure."
"Truth is, on a favourite B-road, most of us will get more out of a car like the Toyota GT86 than we ever could out of a Radical or a McLaren."
The B-Road Heroes feature is in the 25 July issue of Autocar, which is on sale now. Read Autocar's road test of the GT86 here.
Regular readers will remember Steve from our recent video, in which he took on Drift King Keiichi Tsuchiya in our Drift Sprint contest. Take a look at his first drive video review of the GT86 below.
[youtube width="580″ height="400″]https://www.youtube.com/watch?v=_5x_Pd3f0kI&feature=player_embedded[/youtube]