Following extensive trials around Europe, the Toyota Prius Plug-in hybrid in finally on sale in the UK. Last week, we brought you the answers to your questions about the car and now, the first reviews have been published.
In this blog post we round-up what is being said about our new petrol-electric superstar.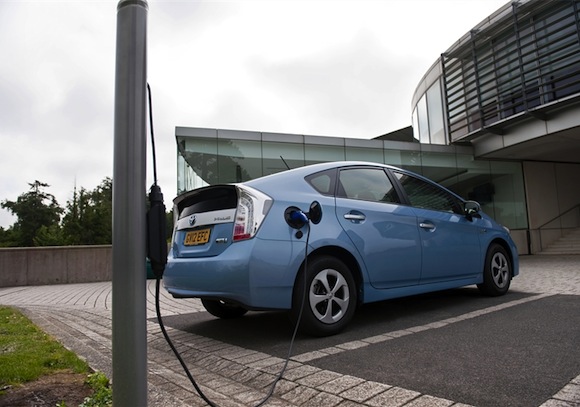 First up is Autocar magazine's first drive review, and the latest positive Toyota review it has published in recent weeks. Mark Tisshaw said:
"As a conventional hybrid, the Plug-in performs as competently as any other Prius. The car switches seamlessly between petrol and electric power.
"One of the biggest changes to the Prius Plug-in since the earlier trials is the addition of a new 'EV City' mode. This allows for much more forceful use of the throttle before the petrol engine kicks in and is thus considered to be a much truer EV mode should future legislation create zero-emissions zones in city centres.
"If the majority of journeys are short, you really will become an unfamiliar face down your local petrol station as you'll barely be touching the contents of the 45-litre fuel tank.
"The Prius Plug-in is probably the most tempting product yet for those wanting to take the plunge and go green without the fear that they are investing in unproven technology."
Blogger Keith Jones was equally pleased with his time in the car, saying:
"No matter how hard you attempt to drive the Prius, little seems to dent its fuel efficiency… Despite a test route which included typical stop-start urban slogs, winding country roads and a motorway commute, the trip computer indicated a seemingly unbelievable 129.5mpg.
"The Prius Plug-in also feels faster than its 11.4 second jog to 60mph suggests it will be too – performance-wise, it's very easy to live with.
"It's occasionally levelled by those who shout loudest (with others gleefully jumping on the bandwagon) that cars like the Prius are the automotive anathema of real car enthusiasts. I totally disagree. If you're looking for a wonderfully engaging, exhilarating driving experience then the Prius is unlikely to be anyone's default choice. But as an enthusiast of cars (and one who would choose driving over public transport for the majority of journeys) I could see myself at the wheel of the Plug-in.
"Low running costs and sheer ease of use would make cross city travels less of a chore; completing the journey having used no petrol at all would merely add to the satisfaction."
Keith couldn't match the excellent economy figure recorded by blogger, actor and alternative-fuel car enthusiast Robert Llewellyn.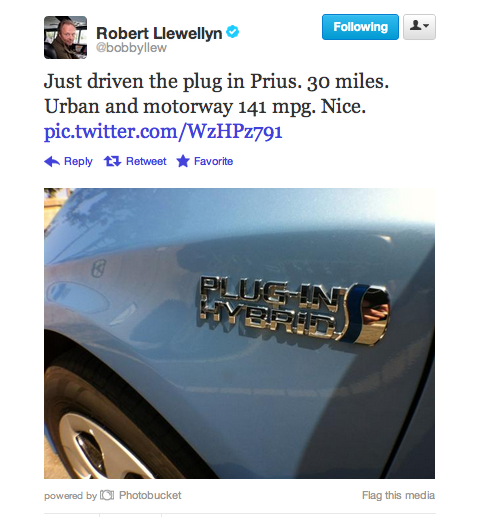 Presenter of Channel 5's The Gadget Show Jason Bradbury, who has just picked up a new Prius+ MPV, also attended the launch and tweeted this: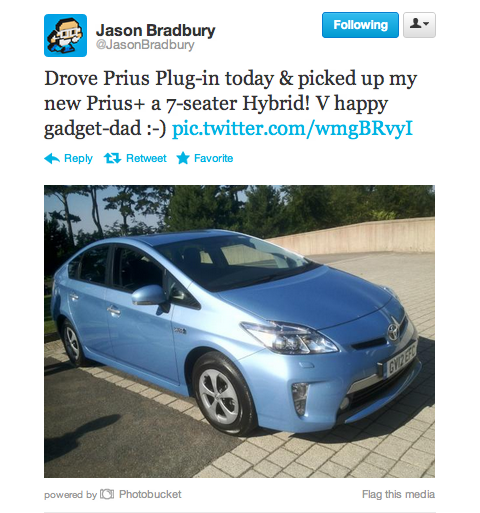 Damion Smy of Auto Express gave the Prius Plug-in a four-star review. Here's his verdict:
"The Prius Plug-in is an excellent all-round eco car, with space, practicality and outstanding fuel consumption. It takes advantage of its EV capabilities to make an excellent short-distance commuter, yet because it's a hybrid, you don't have to suffer from range anxiety. It shares the regular Prius' bland driving experience, but in the name of economy, it's an outstanding real-world eco car."
David Miles, writing for the GirlRacer blog, also saw the huge benefits of the Prius Plug-in's Hybrid Synergy Drive system:
"With its 700-miles driving range using petrol and electric power, including a maximum 15.5-miles electric power only range, the new Prius Plug-In is a big step forward in making electric propulsion more practical. It delivers all the good points electric vehicle offer but with the added benefits of no limits and range-anxiety to when and where the car can be driven. "
In a comprehensive review, Lem Bingley of GreenMotor.co.uk compared the Prius Plug-in with the new Vauxhall Ampera and Chevrolet Volt, saying:
"All things considered, the Prius Plug-in is probably a more sensible design than the much more complicated Volt/Ampera discussed earlier, not least because at 1,450kg the Toyota weighs about 300kg less."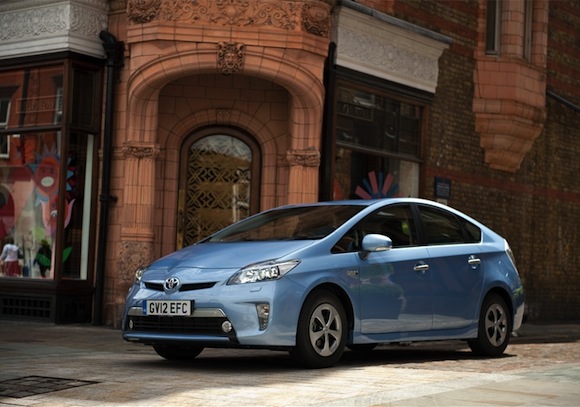 Peter Burgess of MSN Cars said:
"The technology works extremely well and there is every reason to buy the Plug-in instead of the standard hybrid Prius.
"The Prius Plug-in transcends the issues surrounding fully electric cars like the Nissan Leaf, works well and the dependability of Hybrid Synergy Drive is rock solid. It's a good car."
Writing for CarWow.co.uk, Antony Ingram commented on the car's relaxing nature:
"If you've not driven a Prius before, you're in for a treat. Not because it'll set your pants on fire, but because it's blissfully relaxing to drive, and absorbs the stress of modern-day driving like a big, hybrid-powered sponge.
"Press the starter button, listen for the sound of… well, nothing, and you're ready to go. The car defaults to electric power, and Toyota quotes a 15.5 mile range on the new lithium-ion battery. It's smooth and quiet, and all the car's controls conspire to make driving as effortless as possible."
He added: "Get past those ingrained tree-hugger prejudices and you come to appreciate the Prius Plug-In for what it is – a very capable and supremely economical vehicle."
Rory White and Steve Huntingford of What Car magazine also praised the Prius Plug-in's refinement and performance when in EV mode. Here's their review.
If you're considering buying the Toyota Prius Plug-in, and want to find out more about whether it's right for your driving needs, then take a look at Will Dron's comprehensive review for TheChargingPoint.com.
Kyle Fortune of CarEnthusiast.com also gave the car a four-star rating.
Read Tim Bowdler's review for Parkers here.
David Wilkins reviewed the Prius Plug-in for The Independent, find out what he thought here.