It's puppy love! Specialist pet care business Pets at Home has taken delivery of six UK-built Toyota Auris Hybrid hatchbacks to expand its successful grooming service, The Groom Room.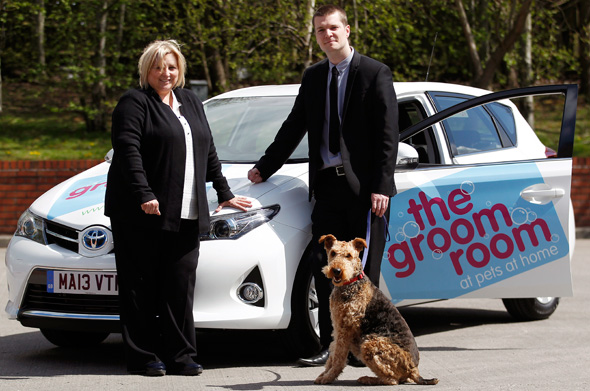 The hybrid Toyotas will be driven by regional district managers, covering around 30,000 miles a year. Most of this will be town and city driving, which was one of the key reasons for choosing a hybrid model.
Auris's hybrid system uses a 1.8-litre petrol engine and a high-output electric motor. The powertrain is engineered so that the petrol engine is used as little as possible in city driving, the electric motor enabling zero-emissions driving in slow-moving traffic.
A stop-start function also ensures no energy is wasted when the vehicle comes to a halt. Thanks to clever packaging of the hybrid battery, Auris Hybrid has just as much space in the boot as its petrol and diesel sister models; which means plenty of space for carrying Pets at Home's grooming equipment.
The business is expanding its network of Groom Room salons inside the Pets at Home stores, with 89 salons currently there are plans to open a further 30 in the coming year.
Pets at Home was recently ranked number one in the Sunday Times' Best Companies to Work for 2013 List.
Simon McKee, Pets at Home Fleet Manager, said: "We chose Auris Hybrid because it's efficient, environmentally friendly and large enough to fit the various dog grooming equipment in without being imposingly big if the driver isn't used to larger vehicles."
Auris Hybrid is built at Toyota's UK manufacturing plant in Derbyshire, alongside petrol and diesel versions of the compact hatchback and the new Auris Touring Sports estate car, due for launch this summer.