The thrilling spectacle of wing-to-wing flying has been reinterpreted in GR Supra Road Arrows, a driving display that demonstrates the precision handling qualities of Toyota's sports car.
The synchronised drive was performed for a new short film, available to view here:
Taking the wheel was a team of expert drivers, whose mastery of car control proved perfect for recreating a series of aerobatic display manoeuvres in a fleet of nine GR Supra coupes. To add to the visual drama and in a tribute to the world's finest flying aces, each car was fitted with a coloured smoke system.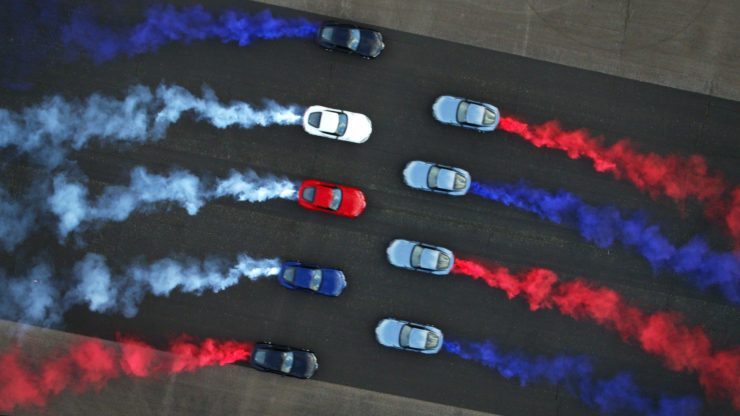 GR Supra, launched in 2019, was conceived as a perfect no-compromise sports car and engineered with input from Gazoo Racing, Toyota's international motorsports division – hence the 'GR' designation, reserved for Toyota's performance-focused models. Supreme handling agility, responsiveness and balance were the principal goals for the car and the qualities the Road Arrows film was designed to showcase.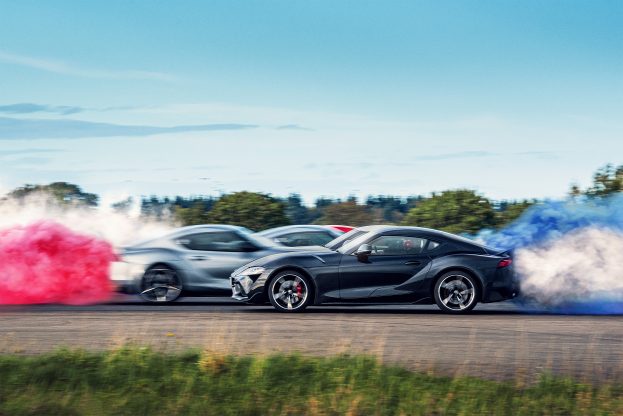 Key to the car's dynamic performance is the ideal 'golden ratio' between its short wheelbase and wide track. This combines with a chassis that is perfectly balanced front/rear and left/right and has a low centre of gravity; high body rigidity; fast and faithful steering response; and superb grip and roadholding from Michelin Super Sport performance tyres. The cars were standard road-going models, including both the 3.0-litre and new 2.0-litre GR Supra versions.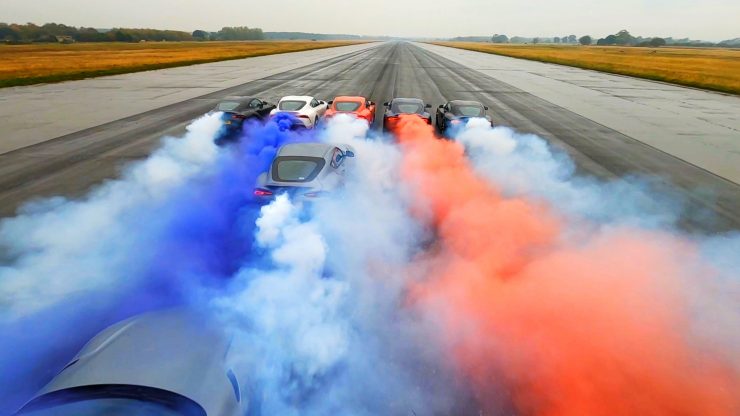 The combination of driver skills and car quality is witnessed in a routine which sees the vehicles executing co-ordinated group and solo manoeuvres wing mirror to wing mirror with just inches of clearance. Each one is a road-level version of a famous aerial stunt.
Behind the scenes of GR Supra Road Arrows
Paul Swift drew on his 30 years' experience as a crack precision driver to bring the concept to life. He explained: "I started by choreographing the routines on my kitchen table, borrowing some toy cars from my son. Seeing it done for real with the GR Supra was fantastic."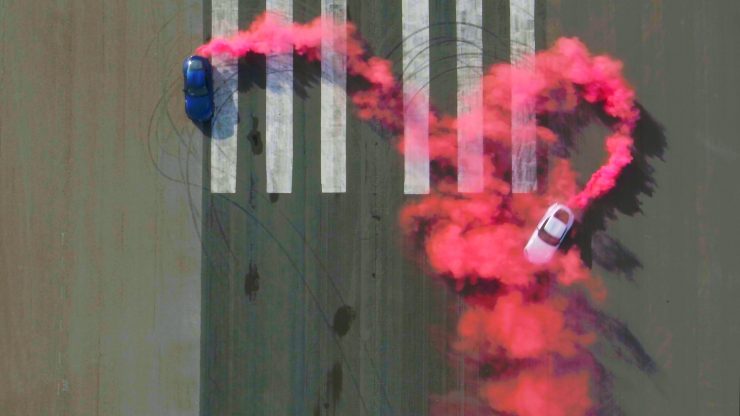 The behind-the-scenes story of how the feat was accomplished is revealed in another film, available here:
The driving squad spent a week practising the manoeuvres at Paul Swift Precision Driving's base near Darlington, building the jeopardy level until they were confident of putting on a great show. Filming took place in controlled conditions at Elvington Airfield in Yorkshire last autumn, where the crew walked through each sequence before getting into the cars.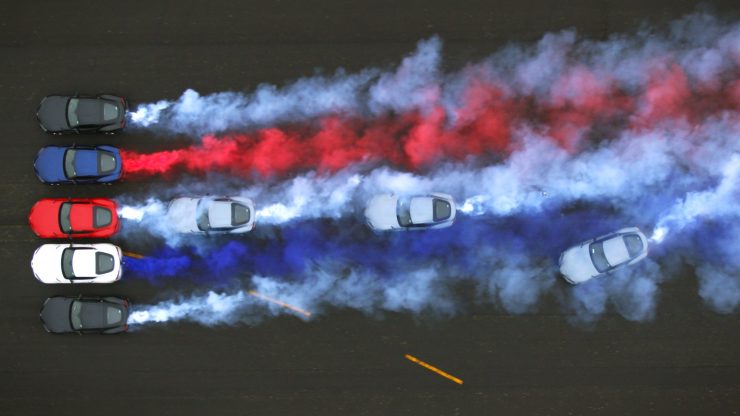 After three dry runs, the Toyotas were fitted with military-grade smoke canisters, triggered remotely using wireless fuses – a system designed and supervised by pyrotechnics expert Justin Smith of Special FX Solutions.
How we made the GR Supras trail colourful smoke
Gina Walker, a member of the driving team for GR Supra Road Arrows, explained how the routine felt from the driver's perspective: "We had to work very closely to the car next to us and had to be really aware of our surroundings. It was a challenge to get it all perfect – our right speed and distance to the next car. We had smoke obscuring our view, so we had to trust in our training."
The story of GR Supra stunt driver Gina Walker
After two days of filming, the production was wrapped with no damage to any of the cars used.
NB: The GR Supra Road Arrows film was created using highly trained, professional drivers working in strictly controlled conditions and with comprehensive safety equipment. The sequences shown should not be attempted by members of the public at any time.