Justin Smith is a special effect supervisor for Special FX Solutions and he says "some of my best jobs have started with a phone call from Paul Swift". Such was the case with Road Arrows, with stunt co-ordinator Swift calling Smith to explain that he needed to create smoke trails from the back of a fleet of GR Supras…
The idea was to evoke a similar effect to the planes used in famous precision flying displays, albeit on the ground. We asked Smith for more details of this complicated procedure.
TGB blog: How did you make the smoke come out of the back of the GR
Supras
?
Justin Smith: "I thought the best solution was to use a military-grade hand-throwing smoke type device producing signal smoke or screening smoke. Of course, the problem with those devices is that they are usually handheld and then thrown, and we had to do trigger them simultaneously off the back of nine GR Supras."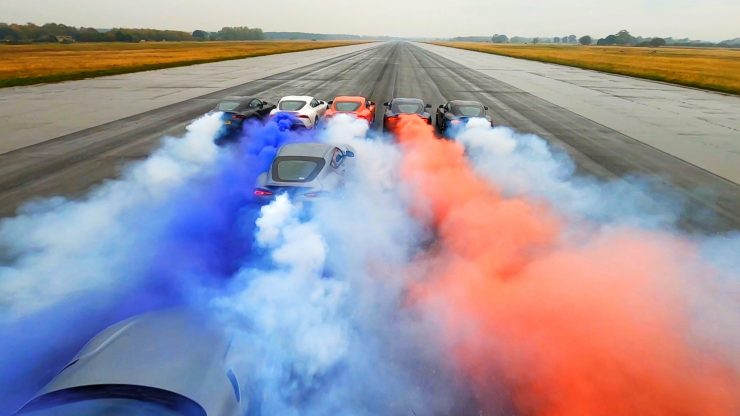 TGB: So how did you attach the devices to the cars?
Justin Smith: "The smoke devices were mounted on custom-made brackets which were very well manufactured at short notice. To try to pull the pins in the mechanical way was going to be quite problematic. Instead, I put a pyrotechnic fuse around the handle of the device and then, after all the pins were pulled, we could fire that wirelessly with a pyrotechnic controller. I was quite pleased: we managed to do 180 smoke grenades with no failures or misfires.
Read more Introducing the GR Supra Road Arrows
"We used a sacrificial fuse which had to make it strong enough to hold the handle of the smoke grenade down, but weak enough for us to be able to blow it with a wireless igniter and leave no residue. So gently, my two-man team would go to each car and tease the pin out by putting pressure on the handle at the same time and then gently releasing that.
"We've done really well because if you consider the size of an aerobatic display aeroplane and the quantity of product they need to get their effects, we've tried to do that in miniature form, but we've still created quite a lot of smoke."
Read more Behind the scenes of GR Supra Road Arrows
TGB:
Have you enjoyed the challenge of turning the original idea into reality?
Justin Smith: "Yes, I have. I think it's very daunting when you get that first phone call and you start talking to the film director. It can be hard to imagine that it'll all work swimmingly. So I'm really relieved that we've had some good results without any dramas apart from the amount of work. We've been rushing around and I could do with a cup of tea, to be honest!"
TGB:
Were there any risks
involved
?
Justin Smith: "The real risk was what the smoke would do to the drivers' vision. We've had some excellent driving but they have been really up against it in terms of their vision being obscured by the opacity of the smoke, particularly the white smoke.
Read more History of the Toyota Supra
"I also need to remind people that we were using military-grade pyrotechnics in the hands of a professional crew. Clearly what we don't want is GR Supra drivers, as much as they love their cars, to start putting smoke devices on them. So just remember that what we were doing was under controlled circumstances, so please don't try it at home."
Read more Interview with stunt driver Gina Walker
NB: The Road Arrows film was created using highly trained, professional drivers working in strictly controlled conditions and with comprehensive safety equipment. The sequences shown should not be attempted by members of the public at any time.