When it came to choreographing our GR Supra precision driving display (which you can read more about here), we turned to Paul Swift, one of the world's leading precision driving experts.
Swift, from Darlington in north-east England, selected his 'dream team' of nine stunt drivers and planned out the five aerobatic-inspired moves. He tells us how he managed to organise the inch-perfect stunts without putting even a scratch on any of the participating GR Supras.
TGB blog:
What was
the ambition for this project
?
Paul Swift: "Our brief was to produce five elements of a typical aeroplane aerobatic display, albeit on the ground with the GR Supra. We wanted to get as close to a typical air display as we could, so out of the back of the cars we had the coloured smoke, which a pyrotechnics team rigged for us. I think we achieved a pretty good reenactment."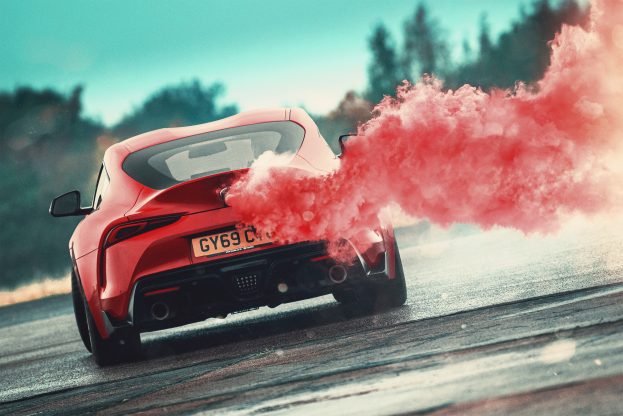 TGB:
How did you plan the routines with the GR Supras?
Paul Swift: "I borrowed some toy cars from my son, Charlie. He was quite upset about it! We choreographed the routine on my kitchen table.
We planned the routine on my kitchen table.
"Then did rehearsals back at our base. We started on a whiteboard and allocated different drivers to specific roles. Then we started small scale, running at 50% and built up the jeopardy a little bit until we were confident that we could bring it to Elvington Airfield and put on a good show.
"We walked through each sequence beforehand and if the drivers didn't walk into each other, there was a fair chance that when we actually did the moves in the cars, they were not going to drive into each other!"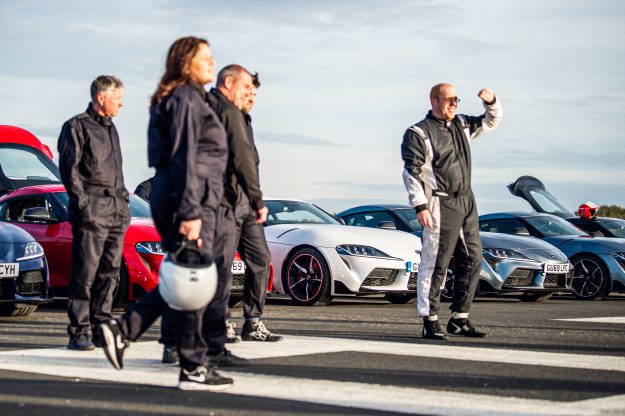 TGB:
How well suited is the GR Supra to precision driving?
Paul Swift: "It is phenomenal. I first tested the GR Supra a couple of weeks before the filming. I literally stepped into it, switched off all of the driver aids, such as stability and traction control, and straight out the box it did everything I needed it to. It is very stable, super–fast and when you hit the pedal to the metal, it just takes off.
The GR Supra is very stable and super-fast
"And you know, the sequences that we're doing are quite ambitious and you're changing direction quite quickly and we've found it fantastic. The drivers certainly feel at home now with the cars. Having spent a couple of days in it I think they going to be sad to see the GR Supras go."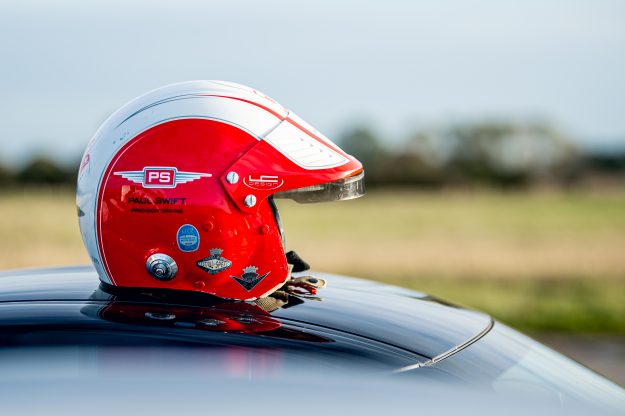 TGB: How dangerous was performing these stunts
?
Paul Swift: "At one stage we had nine cars with the pyrotechnic smoke going off. The jeopardy is there: sometimes your visibility disappears.
Read more How we made the GR Supras trail colourful smoke
"It is like driving in fog. Sometimes you can't see the end of the bonnet and then you just glimpse the back end of another vehicle and you know that the distance is still good. You've got to trust your colleagues. We'd practiced this and we knew exactly what we were doing."
TGB:
What sort of person makes a good stunt driver?
Paul Swift: "We look for driver skill first and foremost, but equally there needs to be an element of composure. When you look at actual aerobatic display teams, I wouldn't say they're a bunch of crazy guys. They're very methodical at everything they do and we're exactly the same.
Read more The story of GR Supra stunt driver Gina Walker
"We don't want to have an accident while we're here and so everything's thought through, but they need skill to carry out the moves that we're looking for."
To learn more about the Toyota GR Supra, or to configure your ideal model, click here.
NB: The Road Arrows film was created using highly trained, professional drivers working in strictly controlled conditions and with comprehensive safety equipment. The sequences shown should not be attempted by members of the public at any time.