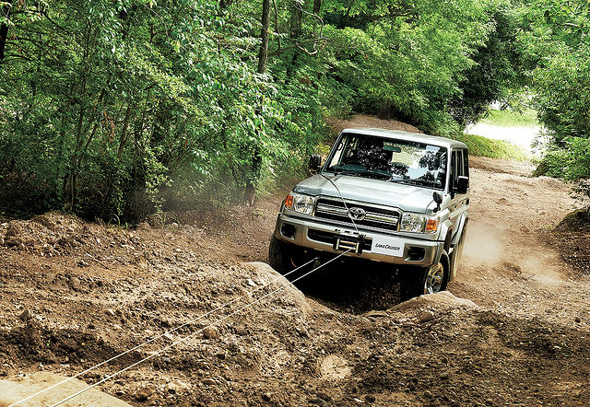 A special edition of the Toyota Land Cruiser 70 will be re-released in Japan to celebrate 30 years of the rugged off-roader.
Sales of the Land Cruiser 70 ended in Japan in 2004, but Toyota has responded to widespread domestic requests for its return to sale by re-releasing the car for a year.
The Land Cruiser 70, first launched in Japan in 1984, has heavy duty specifications adapted for off-road driving. The Land Cruiser 70 is back on sale now at dealers throughout Japan, and Toyota expects to receive 200 orders a month for the one year period it will be sold.
In addition to the four-door van model previously available, for the first time in Japan customers will also be able to choose a double-cab pickup truck.
The Land Cruiser 70's ladder-frame construction gives it its legendary robustness and durability. These features are combined with a V6 4.0-litre engine and part-time four-wheel drive to reproduce the Land Cruiser's classic features, including its excellent drivability. The vehicle incorporates modern interior and exterior design elements and safety features to meet today's needs.
The Land Cruiser 70 draws on the heritage of previous models. It has been designed to far more demanding standards than regular passenger vehicles and also leverages 30 years of improvements to realise superior robustness and durability since it launched.
The traditional closed ladder frame mounting with cross braces provides a high degree of rigidity for traveling on rough roads, while also offering superior safety and comfort. Generous approach, break-over and departure angles for travel on rugged roads and over obstacles enable the vehicle to drive on gruelling terrain beyond the capabilities of a regular passenger vehicle.
The four-door van has a typical Land Cruiser form and offers excellent riding comfort. The Japan-first double-cab pickup truck provides sturdy deck space, and can bear up to 600kg of cargo.
The vehicle is equipped with a part-time four-wheel drive system (with dual-mode automatic locking hub) which allows the driver to select driveline using the transfer lever bar. This offers the option of quiet and fuel efficient two-wheel drive driving in town and on the freeway, while switching to four-wheel drive provides comfort and driving performance on uneven ground and slippery roads.
An optional extra electric differential lock (front and rear) prevents the vehicle getting stuck due to wheel-spin. Switch-operated locking of the differential gear transfers driving power to the grounded wheels, improving the vehicle's capability to traverse mud and holes. An optional extra electric winch for the front bumper bar assists in moving the vehicle if it gets stuck, in removal of obstacles and for moving heavy loads.
While the exterior inherits the Land Cruiser's signature sturdiness, the front takes on a more modern design. In addition to an updated front grille and hood, the modern headlights incorporate turn indicators.
The interior also maintains the signature strength of the Land Cruiser while incorporating modern design features. The instrument panel is highly functional, featuring a straight horizontal design to help the driver stay aware of the vehicle's position when driving off-road.
A 30th anniversary commemorative emblem is featured on both sides of the vehicle. A special leather key case and leather maintenance record holder are also included.
Modern safety adaptations include SRS airbags to assist in passenger protection in the event of a collision, and ABS to ensure greater control in an emergency by preventing the wheels from locking during braking.
See also:
Toyota Land Cruiser Review
History of the Toyota Land Cruiser (Station Wagon models)
Classic Land Cruiser crosses Continents for Charity
Awesome dad builds his son a Toyota Land Cruiser
Build yourself a Toyota Land Cruiser V8
Land Cruiser 70 series Flickr gallery