Since the launch of the original Toyota Prius in Japan in 1997, and its subsequent introduction in the UK two years later, it has maintained its status as an eco-car that brings valuable next-generation technologies and innovations to the marketplace.
The achievements marked by the first three generations provide an impressive platform on which the all-new 2016 Toyota Prius is set to achieve even greater advances, including the unprecedented target of an 18 per cent improvement in efficiency.
Toyota has announced further technical details about the new, fourth generation Prius, ahead of the model being presented at the 44th Tokyo Motor Show, from 28 October.
In its design and engineering, the new Prius is a car that has been conceived to be more than ever in harmony with society. Lower emissions and better fuel economy are just part of the picture: this is a car that surprises with more emotional styling, a human-oriented interior and much more rewarding driving experience.
The application of a wide range of new technologies takes safety and driver assistance to a higher level, improves comfort and gives clear and instant delivery of vital vehicle and performance data and information.
The foundation stone for creating the new Prius is the Toyota New Global Architecture, a concept that helps enable significant improvements in efficiency, while also delivering a vehicle platform with a low centre of gravity, securing much greater driving quality, ride comfort, quietness and a more engaging, dynamic design.
Comprehensively improved full hybrid system
Toyota has made significant improvements in its new generation full hybrid powertrain, reducing losses, redesigning and relocating key components and reducing weight. The result is a significant improvement in efficiency, achieved through detailed changes to the transaxle, engine and combined hybrid system.
The 2016 Toyota Prius is set to deliver an 18 per cent improvement in emissions and fuel consumption, the largest leap yet in cleaner running and efficiency in successive generations of the model. European/UK homologated emissions and fuel consumption data will be announced later.
Petrol engine with world-leading thermal efficiency
The new Prius retains the established 1.8-litre VVT-i petrol engine featured in the current model, but changes to the unit have taken its already high level of thermal efficiency to a world-leading 40 per cent, a figure comparable to a diesel engine.
Key developments include a Toyota-first dual cooling system, which automatically reduces the coolant flow volume in the engine to enable faster engine warm-up and the adoption of a low-viscosity oil to reduce friction between moving parts.
Fuel efficiency in cold weather conditions has also been improved thanks to a new system which uses a coolant water selector valve to accelerate engine warm-up, while maintaining cabin heater performance.
New piston and air intake port designs create greater tumble swirl inside the cylinder, and the volume of the exhaust gas recirculation has been increased, which further helps combustion performance.
Transaxle and electric motor
The transaxle and motor have been redesigned, delivering a reduction in their combined weight. The motor itself is considerably more compact and gains a better power-to-weight ratio. Notably there is about a 20 per cent reduction in mechanical losses through friction compared to the previous model.
The reduction in size has been made possible thanks to the motor's new multi-axle design: the length of the transaxle has been made shorter by locating the drive motor and electric motor/generator over multiple axles, instead of the previous single axle. The planetary gear arrangement in the reduction gear has been replaced with parallel gears, which further helps loss reduction.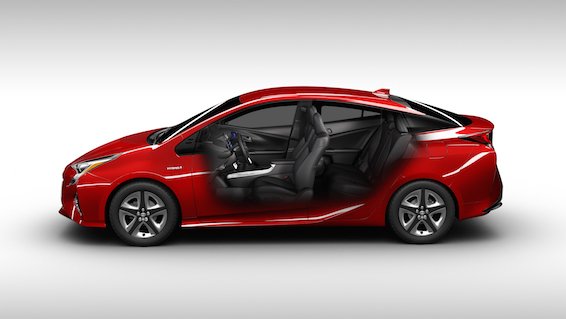 Power Control Unit
The use of a loss-reduction device in the power control unit cuts losses by about 20 per cent. With a more compact design, the unit can now be positioned directly above the transaxle.
The auxiliary batteries have been moved from the trunk to the engine compartment and the relocation of the hybrid battery beneath the rear seats (see below) also helps free up more luggage space. Boot volume has increased to 502 litres in the new Prius.
Hybrid battery
The new Prius features a new nickel-metal hydride (NiMH) hybrid battery, considered by Toyota to be the optimum choice to meet market requirements. The battery has been relocated beneath the rear seat, avoiding any intrusion in boot space.
2016 Toyota Prius dimensions
DIMENSIONS
Length (mm)
4,540
Width (mm)
1,760
Height (mm)
1,470
Wheelbase (mm)
2,700
Interior length (mm)
2,110
Interior width (mm)
1,490
Interior height (mm)
1,195
ENGINE
Type
4-cylinder in-line, DOHC
Displacement (cc)
1,797
Max. output (bhp/kW @ rpm)
97/72 @ 5,200
Max. torque (Nm @ rpm)
142 @ 3,600
ELECTRIC MOTOR
Max. output (bhp/kw)
71/53
Hybrid battery material
Nickel-metal hydride
Greater driving rewards, comfort and quietness
The new Prius' lower centre of gravity and increased body rigidity deliver a safe and secure drive. Passengers enjoy a smooth, comfortable ride, with minimal roll.
The TNGA concept delivers an increase of more than 60 per cent in body rigidity, compared to the previous model, by using a ring-shaped, cyclical frame, laser screw welding (with a greater number of weld points) and structural adhesives. Together these contribute to achieving a more stable ride.
New Prius also uses a higher proportion of high-tensile strength steel in its construction, making good use of high-strength, lightweight hot-stamp materials to achieve rigidity of 980Mpa and higher. The content of this quality of steel in the vehicle has increased from three to 19 per cent. Furthermore, the use of advanced Global Outstanding Assessment (GOA) brings the benefits of light weight, stability and excellent collision safety performance.
The driving experience has been improved with better acceleration feel, achieved through an upgrade of the hybrid system control unit. Optimal use of the battery and electric motor have minimised the "rubber band" feeling when accelerating – the sense of a delay in acceleration when you press the throttle.
The new Prius benefits from a drive assist system to provide a more responsive driving experience. The adaptive system continuously monitors the vehicle's G-forces to understand driver behaviour and habits, a function activated when the driver selects Power mode. The hybrid system responds to the driver's desire for more sporty performance, adjusting engine braking performance and throttle response.
The car's regenerative braking system has also been improved, with a new active hydraulic booster which gives quiet performance and controllability together with a natural braking feel.
Advanced safety and driver assistance systems
New Prius will make a significant advance in active and preventive safety measures with the adoption of Toyota Safety Sense. This package of safety features will be further extended in the new Prius with the addition of radar-governed Adaptive Cruise Control and a pedestrian recognition capability in the Pre-Collision System.
In addition to Toyota Safety Sense, new Prius will also be available with additional systems that support safer driving by giving the driver better real-time information about the area immediately around the car, including a Blind Spot Monitor and Rear Cross Traffic Alert .
A new, intelligent parking sensor system will help avoid the kind of low-speed bumps that can happen during low-speed parking manoeuvres, regardless of accelerator and brake operation. It will also mitigate damage if contact does occur.
The new Prius also showcases Toyota's new Simple Intelligent Parking Assist system, which uses an array of sensors to identify viable parking spaces and surrounding objects. The driver stops the car next to the parking space and pushes a single button to engage SIPA, which guides the car to the correct position for reverse manoeuvring into the space. The system is a development of Toyota's existing parking assist, with improved obstacle detection that allows for highly precise parking.
New features for on-board information and comfort
Toyota has improved the look and performance of the multi-information display in the driver's instrument binnacle. Data and images are now presented in full colour with high resolution graphics on a dual, 4.2-inch display. The right-hand section presents speed, fuel level and other basic data and left section is a multi-display where the driver can select preferred content using a switch on the steering wheel.
There is also a new colour head-up display, which projects essential vehicle data and alerts on to the lower section of the windscreen, making information instantly and easily readable without the driver having to taking their eyes off the road ahead.
The automatic air conditioning system uses an S-FLOW function to improve efficiency. It detects whether the front and rear passenger seats are occupied and adjusts ventilation and heating performance accordingly, minimising air flow around any empty seats. As well as making the cabin environment more comfortable, this also improves fuel efficiency.