The weather-detecting features found in a modern Toyota are pretty sophisticated – windscreen wipers that react to rainfall and accurate temperature-sensitive climate control to name just two. But when it comes to monitoring what's happening in the heavens, we're yet to see a car that can compete with Graham Smith's RAV4.
Graham, 39, an IT engineer based in Fife, has turned his 2002 Toyota RAV4 into a fully operational mobile weather lab, complete with a suite of sophisticated measuring kits, a seven-metre tall retractable mast, and a 'weather cam' that streams live video and weather reports to the internet.
The car is the only one of its kind in the UK and was borne out of Graham's fascination with the weather, which came about after he returned to Scotland having spent much of his life in Australia. It has since been used to chase storms across Scotland, and has measured torrential rain, snow blizzards and hurricane-force winds upwards of 70mph.
Graham told us: "I was born in Glasgow but raised in Adelaide, and I came back here in 2004 with my wife. It was the move that sparked my interest in meteorology; Australia has very predictable weather, but coming to Scotland, and seeing brilliant sunshine and snow storms in the same day left me asking: 'how's this possible?'
"At first I explored that by buying some weather-sensing equipment and setting up fifeweather.co.uk, a website for my local area. That was fairly successful, so I became more interested and came up with the concept of a mobile weather station in 2008."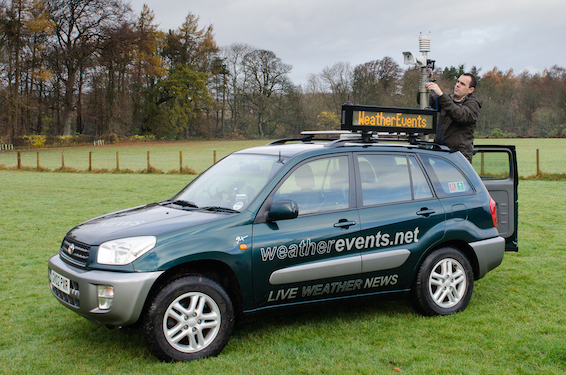 After playing with the idea of building a weather station within a trailer, Graham opted to use a second-hand vehicle, which provided a weatherproof and secure environment along with a means to supply power. And when it came to choosing a car, there was really only one option.
"I've been a Toyota owner since I bought a Paseo when I was 17 years old. I have a Verso now, I've had a Prius, and lots of others too. When it comes to cars, the main thing for me has always been reliability and robustness. I've never had a bad experience with a Toyota or been left stuck at the side of the road, so I had no intention of choosing something else for this project," he said.
"My initial idea was to use it for big outdoor events like golf tournaments, motorsports and festivals, where people who have to travel might want to know how the weather is. I needed something that could be driven on muddy festival grounds, so I thought a RAV4 would provide a great balance between capability, fuel economy, cost and interior size. It also had an ideal floor-to-ceiling height, which I needed to house the fixed-length section of the telescopic mast."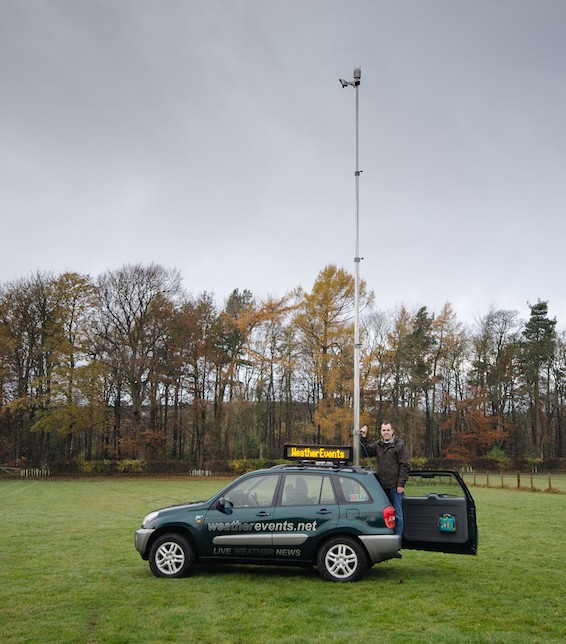 Graham bought his RAV4 in February 2009, and spent the next four months working on it with his father. The first and most challenging task was to install the air-powered telescopic mast, which operates like a giant retractable car radio antenna. It is bolted directly to the RAV4's boot floor and passes through the roof via a 10cm hole. A special bearing allows it to rotate without letting water in.
A weather station module that measures temperature, humidity, barometric pressure, wind speed, direction, rainfall, rain rate and rain accumulation is fixed on the top of the mast. The system can even detect hail, as it has a built-in microphone that can distinguish between different types of precipitation. The weather cam is also mounted to the mast, just below the module.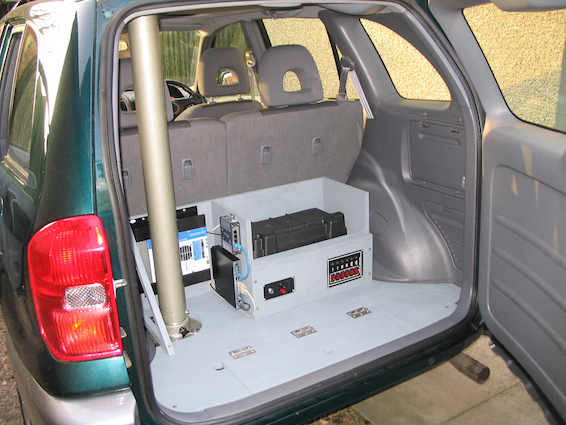 The information gathered is fed into a computer that uses software written by Graham to analyse the readings and upload them to his new website, weatherevents.net. It's all housed in a special frame in the boot and is powered by a 120Ah battery recharged by the car's alternator. The whole set-up is designed to be self-sufficient, so once it's set up on location, it runs entirely by itself.
Graham explains: "The car isn't made for forecasting, I would describe it as a weather observation platform or weather lab. It reports what's actually happening at a location in real-time."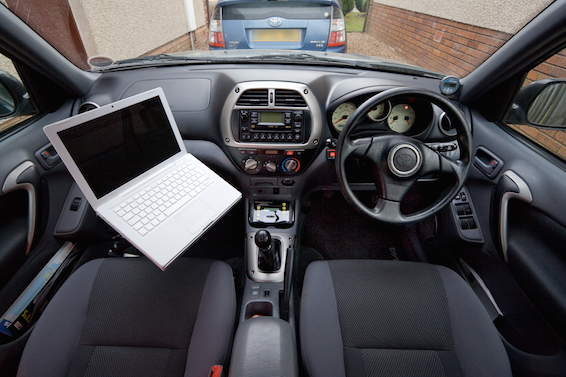 The RAV4 made its public debut at The Royal Highland Show in June 2009, and a year later Graham was asked to join the Royal Meteorological Society on a 10-day, UK-wide tour to help launch the Great British Weather Experiment and the society's weather club. The society needed a mobile unit that would attract attention and engage the passing public with real-life weather observations, so the car fits the bill perfectly.
To give the mobile weather lab more visual impact, Graham added the large LED-matrix display to the roof. This scrolls through various readings such as temperature, humidity and wind speed.
Graham added: "It does draw attention when I'm out and about. Some people get what it's about and want to talk about how it works, but I've also had people asking why I'm interested in monitoring the weather, or if I'm working for Google Streetview."
Following the tour, the mobile weather lab was soon making TV and radio appearances on the BBC, ITV and even on US networks, and as well as Graham's original target of deploying it at large outdoor events, he found himself being asked to visit schools and science festivals. He said: "When I set up my first website, schools asked me in to talk about it but I didn't really have anything to show them – the kit wasn't much to look at. Once I had the car, it was the perfect thing to show young people and get them interested in the weather. Whenever I take it to a school and raise the mast up, they're spellbound."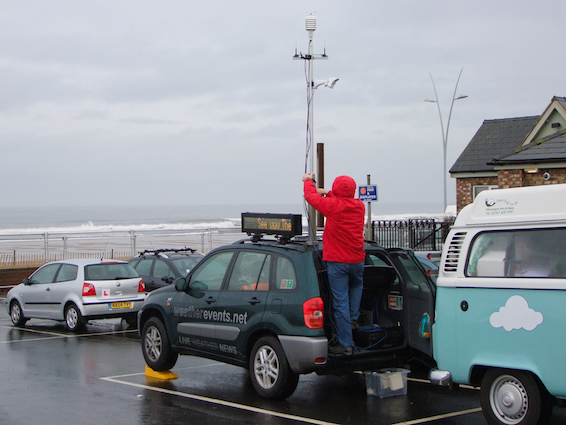 The RAV4 isn't just used to make public appearances, though – Graham has chased storms across Scotland, and even in the Outer Hebrides. He said: "I have had the car out in winds of 70mph, it is quite happy in those conditions and works perfectly.
"The highest wind it's measured is 78mph, which is in the hurricane force category. That was at Elie in Fife in December 2011, when we had Atlantic storms on the Scottish coast. I was actually aiming to travel to the West Coast to measure the storm there, but the winds were so serious the bridge from Fife to Edinburgh was closed. I would have gone cross-country but didn't have the time."
So what's next? Graham's RAV4, now over 13 years old and having covered over 100,000 miles should be more than capable of chasing the storms for some time yet – but a 'Mobile weather lab 2' may be on the cards. Graham said: "I definitely have some great ideas for version two if the opportunity ever presents itself."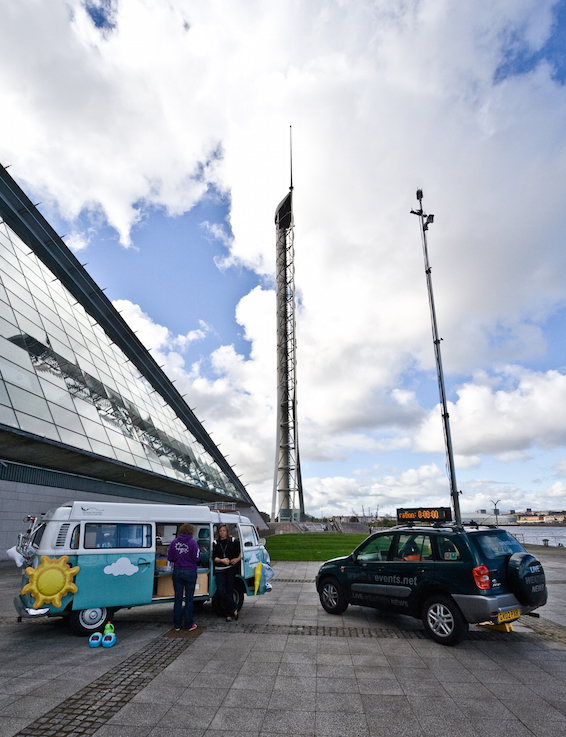 All information is correct at the time of publishing.