You've seen all new Yaris take on the gadget guy, now find out how it fares in a classic stand-off with a monster truck! Due to premiere on televisions screens across the UK this weekend, the new advert recreates that age-old battle for that tricky parking space…
The second in a series of new TV ads created by Toyota, 'All New Yaris vs Monster Truck' features the vocals of British MC Rodney P and the unique visual style of rapper Dotstar. Click on the video below to check it out and don't forget to join us on the official Toyota UK Facebook page to find out what's coming next.
So who will win, all new Yaris or Monster Truck? The smart money's on Yaris…
[youtube]https://www.youtube.com/watch?v=VSM1BlnSVHw&feature=channel_video_title[/youtube]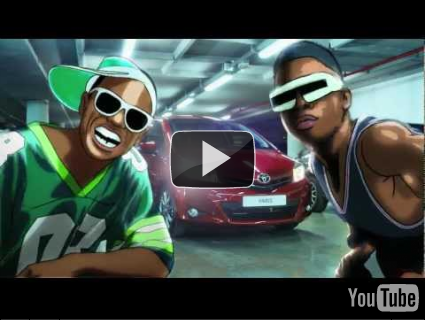 Love our gadget master? Mad about the Yaris monster truck crew? Click here for official images from the TV adverts (did we mention the puppet?).