Please note that following Toyota's announcement on 28 August 2018, all versions of this next-generation C-segment model will be known worldwide as the Toyota Corolla.
Learn more: Toyota Corolla enters an exciting new era
The new Auris, to be built at Toyota Manufacturing UK's Burnaston factory from next year, will be offered with a choice of three powertrains, including two hybrid electric vehicle (HEV) systems.
• 1.2-litre turbo – a 114bhp four-cylinder, direct injection turbocharged petrol engine
• 1.8-litre HEV powertrain – 121bhp fourth generation HEV system, as currently featured in the Toyota Prius and Toyota C-HR
• 2.0-litre HEV powertrain – a new, more powerful Toyota New Global Architecture (TNGA) HEV powertrain producing 178bhp
The new generation Auris will be offered only with petrol and HEV powertrains; similar to the decision Toyota took with Toyota C-HR in 2016, there will be no diesel version.
Strong customer demand for HEV versions of its core models is prompting Toyota to phase out diesel from all its passenger cars in 2018.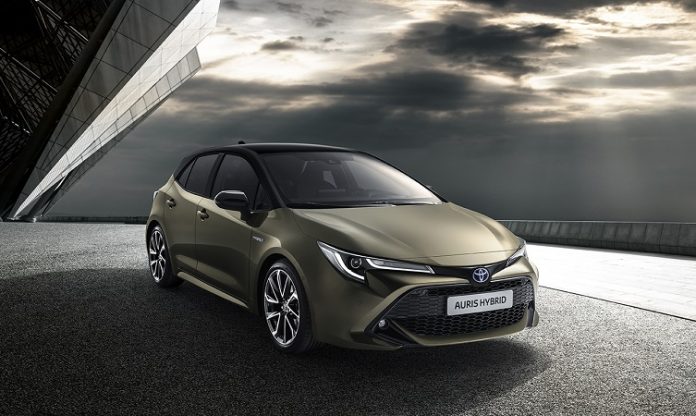 In 2017, HEVs accounted for 41 per cent of Toyota Motor Europe's total sales, an increase of 38 per cent year-on-year to a total of 406,000 units. By contrast, the diesel mix for Toyota passenger cars was less than 10 per cent during the same year.
Toyota will continue to offer diesel engines in commercial vehicles (including Hilux, Proace and Land Cruiser) to meet customer needs.
Johan van Zyl, President and CEO of Toyota Motor Europe, said: "Toyota has been pioneering hybrid electric vehicle technology for more than 20 years. For several years, HEVs have been the dominant powertrain where they have been offered.
"In our latest new model, the Toyota C-HR, HEVs accounted for 78 per cent of sales last year.
"As part of our electrified vehicle strategy, we are progressively expanding our HEV offering with a second, more powerful 2.0-litre engine. Starting with the new generation Auris, this expanded HEV line-up is a natural reaction to our passenger car customers' demands.
"Toyota's HEV mix in passenger cars reached equality with the diesel mix in 2015. Since then, HEV sales have substantially exceeded those of our diesels. In commercial vehicles, where personal and business needs (for example, torque and payload) remain, we will continue to offer the latest technology diesels."