Big John's, one of the best-known names in neighbourhood takeaway food in the Midlands, has placed an order of its own – for a fleet of 12 new Toyota Yaris.
The compact hatchbacks are the ideal choice, not least because there's room inside for Big John's famous 20-inch pizzas to be carried flat. That is just part of the winning Toyota recipe that also includes excellent reliability, town-friendly performance and competitive running costs.
Mike Somers, Big John's Operations Director, said: "We're famous across the Midlands for giving our customers a great selection of takeaway favourites, using fresh ingredients delivered to us daily.
"The quality of our meals has to be matched by the service we provide, which means having a vehicle fleet we can depend on to do the job, promptly, safely and reliably. In all these respects the Toyota Yaris fits the bill perfectly, as well as offering plenty of space and comfort."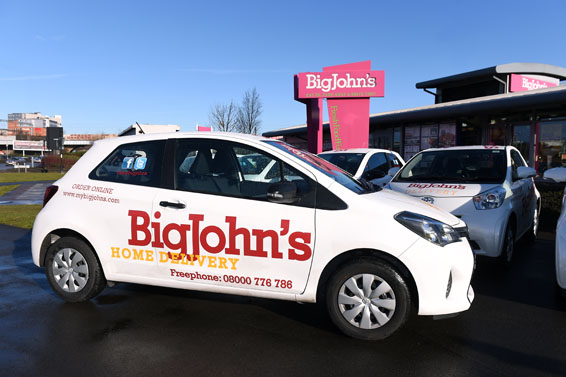 Big John's developed from a family-run corner shop established in Birmingham 30 years ago to become one Britain's most successful takeaway food businesses, extending to 17 outlets across the Midlands. Its popularity has been built on the slogan "all your takeaway favourites under one roof," reflected in a menu that runs from fish and chips to pizza, kebabs, fried chicken and vegetarian dishes.
It was the first business in Britain to offer a drive-through fish and chip service and in the 1990s pioneered the concept of the 99p meal.