[slider_pro id="138″]
The new 2014 Toyota Yaris features comprehensive, customer feedback-driven improvements to its ride comfort and handling, and significant reduction in NVH.
Serkan Karaman, senior project manager, said: "For the first time in the history of the R&D division in Europe, we have taken the initiative and made important changes to the platform with regard to vehicle dynamics that go way beyond the boundaries of a facelift."
See also:
2014 Toyota Yaris: in detail
2014 Toyota Yaris: design

Improved ride comfort and handling
The new 2014 Yaris has a more rigid upper and lower body structure, which offers a more direct and linear response to steering inputs. At the same time, it delivers a more comfortable ride and maintains balanced body control.
Front-end rigidity has been increased thanks to the use of a new windscreen bonding material and thicker dashboard bulkhead. The instrument panel beam and its connections to the dashboard and central tunnel have been stiffened to improve steering response.
Central and rear body rigidity have also been increased, with 36 additional weld sports, redesigned tunnel bracing to add rigidity to the vehicle floor, a redesigned wheelhouse area, and a reinforced rear bumper attachment to reduce body roll deformation.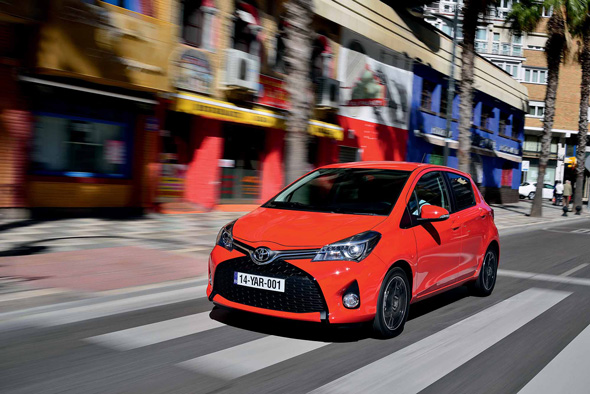 The rear suspension has been redesigned to accommodate a new, stiffer torsion beam with softer coil springs and a new, long, polyurethane-bound stopper. This improves ride comfort while maintaining good body control, and also improves the vehicle's balance of front and rear grip, reducing understeer tendencies.
Softer springs also feature in the front suspension and the introduction of rebound springs within the shock absorbers increases front anti-roll stiffness, which improves handling and reduces body roll when cornering.
New shock absorber valve technology reduces the transmission of vibrations from the road surface and improves ride quality without compromising handling agility.
Finally, a new control logic in the electric power steering takes advantage of the extra bodyshell stiffness and suspension changes to give the driver significantly improved steering feel, responsiveness and accuracy.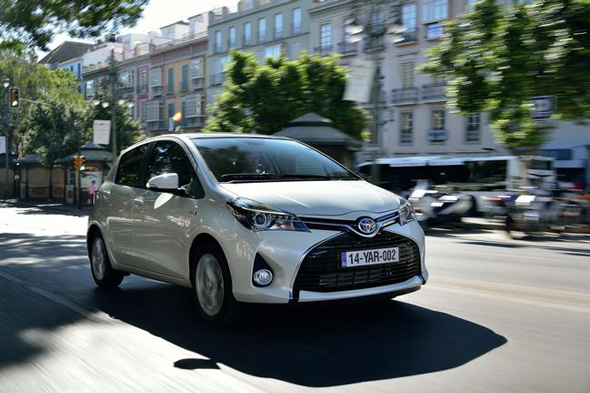 Noise, vibration and harshness (NVH) – driving comfort
As well as a reduction in unwanted vibration through thanks to a stiffer bodyshell and re-tuned suspension, the 2014 Yaris also benefits from markedly lower interior noise levels.
Toyota engineers used customer feedback to identify three noise reduction priorities. First, reduction of high-frequency noise from the engine and road surface; second, reduction of low frequency noise from the engine; and third, reduction of wind noise when driving at speed.
To minimise the penetration of high-frequency noise through the dashboard bulkhead and vehicle floor, the dashboard silencer has been completely re-engineered. The sound absorption material in the dashboard panel and console has been upgraded and a new noise-optimised carpet has been introduced.
The effort invested extends to detailed steps such as reducing the size of the feed-through apertures in the dashboard silencer to maximise its surface area. A similar principle has been applied to the instrument panel and console box cavities, which now feature double the previous quantity of sound-absorbing material.
Low-frequency engine booming has been minimised by using a new engine torque rod on versions powered by the 1.4 D-4D diesel engine, and by relocating the exhaust system hangers.
Wind noise intrusion at high speed has been cut by using a new, spoiler-shaped cowl louvre that reduces air turbulence at the base of the windscreen; a new door weather strip design which improves sealing, particularly around the door mirror area; and doubling the amount of sound absorption material in the door cavity.
Engines and gearboxes
The 2014 Yaris is available with four powertrains – two petrol, one diesel and a hybrid. The hybrid system, which already accounts for more than a quarter all Yaris sales in the UK, benefits from adjustments which have brought its CO2 emissions down further, from 79 to 75g/km. Extremely fuel efficient (more than 85.6mpg) and clean (virtually zero NOx and particulate emissions), this powertrain remains a unique proposition in the supermini segment.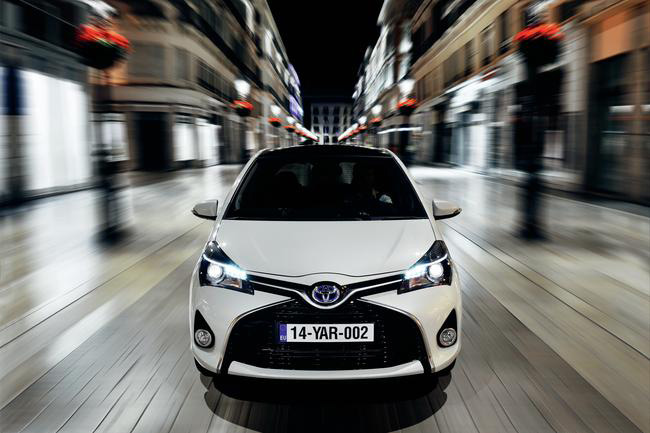 Yaris Hybrid also stands out for its silent running, comfort and easy handling, especially around town where the hybrid system allows the car to be driven for certain distances in electric mode, or with limited use of the petrol engine. The automatic transmission adds to the all-round smooth, quiet and comfortable driving experience.
The 1.33 VVT-i petrol and 1.4 D-4D diesel engines have undergone secondary modifications aimed at reducing noise and vibration. The diesel benefits from a new torque road and both feature better insulation for the exhaust system.
The three-cylinder 1.0-litre petrol engine has undergone significant changes to improve its performance, reduce emissions and cut noise and vibration levels. Compliant with the forthcoming Euro 6 emissions standards, it achieves an excellent thermal efficiency level of more than 37 per cent (the proportion of energy contained in the fuel which is converted into mechanical energy). This compares to an average thermal efficiency for mass-produced petrol engines of between 30 and 35 per cent. One of the effects of this is a reduction in CO2 emissions from 110 to 99g/km.
Toyota engineers have achieved this principally by optimising the weight/power ratio, for example by creating a combined cylinder and exhaust manifold head that is more compact and weighs less.
To reduce fuel consumption while maintaining performance, the engine's compression ratio has been increased to 11.5:1; the intake ports and pistons have been redesigned to increase the tumble effect in the combustion chamber; and piston cooling has been increased to delay knocking. Exhaust gas recirculation has been increased to promote combustion speed and reduce pumping losses, and the EGR valve now operates in conjunction with the VVT-i valve timing distribution system. The VVT-i has also been adapted in line with the engine's new characteristics.
Lastly, friction levels have been reduced by altering the materials used for the valve actuator, treatment of the piston surfaces, and changes to the timing chain drive and the shape of the oil sump to ensure the engine gets up to temperature quicker.
New Yaris specifications
The 2014 Yaris will increase its appeal with a line-up that features more distinctive and clearly differentiated grades, matching the wider customer base in the supermini segment.
This differentiation will be reinforced through grade-specific interior colour schemes and different treatments of numerous exterior and interior elements, such as the lower grille, wheels, seats, centre console, instrument panel and steering wheel inserts.
For example, the different treatment of the lower grille (unpainted, metallic black or piano black) and the grille surround inserts (chrome, satin chrome or piano black) will be specific to each grade.
All grades will provide a high level of equipment, with standard features including a leather steering wheel trim, air conditioning and the Toyota Touch 2 multimedia system. Dual-zone air conditioning, rear privacy glass, push-button start, automatic headlights and wipers, cruise control and auto-folding mirrors will also be available.
Details of UK grades, specifications and prices will be announced nearer the on-sale date this summer.
See also:
2014 Toyota Yaris: in detail
2014 Toyota Yaris: design

By Iain Reid