The Toyota GT86 is Toyota's acclaimed rear-wheel drive sports car, a compact performance coupé that offers an absorbing, uncluttered driving experience that's rated as one of the finest money can buy. And it doesn't end there. The GT86's brilliant chassis and responsive 2.0-litre petrol engine are wrapped with a stylish, aerodynamic body that looks great from any angle, a perfect package for performance car fans who want accessible fun backed by the quality and reliability synonymous with Toyota cars.
Four trim levels are offered – the entry-level GT86 Primo, the classic GT86, the GT86 Aero and the GT86 Giallo special edition. The GT86's performance and handling abilities have garnered praise and won awards from the likes of Autocar, Auto Express, Top Gear, Honest John and Pistonheads.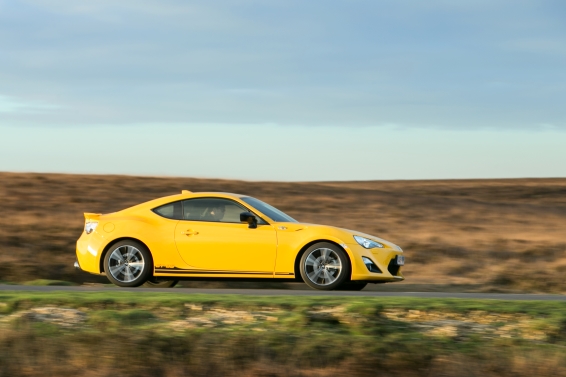 Driving
The Toyota GT86 uses a compact and free-revving 2.0-litre petrol engine combined with a six-speed gearbox (manual or paddle-shift automatic) to drive the rear wheels, echoing the classic front-engined, rear-wheel drive sports car layout. The engine is mounted low and as far back as possible, which optimises the GT86's handling by keeping its centre of gravity low.
Specially-designed suspension has been tuned to deliver instant response to the driver's inputs, making it nimble and beautifully balanced, with brilliant grip levels from its limited-slip differential without intrusive electronic driving aids. The GT86's sports car credentials can be seen in its performance figures – 197bhp, 205Nm of torque, 7.6secs from zero to 62mph (manual), and 140mph maximum speed (manual).
Comfort
Despite GT86 being the most compact four-seater sports car currently on sale, it's not cramped inside. Rather, Toyota has cleverly designed the interior so that it's comfortable, well-equipped and, most importantly, driver-focused. The sculpted cloth seats (leather or leather/Alcantara seats are optionally available) are mounted low, essential in maintaining a low centre of gravity and providing occupants with a sporty feel, and the small steering wheel and sporty, short-throw gearshift are covered in buckskin leather that's great to hold. A bold yet simple instrument panel provides clear feedback easily seen by the driver.
Toyota has also given passengers plenty of headroom while still having a sleek, aerodynamic roofline by raising the roof at the sides and keeping the centre section as low as possible. Onboard equipment includes (dependent on model grade) dual-zone air-conditioning, cruise control and Toyota's latest Bluetooth-enabled Touch multimedia or optional Touch & Go multimedia and navigation system.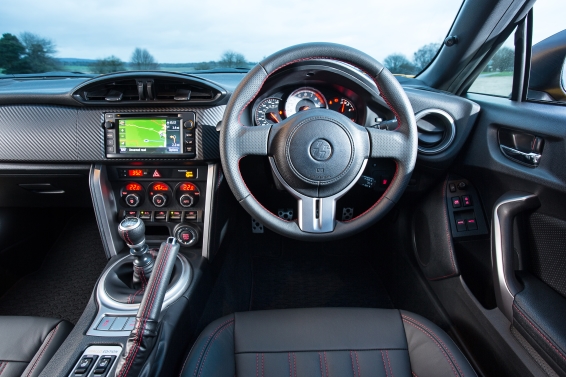 Practicality
The Toyota GT86 is a sports car that is practical for everyday use, with a 2+2 seating arrangement meaning that there's still space for the kids on occasion. A wide-opening boot lid reveals a decent-sized load space ready to transport your shopping or luggage for a weekend away, and the rear seats also fold flat for those rare occasions when you need a little extra space. The compact passenger compartment has storage in the door and seat pockets, cup- and bottle-holders and two 12V accessory sockets.
Safety
Although the GT86 is a lightweight sports car, it is strong and safe like the rest of Toyota's range. Extensive use of high-strength steel in key impact-absorbing areas makes the GT86 strong, and its occupants are kept safe by front, side and curtain airbags, whiplash-reducing front seats and side impact beams.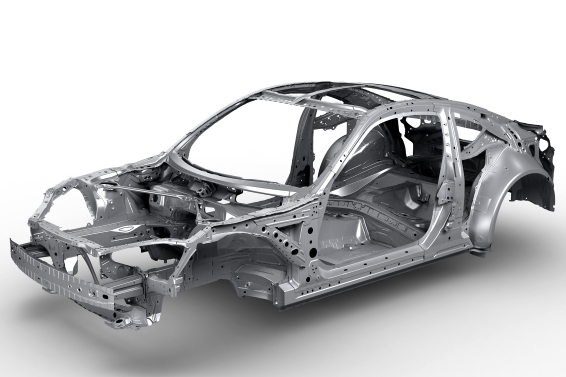 In addition to the limited-slip differential that helps to maintain rear wheel grip, Toyota has equipped the GT86 with vital safety technologies including traction control, vehicle stability control, and anti-lock brakes enhanced by systems to apply greater braking pressure in an emergency stop. LED daytime-running lights help the GT86 to be seen on the roads, and high-intensity discharge headlights ensure that the driver can easily see the road at night.
Running Costs*
Toyota's lightweight, aerodynamic design of the GT86 means that you can enjoy the perks of a true sports car without downsides of poor fuel consumption or high emissions. Fuel economy figures for the GT86 are 36.2 (manual) and 39.8mpg (automatic) on the combined cycle, with extra urban figures of 44.1 and 49.6mpg respectively. Road tax for the GT86 costs as little as £180 each year (automatic), routine servicing and maintenance is required once a year or every 10,000 miles.
Quality
Toyota's production methods are committed to ensuring the highest quality in its cars, which is why the GT86 sports car receives the same five-year, 100,000 mile mechanical warranty as all other Toyota cars. Buyers receive further peace of mind from three years' cover against rust and paint defects and the 12-year, unlimited mileage anti-corrosion warranty that is standard on every GT86.
Prices*
The Toyota GT86 is priced from just £22,495 (including £210 promotional saving) in Primo specification, which comes with the six-speed manual gearbox. GT86 and GT86 Aero models with manual transmissions cost £25,005 and £27,660 respectively, with the former also optionally available with a six-speed paddle-shift automatic transmission for an extra £995. Optional extras available include the Carbon Pro Pack styling enhancements at £400 and the JBL Sound Pack at £1100.
For further information about the GT86, and to arrange a test drive, visit the designated GT86 section of the Toyota website.
*Prices correct as of 1/3/16