In developing the ninth-generation Toyota Corolla, chief engineer Takeshi Yoshida gave himself a risky and unenviable task. Despite the fact that Corolla production had recently exceeded 28 million units and that it accounted for 20% of Toyota's entire annual sales worldwide, he wanted to put together a car that broke the link with Corolla models of the past and constructed a new global standard for the 21st Century.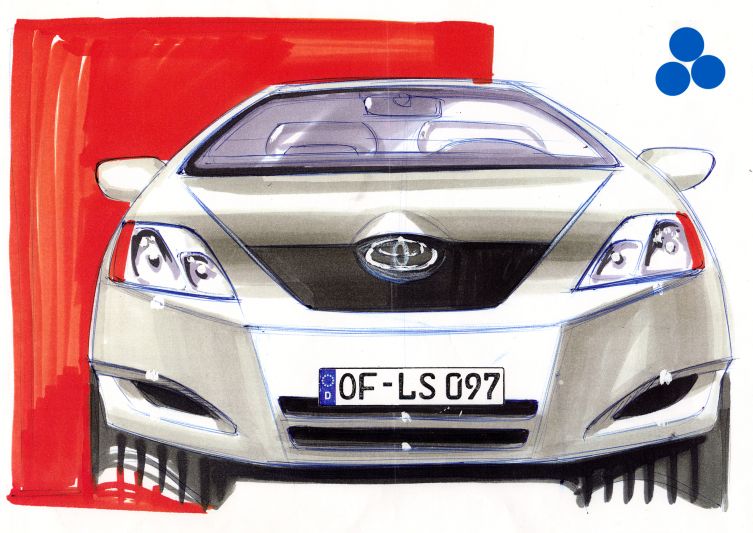 Work began on the next-generation Corolla in the late Nineties – a difficult period for the Japanese car industry. The economy was sluggish, and families were beginning to prefer compact multi-purpose vehicles (MPVs) over traditional body styles. What's more, the consumers that actually were in a position to buy a new car were getting older. In the face of this changing financial marketplace, it was vital that Corolla continued the success of its predecessors yet evolved to appeal once again to a broad range of car-buyers.
In order to achieve this, Toyota realised that the new car shouldn't simply rework long-standing designs and values; it needed to proactively protect the respected Corolla brand by introducing new, thoroughly modern priorities that harmonised with the moved goalposts of the New Millennium.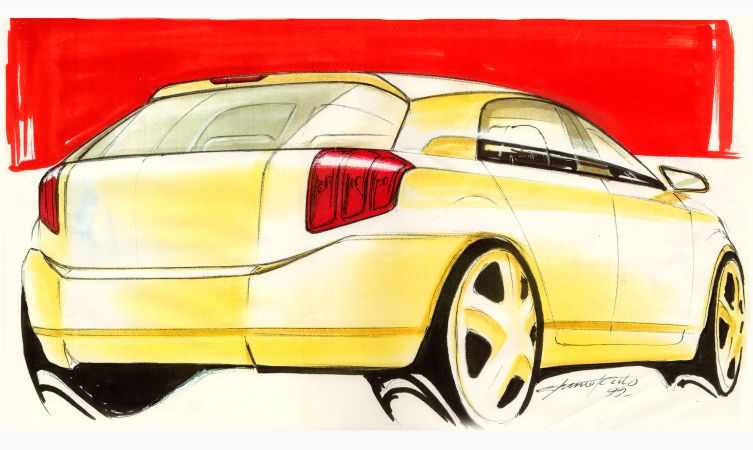 Yoshida shed light on the feeling of the time when he commented: "I constantly heard about how the Corolla was a can't fail vehicle for Toyota. However, I believed that if a manufacturer is overly concerned about failure and ultimately places priority on cost and ease of production, it will end up making a product that is convenient for themselves."
Yoshida pondered for a long time about how to change this mind set, coming to the conclusion that the development team needed to start again from scratch. They had to break away from class concepts and target high standards in design, performance and quality.
So instead of developing the car to meet the needs of high-volume markets such as the United States, it was primarily designed to appeal to the most demanding world market – Europe.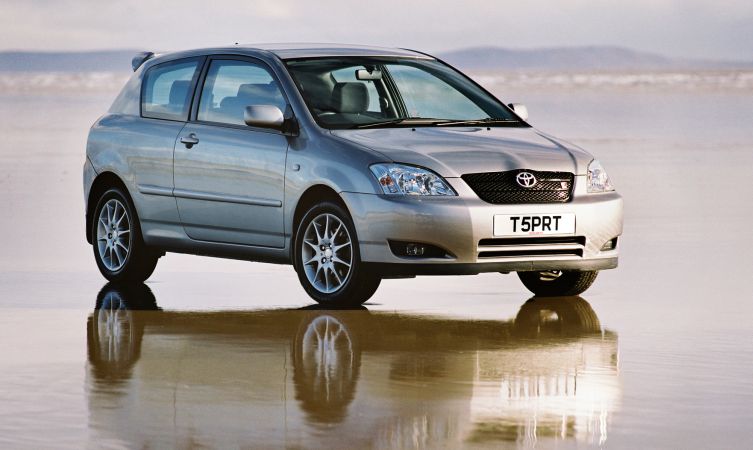 2000-2006 Corolla: a new perspective
Working from an all-new platform, every area of the ninth-generation Corolla was developed afresh from a different perspective.
This included the exterior design, which, for the first time in the car's history, was penned in Europe. In addition, rather than allowing each development and production department to work in isolation, Yoshida instigated the idea of a common goal. Cooperation was actively encouraged, a technique that allowed the intentions and progress of each team to be communicated in regular open-room meetings.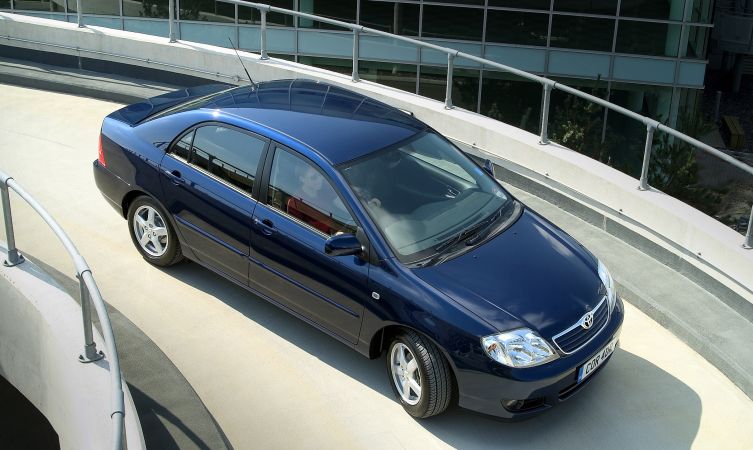 Three major targets were identified in these meetings. First, that the new car's packaging, style and quality should not be confined to class conventions. Secondly, that its ride and handling should be enjoyable for all. And finally, that its safety and environmental performance should exceed current standards and meet future criteria.
In the back of Yoshida's mind, however, was the fact that Corolla had always been a product that tapped into the needs of the era and provided a high degree of customer satisfaction. He therefore didn't want to betray that reputation.
2000-2006 Corolla: style and substance
The new Corolla made its debut in the domestic market in August 2000 but made its UK arrival in early 2002. In contrast to previous generations, it launched in Japan in just two body styles – saloon and estate. But the number of derivatives soon rose to six with the arrival of three- and five-door hatchbacks, MPV and soft-roader, though not all were available in every world market.
For the first time, European market versions of the mainstream three- and five-door hatchbacks were produced in Burnaston, Derbyshire, while production of the saloon and estate was later switched to Turkey.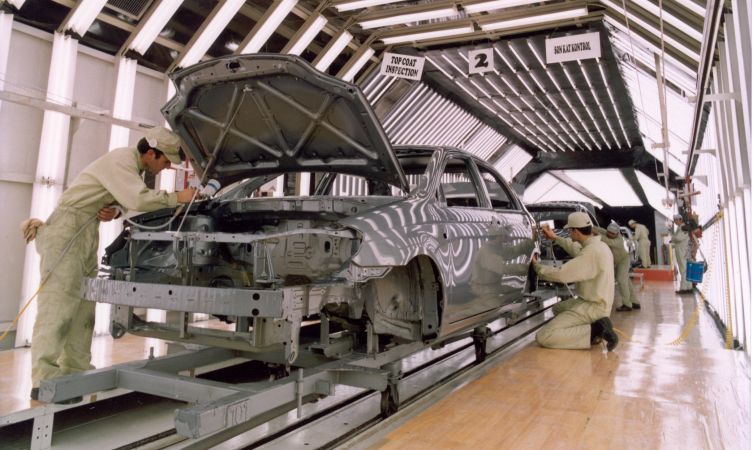 Each model majored on efficient packaging within a wheelbase that was 135mm longer than before yet had much shorter overhangs. The average roof height was increased by 90mm and it was almost as broad as cars in the class above, leading to an impressive feeling of spaciousness.
The design was supposed to be both youthful and refined, and show a clear family philosophy with the recently introduced Yaris. Yet despite its relatively lofty stance, the chamfered-edge shape made Corolla look compact and robust.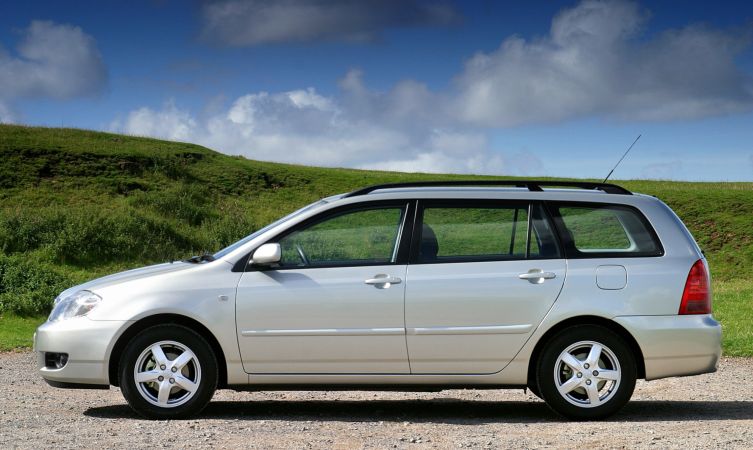 In addition to modern looks, aerodynamic efficiency was pursued through the development of a flat underbody and the locating of spats to direct air away from the wheel wells and stop them acting like parachutes. Turbulence was further avoided by ensuring that merging points around the glass, pillars and roof were flush with the rest of the body.
Inside, the ninth-generation Corolla was the first car to benefit from research gathered by Toyota's new Interior Study Team, a multinational group of specialists put together to study future trends in interior finishes. Their recommendations led to the integration of a high level of perceived quality within the trimmings.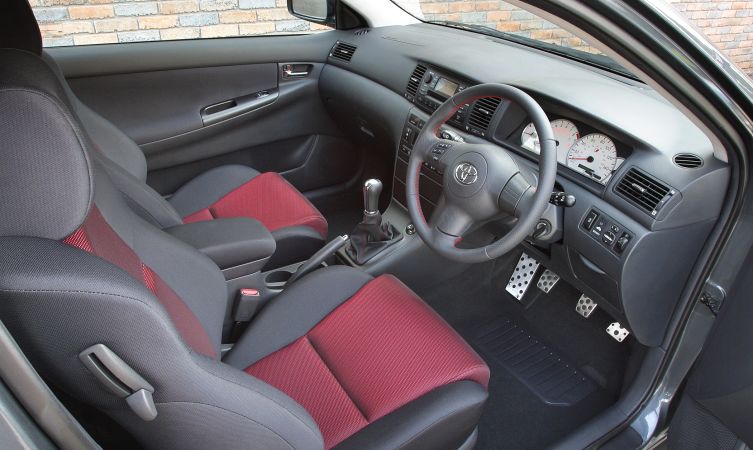 Soft-touch plastics were used extensively, and the operation and visibility of switches and dials was carefully analysed. This included the use of Optitron instrumentation first seen in the flagship model of sister brand Lexus.
In addition, the weighting and operating sound of the locks and doors was calibrated to give Corolla a premium feel; even the glovebox was equipped with a damper mechanism to deliver a measured opening speed similar to that found in luxury cars.
2000-2006 Corolla: power and control
An appropriate total of nine engines were installed across the ninth-generation Corolla range, though not all were available in every market. All petrol engines were equipped with intelligent variable valve timing technology for greater power and efficiency, while the diesels featured the latest common rail fuelling system from the acclaimed D-4D range.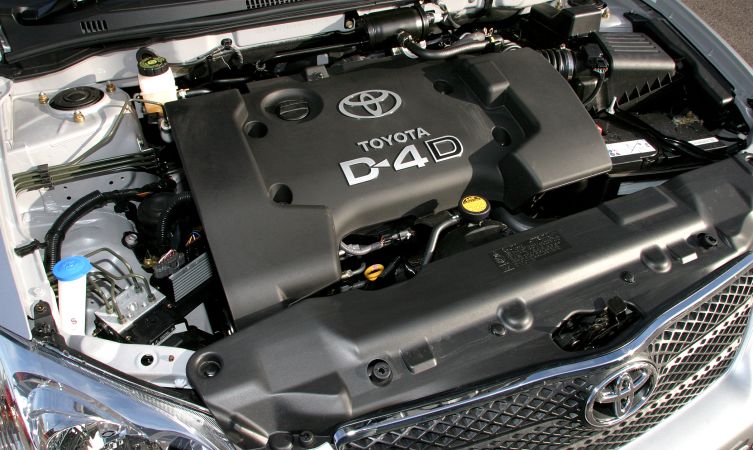 The UK engine line-up initially consisted of 1.4, 1.6 and two 1.8-litre petrol engines with 97, 110, 135 and 192bhp respectively, and the two 2.0-litre diesels were tuned to produce either 90 or 110bhp. A mid-life revision in 2004 (identified by a teardrop element in the headlights) saw the low-power diesel replaced with a new 1.4-litre unit offering the same output but greater economy. It also became the first Toyota diesel to be available with optional Multi-mode Manual Transmission.
As well as the discontinuation of a coupe model, production of the ninth-generation Corolla saw the end of the acclaimed 4A-GE twin-cam engine after a run of 17 years under the bonnet of all sporting models.
It was replaced by the high-power 1.8-litre 2ZZ-GE engine in T Sport models, with variable intake valve timing and variable valve lift on both the intake and exhaust cycles. Short stroke internals allowed for higher rotation speeds, which, in concert with a higher compression ratio and larger diameter valves, helped the unit achieve a specific output of well over 100bhp per litre.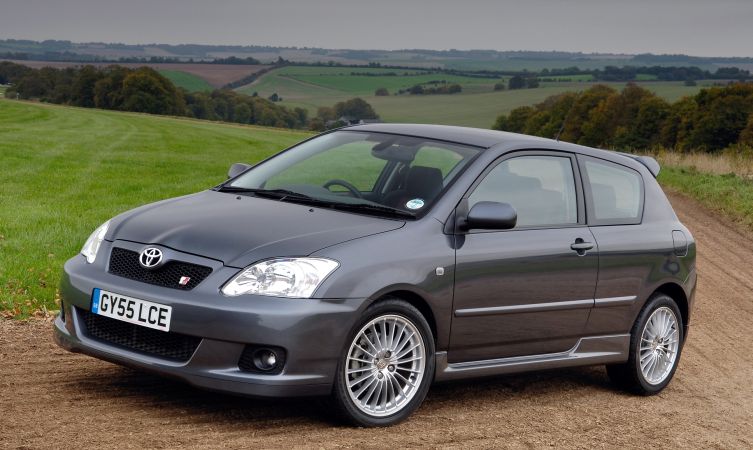 As if this screaming hot-hatch wasn't hot enough, the UK market was also privileged to receive an extremely rare special edition – the Corolla Compressor (above). Available from November 2005 in a strictly limited run of 250 units, the model used a supercharger conversion (below) to increase the power and torque of the 2ZZ-GE to 215bhp and 215Nm respectively. It was also equipped with unique wheels, more aggressive styling and lowered suspension.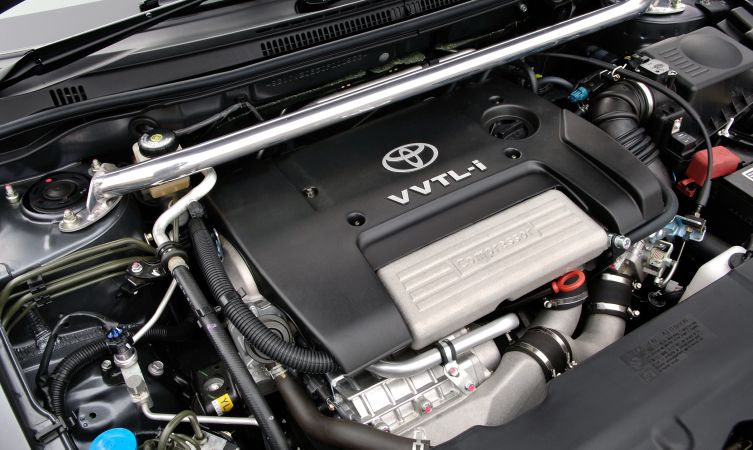 Transmission options for the Corolla range included five- or six-speed manual gearboxes, depending on grade, and a newly developed, electronically-controlled four-speed automatic gearbox. This low-friction transmission incorporated precise hydraulic control for responsiveness and smooth shift quality.
It also included advanced control technologies that could prevent gearchanges when it sensed that the car was either ascending or descending a hill, and a flexible locking control that provided partial lock-up under light loads to improve fuel economy.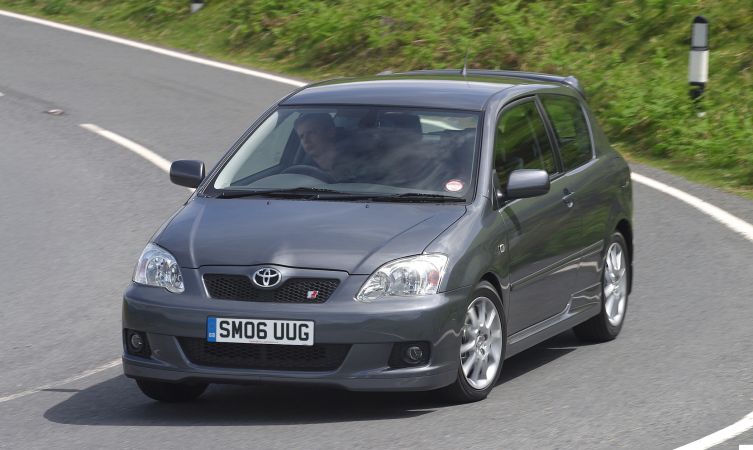 With a new platform also came a new chassis specification – redesigned MacPherson struts up front and either trailing arm torsion beam or double wishbone suspension at the rear, the latter being reserved for four-wheel drive models.
Anti-roll bars were adopted in all variants to preserve roll rigidity and ride comfort. Improvements were also engineered into the steering, with a new mechanism and power steering systems. Some models were equipped with Toyota's new column-type electric assistance, which calculated the amount of assistance based on vehicle and engine speed for a more natural feel and minimal impact on fuel economy.
2000-2006 Corolla: safety performance
Active and passive safety performance was the third area of priority during development of the ninth-generation Corolla. On a foundation level, the car featured an impact-absorbing body structure designed to direct crash forces away from the high-strength cabin. Contributing to top-level collision safety were multiple airbags, seat structures that reduced the potential for whiplash injuries by alleviating impact on the neck area, and interior trim structures designed to minimise head damage.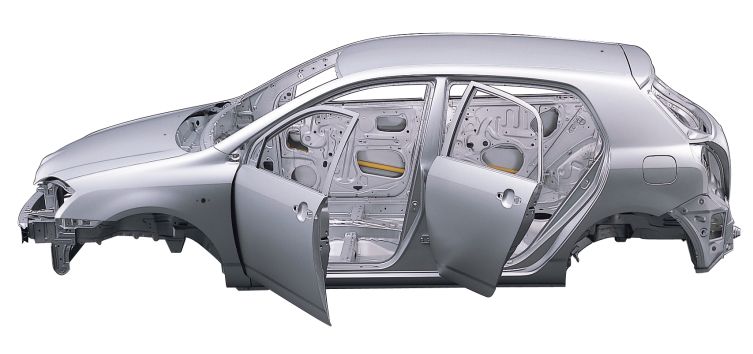 Active safety included relatively simple measures such as multi-reflector lamps that offered excellent light distribution and wide-angle rear-view mirrors. But it also extended to numerous software features such as stability control, traction control, anti-lock brakes and brake assist, many of which were new to the Corolla range.
2000-2006 Corolla: the legend continues
Thanks to the efforts of Takeshi Yoshida, his entire development team, and perhaps the appearance of Brad Pitt in TV adverts for the car, the ninth-generation Corolla was indeed reborn for the 21st Century. It offered better all-round performance and a superior balance of qualities than any of its predecessors, consolidating its position as Toyota's premier world ambassador.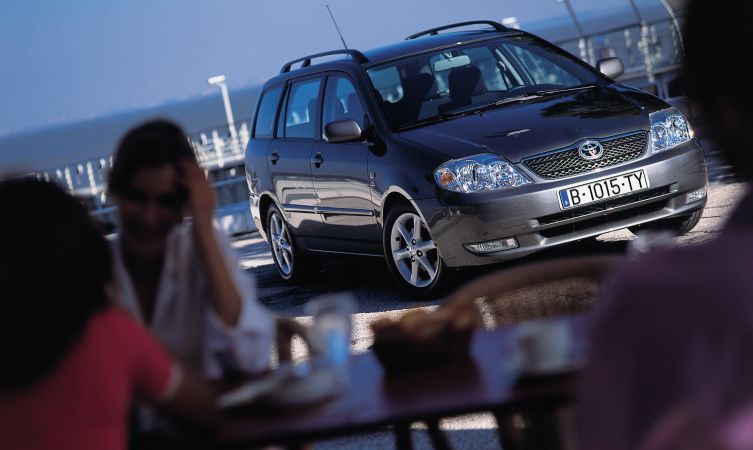 Just as Toyota had redoubled its efforts to produce a car that met the changing marketplace, so had other manufacturers. Competition in Japan had intensified, yet the popularity of Corolla – especially in Europe, the United States and Asia – continued to increase. In 2005 alone, an incredible 1.39 million Corolla models were sold worldwide, and by the end of the ninth-generation's production run in June 2006 the cumulative total of Corolla sales had exceeded 31.6 million units. The new Corolla 'DNA' had definitely made its mark in car-manufacturing history.
2000-2006 Corolla: additional equipment
* Kenaf fibre bio-material used in luggage compartment
* ISOFIX compliant child seat anchorage points
* Electronic Brake force Distribution (EBD)
* Multi-reflector rear combination lamps
* Option of full-time four-wheel drive
* Grip-type outside door handles
* Six-speed manual transmission
* Gated automatic shift lever

Read more:
History of the first-generation Corolla
History of the second-generation Corolla
History of the third-generation Corolla
History of the fourth-generation Corolla
History of the fifth-generation Corolla
History of the sixth-generation Corolla
History of the seventh-generation Corolla
History of the eighth-generation Corolla