With almost 20 million sales since its introduction in 1966, the Toyota Corolla had reached the status of world's most popular car. In fact by 1991, the average daily production of Corolla models throughout the globe was around 4,300 units per day.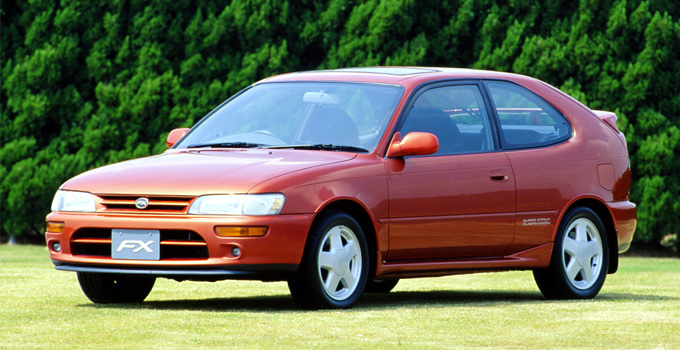 The seventh-generation car was designed to consolidate that position in a number of ways. True to the spirit of kaizen, the new E100-series Corolla displayed improvements across all disciplines. It reflected the changing habits of car-buyers with a greater variety of models, and was larger, faster, safer, quieter and more refined than ever before – even being described by its development leader as 'a mini Lexus'.
1992-97 Corolla: development
Continuing his position from the successful outgoing model, development leader Akihiko Saito set a theme of Deep Impression for the new 1992-97 Corolla. He wanted the car's essential functions and performance to significantly exceed expectations, making a deep impression on those experiencing it.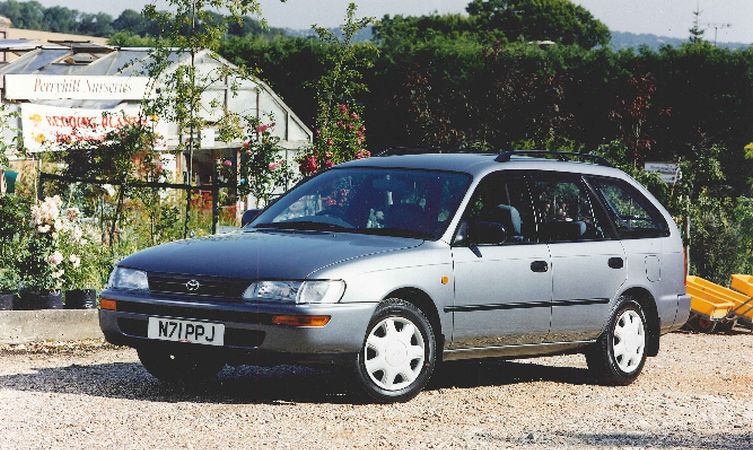 Development progressed around three specific themes: 1) style that is both beautiful to behold and practical to use; 2) evolution of the fundamental driving performance and 3) a sense of security that satisfies the soul.
Read more: History of the first-generation Corolla
To ensure the 1992-97 Corolla enhanced all aspects of driving, the departments responsible for engine and suspension development were integrated. Members stayed at the winding Shibetsu City test course in Hokkaido for a total of six months to hone the new car to emulate the handling prowess of European vehicles. In this open, training camp environment, all opinions were welcomed, even from those without direct responsibility.
1992-97 Corolla: design
The new bodywork was more curvaceous than ever before, the panels being deeply moulded at each end of the car.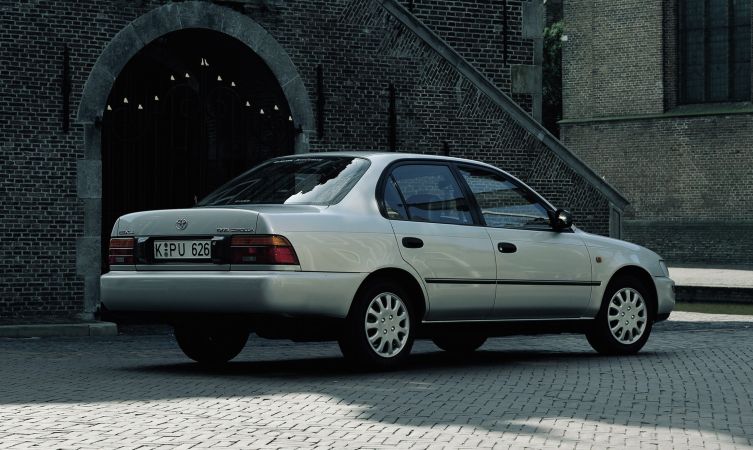 While emphasising the look of a high-class saloon – the recently introduced Lexus LS 400 being a particular inspiration – many characteristic Corolla cues were retained. These included the large, irregularly shaped headlamps (now polycarbonate rather than glass), horizontal radiator grille and integrated front bumper.
1992-97 Corolla: UK grade structure
Though introduced in Japan in June 1991, the 1992-97 Corolla didn't reach UK roads until 7 August 1992. The launch range consisted of five body styles: three- and five-door hatches, four-door saloon, five-door liftback and estate. Engine choice was limited to either a 1.3- or 1.6-litre petrol engine, while the ascending trim levels were graded XLi, GLi and Executive. Both the XLi grade and five-door hatchback (below) were new to the UK market.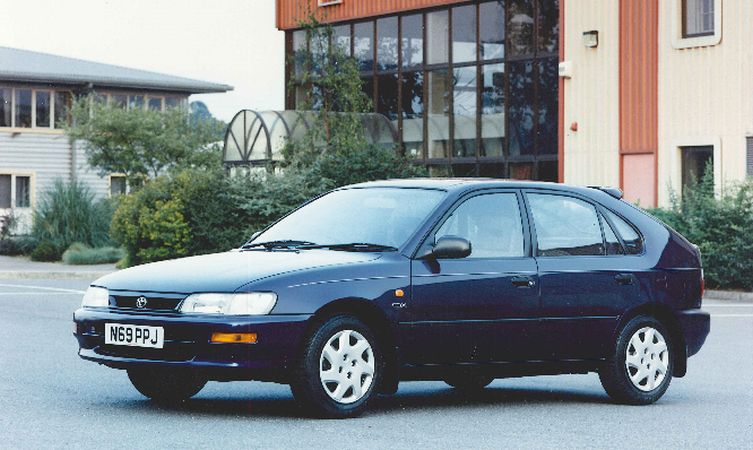 An economical 2.0-litre diesel engine was added to the range in March 1993, together with a 1.8 GXi three-door model with sporty looks and improved performance.
1992-97 Corolla: Corolla quality
More than 350 components were altered and improved during development of the seventh-generation Corolla.
Read more: History of the second-generation Corolla
Galvanised steel was adopted in almost 90% of the bodyshell (a 50% increase over the previous model), while the number of external panels decreased so the design was cleaner in appearance. For instance, the side member panel previously consisted of five separate pieces but was now consolidated into just two. This allowed engineers to reduce the number of unsightly welds and narrow the gap between metal panels to five millimetres.
Double-locking waterproof connections were used in the wiring and the terminals were gold-plated to achieve aerospace standards of reliability within the electrical system.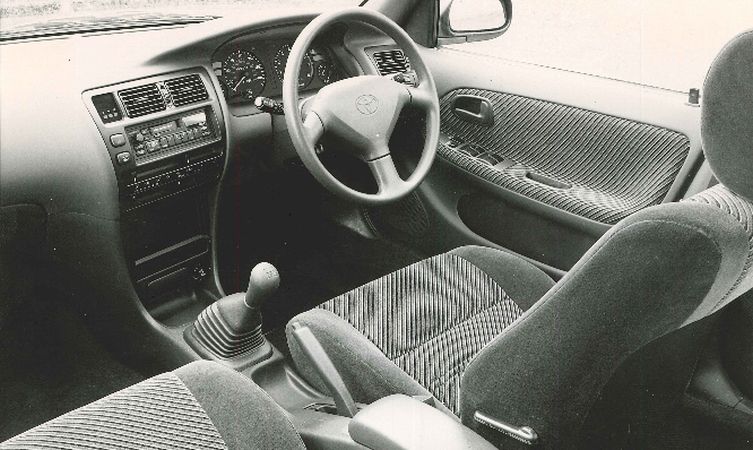 Painstaking attention to detail was also lavished on the interior, which aimed to be the quietest in its class. The look and feel of materials was coordinated throughout the cabin, while the increase in overall dimensions (55-100mm in length, 30mm in width and 35mm in wheelbase) was primarily for the benefit of passengers. This was especially noticeable in the back seats, where there was now more foot, leg, head and shoulder room.
Read more: History of the third-generation Corolla
Space within the fully carpeted luggage compartments also increased, the revelation being that the saloon actually had the most volume on offer at 420 litres (according to the VDA method of measurement). But the liftback and estate variants clawed back some ground for being able to fold the rear bench right up against the front seat backs.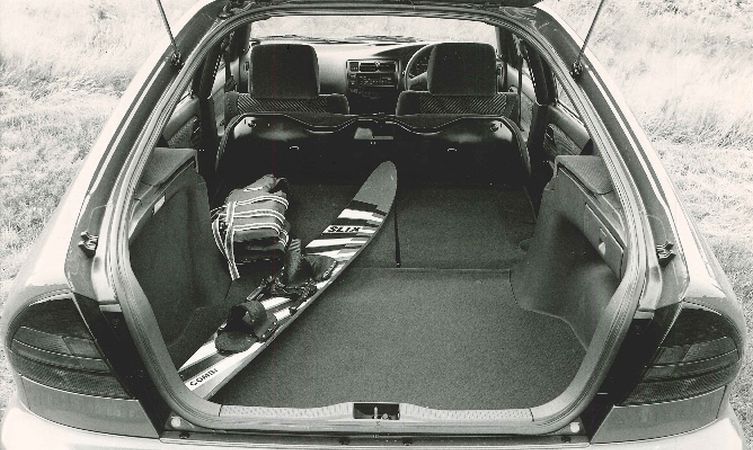 1992-97 Corolla: reduced NVH levels
Body rigidity was significantly improved for this generation, with extensive use of high-tensile steel (38% of the body by weight). Stiffer subframes and suspension mounting points were engineered, as well as more local strengthening measures.
Read more: History of the fourth-generation Corolla
All moving components were isolated from the body with damping mounts. In addition, special foam was inserted to completely fill the hollow between inner and outer body panels to reduce resonance and absorb road noise. Like the recently introduced flagship Lexus LS 400, the 1992-97 Corolla adopted sandwiched sheets of steel and asphalt in the front bulkhead to absorb noise and vibration. All the better to appreciate the new four-speaker audio system.
1992-97 Corolla: powerful, fuel-efficient engines
The 1331cc 4E-FE engine (below) was ostensibly new to the seventh-generation Corolla but was actually a significant development of the outgoing 2E powerplant. Whereas the previous Corolla engine offered three valves per cylinder and carburettor fuelling, the revised unit offered a total of 16 valves, double overhead camshafts and fuel injection.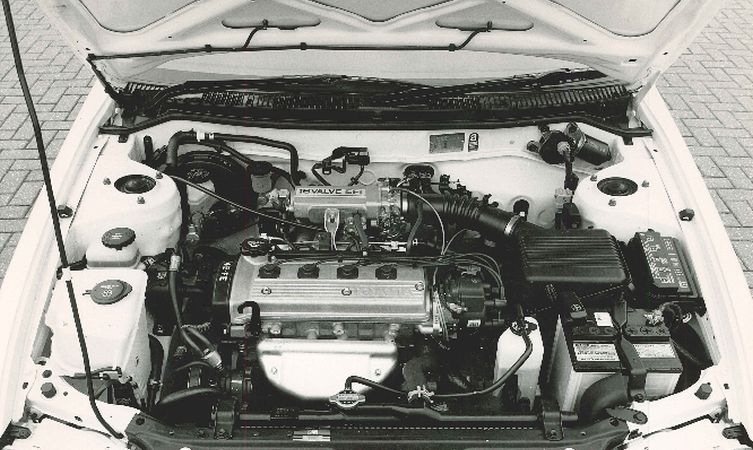 Power increased from 74 to 87bhp at 6,000rpm with torque raised to 82 lb/ft at 4,800rpm. In five-speed manual form (an automatic transmission was a £605 option on some models), 1.3-litre variants could accelerate to 60mph in 11.3 seconds and top out at 109mph. Fuel economy was 53.5mpg at a constant 56mph cruise.
Read more: History of the fifth-generation Corolla
The 1.6-litre engine (below) – only available on saloon and liftback models – was the latest development of the venerable 1587cc 4A-FE unit. Dynamically similar to the 1.3-litre engine, its new peak outputs were identically positioned, in this case offering 113bhp at 6,000rpm and 107 lb/ft torque at 4,800rpm.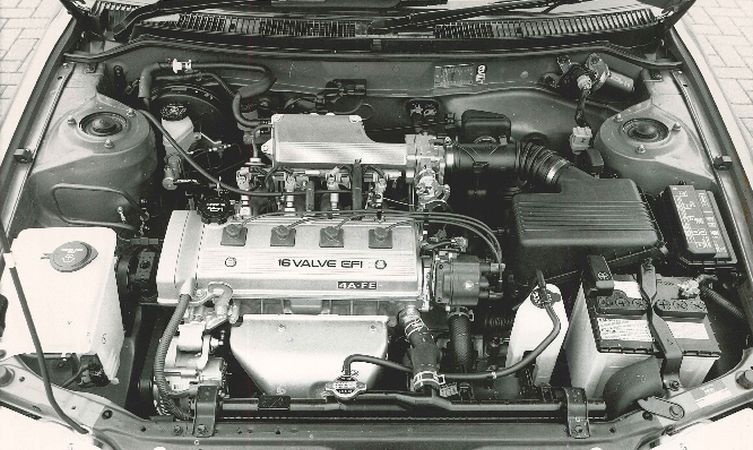 Aided by the liftback's smoother and more elegant design (it had a drag coeffecient of Cd 0.30 versus Cd 0.33 of the hatch and saloon), 1.6-litre models could accelerate to 60mph in 9.8 seconds. They could also carry on to a top speed of 121mph and sip fuel at a rate of around 50mpg at 56mph.
Read more: History of the sixth-generation Corolla
Both powerplants conformed to future exhaust emissions regulations, and the exhaust systems themselves were constructed from stainless steel and contained three-way catalytic converters.
1992-97 Corolla: the chassis
The larger dimensions of the 1992-97 Corolla meant the MacPherson strut suspension system of past models had to be repositioned and refined. The front suspension was now fixed to the body in four places and the rear in six places – a measure that minimised changes in geometry and increased the useful life of the vehicle.
Read more: History of the eighth-generation Corolla
While aiming for predictable responses from the chassis, emphasis was also placed on quick cornering ability and high-speed stability.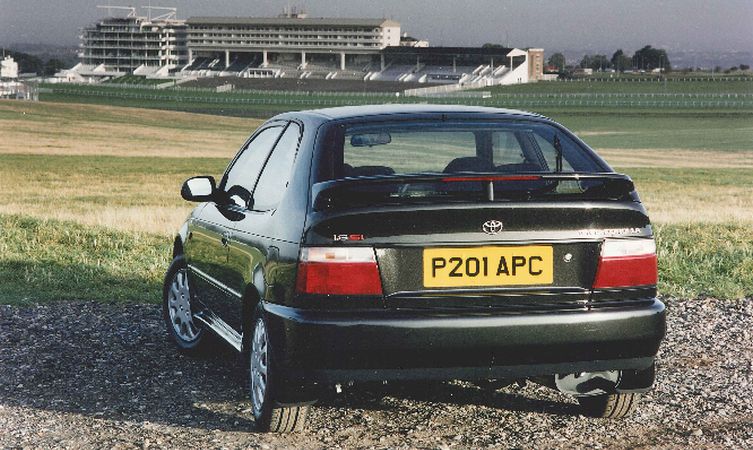 Lateral displacement from crosswinds was almost halved, roll angles were reduced and maximum lateral grip (on a 30m radius corner) increased from 0.7 to almost 0.9 g. Among numerous specific improvements, track widths increased at both ends and rear anti-roll bars were now fitted across all models. Wheel size increased to 14in and ventilated front brake discs were fitted as standard.
1992-97 Corolla: Corolla in Britain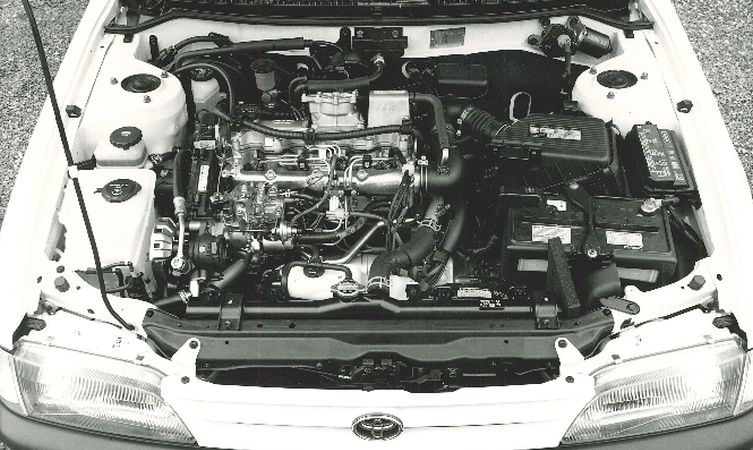 A new diesel model was introduced in March 1993 to tap into the rise of diesel-powered cars, which at that point accounted for some 12-13% of the UK passenger car market. Its 1975cc 2C engine (above and shared with Carina E) was only available in hatchback models and offered 72bhp and up to 67mpg. According to the official consumption figures, diesel Corollas could now offer a range of 577 miles with this engine.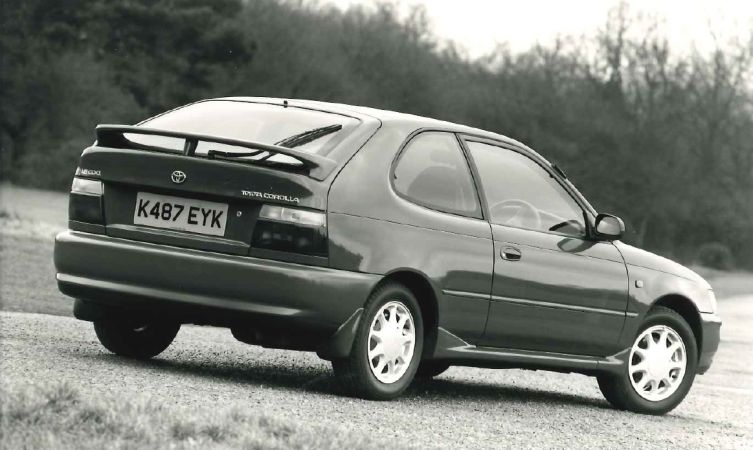 Also released in March 1993 was a new top-of-the-range GXi model (above) equipped with a 1.8-litre 118bhp 7A-FE engine (below). Limited to the three-door hatchback bodyshell, this new model offered sporting accessories such as side skirts, rear spoiler, wider alloy wheels, ABS and rear disc brakes. But in truth it was only marginally faster than the existing 1.6-litre cars, hitting the benchmark 0-60mph dash in 9.5 seconds and offering a 124mph top speed.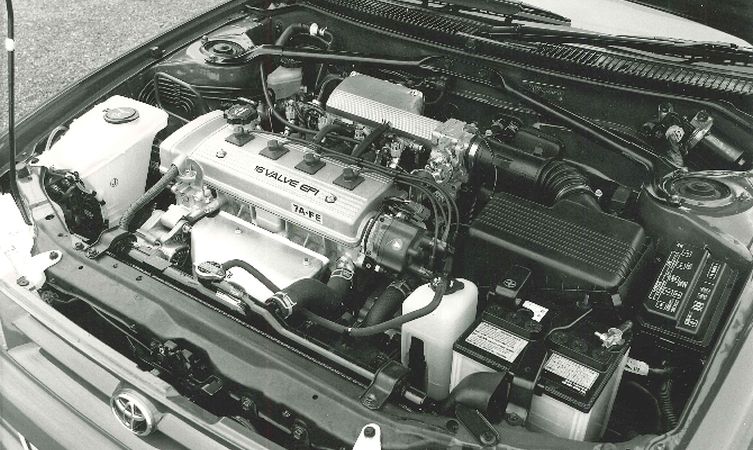 In September 1994 a driver's airbag become a standard feature on all models. Almost a year later, in August 1995, the range adopted improved equipment levels and a new grade structure consisting of Sportif, GS, CD, Si and CDX. During the final year of availability, Solair and Kudos (below) special editions were introduced to the UK market.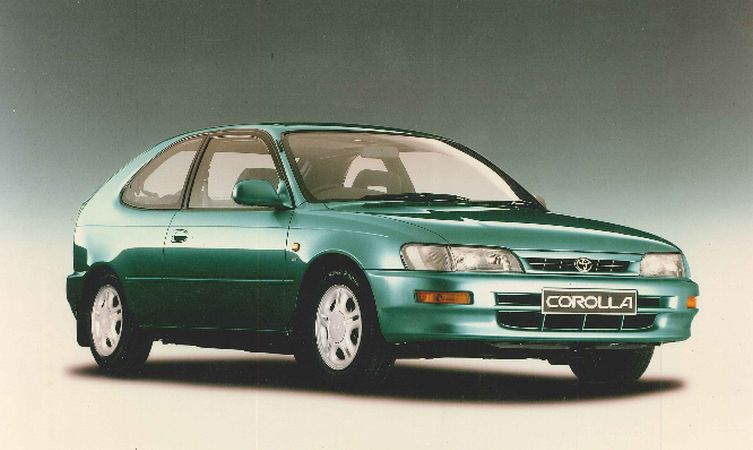 1992-97 Corolla: additional equipment
* Flame retardant treatment of interior parts
* Electric combination meters
* Three-point rear seatbelts
* Projector fog lamps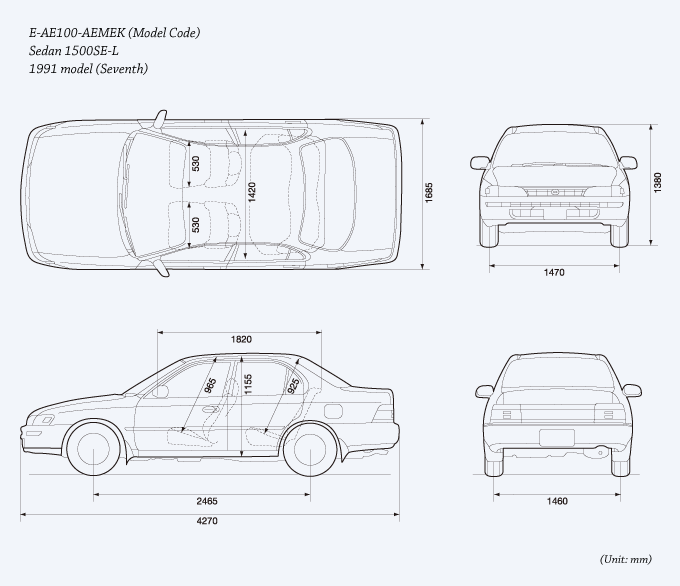 Read more:
History of the first-generation Corolla
History of the second-generation Corolla
History of the third-generation Corolla
History of the fourth-generation Corolla
History of the fifth-generation Corolla
History of the sixth-generation Corolla
History of the eighth-generation Corolla
History of the ninth-generation Corolla