In anticipation of the upcoming sixth round of the British Touring Car Championship this weekend at Snetterton, we decided to try something a little unusual with the assistance of the United Autosports team and one of its popular Toyota Avensis racers.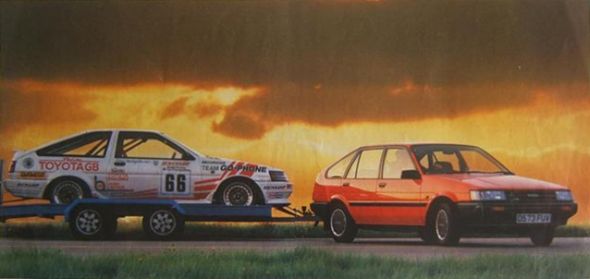 Our idea was to update this memorable magazine advert – a dramatic double-page spread that revealed in punchy, easy-to-understand language how Toyota engines have more heart because they have more valves than ordinary engines. As you can see from the image above, it pictured a Corolla GT Coupe race car being towed by a Corolla GL Liftback.
The message of the advert underlined the sporting success of the rev-happy 1.6-litre 4A-GE engines that powered Hodgetts Motorsport to victory in the British Saloon Car Championship in 1986 and 1987, and how that same multi-valve technology gave the family-focused five-door Corolla a boost in efficiency and power.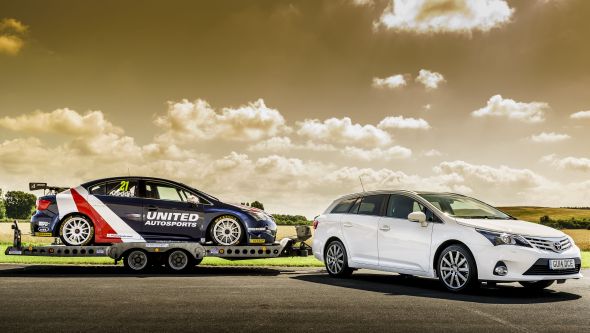 What do you think of our careful update, which employs just one of the five Toyota Avensis models campaigning the BTCC this year as well as a svelte and practical Avensis Tourer in mid-range Icon specification.
Both race cars in the United Autosports stable are powered by a turbocharged Toyota engine built to a strict 2.0-litre formula, however the 350bhp unit is a direct descendent of the ZR engine family found in both Auris and Avensis models.
These ZR road engines adopt newer versions of Toyota's multi-valve technology in the form of Dual VVT-i (timing adjustment on both intake and exhaust cams) and the latest Valvematic system, which offers continuous adjustment to lift volume and timing as well as precise valve control of the the fuel/air mixture.
The purpose of these technologies has remained exactly the same as it did back in the mid-Eighties – to give Toyota engines more heart through optimised performance, fuel efficiency and environmental credentials.
Read more: The luxury, pace and space of the Avensis Tourer Excel
Download a high-res copy of our new 'advert' by clicking the following link