History reveals that Toyota's entry into competitive motorsport occurred in 1957 when a near-standard Toyopet Crown Deluxe saloon took part in the Round Australia Rally. But new evidence has come to light of a project which should have pushed back that landmark a further six years – the Toyopet Racer.
What sort of machine made this debut? Who authorised and oversaw its development? And why are we only hearing about such an historically significant project more than 70 years later? The answers are revealed in our history of the little-known 1951 Toyopet Racer.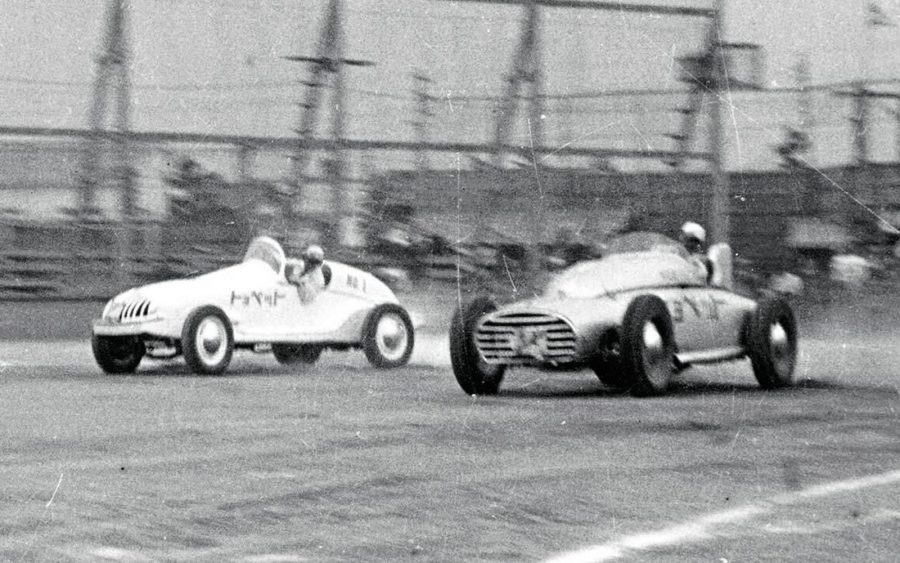 Toyopet Racer: born of conviction
It is well known that Toyota founder and president Kiichiro Toyoda (1894-1952) had a grand plan to pioneer the future of Japan's automobile industry by taking part in motorsport. Evidence of this idea becoming a reality is usually attributed to Toyota's involvement in the 1957 Round Australia Rally but according to recently discovered historical documents it appears that Kiichiro had an earlier and much grander project in mind – the Toyopet Racer.
Few people today have heard of the Toyopet Racer, even within Toyota Motor Corporation (TMC). In fact, evidence of the vehicle's existence and Kiichiro's intentions for it only resurfaced when retired TMC employee and avid motor historian Hideo Matsumoto published his snappily titled book Prehistory of Toyota's Motorsport Activities – Covering mainly Toyopet Racer and Mobilgas Rally (Round Australia) 1951-1961 in 2018 (see below).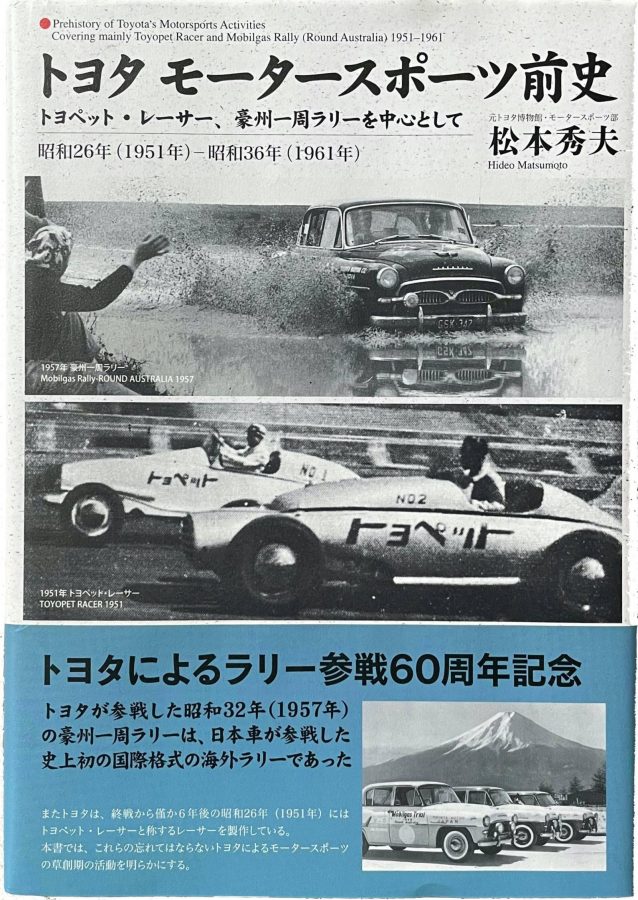 Toyopet Racer: born in troubled times
Piecing together existing and newly published evidence revealed that the Toyopet Racer was the one and only racing car that Kiichiro Toyoda was involved in developing. But at that time, around the spring of 1950, TMC was facing the biggest financial crisis in its history.
From 1945 to 1952, the Allied Occupation of Japan controlled everything from the country's politics to its economy. For the most part, the domestic manufacture of passenger cars was not allowed, though from June 1947 onwards it became possible for companies like TMC to obtain permits to resume limited production (300 per annum) of low-powered vehicles.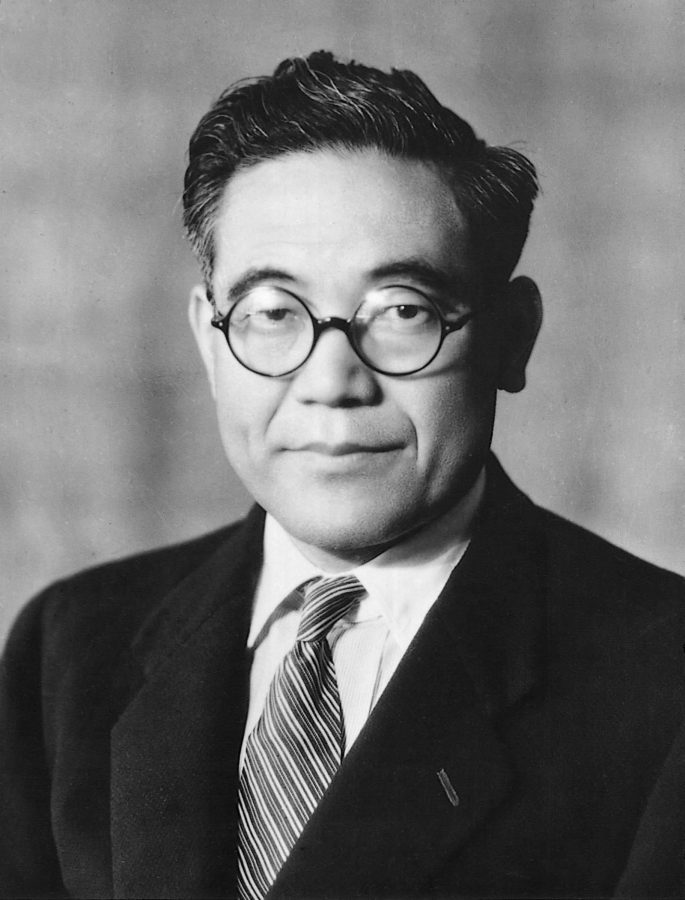 This small reprieve was not enough to stop the fragile Japanese economy from falling into a major recession, however. So in early 1949 the allied forces implemented a strict new contractionary policy to keep inflation under control, though a side-effect of this attempt to stabilise the economy was greater financial hardship among the general population. As a result, car sales plummeted and automotive manufacturers like TMC were faced with the unenviable task of laying off workers.
Kiichiro did what he could to help TMC ride out this crisis – primarily by dividing the company into separate sales and manufacturing divisions. Put into effect in April 1950, this restructuring appeared to allow the sales division to operate with less restrictions than the manufacturing division and therefore take on greater responsibilities. Although unprecedented, one of the advantages of this move was that it created an environment in which the sales division could continue working on Kiichiro's Toyopet Racer project.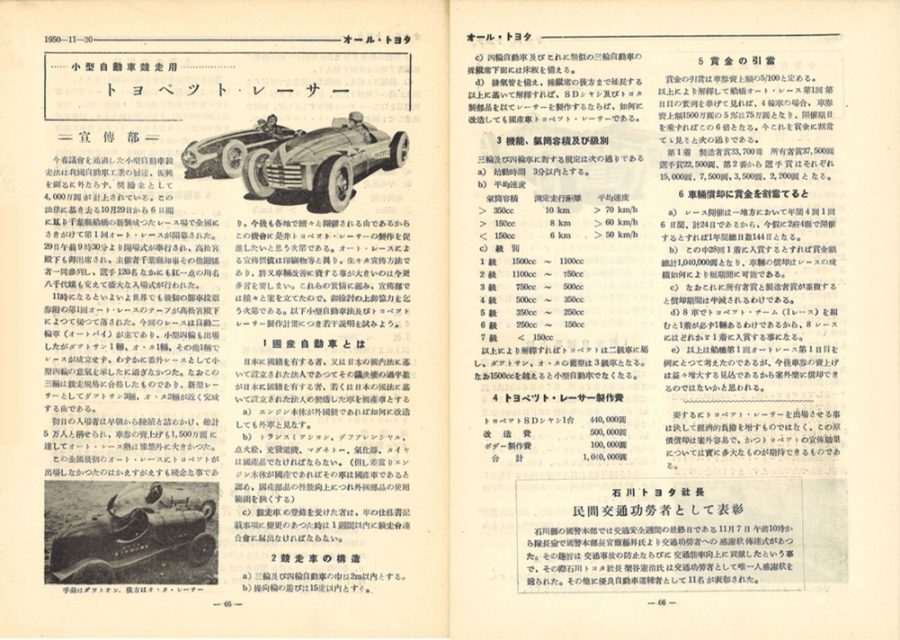 According to Matsumoto's book, the development of this race car was revealed to the public for the first time in November 1950 in the magazine All Toyota, published by the sales division's marketing department. The article (shown above) suggested that Toyota use the new Toyopet Racer competitively, which from today's standpoint appeared to be an unusual and somewhat hopeful request, given that president Kiichiro had already given its development his blessing.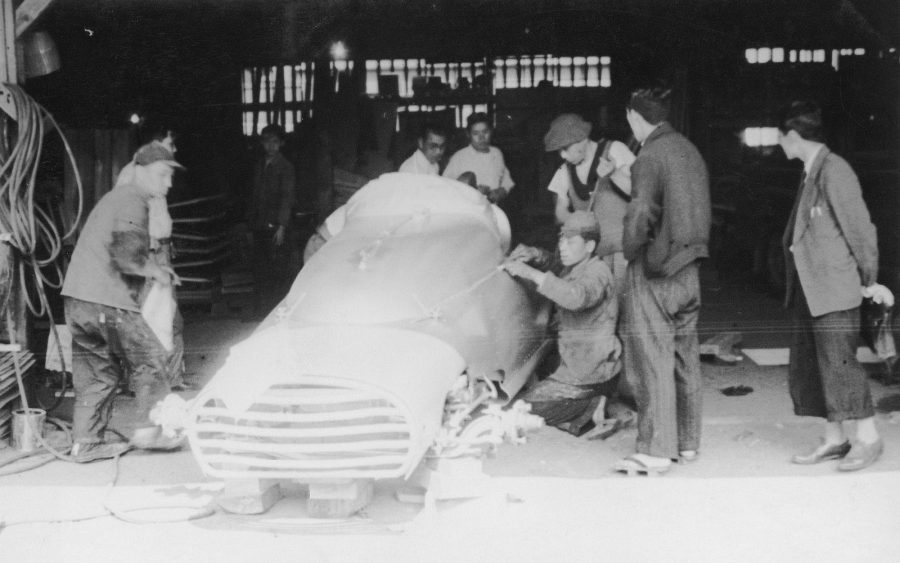 This reason for this change in dynamic becomes clear when you appreciate that since June 1950 Kiichiro Toyoda was no longer leading the company. It appears that despite Kiichiro's moves to secure TMC's future, labour disputes were still rife and the syndicate of 24 banks that had been financing the company's restructuring had forced him to dramatically reduce the number of employees. Widespread offers for early retirement were therefore made and accepted, and as Kiichiro felt personally responsible for putting his workforce in this position, he made the decision to step down from his role as president and also take early retirement.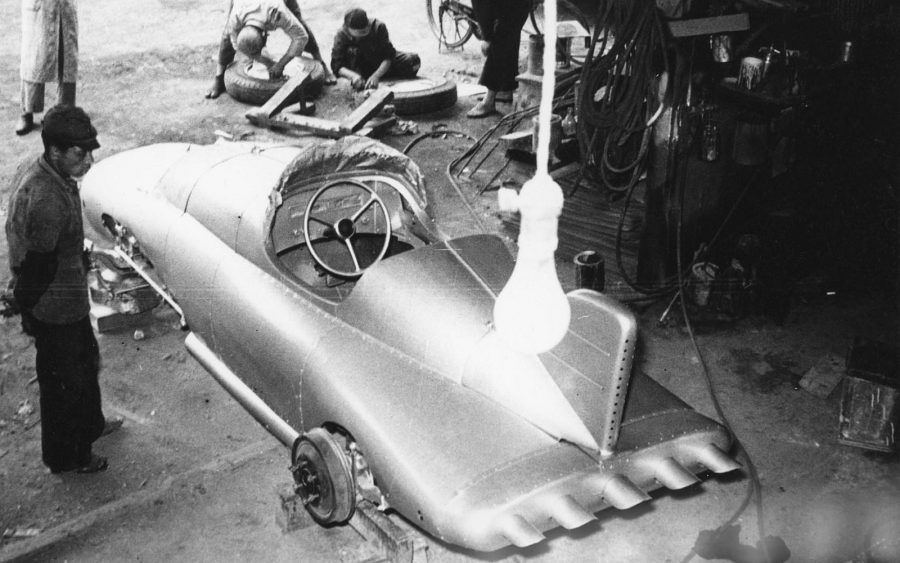 The Toyopet Racer was Kiichiro's pet project and, at the time, Japan's motorsport authority was in a state of chaos. So without either party being in a position to encourage its progress, development stalled. Moreover, when Kiichiro met with untimely death in March 1952 at just 57 years of age, Toyota's sales division felt it was inappropriate to continue the project. From that point on and as far as we are aware, no further information on the Toyopet Racer was ever published. The vehicles were never seen again and never given the opportunity to officially launch Toyota's motorsport career.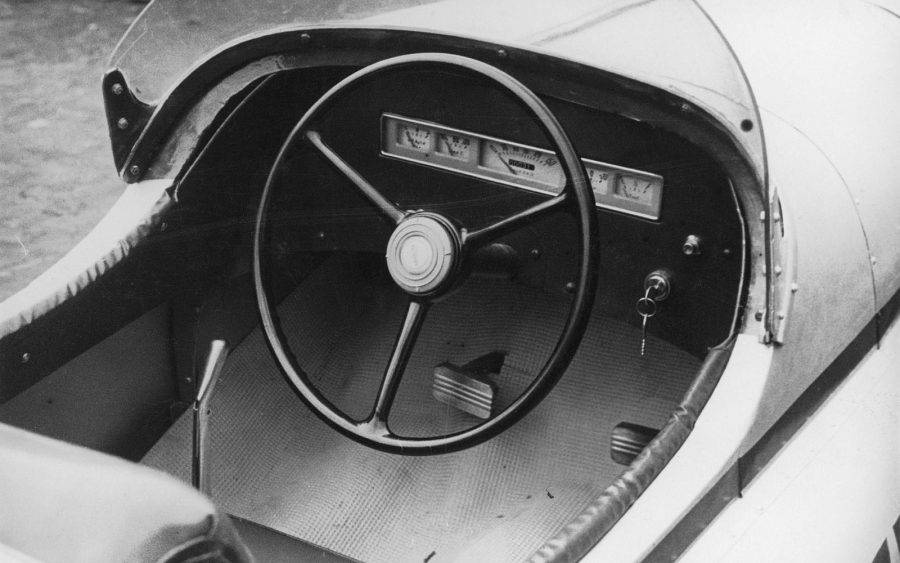 What kind of machine was it?
The Toyopet Racer was a hand-made race car based on the ladder frame chassis and running gear of a 1949 Toyopet Model SD saloon (below). It was powered by Toyota's venerable 995cc four-cylinder Type S petrol engine, which generated just 27hp.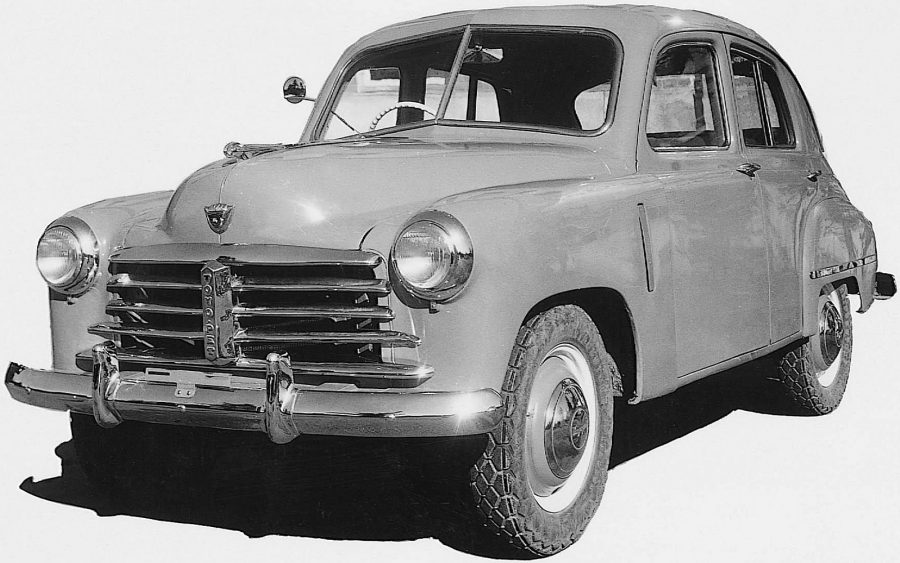 Though Kiichiro initially had plans to build six vehicles, just two examples of the Toyopet Racer were ever made. The #1 vehicle was produced by Osaka Toyota and the #2 vehicle by Aichi Toyota, and as the design of the bodywork was left entirely to each dealership's engineers there is no visual similarity between the two.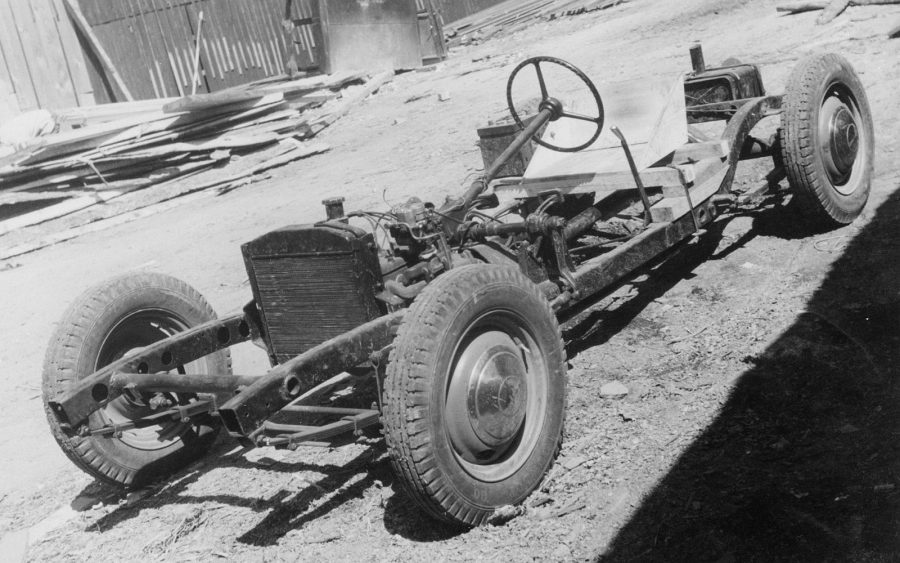 Toyopet Racer: a modern revival
Kiichiro's Toyopet Racer project may have failed to achieve any major results but his intention to make ever-better cars through motorsport has survived the test of time. Indeed, this philosophy has been inherited by his grandson, TMC's current president Akio Toyoda.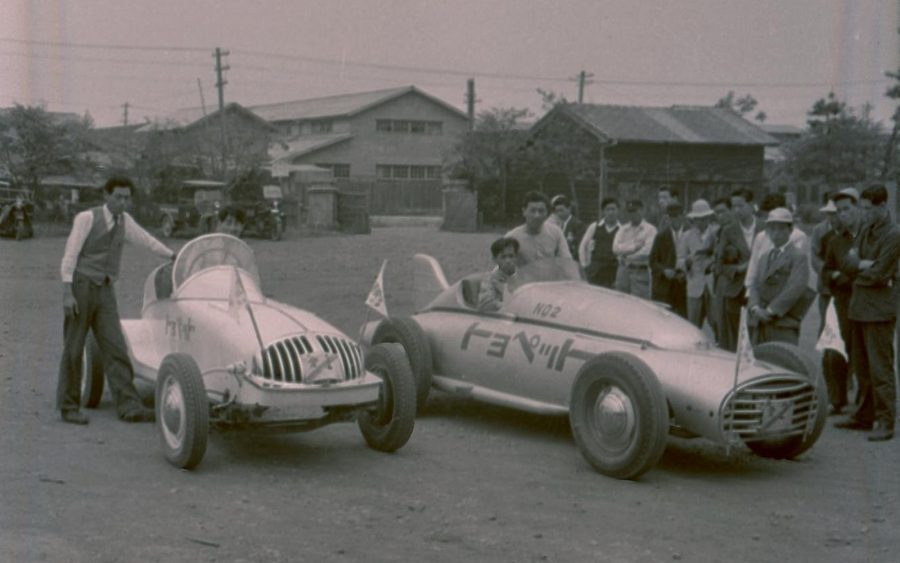 In order to remind future generations of how motorsport prompts Toyota's kaizen spirit of continuous improvement, Akio recently approved a proposal for TMC engineers to create an authentic replica of the Toyopet Racer. A future article will introduce us to this project and the team behind the resurrection of this important piece of Toyota history.
Learn more: What was Toyota's first production sports car?
Learn more: What is Toyota's oldest surviving sports car?