At 22 years of age, Cameron Richards is already a veteran Toyota Yaris enthusiast. Having bought, restored and sold a handful since the age of 14, the three-car collection he currently owns spans two generations and includes two of the rarest examples ever supplied to the UK: a Balearic Blue T Sport and a limited edition GRMN.
We interviewed the Yaris super-fan to discover more about his 20-year-long trajectory from playing with a scale model to wrestling with a full-size and full-blooded Gazoo Racing special.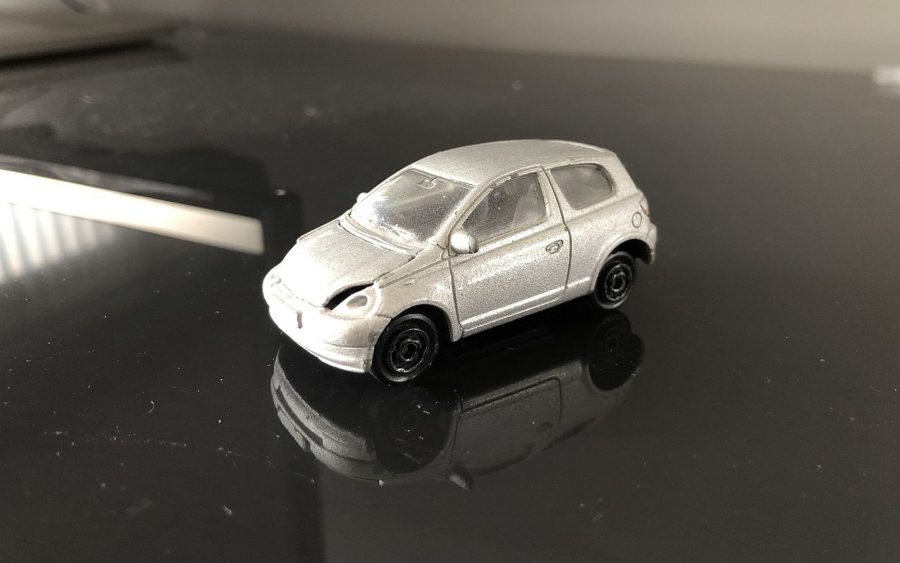 Can you identify how your passion for the Toyota Yaris started?
Cameron: "Yes, I can; and it's one of my earliest memories. My mum and I went grocery shopping one day, and she bought me a small die-cast model of a Toyota Yaris from a cage full of toys at the back of the supermarket. I must've been only two years old but I immediately fell in love with that little silver car, and I still have it to this day.
"It actually inspired something of an obsession within me for the Yaris. Other boys grow up wanting an exotic supercar of some sort but I had my heart set on a little hatchback from Japan. Over the years I acquired quite a collection of models, books and brochures about the Yaris until I became old enough to think about getting the real thing."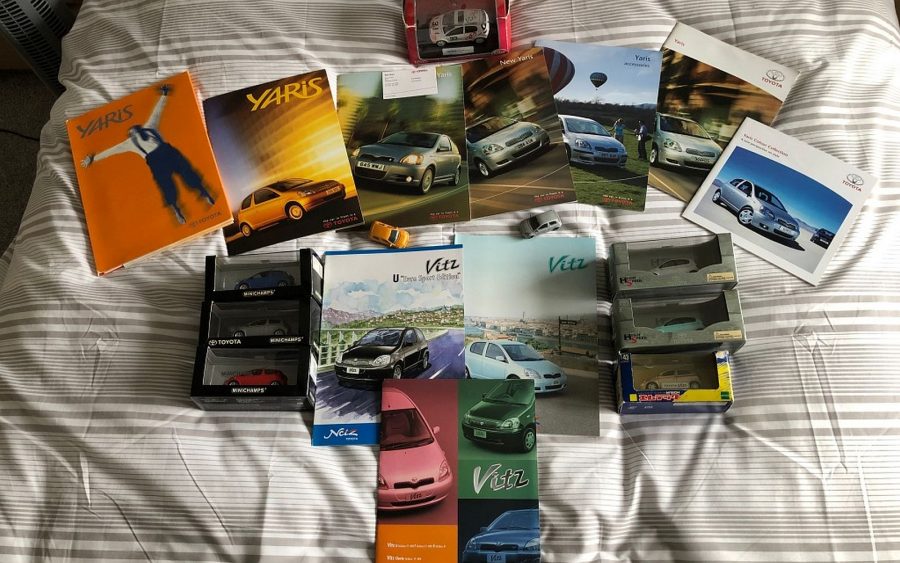 Did that happen while you were still at school?
Cameron: "When I was 14 years old, my father and I decided to get a little project car that we could do up together and sell on. After being temporarily distracted by a Honda Logo, we bought a pristine 1999 Toyota Yaris 1.0 GLS in Lucerne Silver with only 33,000 miles on the clock—a life-size version of the die-cast model I was given more than a decade before.
"The Yaris was too good to simply spruce up and sell on, so we decided to keep it and use it as a family runabout. But after a couple of years I realised that I would soon be learning to drive, and I really fancied doing that in a slightly more modern-looking, face-lifted Mk1 Yaris with air conditioning. So we sold the silver Yaris to a friend of a neighbour and started searching for my own proper set of wheels."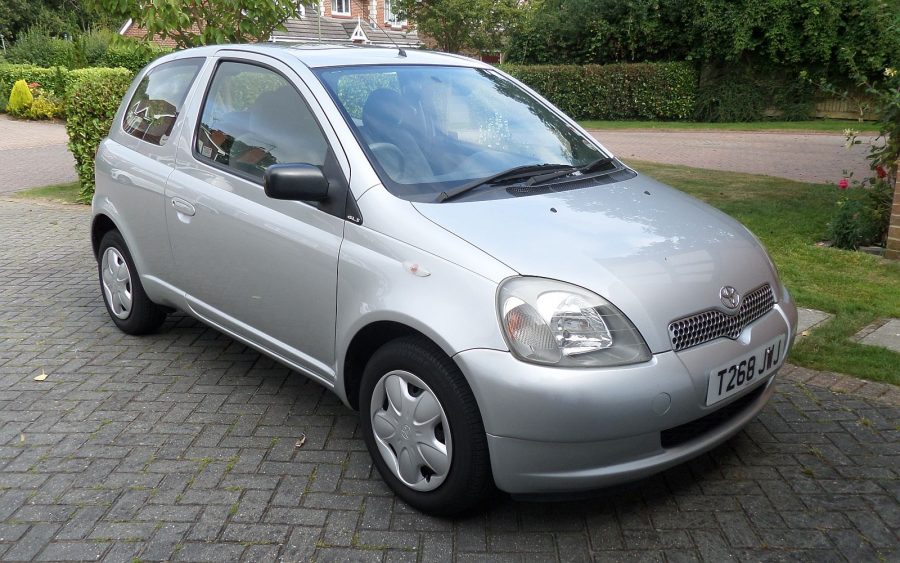 And what did you come up with?
Cameron: "I bought a 2005 Yaris 1.3 Colour Collection three-door model in Thunder Grey. It was in pretty good condition but I wanted it to be perfect for my driving debut. So over the next 18 months I slowly worked my way around the car, getting the parking dents pulled out, having the rear bumper and valance repaired, and cleaning it to within an inch of its life.
"In July 2016 I passed my driving test, which I saw as my gateway to freedom. My now-immaculate Yaris became the first car that I drove on my own, the first car I drove on the motorway, and the car that helped me become a confident and responsible driver."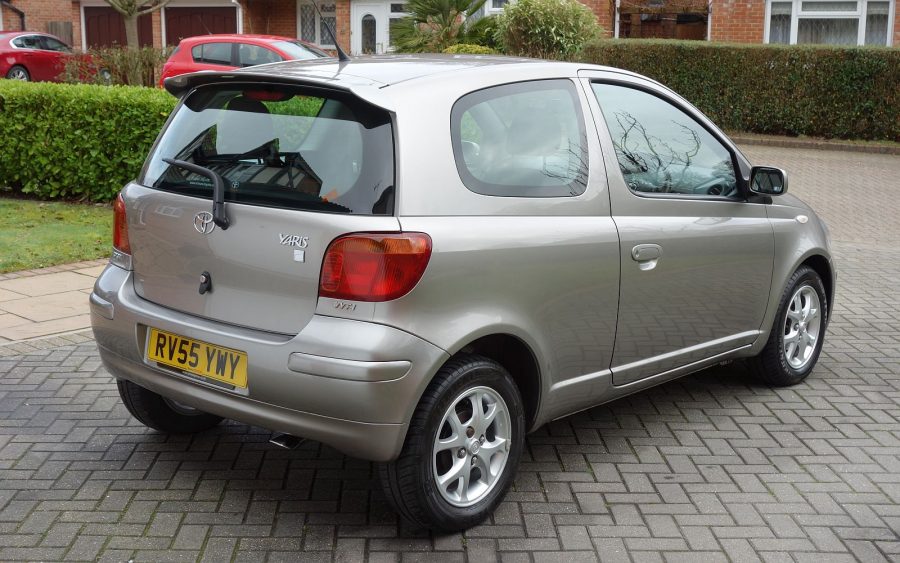 Did that increased confidence lead you towards T Sport models?
Cameron: "That, and the fact that over the next few years I'd accumulated a decent bit of no claims bonus meant that insurance on a T Sport was now less of a problem.
"Although I really wanted a face-lifted T Sport in Balearic Blue, they're extremely rare as the colour was discontinued in 2004. In fact, finding any T Sport with low mileage is difficult these days, but I kept on searching. Eventually, I tracked down a Thunder Grey car with only 38,000 miles—the lowest mileage of any example on sale in the UK at the time. It had a full Toyota service history and very few marks on the bodywork, so I bought it straight away and then recouped most of the cost by selling my beloved Colour Collection a few days later."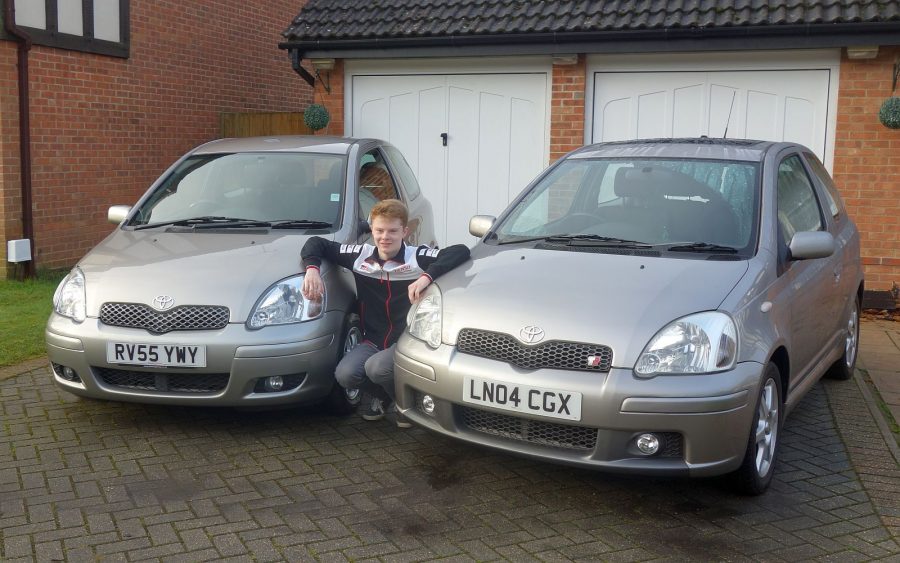 It sounds like you never stopped looking for a T Sport in Balearic Blue…
Cameron: "True, I never stopped; but in the meantime I made sure my grey T Sport was up-to-scratch and always looking its best. In the meantime, thoughts of other rare Yaris models were buzzing around my head. I was tempted by the second-generation Yaris SR 1.8 because it shares some of its exterior styling with the JDM Vitz RS, but I didn't pursue that idea because my mum had already owned one!
"In another Yaris-based diversion, my father and I travelled to the Geneva motor show in 2017 specifically to see the European debut of the new Yaris GRMN, the car I saw as the ultimate limited edition Yaris. And when the model was eventually launched in this country, I created a document to try and keep track of all 90-or-so UK cars—their build number, where they were registered, mileages etc—in case I ever got the chance to own one.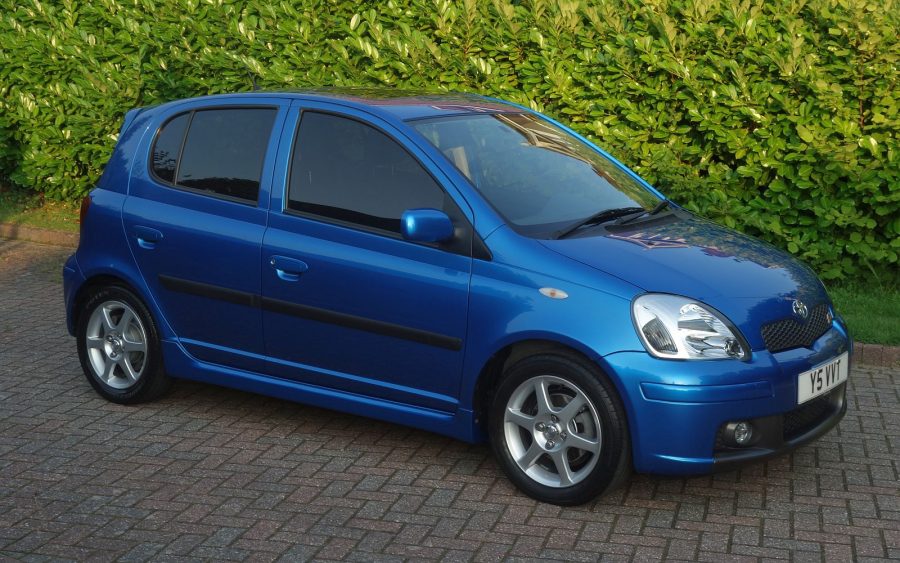 "Then one evening in January 2021 I was suddenly refocused back into the world of Mk1s. I was browsing through the Yaris Club UK's Facebook page and spotted a post from somebody who had bought a Balearic Blue 2003 Yaris T Sport from an elderly customer and didn't know what to do with it. That post really got my attention, and then when I read that it was a rare five-door model and had just 14,200 miles on the clock my eyes were out on stalks!
"The man hadn't mentioned anything about selling the car but then a few days later somebody asked what his plans were for it. His response, that he "was going to do it up and possibly sell it to an enthusiast," had me diving straight into Messenger with a plead to sell it to me—the ultimate Yaris super-fan. Fortunately, after a lot of toing and froing we agreed a price and a time to collect it."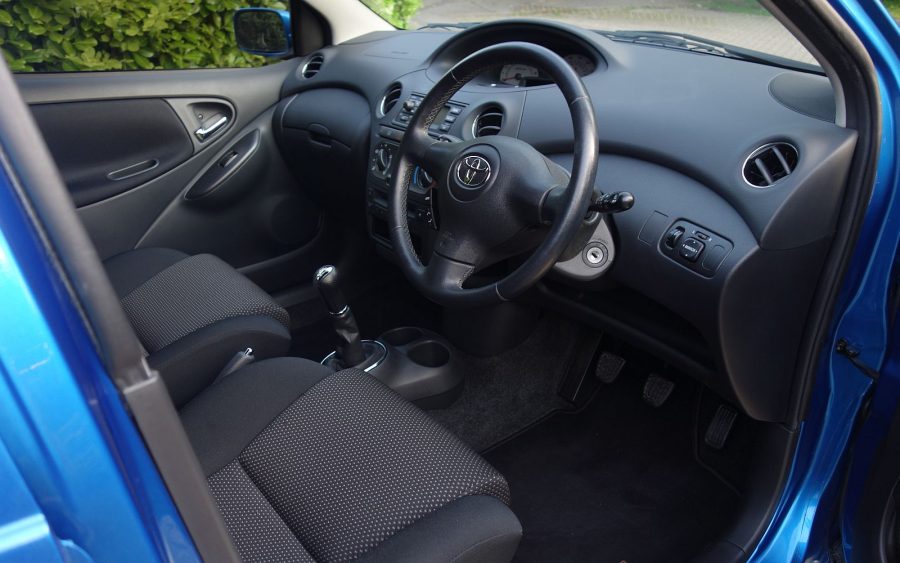 And was this rare, Balearic Blue T Sport everything you'd ever wanted?
Cameron: "Oh, absolutely. It was immaculate: the seats looked like they'd never been sat in, the spare wheel and tool kit had never been used, and it still had that new car smell 18 years after production. Then the man showed me all the paperwork the elderly couple had kept. Their folder contained the original bill of sale, every invoice, every old MoT certificate, and the service book was filled with Toyota stamps. This was the car that I had convinced myself didn't exist anymore—yet here it was and I was now its new owner.
"Driving home in it, I decided that I had to keep both T Sports—my grey one as a daily and my Balearic Blue one as a show car for special occasions."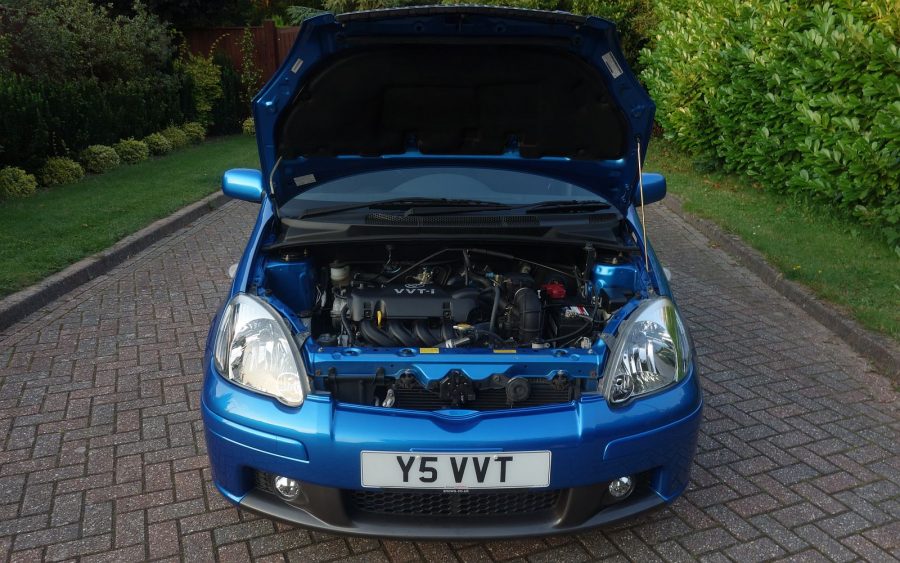 Did buying the T Sport affect your dream of getting a Yaris GRMN?
Cameron: "At first, yes. I'm still absolutely delighted with my Balearic Blue T Sport and will never dream of selling it. But I kept diligently saving in the hopes that one day an affordable used example of the Yaris GRMN might appear. And then, almost a year later, number 364 [of 400 made for the European market] popped up in Listers Toyota Cheltenham. It was slightly out of my price range, so I bided my time and waited for my next pay packet to arrive to boost my finances.
"The week I got paid, the price of the Yaris GRMN was reduced by £2,000. So I made my move and made a cheeky offer, which, to my surprise, was accepted as the dealership was looking at the bigger picture and wanted to hit a sales target. It was a fantastic deal—almost pre-COVID in terms of value—as used prices of these models have since increased by as much as £3,000."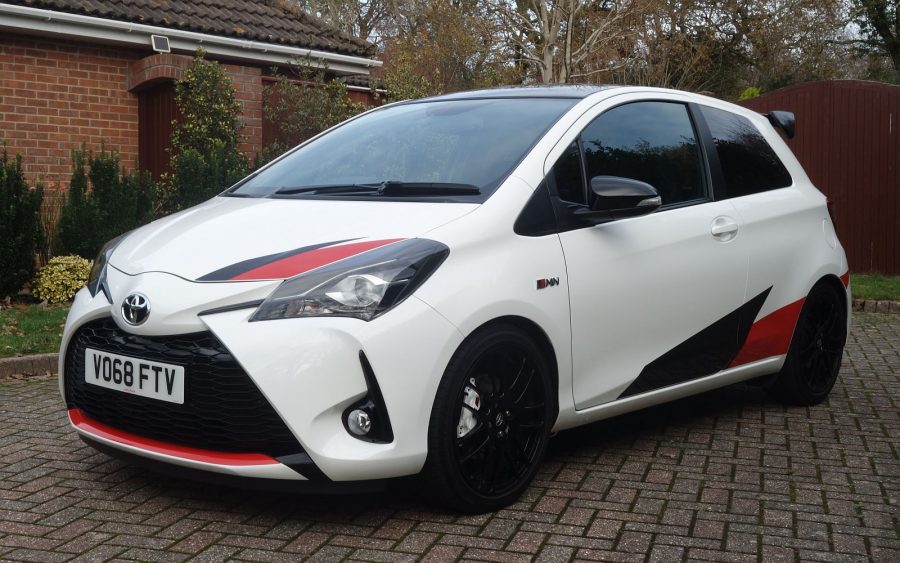 What is it like to own three Yaris models, each of which is almost as good as new?
Cameron: "I have to say that no car holds more nostalgia or value to me than the Toyota Yaris. It is my all-time favourite car, and I feel honoured and proud to call these three my own. I think each of them are future classics!"
Thank you for sharing your lifelong passion with us, Cameron. We wish you many miles of happy motoring in them.