Toyota was back at the world's largest automotive aftermarket and custom car show, SEMA 2022, with more vehicles than ever before. The expanded display at the Las Vegas Convention Centre featured cars and trucks designed for enhanced performance on or off-road, with starring roles for the GR Supra and GR86 as well as US-market products like the hot new GR Corolla and full-size Sequoia SUV.
SEMA 2022: GR86 Daily Drifter and Cup Car
With 13 special Toyota builds on the show floor at SEMA 2022, this GR86 created by renowned photographer, Larry Chen really drew the crowds. He envisioned a drift car to resonate with pro-drifting fans, creating a car that resembles the purpose-built machines of drivers like Fredric Aasbø, Ken Gushi and Ryan Tuerck, but built on a manageable budget in his home workshop.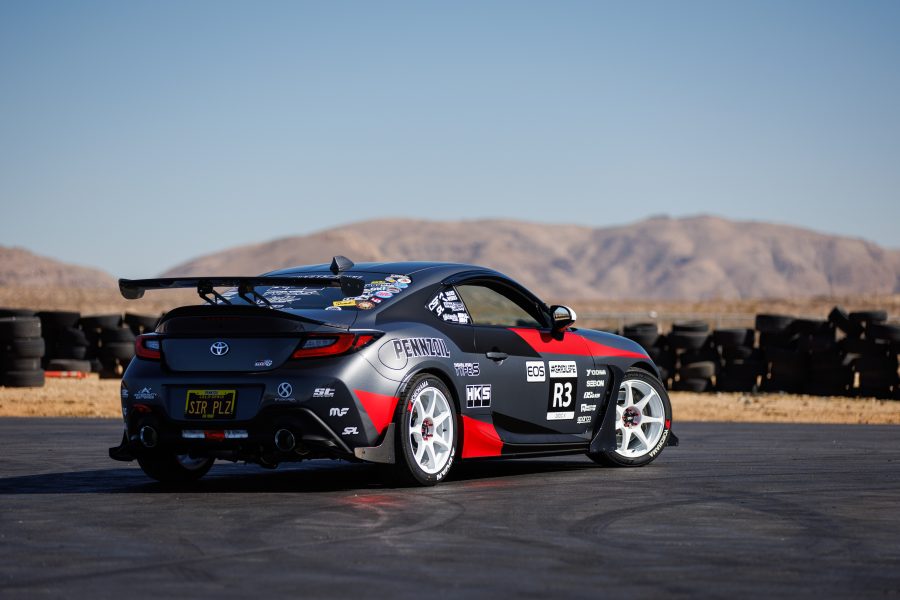 Starting with a 2022 GR86, Chen added an HKS GT2 Supercharger Pro ZD8 kit with an intercooler and a MagnaFlow NEO Series cat-back performance exhaust system, increasing the motor's output to 300bhp.
Chassis upgrades include bigger brakes, new suspension parts, a GK Tech steering angle kit and an OS Giken Super Lock 1.5-way differential. A Toyota GR strut tower brace, door jamb braces and front fender support structure braces add rigidity. The exterior makeover encompasses a new bonnet, front splitter lip, rear wing, side skirts and rear valance, all in carbon fibre.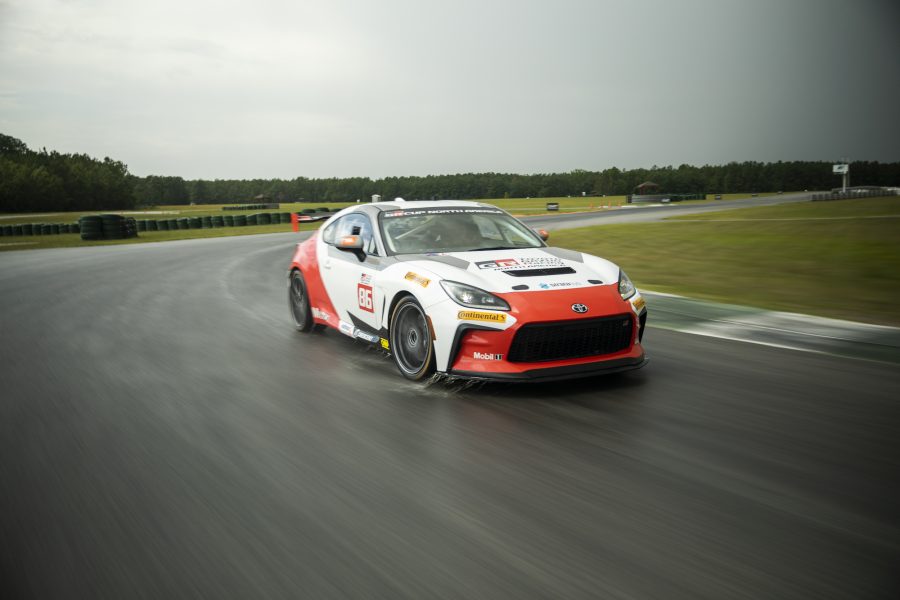 The other GR86 show star is the new Cup Car, which will feature in the new, one-make Toyota GR Cup Race Series in the USA in 2023. Standard GR86s will be converted to race specification at Toyota Gazoo Racing North America (TGRNA)'s new facility in Mooresville, North Carolina. Modifications include Bosch engine management, a custom Borla exhaust, SADEV six-speed sequential transmission, Alcon brakes, adjustable JRI dampers, OMP safety equipment, a roll cage, carbon-fibre rear wing and new bodywork and suspension.
Sanctioned by SRO America, the 14-race GR Cup series kicks off in April at Sonoma Raceway in California.
SEMA 2022: GR Supra 10-Second Twins
The Toyota Motorsports Garage team had a $10,000 build budget to create two GR Supras that would post 10-second runs on a quarter-mile drag strip. The "10-Second Twins" started life as 2020 GR Supra 3.0s – cars more usually associated with circuit racing than drag racing – but had their engines transformed by the addition of a Pure Turbo single turbo and two CSF high-performance intercoolers. The team then worked with import drag-racing specialists, Titan Motorsports to add a cat-less downpipe, 9cm exhaust and an ECU tune.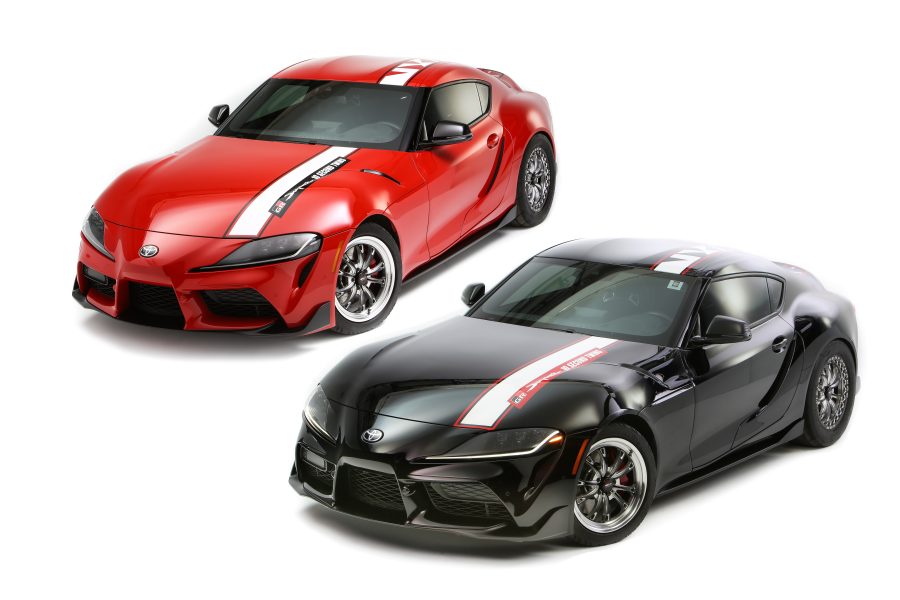 The resulting GR Supras, one red and one black, make an amazing 620bhp and 800Nm of torque, compared to the factory 335bhp and 495Nm. Transferring that power to the strip required a drag-racing wheel-and-tyre package from Weld Racing and Mickey Thompson Performance. Upgraded rear axles from The Driveshaft Shop and a CSF high-performance heat exchanger and transmission cooler also help handle the increased output.
On its first test runs, the first 10-Second Twin Supra achieved a quarter-mile time in the mid-11-second range. After a little ECU fine-tuning, the team achieved its 10-second goal, posting a 10:984 quarter-mile run.
Patriot Campers FJ49, Megatourer and Supertourer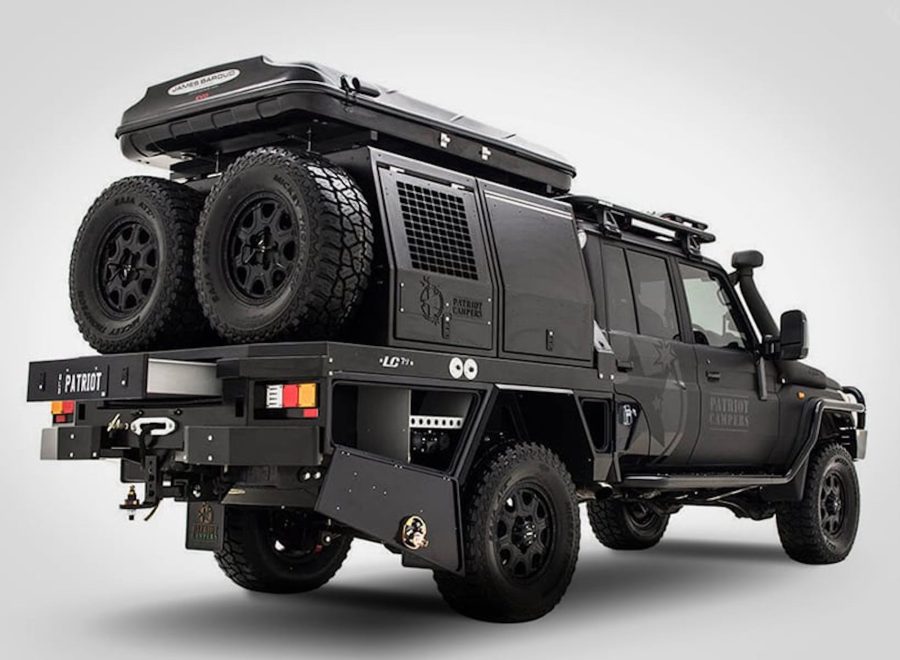 Justin Montesalvo, director of Patriot Campers, brought these off-road-ready builds to Las Vegas all the way from Australia's Gold Coast. FJ49 is a 1977 FJ45 with modern technologies and components. The Megatourer is an LC79 Land Cruiser-based, a six-wheeled beast with aggressive looks and air suspension. Rounding out the trio is the LC79 Supertourer or 'Black Truck', which is fully capable of off-the-grid journeys.
GR Corolla Rally Concept
Now on sale in the USA (but not in the UK), the 2023 GR Corolla is Toyota's hottest new performance car Stateside and has limitless potential for aftermarket customization. Toyota is providing a taste of what's possible with the GR Corolla Rally Concept show car.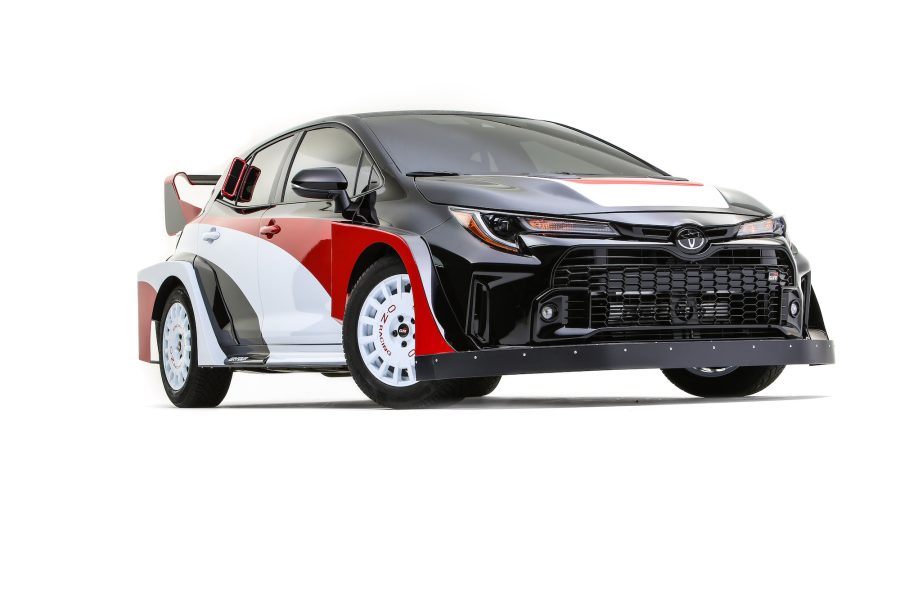 Starting with a 2023 GR Corolla Circuit Edition, Marty Schwerter and the Toyota Motorsports Garage team were inspired by the World Rally Championship-winning Toyota Gazoo Racing GR Yaris Rally1. The engineers created functional rally car bodywork including 7.5cm wheel-arch flares with integrated carbon-composite side skirts. Large openings in the wings direct and exhaust dirty air from the wheel openings.
Downforce is further increased by a carbon-composite front splitter and a huge, custom-fabricated, carbon-fibre rear spoiler and wing structure. Vented rear windows direct air to the custom oil and transmission coolers mounted just behind the driver and co-driver. A new exhaust system and GR high-flow air filter are the other changes to the powertrain.
Sequoia Off-Road and Overland concepts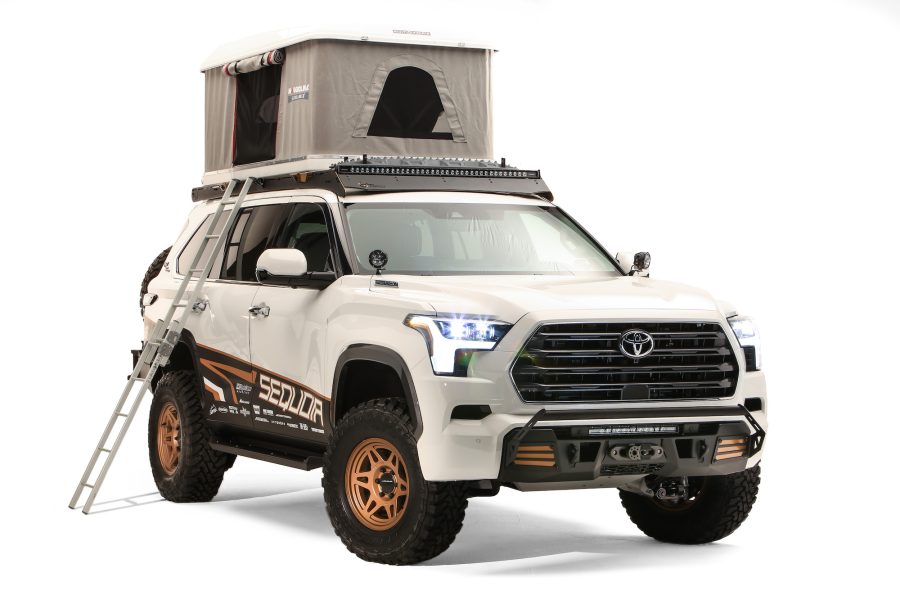 Toyota's new full-size SUV for the US market is already a focus for the many off-road and overlanding specialists that display at the SEMA Show. Several concept builds on the Toyota stand showed what's possible with the body-on-frame Sequoia, such as the 'Simba' Sequoia by X Overland, the team behind the Expedition Overland TV series; the Sequoia TRD Pro Adventurer by Westcott Designs; and the Ultimate Overlanding Sequoia TRD Off-Road, created by the publishers of 4WD Toyota Owner magazine.