The GR Supra range is being extended in the UK for the first time with the established 3.0-litre six-cylinder turbocharged sports car being joined by a new variant, the GR Supra 2.0.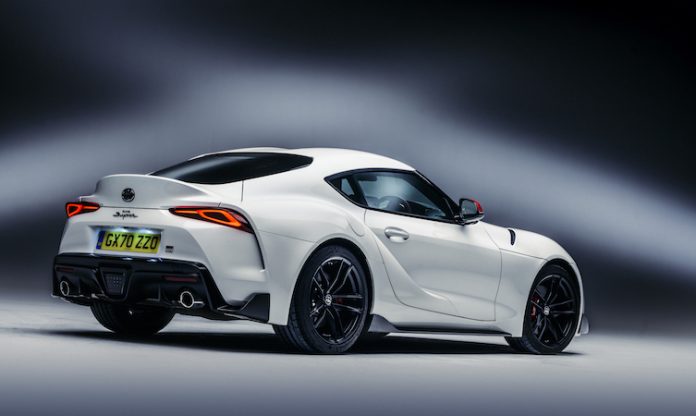 The new 2.0-litre four-cylinder turbo engine widens GR Supra's market appeal and, being lighter and more compact than the 3.0-litre unit, improves the car's inertia characteristics and chassis balance for even sharper handling.
Spec and order your GR Supra 2.0 here
Where weight is concerned, the GR Supra 2.0 weighs 100kg less than its 3.0-litre equivalent, a saving that further strengthens the car's dynamic performance. The engine's shorter length means its mass is located closer to the centre of the car, supporting an ideal front/rear balance and better inertia characteristics.
Although power is less – 254bhp/190kW – the engine's performance is rewarding, supported by a muscular 400Nm of torque available across a wide range of engine speeds, harnessed through an eight-speed, rapid-shifting ZF automatic transmission. Nought to 62mph can be accomplished in 5.2 seconds with GR Supra's launch control system, and top speed matches the 3.0-litre model at an electronically governed 155mph.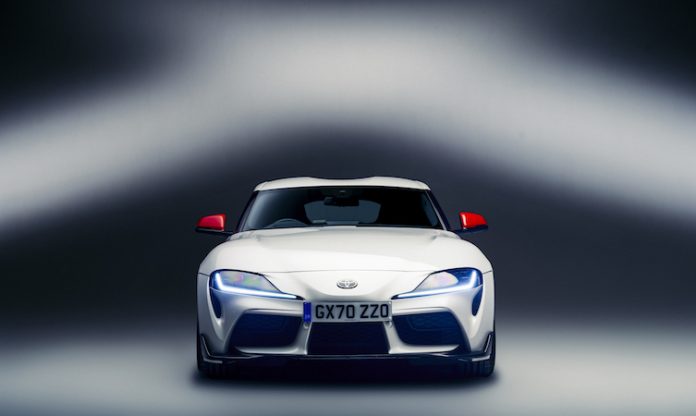 UK sales and deliveries of the new GR Supra 2.0 commenced on 4 January 2021, with first deliveries to customers during the same month.
GR Supra 2.0: does it look different?
The only external design elements that distinguish the GR Supra 2.0 from the 3.0-litre model are the 18-inch wheels and a 90mm diameter bright chrome finisher for the exhaust tailpipe (in place of the 100mm brushed stainless steel finisher on the more powerful model).
GR Supra 2.0: performance
The engine deployed in the GR Supra 2.0 is a 1,998cc in-line four-cylinder DOHC 16-valve petrol unit with a twin-scroll turbocharger. It is engineered for agile, powerful acceleration, perfectly suited to the GR Supra's character as a sports car in its purest form.
Read more: GR Supra Sport Top concept
Maximum power is 254bhp/190kW at 5,000-6,000rpm, while peak torque of 400Nm is available across an impressive span of revs, from 1,550 to 4,000rpm. This enables 0-62mph acceleration in 5.2 seconds (with launch control function, see below); top speed is electronically limited to 155mph.
A motor-actuated variable valve-timing system provides precise control of the opening and closing of both the inlet and exhaust valves in line with the driving situation to achieve high torque across all engine speeds and high output at high engine revs. In addition, the variable valve lift on the intake side reduces pumping losses, improving the engine's efficiency.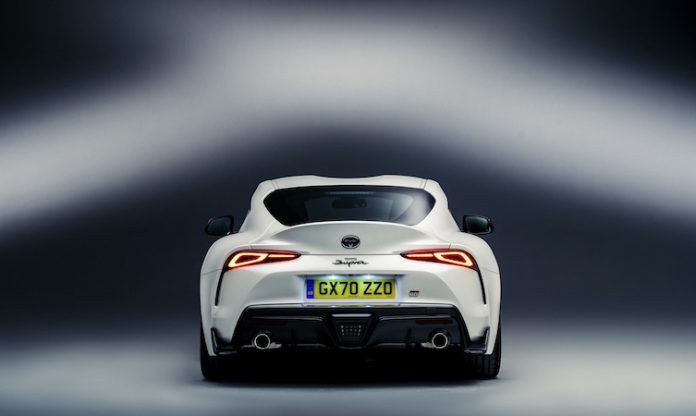 The direct fuel injection system operates at high pressure – 35MPa – to provide spray atomisation and finely calibrated control to gain high combustion efficiency.
The path from the exhaust to the twin-scroll turbocharger is split into two parts to suppress exhaust gas interference between the cylinders. This allows the turbo to operate from lower engine rpm, giving direct response to the driver's use of the throttle. Boost pressure is minutely controlled in line with the required torque by means of an electric wastegate valve. This gives excellent boost response for powerful driving performance.
To reduce vibration and enhance smooth, quiet running, the engine is equipped with two balancer shafts.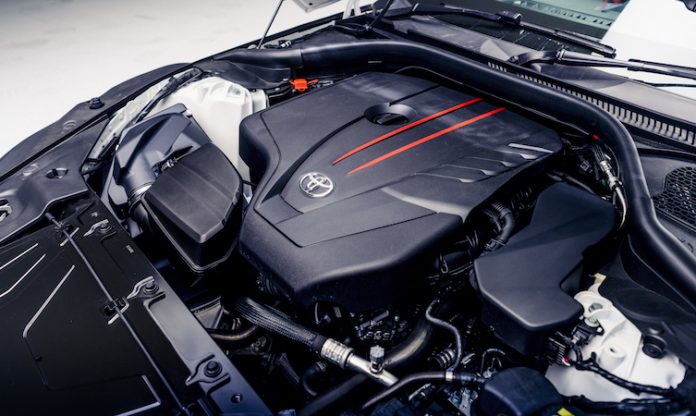 Sports car performance does not come at a high cost in terms of fuel consumption and emissions: the 2.0-litre turbo achieves 38.7mpg (WLTP combined cycle data) and 167g/km CO2 emissions (WLTP combined).
GR Supra 2.0: transmission
The engine is matched to an eight-speed ZF automatic transmission that provides lightning-fast up and downshifts, with short ratios used for the lower gears. The driver can take control of gear changes using paddle shifts on the steering wheel; they can also select Normal or Sport driving modes to suit their preference and the conditions (details below).
A Launch Control function enables powerful acceleration from standstill with maximum traction, helping the car move from rest to 62mph in 5.2 seconds (this operates when Sport drive mode is selected).
GR Supra 2.0: Active Differential
An Active Differential is provided as standard. It operates both when accelerating and decelerating and can seamlessly adjust from zero to full, 100% lock, with instant response.
A dedicated ECU monitors a wide range of inputs, including steering wheel, throttle and brake pressure, engine and wheel speed and yaw rate, for appropriate triggering of the actuator. The torque difference between the left and right wheels is controlled flexibly and seamlessly depending on the driving situation.
Kindred spirits: GR Supra and 2000GT
This delivers huge benefits in stability and efficiency when the tyres are reaching their performance limit. The effect is felt in all phases of cornering, with increased stability during the braking and cornering phases and then maximum grip as the driver accelerates out of the bend. Operation is adjusted when Sport mode is selected to give more efficient cornering in high-speed driving, for example when using the car on a circuit.
GR Supra 2.0: chassis
The smaller size and reduced weight of the new engine bring specific dynamic benefits to the GR Supra 2.0. Where the 2.0-litre model is concerned, the car tips the scales 100kg lighter than its 3.0-litre counterpart. And because the engine is more compact, its mass is located closer to the centre of the vehicle, making it easier to secure an ideal 50:50 front-rear weight balance and improving its inertia characteristics. This contributes to the car's responsiveness, agility and confidence-inspiring handling.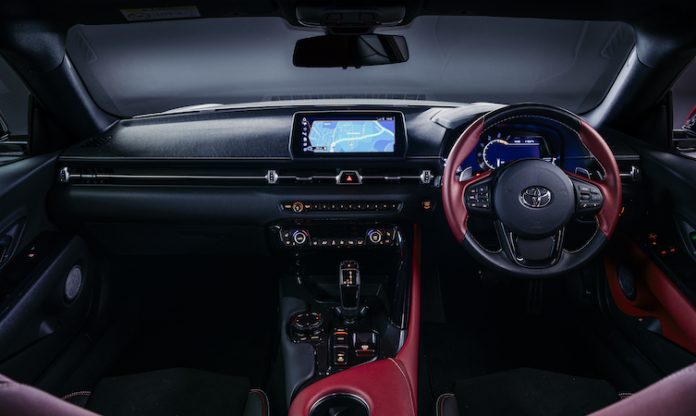 "To achieve agile steering and stable cornering, we worked very hard to reduce the new car's weight, while aiming for a 50:50 weight balance," said GR Supra Chief Engineer Tetsuya Tada. "This presented us with huge challenges, but we did not want to compromise on our targets."
GR Supra 2.0: steering
The electric power steering is rack-assisted and sports tuned. Its characteristics are automatically adjusted in accordance with vehicle speed, reducing the level of effort needed at lower speeds and gradually weighting up to offer greater control and stability at higher speeds. When driving in Sport mode, steering effort is increased, in line with the changes to the chassis and powertrain.
The steering gearbox and motor are mounted separately, which contributes to the car's low centre of gravity and the optimum positioning of the engine.
The system features a steering rack with the motor and reduction gear mounted separately. This gives greater flexibility for the engine mounting system and also contributes to the lowering of the car's centre of gravity.
Steering control and responsiveness are supported by a small-diameter, leather-wrapped three-spoke steering wheel with a cross-section shaped to provide the best grip in different driving situations. Contributing to a more engaging drive, paddle shifts are mounted on the steering wheel, and for convenience and minimal driver distraction, there are controls for the audio, hands-free phone operation and cruise control.
GR Supra 2.0: wheels and tyres
The GR Supra 2.0 is fitted as standard with 18-inch five-double-spoke alloy wheels with a bi-tone black/bright machined finish. To optimise the balance of front and rear grip, larger wheels and tyres are used at the rear. The specific Michelin Pilot Sport tyres are 255/40 ZR18 front and 275/40 ZR18 rear. The limited-run Fuji Speedway Edition version has 19-inch forged alloy wheels with a matt black finish, shod with 255/35R19 96Y tyres at the front and 275/35R19 100Y at the back.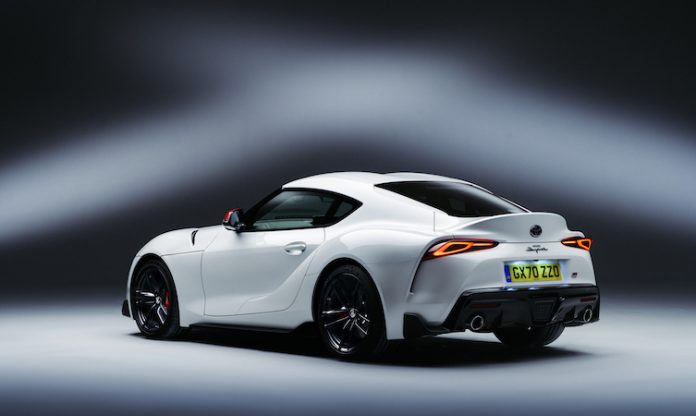 GR Supra 2.0: braking systems
The sport braking package for the GR Supra 2.0 is a lightweight, aluminium system that provides stable stopping performance and excellent controllability. It equips the car with red aluminium Brembo callipers emblazoned with the Supra logo – opposed four-piston units at the front and floating single-piston at the rear. The ventilated discs measure 348 x 36mm at the front and 345 x 24mm at the rear.
The brakes are equipped with standby, drying and anti-fade functions: the drying function applies the brakes at pre-determined intervals when the car's windscreen wipers are operating to dry the discs; fade prevention automatically increases brake pressure when the discs become hot.
ABS, Brake Assist, Vehicle Stability Control, Traction Control, and Hill-start Assist Control are also featured as standard, together with Active Cornering Assist, which creates additional yaw movements by independent braking intervention to improve agility and line-tracing.
An electronic parking brake is fitted as standard.
GR Supra 2.0: selectable drive modes
The driver can choose between two drive modes – Normal and Sport – to adjust the car's response and performance to suit the conditions or personal preference.
Selecting Sport mode sharpens throttle response, increases the exhaust note and adds weight to the steering. Transmission shifts are adjusted so that high revs are held for slightly longer and the Adaptive Variable Suspension damping force is increased. The limited-slip differential also adapts for more efficient cornering, to suit circuit driving, for example.
In addition, there is a Traction mode for the Vehicle Stability Control. This allows for a degree of tyre slip, even when the VSC is active.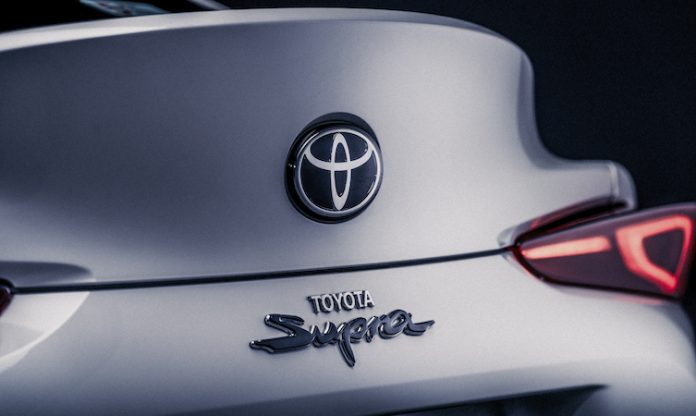 GR Supra 2.0: equipment and option packs
At launch, the new 2.0-litre GR Supra is offered in a high Pro specification, with standard features including 18-inch alloy wheels, a four-speaker 100W audio system with 8.8-inch touchscreen display and heated sports seats upholstered in black Alcantara.
Toyota Supra Safety+ is also be provided, equipping the car with a Pre-Collision Safety system with Braking Function, Pedestrian and Cyclist detection with Braking Function, Lane Departure Alert with Active Steering, Road Sign Assist and Automatic High Beam.
GR Supra 2.0: multimedia system
The multimedia system for the GR Supra 2.0 is controlled via a centrally mounted 8.8-inch high-resolution TFT touchscreen display. This can also be operated using a controller on the centre console which has an intuitive touchpad control on its upper surface. It is designed for fingertip control so the driver doesn't have to change their position at the wheel to operate it.
The package includes a four-speaker audio system with DAB radio reception, Bluetooth, a USB port and wireless smartphone integration using Apple CarPlay. The system also provides voice recognition and access to connected online services to help with journey information such as traffic and weather conditions, parking and fuel availability.
GR Supra 2.0 Fuji Speedway Edition
At launch the new variant is offered in an exclusive, limited edition GR Supra 2.0 Fuji Speedway Edition. This stands out with a unique white metallic paint finish for the bodywork with contrasting 19-inch matt back alloy wheels and red door mirror housings. In the cabin there are carbon fibre dashboard trim inserts and striking red leather and black Alcantara upholstery. The colour choices evoke those of the official Toyota Gazoo Racing livery.
Where equipment specifications are concerned, the Fuji Speedway also comes with all the features of the Pro model (detailed above).
This special edition model has been created specifically for the launch of the 2.0-litre model, with availability limited to just 45 examples in the UK.
On-the-road prices for the new GR Supra 2.0 are £45,995 for the 2.0 Pro and £47,395 for the Fuji Speedway Edition.
Toyota GR Supra 2.0 technical specifications
ENGINE
Type
4-cylinder in-line with twin-scroll turbo
Fuel system
Direct injection
Valve mechanism
DOHC 16-valve with variable lift control (intake) and variable camshaft timing (intake and exhaust)
Displacement (cc)
1,998
Bore x stroke (mm)
82 x 94.6
Compression ratio
10.2:1
Max. power (bhp/DIN hp/kW @ rpm)
254/258/190 @ 5,000-6,500
Max. torque (Nm @ rpm)
400 @ 1,550-4,400
Emissions level
Euro 6D temp
TRANSMISSION
Type
8-speed Sports Automatic 8HP 51
Gear ratios
1st
5.250
2nd
3.360
3rd
2.172
4th
1.720
5th
1.316
6th
1.000
7th
0.822
8th
0.640
Reverse
3.712
Final drive
3.154
PERFORMANCE
Power-to-weight ratio (kg:kW)
7.7:1
Max. speed (mph)
155 (electronically limited)
0-62mph acceleration (sec)
5.2
FUEL CONSUMPTION (WLTP)
Combined cycle (mpg)
38.7
Fuel tank capacity (l)
52
EMISSIONS (WLTP), INSURANCE & WARRANTY
CO2 emissions – combined cycle (g/km)
167
Insurance groups
2.0 Pro 34E

2.0 Fuji Speedway Edition 35E

New vehicle warranty
5 years/100,000 miles
SUSPENSION
Front
MacPherson strut
Rear
Five-link axle
STEERING
Type
Rack and pinion, electric power steering
Steering ratio
15.1:1
Min. turning radius – tyre (m)
5.2
Min. turning radius – body (m)
5.5
BRAKES
Front
Ventilated discs, 4-pot fixed callipers
Rear
Ventilated discs, single-pot floating calliper
Front diameter x thickness (mm)
348 x 36
Rear diameter x thickness (mm)
345 x 24
TYRES
Type
Michelin Pilot Super Sport
Front
255/40ZR18 95Y

255/35ZR19 96Y

Rear
275/40ZR18 99Y

275/35ZR19 100Y

EXTERIOR DIMENSIONS
Overall length (mm)
4,379
Overall width (mm)
1,854
Overall height (mm)
1,292
Wheelbase (mm)
2,470
Front tread (mm)
1,594
Rear tread (mm)
1,589
Load capacity (VDA l)
290
| | |
| --- | --- |
| WEIGHTS | |
| Kerb weight – without driver (kg) | 1,395 |
| Kerb weight – ECE (kg) | 1,470 |
| Gross vehicle weight (kg) | 1,710 |