Toyota has created a new taxi safety screen for use in UK minicabs to help protect both drivers and passengers from the possibility of coronavirus transmission.  
Taxi and private hire car drivers are at risk from potentially catching coronavirus while carrying passengers. The lightweight Toyota safety screen is made from a clear polycarbonate material that can reduce the chances of virus transmission.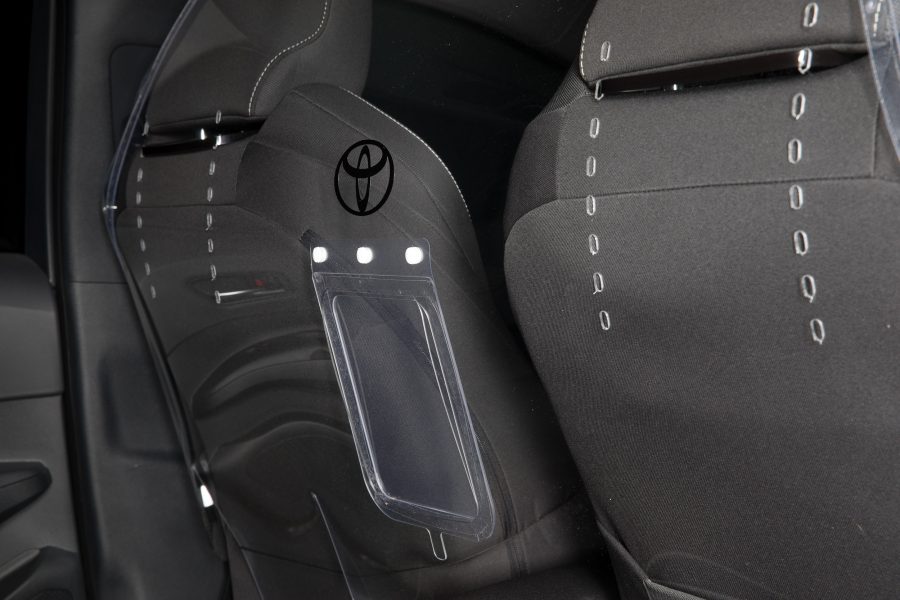 The safety screen has been rigorously tested to meet Toyota's high safety standards, including the full deployment of the cabin airbags. Installation of the safety screens only takes ten minutes by a Toyota-qualified technician and involves no structural changes or damaging of the interior.
The Toyota taxi safety screen is held in place by large tabs on its lower edge that are inserted into the seatback pockets of the front seats. The screen remains stable and in place during transit at high speed, even when both rear windows are fully open. 
The transparent safety screen contains a central opening flap that customers can use for cash or card payments. Although the main use of the screens will be in minicabs and taxis, the screens can also be used for demonstration vehicles and accompanied test drives.
During the design process, Toyota liaised with Transport for London to ensure the initial medium-size screen is approved for use with PCO licence holders in Prius models and the full Corolla line-up. Approval has also been granted for a larger screen for use in vehicles such as the seven-seat Prius+ and RAV4 SUV.
List of compatible Toyota and Lexus models
| | |
| --- | --- |
| PN1 (Medium): PW710-02001 (TfL Approved) | PN2 (Large): PW710-47001 (TfL Approved) |
| Corolla (HB) 2019/01 FMC Gen12 | Prius+ 2014/11 MMC Gen1 |
| Corolla (WG) 2019/01 FMC Gen12 | RAV4 2015/10 MMC Gen4 |
| Corolla (Sedan) 2019/01 FMC Gen12 | RAV4 2018/11 FMC Gen5 |
| Auris 2012/10 FMC Gen 2 | RAV4 2020/06 Plug-in Hybrid |
| Auris 2015/05 MMC Gen2 | |
| Toyota C-HR 2016/10 FMC Gen1 | |
| Toyota C-HR 2019/10 MMC Gen1 | |
| Prius 2009/05 FMC Gen3 | |
| Prius 2015/12 FMC Gen4 | |
| Prius 2018/12 MMC Gen4 | |
| Prius Plug-in 2016/09 FMC | |
| Prius Plug-in 2019/05 MMC | |
| Camry 2017/09 FMC Gen5 | |
| Camry 2018/04 FMC Gen5 | |
| UX 2018/10 FMC Gen1 | |
| UX300e 2020/08 Gen1 | |
The taxi safety screens are made by Toyota Manufacturing UK and can be ordered through Toyota retailers across the country. Prices (with VAT and fitting included) are £195 for the medium screen and £210 for the larger screen.
Stuart Ferma, Toyota fleet general manager said: "Transportation services everywhere are having to be adapted to take the risk of coronavirus transmission into account. We recognise the particular vulnerability of cab drivers and have come up with a solution we believe is effective and reasonably priced. We hope that the many drivers who loyally use our vehicles across the UK will be able to make good use of the new screens."