Regular readers of the Toyota blog will remember Banjo, one of four (adorable) Labrador Retriever puppies supported by Toyota GB through their training with Guide Dogs since 2018. We've followed his two-year journey as he was socialised by a volunteer puppy walker and then progressed towards fully fledged Guide Dog training in 2019.

See also:
Banjo completed just over half of the training programme before Guide Dogs' trainers came to the decision that his enthusiastic personality made it difficult for him to exercise the self-control required of a guide dog. So we took the opportunity to find out why Banjo didn't quite make the grade, where he is now, and how he's adjusted to life with new owners.
To find out how Banjo fared throughout his training, we spoke with Lesley Story, Operations Manager for Canine Assisted Services with Guide Dogs. Lesley oversees a team of guide dog trainers and mobility instructors, as well as being involved with choosing the puppies that come in for training and then following through with that training once a guide dog is placed with a visually impaired individual known as the service user.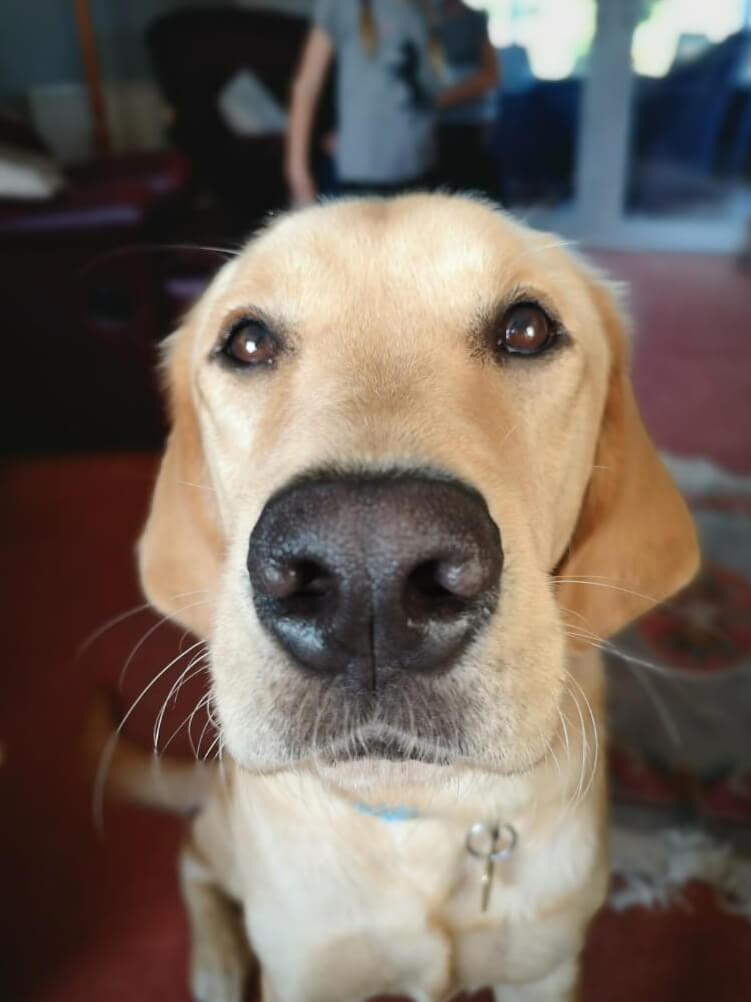 Why didn't Banjo qualify as a Guide Dog?
Banjo came straight from the puppy walker to Lesley's team of trainers. "The puppy walker did a really great job in terms of socialising [Banjo]," Lesley explains, "so he was very happy to go into different environments – on transport and in shops, and if you're in a cafe he's happy to lie down."
However, just as humans have different personalities and temperaments that can be difficult to change, the same was true with Banjo. "He's a lovely dog and really good socially and very adaptable in that respect, but he lacked impulse control," Lesley continues. "He's quite a big dog as well, so if he saw someone he knew or something that he wanted, he would just go and get it using his weight."
He's a lovely dog and really good socially…but he lacked impulse control
Sometimes Guide Dogs' trainers can work with a dog through training to improve these characteristics and behaviours, but with Banjo, his enthusiasm won out. And because of the potential difficulty that this kind of behaviour could pose to a service user, it was decided that he wouldn't progress to complete the training.
Even so, Guide Dogs programme results in between 65 and 75% of puppies successfully completing the training and going on to be matched with visually impaired owners. For those dogs who don't quite meet the high standards required, Guide Dogs has expanded to include a buddy dog service where the dog will go into a home with a visually impaired child as a pet dog to help the child develop their confidence, relationships and companionship. The charity is also working on a companion dog scheme which will see some dogs placed with visually-impaired adults who may not qualify for a fully-trained guide dog.
Of course, we're still very proud of Banjo and the hard work that he and all of the Guide Dogs volunteers and staff put in. As Lesley explains, "We need to ensure that all our dogs are the best they can be for any service user. By sponsoring Banjo, [Toyota] has directly supported us as an organisation and our services."
It's worth remembering that Guide Dogs relies on the generosity of the public, with more than 95% of its income coming from individuals and companies like Toyota. Demand for Guide Dogs' services has increased and will continue to do so as the number of people living with sight loss is set to double to four million by 2050.
To date, we're proud to have raised enough funds to support 51,000 days of mobility to people living with sight loss. Toyota's partnership with Guide Dogs also helps to increase awareness of the charity's activities and generate further support from the wider community.
See also:
Where is Banjo now?
While Banjo hasn't ended up as a fully trained guide dog, that's not the end of his story. He's now enjoying a new life with owners Geoff and Mary Pottinger in Kent and quickly settled into a routine of daily walks with the active couple since joining them in September 2019.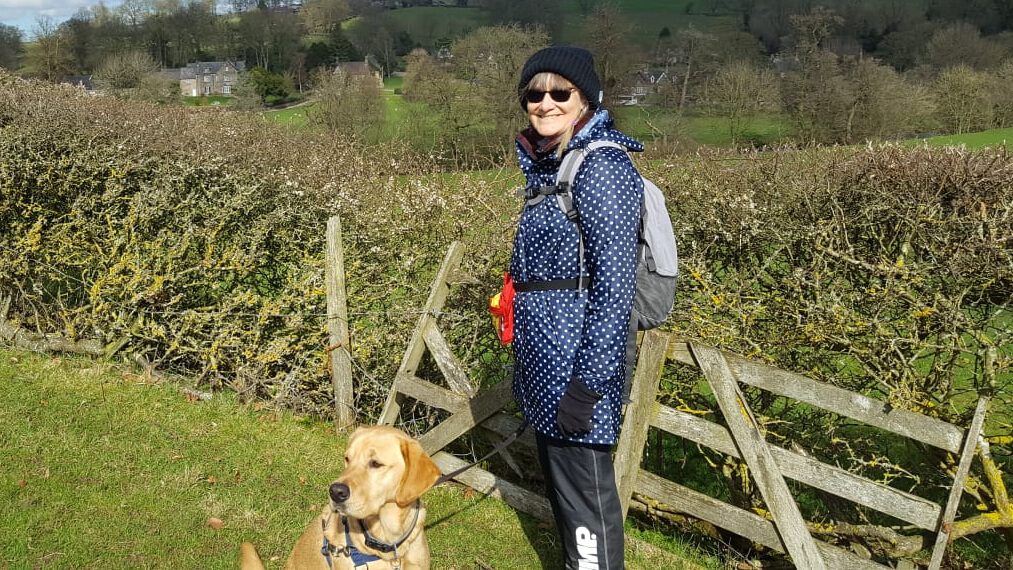 Geoff and Mary have been personally involved with Guide Dogs for more than a decade, having first become familiar with the charity's work when Mary's partially sighted father became a guide dog owner.
Their greater association with the charity has seen them sponsor individual dogs, and in more recent years they have volunteered as boarders, taking in guide dogs for short periods when their owners are away or in hospital.
We originally had Banjo as a boarder…We had him for a few weeks, and I fell in love with him.
"We originally had Banjo as a boarder," Geoff explains. "We picked him up in September and we had him for a few weeks, and I fell in love with him." They were delighted when Guide Dogs offered to rehome Banjo with them permanently.
Most importantly, it's been a successful move for Banjo. He has fitted in well with their lives and become part of the family and a favourite of their two granddaughters. "He's quite easily distracted, but that's part of his charm really," Geoff continues. "He's a very temperate dog – our girls will lay next to him and he loves that."
"I think it's a shame that he didn't make it as a Guide Dog because he has a lovely temperament," adds Mary, "but at the same time you want the person who's going to have him to be safe and I don't think with Banjo a partially sighted person would be safe."
From their experience with Mary's father and from becoming friends with visually impaired owners whose dogs have boarded with them, Mary and Geoff have come to appreciate the huge difference that Guide Dogs and their work have on the life of the service users.
Seeing the ways that an individual's life is transformed by the added confidence and greater opportunities for mobility provided by a guide dog motivated the Pottingers to support the charity to the extent they were able, just as Toyota has been able to support Guide Dogs by sponsoring Banjo and his fellow pups through the training programme.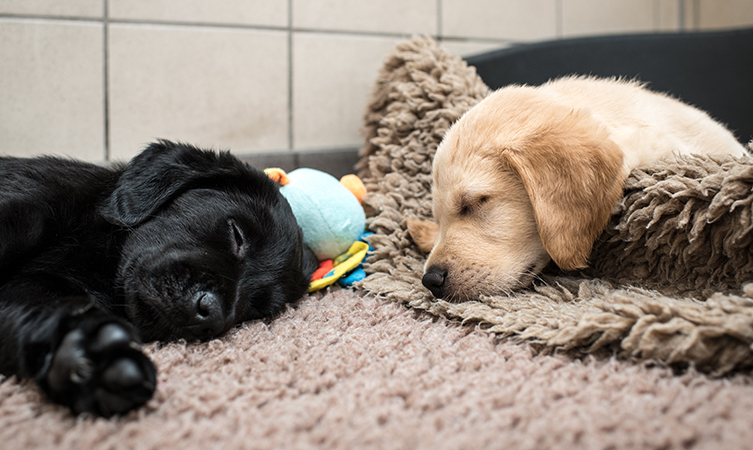 And guide dogs are just one part of what the charity accomplishes these days: "We're about helping visually-impaired people achieve what they want to achieve," Lesley explains. "That might just be companionship, it might just be independence or confidence." Whether that be with dogs, or by assisting visually impaired people to build their confidence and develop independence through the hard work of trained volunteers who act as sighted guides, Guide Dogs is ready to help.
If you'd like to get involved with Guide Dogs or simply learn more about their work, including keeping up-to-date with their new initiatives such as the buddy and companion dog schemes, visit www.guidedogs.org.uk or follow them on Facebook, Instagram and Twitter.
(Pictures courtesy of Geoff and Mary Pottinger)