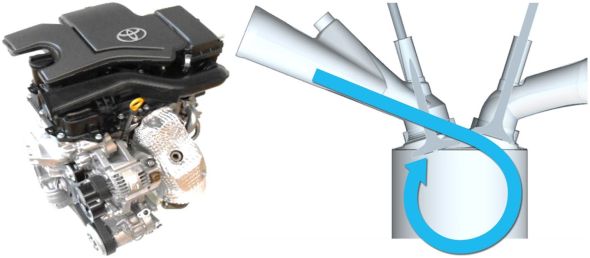 The launch of a facelifted domestic market model rarely affects Toyota buyers in Europe. However, Toyota's release of the latest Passo model in Japan yesterday was significant because it marked the introduction of an exciting development of the 1KR-FE engine that we will soon experience in the new second-generation Toyota Aygo.
The 1.0-litre three-cylinder 1KR-FE has won numerous international engine awards in its lifetime, achievements that look set to continue with this latest version. Already, Passo models fitted with this reduced friction engine have been recognised by the Japanese government as setting the highest fuel efficiency test cycle figure among non-hybrid, petrol-powered cars.
The ultimate aim of this latest development was to deliver an outstanding 37 per cent thermal efficiency rating, a feat that would also generate significant improvements in the unit's fuel-efficiency.
Toyota has achieved this superior efficiency with a raft of innovations, beginning with a redesigned intake port and piston profile to induce a strong tumble flow inside the cylinder. This encourages the incoming air and fuel into a vertical swirl that creates turbulence and distributes the mixture more evenly inside the combustion chamber before ignition. A benefit of this is an increase in combustion reliability with lean air/fuel ratios, an efficiency factor that has been additionally enhanced with a higher compression ratio.
A tighter squeeze inside the combustion chamber generates more intense heat and the risk of spontaneous ignition of part of the charge, often referred to as 'knock'. The traditional method of reducing combustion heat temperatures is to enrich the air/fuel mixture, but that wastes fuel and makes it more difficult to meet emissions standards. So Toyota has restored the efficiency equilibrium by developing a cooled exhaust gas recirculation system and optimising the valve timing.
The revised 1KR-FE engine is just one of 14 newly developed and highly fuel-efficient engines that achieve outstanding thermal efficiency. Many of the units will adopt the combustion and loss-reduction technologies Toyota has refined in its dedicated hybrid engines. All new engine variations will be introduced globally by 2015, and it is predicted that each of them will achieve fuel efficiency improvements of at least 10 per cent over current units.