Perched on a blustery granite outcrop, Derek Evans sits astride his mountain bike and surveys the scenery. A few miles to the north he can see the Bristol Channel shining dark blue. Further to the south, he can just make out the English Channel through the midday haze. Fifty yards behind him a Victorian folly, hewn from the same stone, juts out abruptly from the scenery. And just below him, an unmade track winds its way through clumps of yellow gorse and past a white van.
There are many routes down from this 738ft high summit on Carn Brea near Redruth in Cornwall. Derek is spoiled for choice. But one thing is for sure – his descent will be fast. "I've ridden bikes off-road for as long as I can remember – since I had stabilisers!" laughs Derek as he dances his mountain bike onto its front wheel.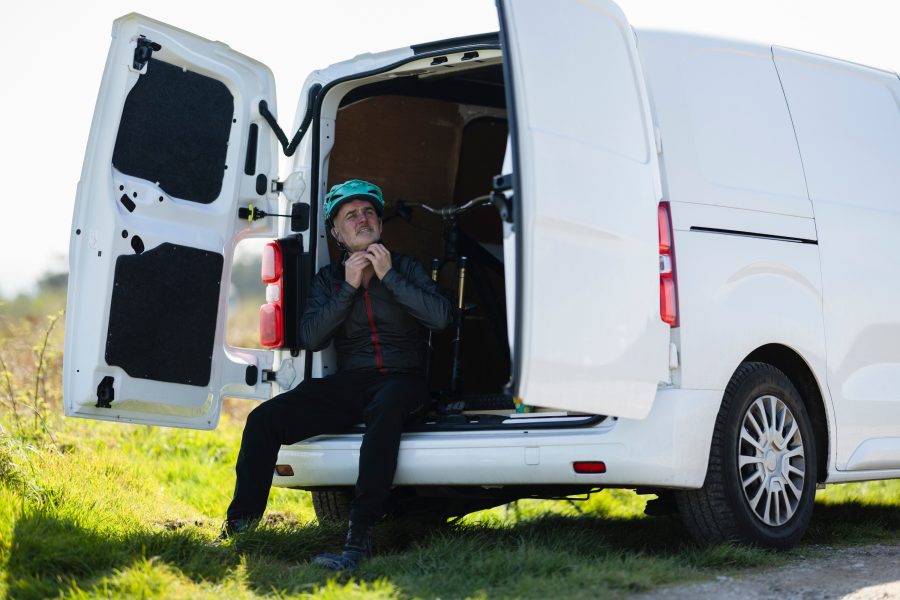 He's riding a very smart full-suspension, mountain bike which he built himself around a custom-made black carbon fibre frame. "I ride all over the country – often in the Surrey Hills and the Brecon Beacons in Wales. I've also cycled in Les Gets and Morzine in the French Alps" explains the 41-year-old vehicle technician.
His bike's chain and gears clatter and click as he points his bike down the yellow stony track towards the van. The smart white Proace Compact is his. Perhaps he's going this way so he can look at his van on the way down. "I love vans," he said. "I always have done. I've always had a van. But I've been without for two years.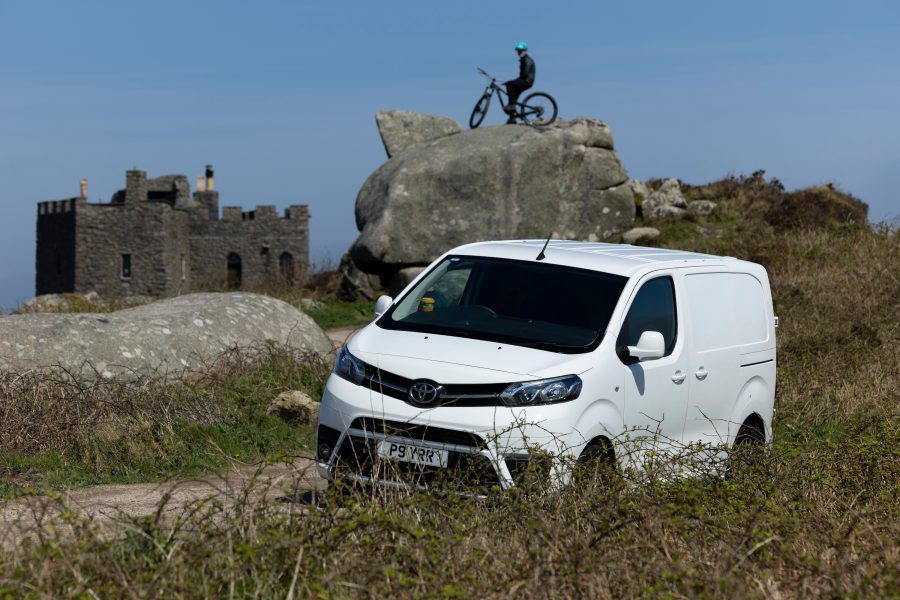 "I bought this one from Parklands Toyota at Carland Cross in February after my girlfriend spotted it. Other manufacturers have a string of issues and are very expensive. This is the small Compact version. It suits me well with all the little country lanes around here.
"My dad was a car-nut and got me into Toyotas. I've always liked their technology. He imported a Mk 4 Supra from Japan about 20-years-ago. He drove it to Spain and all around Europe and I used it to go out on dates.
"I really like the look of the Proace. I'm going to make a few cosmetic modifications, and turn it into a proper day van so I and my girlfriend can both take our bikes out, have adventures and picnic in it. I've already fitted insulation so I can carpet it floor-to-ceiling. I'll probably put 20-inch alloys on it and maybe a spoiler and splitter, but I don't want it to be too showy."
Derek's Proace is an L1 manual in Comfort spec with leather seats. He paid £12,500+VAT for his immaculate three-year-old van with 80,000 miles.
As he loads his bike back into the van after an afternoon on his mountain bike, he looks fondly at his van and says: "I don't see me ever getting rid of it"