It's fair to say that professional photographer Rod Kirkpatrick gets about a bit. Rod, in his trusty Proace City compact van, travels the length and the breadth of the UK in search of images and stories for both national and local newspapers. In this weekly diary, Rod shares his experiences of being a Toyota Proace city owner.
Proace City owner: 26th November 2021, Eco Power Week
My recent jobs have had a lovely – energy-related – synergy to them. First-off was a set of photos at an awards ceremony in an old red-brick industrial building in Derby. Hanging above the entrance hall to the Museum of Making is an art installation made from suspended Toyota Corolla components. The 'exploded' Corolla was made at the Burnaston factory only a few miles away.
I was there to photograph another pioneering Derbyshire company, MasterMover, being presented with The Queen's Award for Enterprise. They make electric tugs for moving bits of heavy kit and equipment around and received the award in recognition of their outstanding growth in overseas sales over the past six years.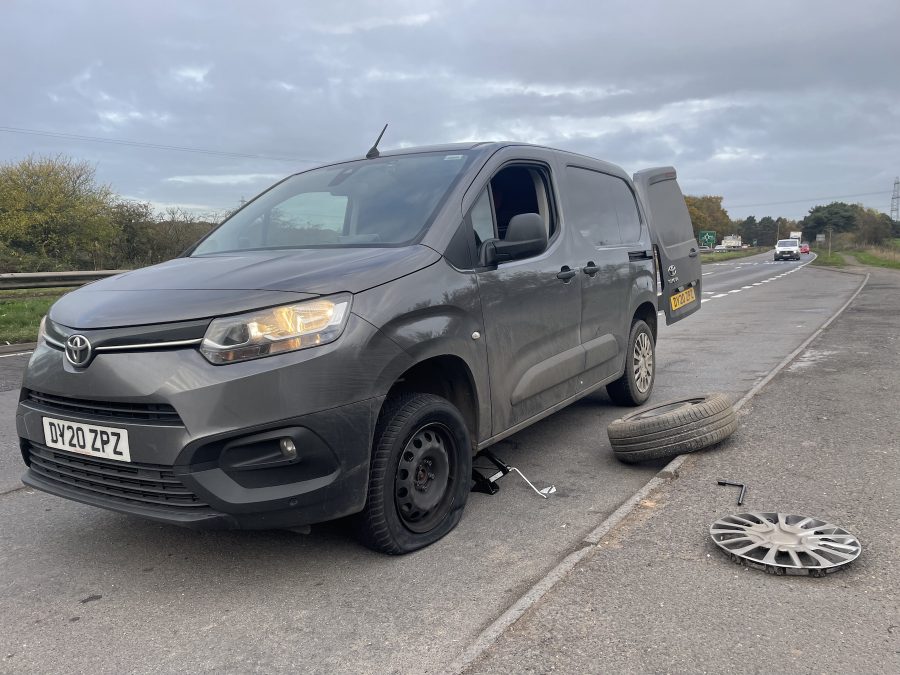 I could have done with one of their rechargeable electric machines to help me lift up my van on Tuesday when my nearside-front-tyre suddenly punctured on the A38 near Birmingham. Instead, I had to resort to my own feeble manpower and some old-school skills, to hurriedly change my wheel in a lay-by. The Proace City doesn't come with the longest of wheel braces. It was a bit of a struggle, but thankfully I was only a few minutes late for that day's assignment.
Next up was a trip to Yorkshire to photograph and film a wind farm at sundown and again the following dawn. The huge, yet strangely elegant, turbines are linked by miles of gravel tracks that criss-cross over a former colliery site.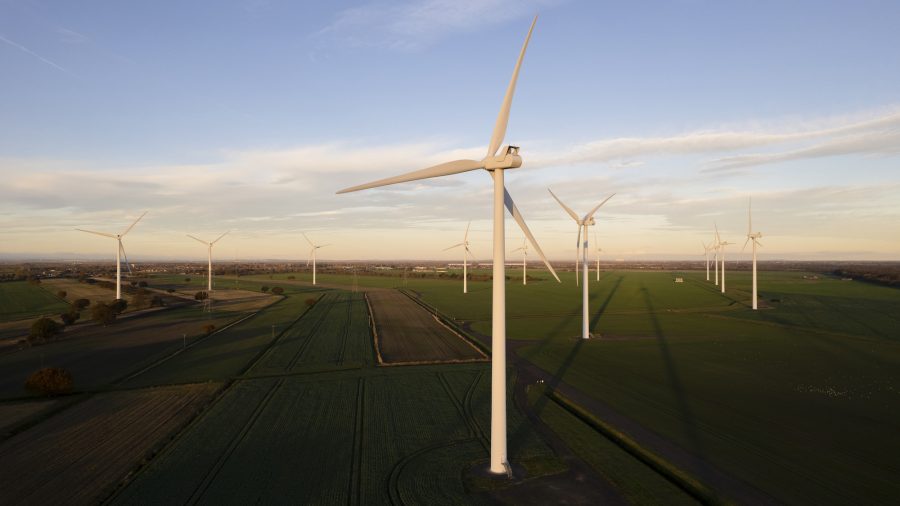 I was escorted by two engineers from the power company. Each of them drove a little van, just like mine, and we trundled around the industrial landscape of the future in convoy as the sun set and electricity were pumped cleanly into the grid with each swish of the giant turbines' blades.
21st November 2021: Speed Week
This week was an unusual one as I was invited to an old airfield in Yorkshire to document the half-bike half-aircraft being run for the first time. The two-wheeled contraption has been built in a shed in Essex with only one purpose – to break the world motorcycle land speed record (which currently sits at 376mph).
The 30ft-long '52 Express' is powered by a fifty-year-old Rolls Royce helicopter engine and will be ridden, or perhaps piloted, by the UK's foremost daredevil of our time; Guy Martin as he attempts to reach 400mph on the salt flats of Bolivia in 18-months' time.
With fog lights piercing the mist, I set off early on Monday morning. Navigating using the Proace City's Apple CarPlay screen I slowly made my way through the gloom to Elvington runway.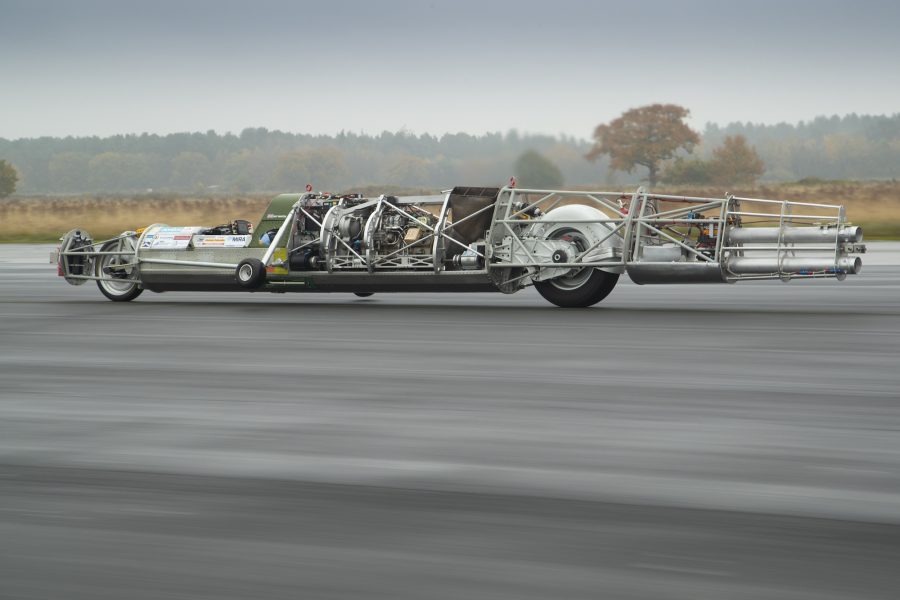 My first plan was to stand near the starting line to get photos of Guy launching off. I would then lie in the back of the van for later runs, shooting tracking shots with the side doors slid open. After only two runs Guy had already hit 100mph. And we all knew he would try for more. However much I wanted the star of this blog, to keep up with a world record-breaking speed machine, it simply wasn't going to happen. To get significantly more than 100mph, I think Toyota's engineers would need to bolt a seriously large turbocharger onto the 1.5 diesel powerplant under the little van's bonnet. I was going to need faster wheels.
For the second day of testing, I decided to head to the former RAF base on my motorcycle. I would strap a camera to a footrest and try to keep up with Guy. My old Suzuki can do well over 100mph.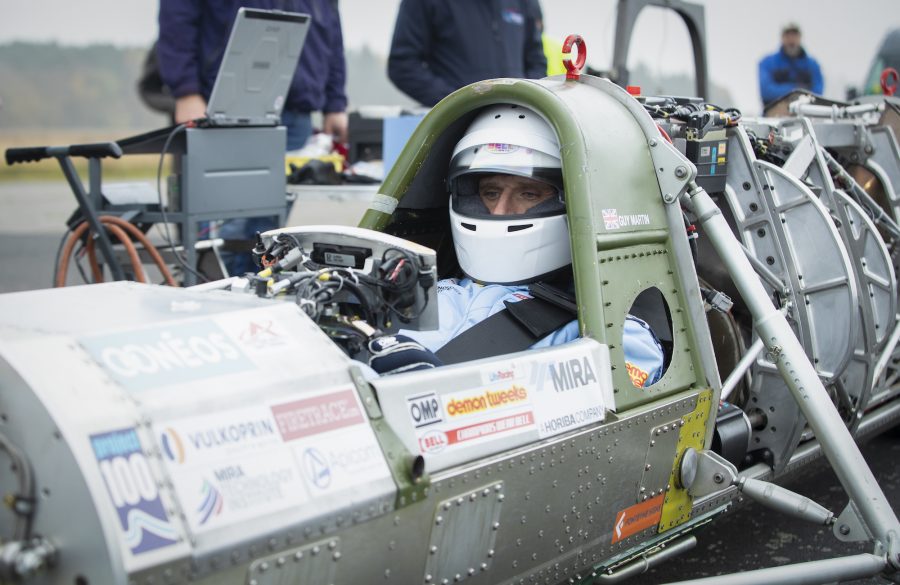 But my 1984 Katana 750 sports bike, even with its pop-up headlight folded away to reduce drag, still wasn't quick enough. Following a little wobble off the start line, Guy immediately accelerated to over 130mph, leaving my motorcycle embarrassed in its wake. I jumped in a crew member's Jaguar for the next run. With my camera poking out the rear window, the bike, resembling a 1950s' jet fighter, flew up the runway accelerating so fast it left us for dead. First 140mph, then back again adding yet another ten miles an hour of velocity.
The two-day test surpassed all the team's dreams. Guy Martin's bravery, or perhaps craziness, helped him achieve a much-higher-than-expected maximum test speed. He really is in another league. A true British hero.
10th November 2021: Fireworks and fuel saving
As you might have gathered from the previous diary entries, I'm a man of many skills and this week I added a new one to my ever-growing repertoire, kitten saviour. My daughter's Swiss Cheese plant could potentially prove toxic to her pet Rupert, which meant the rather large plant needed to go ASAP. Luckily the deadly fauna easily fit into the rear of the Proace and I was able to correctly dispose of it.
Later that evening was my second of three nights shooting the Alton Towers firework displays. To mix it up a bit I decided to photograph the 27-minute rocket and laser show from the top of a hill, one-and-a-half miles from the resort. This would surely give a great view, showing the scale of the pyrotechnics and how they played above the landscape surrounding the historic towers.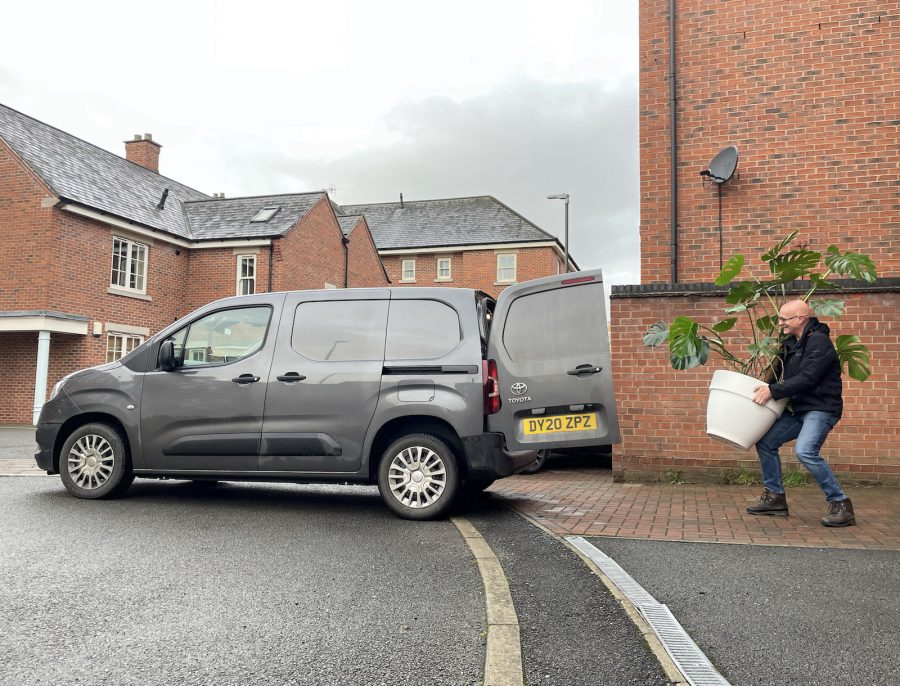 I was wrong. Very wrong. The wind, gusting to over 50mph, brought with it a spray of rain sharper than a garage jet wash. I left my drone safely in its box – it would have been blown out of the sky. But I set up my heftiest tripod and long-lensed camera combo hoping they would cope with the full force of the weather. But the buffeting deluge made it impossible to successfully take any long exposure shots.
I shifted the little van alongside the camera and attempted to use it as a windbreak. For a few minutes, I convinced myself it was working. Genius. Crouched beside the Toyota, I snapped away as the Staffordshire skyline lit up with splodges of colour. But all my shots were out of focus and blurry – it was a totally disastrous shoot.
As it happens, a Proace City is not actually a very good windbreak after all – it's just not big enough. But its slabby sides and boxy proportions don't really make it one of the most aerodynamic vehicles on the road either. With the COP26 climate change conference falling the same week UK fuel prices hit record highs, my fuel economy – always a big factor in my business' bottom line – suddenly came into a much sharper focus.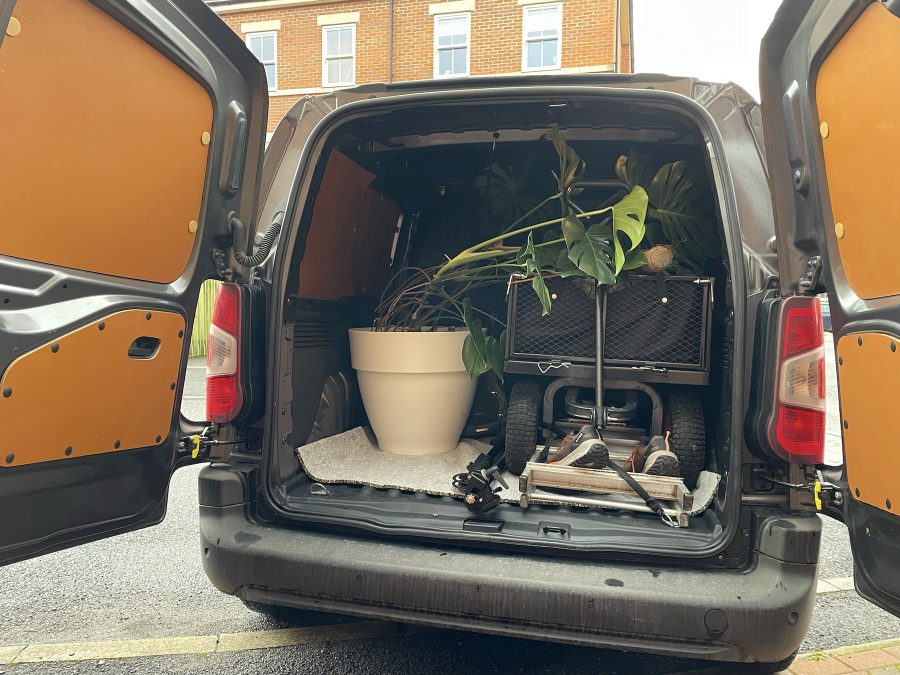 But there is a simple solution to extending miles per gallon. I don't want to sound Puritanical, but it is something we can all do. Whether our vehicles are diesel, petrol, hybrid or electric, there's an easy way to drastically reduce our carbon footprint simply by using less energy. This very simple, non-rocket-science range-extending solution? DRIVE MORE SLOWLY. Yes, that's it. Drive slower.
When driven slowly my van can squeeze 62 miles from a gallon of diesel. This figure is closer to 48 miles per gallon when I'm not driving carefully – that's 29% more fuel. Aerodynamics have less of an effect the slower you go, so my van's brick-like profile is almost irrelevant when trundling along the motorway at 55mph. Sure, it might not be the most thrilling drive of your life but you can afford a smug smile when you realise how much money you're saving and how your careful driving may be changing the climate for the better and saving a few kittens in the process.
5th November 2021: Northern Lights
As a photographer, I'm constantly on the hunt for good light – a commodity in short supply at this time of year.
I'm often on the road early, getting to shoot locations in time to snap my subjects in daylight. This week started with an early morning 100-mile dash to Worcestershire to photograph a funky blue electric van made by Morris Commercial. The retro van looked fab against the autumnal colours.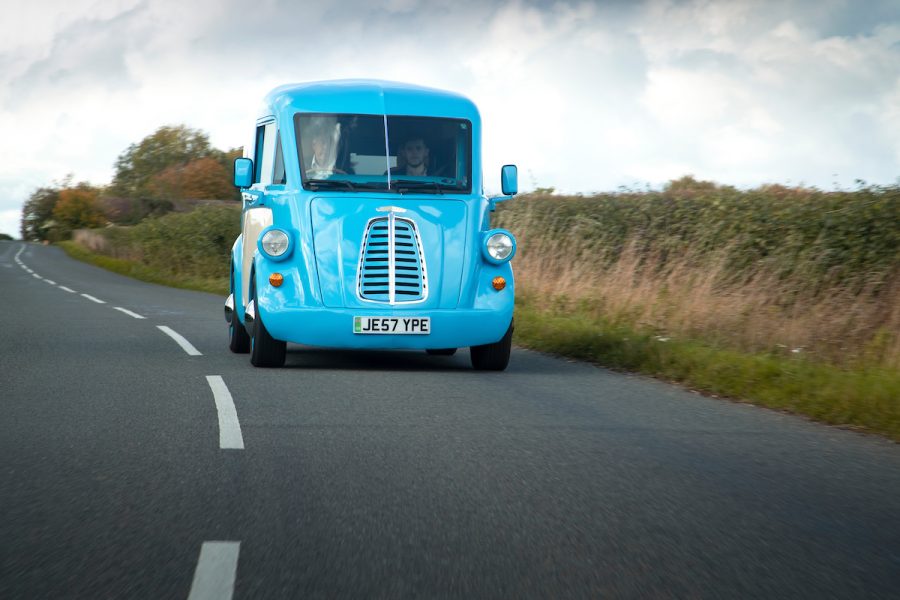 The next day I was much closer to home for some video and drone filming at the end of a very long and bumpy Derbyshire track. This was another shoot timed to show off the wonderful kaleidoscope of seasonal woodland hues.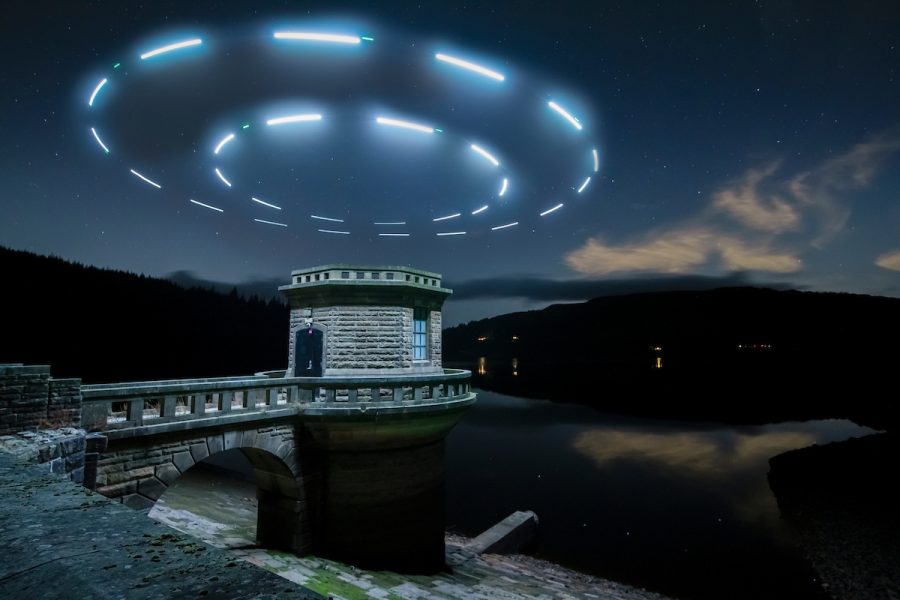 Night-time light was also my focus this week. A solar flare on Thursday came with predictions for a northern lights show over the Peak District. So on Saturday evening, I went aurora borealis hunting with my youngest daughter. We first stopped at Ladybower Dam where the natural light show was reluctant to show. But we had a supernatural 'close encounter' of our own kind, as we watched a man flying his drone, fitted with fancy LED flashing lights, around one of the towers. It made for a proper-spooky "THEY'RE HERE!" type photograph. Next, we drove to a Hathersage for a midnight torch-lit hike to the top of the moors. My daughter climbed on a rock and we were soon rewarded with a brief glimpse of a spectacular green and purple sky before the mist rolled in to obscure our view.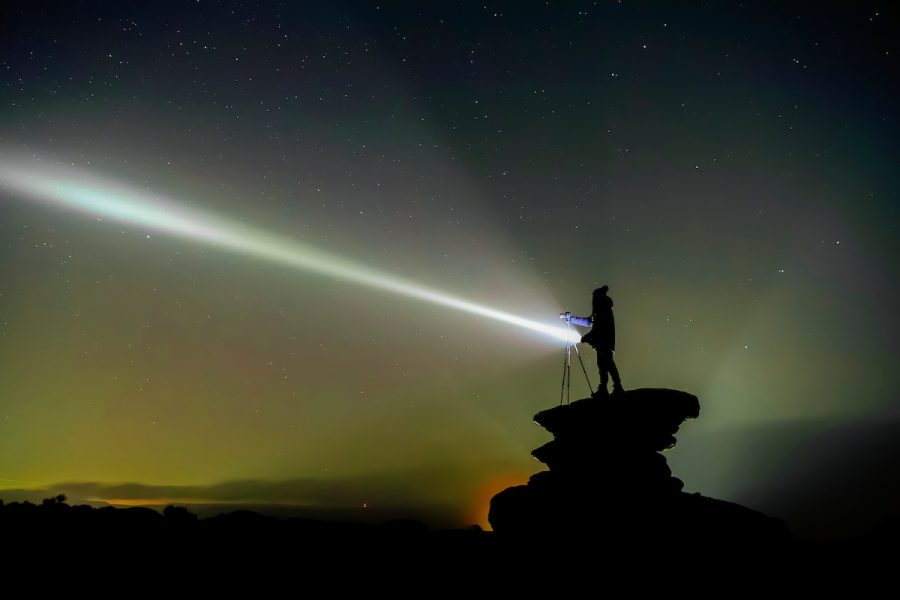 Six hours later, it was my eldest daughter's turn to ride shotgun with me in the Toyota. We were off to watch and photograph hundreds of cyclists attempting the National Hill Climb – a competition to pedal up the near-vertical Winnats Pass as quickly as possible. It rained. And it rained. And it rained. An umbrella-breaking tailwind may have helped push the bicycles upstream along the half-mile road-cum-waterfall but it soon blew us back to seek shelter and sanctuary in the van.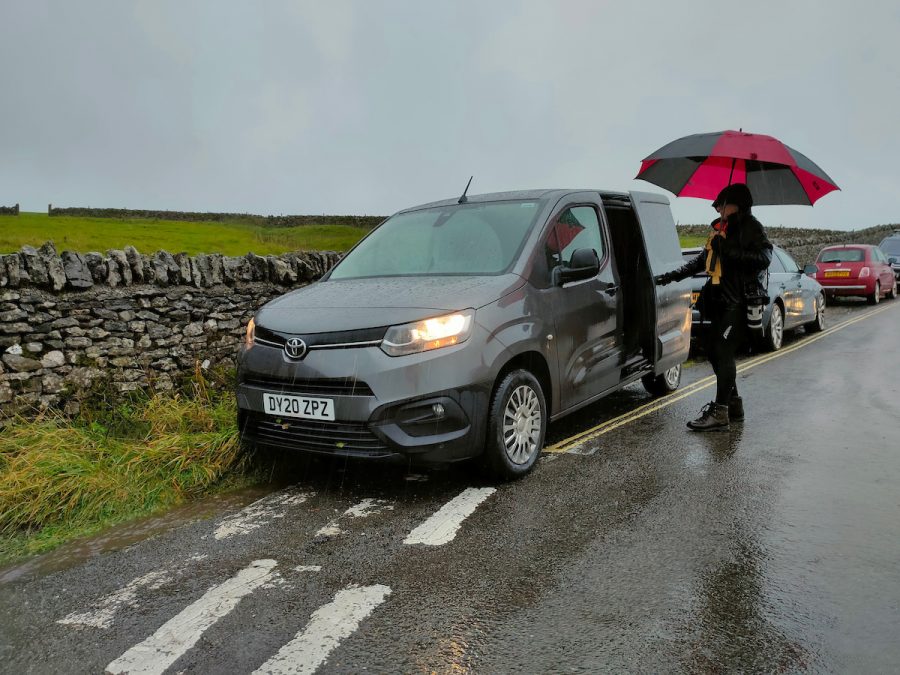 It's weeks like this when the modern tech inside my van takes second place to dependability and safety. None of that other stuff really matters – the touch-screen infotainment system, electronic handbrake, stop-start engine, air conditioning, class-leading payload capacity – I can live without all of it. What's important is to have a workhorse I can simply trust and rely on to deliver when the conditions get tough. Whether it's in the dark or in horrendous weather, my Proace City delivers this dependability, unfalteringly, in spades.
29th October 2021: thumbs up
This week a customer cancelled a couple of days' work, so with unexpected time-off, I decided to go for a bike ride.
You will understand my immeasurable delight in discovering my large mountain bike, with its colossal 29 inch wheels, fits in the back of my small van. It just simply fits. Strapped-in neatly or slung in on its side covered in mud, my bicycle, without the need for anything taking-off, loosening or being unscrewed, is no longer a hassle to take to my favourite trails.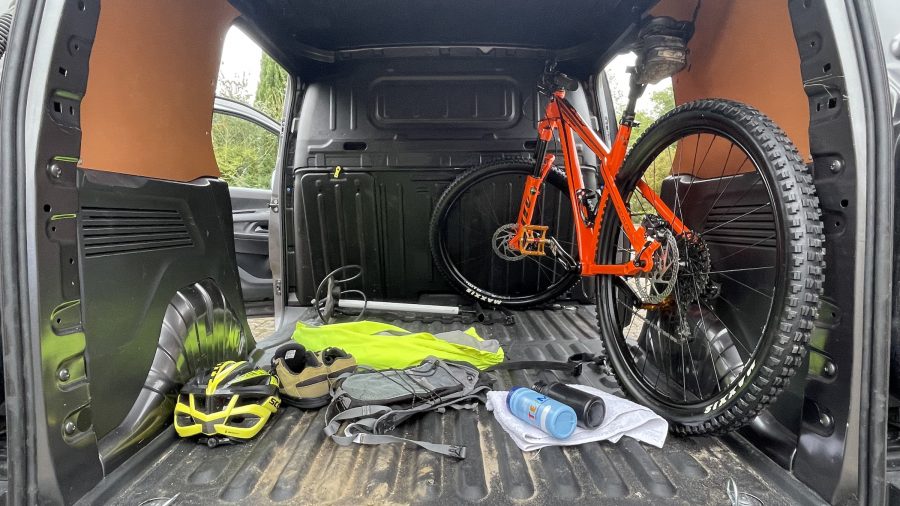 I don't even have to worry about the mud. I can quickly wipe-down or sweep-out the back of my Proace City. The mud on the outside is a different story. The autumnal roads do their best to coat my little Toyota with layers of crud within seconds of driving anywhere. And it won't be long before salt is added to the mix to really test my ability to keep my little workhorse clean. Upfront the screen-wash is sprayed from numerous nozzles within the wiper blade arms – a neat feature which delivers the soapy water exactly where it's needed. But there's little to save the van's rear-end though. Tail lights, number plate and reversing camera all quickly succumb to the splatter of road filth.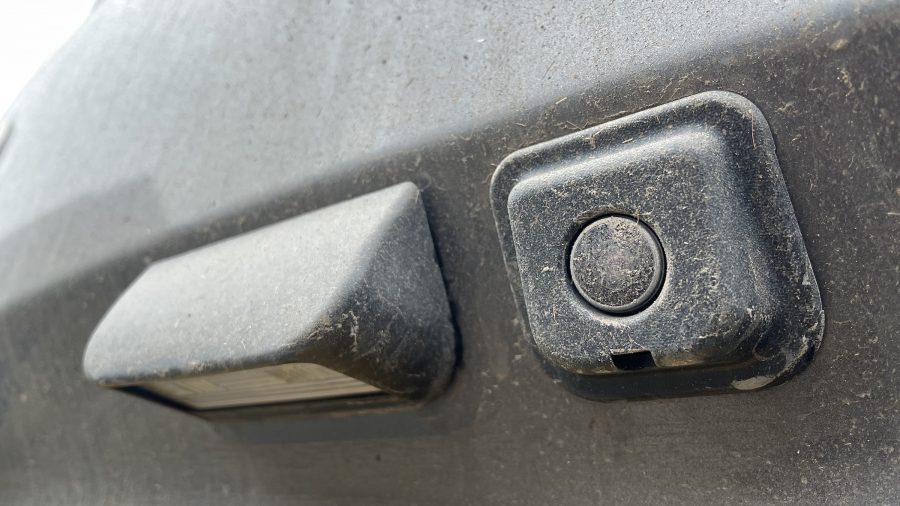 I do try to keep the reversing camera clean. Every time I walk past it I give it a little wipe – with my thumb! There's probably a much better way to do this. A gadget with an in-built sponge perhaps? Have you found a better way to keep your reversing camera clean? If you have, let me know!
22nd October 2021: getting a grip
On Tuesday I drove to an autumnal forest on the Welsh border in Shropshire. Toyota had asked me to go there to shoot a feature about a man who uses a Hilux for his forestry work.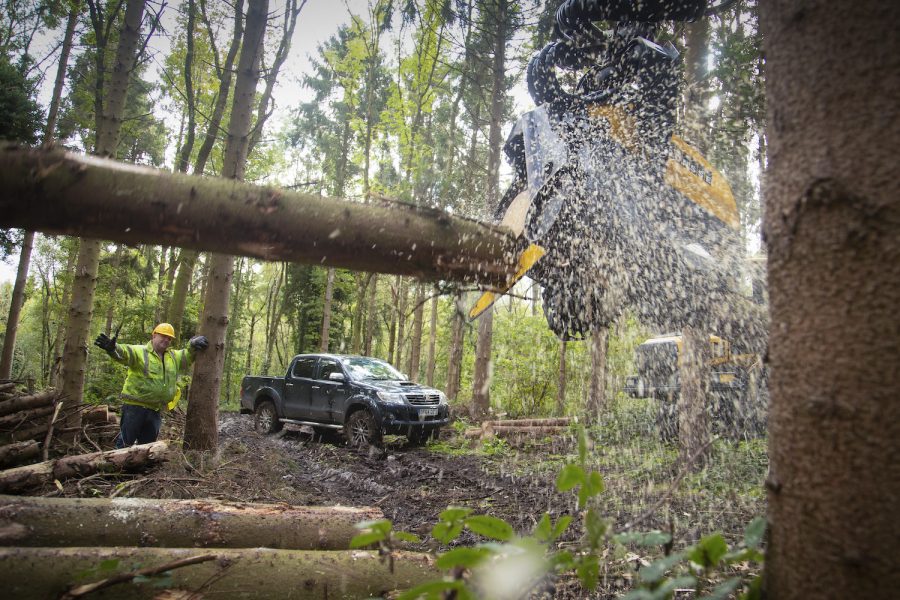 I carry a lot of gear in the back of my van and always try to drive as close to my shoot locations as possible – and I wasn't going to let a little woodland track stop me. The muddy track wound its way for a mile-and-a-half down into the damp pine forest. My Proace City is a working vehicle so a few mud splatters are par for the course.
The final few hundred yards of the route climbed sharply up a steep, greasy left-hand bend. Undaunted, I ploughed on, attempting a flat-out ascent of the hill. Imagining I was a rally driver taking on one of the iconic Welsh forest stages, I floored it but then began immediately drifting sideways.
I thought I had a good grip of the fundamental laws of physics but the front wheels quickly showed off their superior knowledge of all things relating to friction, momentum, mass and force; spinning wildly as they searched in vain for traction. This was the limit of the terrain for my little front-wheel-drive van. Crest-fallen, I backed down the slope.
Moments later I'd thrown a bunch of camera and lighting equipment in the back of the Hilux I'd come to photograph. It charged up the hill, all wheels spinning, but still finding plenty enough grip to the summit without fuss.
This is why the forestry contractor uses a Hilux – it's all about having the right tool for the job. Having off-road tyres fitted to the forester's Toyota also really helped him drive through the gloopy-under-tyre woodland.
This jogged my memory to call my local tyre shop to order a set of tyres for my Proace. I always do this at about this time of year, when the nights draw in and temperatures start to fall.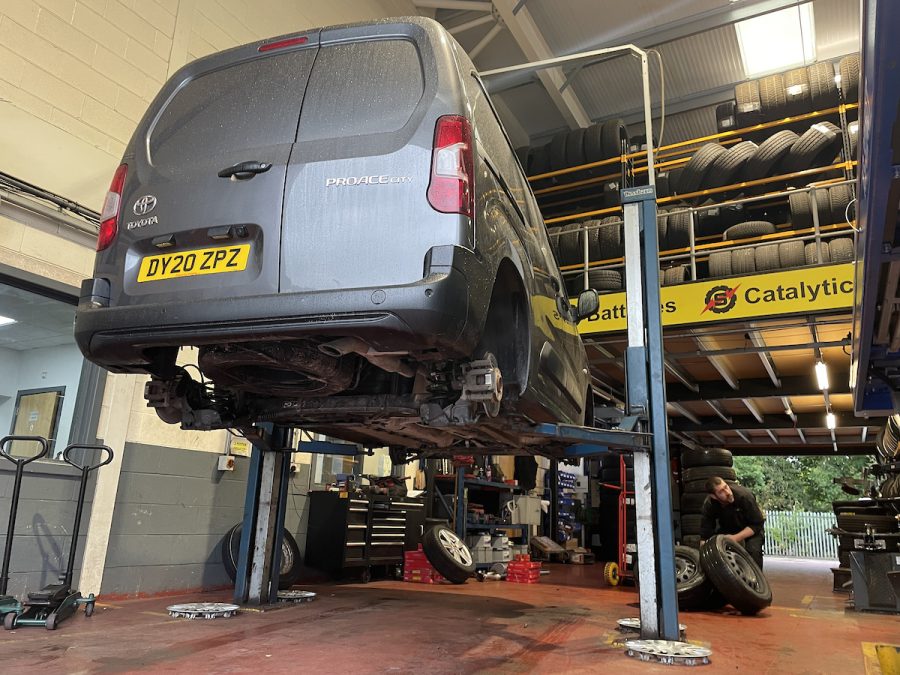 I'm writing this post on my iPhone sitting on a square-sided, black, faux leather sofa in my local tyre shop. But it's winter tyres, not off-road rubber, being fitted to my little Toyota.
I live in the Derbyshire Peak District and actively search out the worst, or best (as I prefer to think of it) wintry weather conditions. Photographing and filming winter scenes – the snowier the better – for newspapers, TV and social media is a passion of mine. I tell myself, and my family, that it's all just work. I won't let on that I love the challenge of working in freezing weather.
With winter tyres fitted, even to a two-wheel-drive car or van, I can safely get to some of the wildest, most remote and frigid locations – places most people wouldn't dream of attempting to get to. Even when it's not icy, winter tyres, compared to regular summer rubber, are said to give more grip when temperatures are lower than seven degrees celsius. I actually think they are so good they should be a legal requirement for UK winters.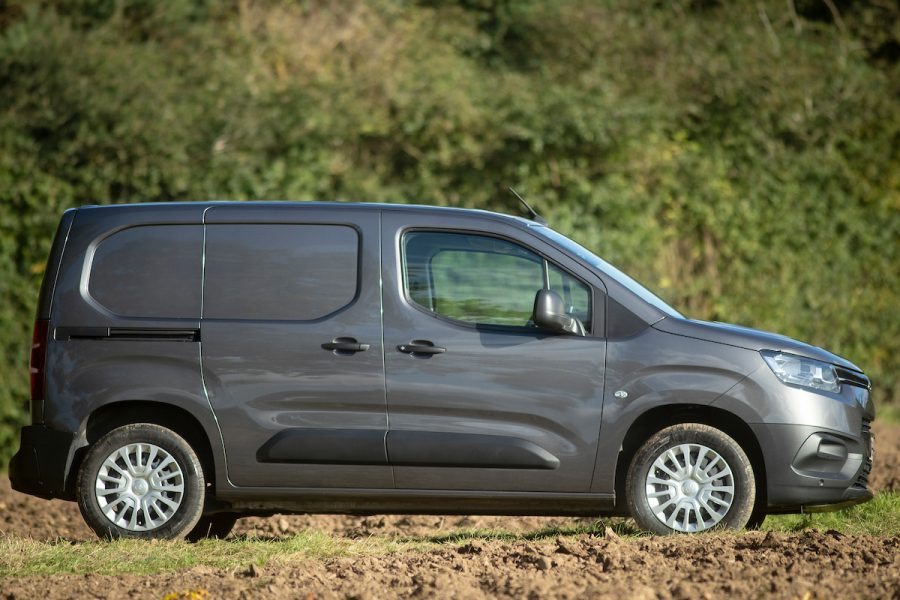 Yes, they are an extra investment, but summer tyres aren't being worn down when they're off your vehicle and you put them back on again in the spring. This effectively lengthens the time between buying new ones.
I couldn't work effectively and safely throughout the cold months without winter tyres. And perhaps, now with added grip and vastly reduced stopping distances I'll be able to get up and down a few steep snowy hills this winter without the need of another Hilux rescue.
Proace City owner: How much can you fit in a Toyota van?
With my ever-growing collection of photography and videography equipment – including cameras, tripods and even ladders – I needed a vehicle that was both easy to load and could transport all of this safely, and the Proace City does that job extremely well. See the video below.
11th October 2021: how I became a Proace City owner
For years I carted all my photographic gear around in the back of estate cars. The daily grind of folding the rear seats flat and cramming everything in was monotonous but seemed to do the trick well enough.
But as I began to invest in more equipment – especially for the developing videography side of my business, I began to run out of space.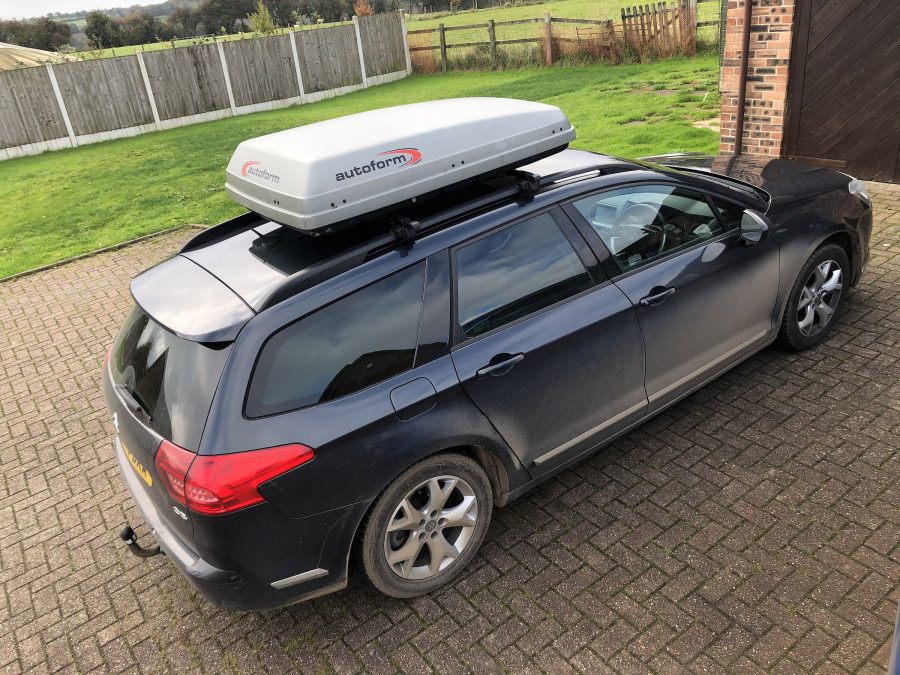 My collection of tripods, poles, ladders and other long pointy things was growing almost daily; the car was permanently packed to the gunnels. This made work-life tough due to the constant packing and unpacking needed to reach cameras and equipment for each shoot. It took its toll on me and my trusty workhorse, with it rapidly showing signs of wear, rips and general degradation. The headlining tore first, then the rubber seal around the boot lid fell off and a mysterious dent appeared on the rear bumper.

"A van," I thought to myself. "Maybe I should get a van?" This might be the solution to the blindingly obvious problem that my car could no longer do the job. In June, I toured the dealerships of several manufacturers test-driving everything I thought I fancied and a few I didn't. Within a week I'd narrowed down a shortlist of little vans which I thought would fit the bill, and make work life a lot easier.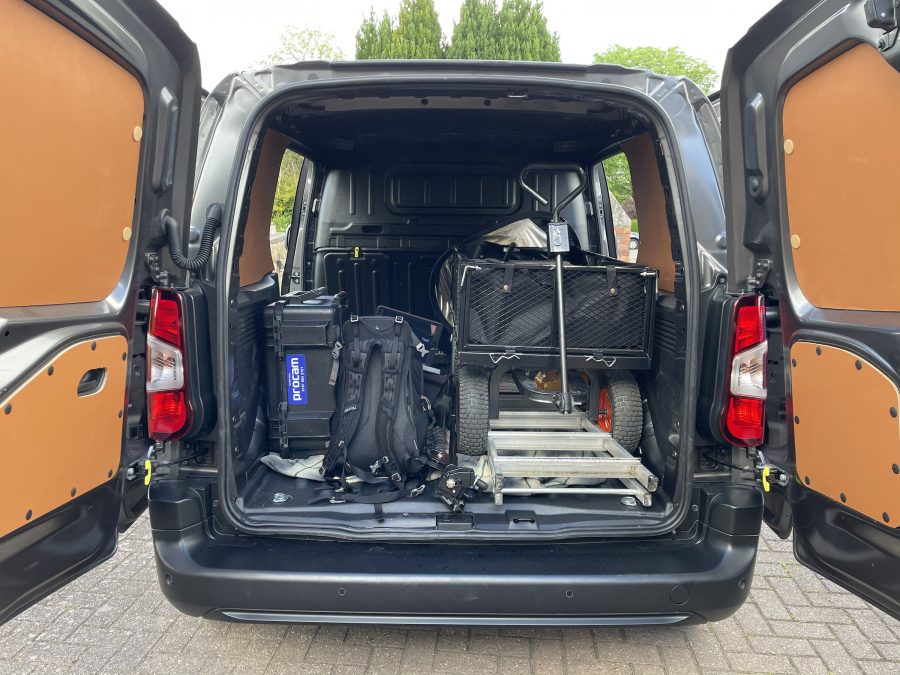 I asked for a couple of quotations. One of these took nine days, and was for the wrong van! The other, from Toyota, was waiting for me in my inbox by the time I got home from the test drive. It gave me three options on financing and a staggeringly good deal on an ex-demonstrator Proace City I'd driven earlier in the week. But it was the five-year warranty, extendable to ten through Toyota Relax which swung the deal.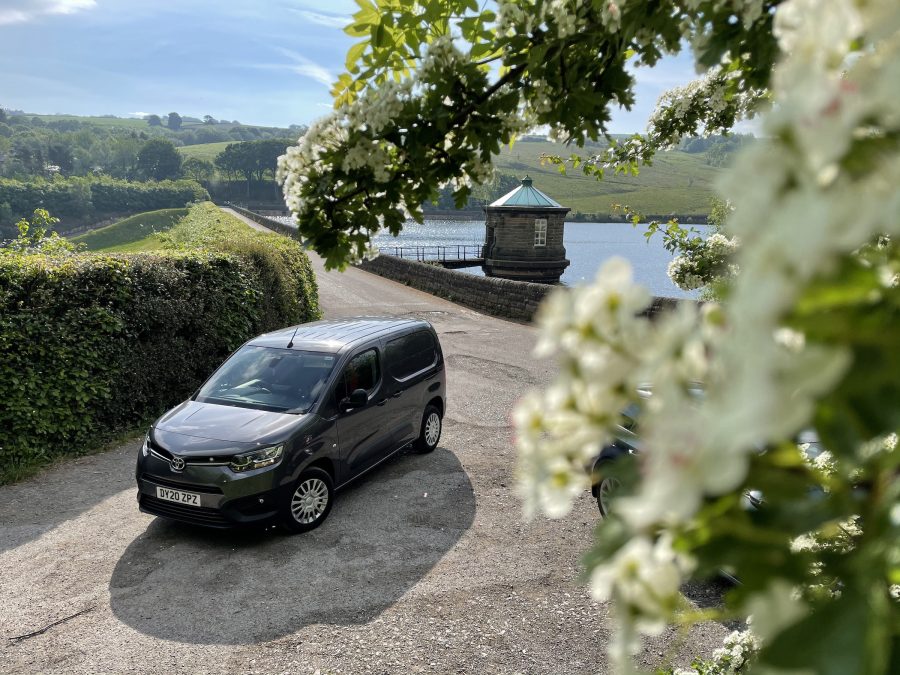 Three days later, after a quick clean and polish, I put my estate car up for sale, photographing each of its tears, dents and missing seals before my nearly-new Proace City Compact Icon was delivered to my door.
Watch this space to find out what it's like to live and work with a little Toyota van.