It's fair to say that professional photographer Rod Kirkpatrick gets about a bit. Rod, in his trusty Proace City compact van, travels the length and the breadth of the UK in search of images and stories for both national and local newspapers. In this weekly diary, Rod shares his experiences of being a Toyota Proace City owner.
6th June 2022: Royal Attraction
This week I wanted to photograph a vehicle with some relevance to the Platinum Jubilee celebrations. I headed to Klondyke Mill in Draycott-in-the Clay, for the North Staffs and Cheshire Traction Engine Club's annual Steam Party. I positioned my Proace City for a photo in front of a trio of enormous old traction engines.
It's easy to imagine commercial vehicles on the roads of Britain at the time of the Queen's Coronation. There are plenty of black and white photos from the period showing models from Morris and Bedford – often with sliding drivers' doors – sharing the streets with little Austin panel vans. The most iconic vehicle from the decade, the Routemaster double-decker-bus, was only phased out in 2005 and still resonates with us today.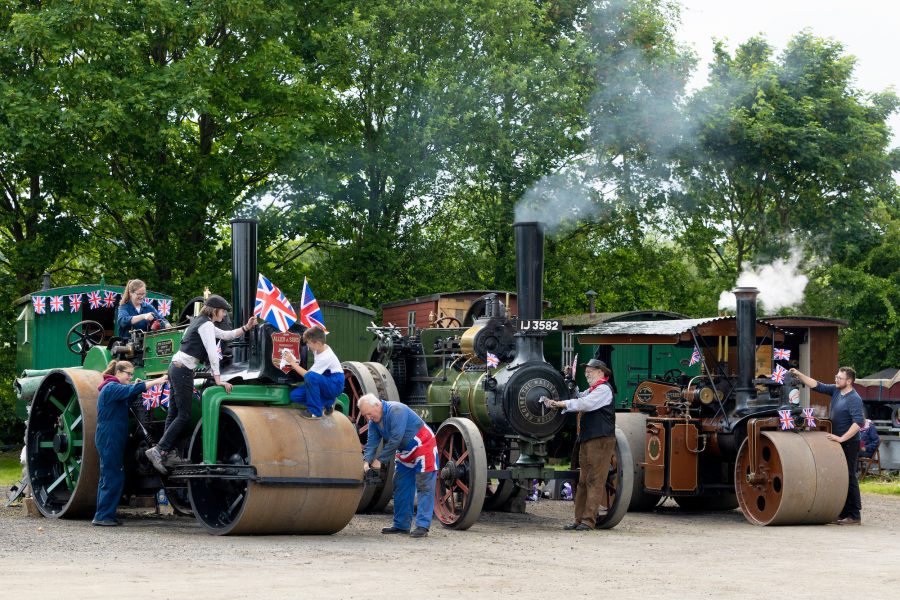 Wind back the clock a little more and you'll probably picture WW2 flat-bed trucks fitted with canvas covers. The Queen worked on these, qualifying as a truck mechanic in the Women's Auxiliary Territorial Service before becoming an Ambulance driver in 1945.
Two decades further back, at the time of her birth, commercial vehicles were even more rudimentary – most still had solid tyres and many were steam-powered.
One of the steam-rollers I photographed at the weekend – on the right – was built one year before our Monarch's birth. Perhaps she saw it as she peered out from her pram as a child? As power has changed from steam through to petrol and diesel, throughout her lifetime, I'm sure the Queen would give her Royal seal of approval to the latest commercial vehicles powered by renewable energy.
30th May 2022: Commercial Company
This week I spent three days shooting at the Commercial Vehicle Show. As a self-confessed van and truck nerd, this is one of the highlights of my year. Each day I carted all my camera gear – and just about the entire contents of my office – into the show and set up an editing desk in the press room at Birmingham's NEC. I had so much stuff, I was given a parking space almost right-next to the front door. Result!
Before I arrived, I strapped a camera to the side of my Proace City and filmed a short hyper-lapse [moving timelapse] showing my arrival followed by a very speedy tour of the whole show – how many Toyotas you can spot?
I'm often guilty of anthropomorphizing my van – I'm pretty sure he loved rubbing shoulders with so many other commercial vehicles at the show. I'm also convinced he wanted to share the limelight when he arrived at the Toyota MR2 Drivers' Club National Day on Sunday. He's still wearing his GR stickers and assumed he had the right to shuffle up alongside Toyota's holy trinity of Gazoo Racing models; a GR Yaris, GR Supra and a seen for the time GR86.
23rd May 2022: Electric Flight
I don't work in Norfolk very often – it's quite a drive from Derbyshire. So when two jobs popped up in East Anglia last week I was lucky to be able to arrange them both for the same day. Fully charged after a good night's sleep, I punched the postcode into Waze on my phone, fired-up Apple CarPlay and hit the road.
Three-and-a-bit hours later I arrived at Old Buckenham Airfield. A small white two-seater aircraft was waiting for me under a giant wooden frame. The Pipistrel Velis Electro was connected to a bank of solar panels sitting above. I was there to photograph the UK's first flight powered entirely by solar power – or 'sunlight to flight' as the teams from NEBOair and Nuncats prefer to call it. I then went for a twenty-minute trip in the little electric aeroplane. I had to remind myself I was at work!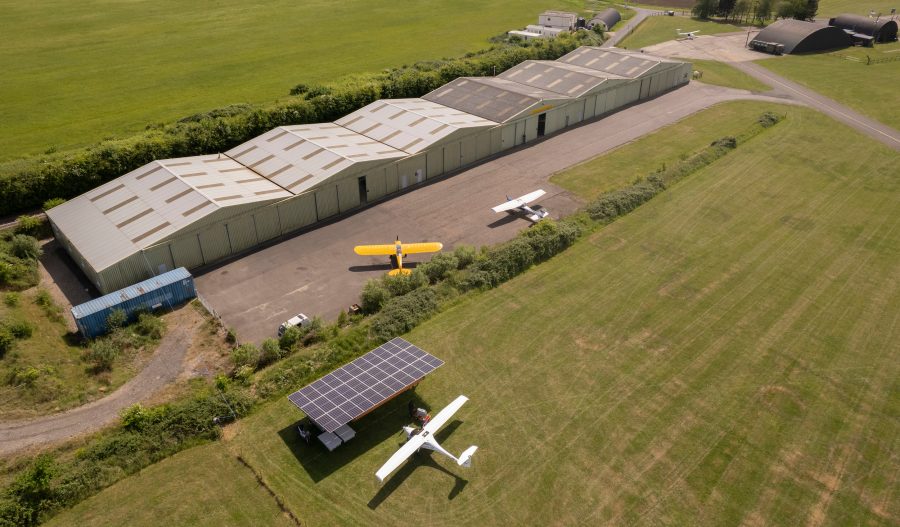 After this, I photographed a family with a Rottweiler, who'd just returned from an adventure in a Toyota Yaris. More on that over on Toyota's main blog page soon.
On the way home, I wondered if it would soon be time for me to make the move to an electric van. In an effort to ease my conscience and use as little energy as possible, I set my Proace City's cruise control to 65mph and managed a pretty respectable 67mpg on my 180-mile journey home.
16th May 2022: Service Time
I totally get why vehicles need servicing, it's an important method in maintaining their health and lifespan but can often be met with grumbles when it comes to being without your vehicle for a period of time.
So, last week, after watching the 'service' countdown digits tick below 500 miles, I booked my van into Pinkstones Toyota for its first proper service.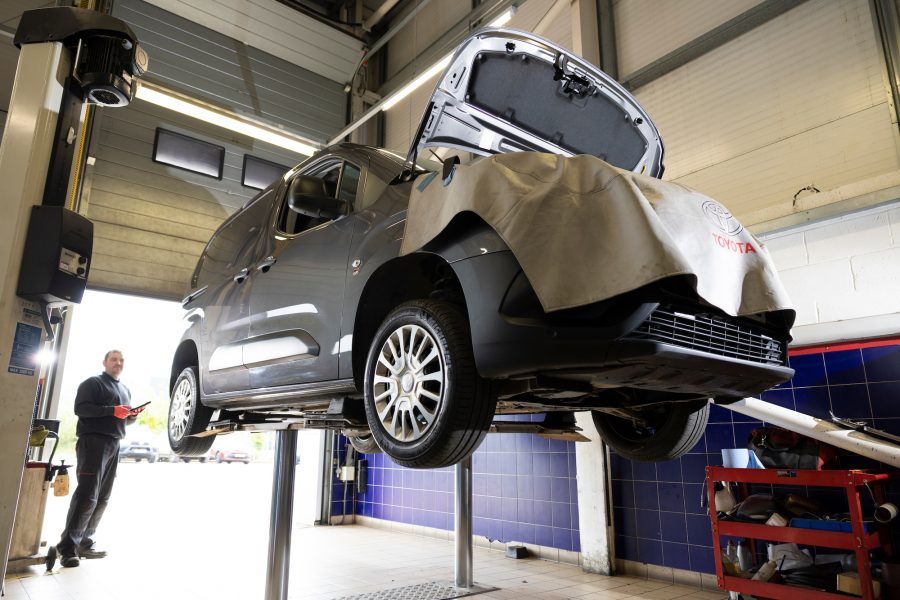 I've sat in dealerships waiting for cars to be serviced many times before and I've often wondered why it takes so long. After all, they only change the oil and filter, don't they? Surely the job should only take minutes? I would ponder how many cups of coffee the mechanics drink and what they chatted about while they were supposedly servicing my car.
So, to set the record straight, I decided to photograph my van being serviced.
It turns out that no coffee is drunk and aside from explaining all the processes to me and changing the oil, Martin Kaminski, Toyota's Master Diagnostic Technician at Pinkstones, worked flat-out for an hour-and-a-half checking, greasing, replacing, measuring, topping up, and adjusting a huge list of things. Martin said: "A service is more in-depth than an MOT as we remove parts rather than just check around them."
9th May 2022: Summer tyres
I often use the start of British Summer Time as a reminder to swap my winter tyres and get my standard – or 'summers' as I call them – put back on. It's also the time I move my frost-hating jade plant from inside the house back into the garden.
But with cold weather lingering a little longer this year I waited another month – I had to scrape ice from the windscreen when the temperature dipped to just below zero on April 30th.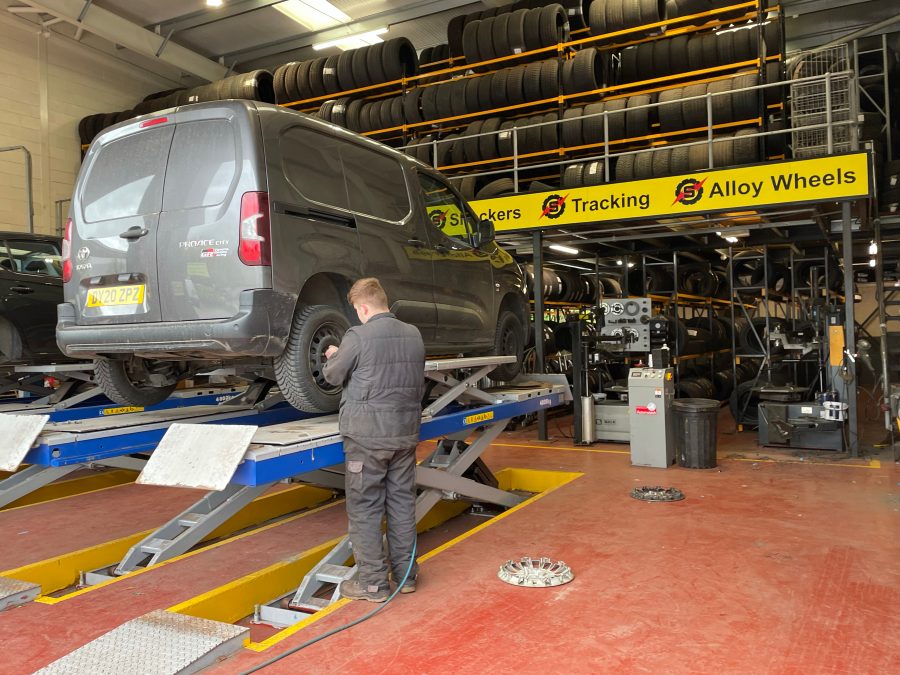 My local tyre shop, stores the tyres I'm not using in its 'tyre hotel', so getting them swapped over is hassle-free.
I was planning to write a well-researched article about the current thinking behind whether or not to fit the best tyres, the ones with the most tread, to the front or rear wheels. I began to look at many studies. Some found in favour of having the least worn tyres on the front, where grip for steering and drive from a front-wheel-powered car or van is most important. Others suggested it's the rear wheels which need the most grip to reduce oversteer and increase stability when it's slippery.
I was all pumped up to interrogate the tyre-fitter – to get his advice on the slippery subject – when I noticed my old tyres had worn almost completely evenly and all had at least 50% of their tread left so it didn't matter which wheels they were fitted to.
3rd May 2022: Land, Sea and Air
There was a definite 'propellor' theme to my May Bank Holiday weekend.
On Friday I was at Fully Charged Live in Farnborough where I met Kerry Wilmot, who was there with one of her electric aeroplanes – she's the Director of Project and Infrastructure at Nebo Air, the company with the UK's first fleet of battery-powered aeroplanes – but more on that another time.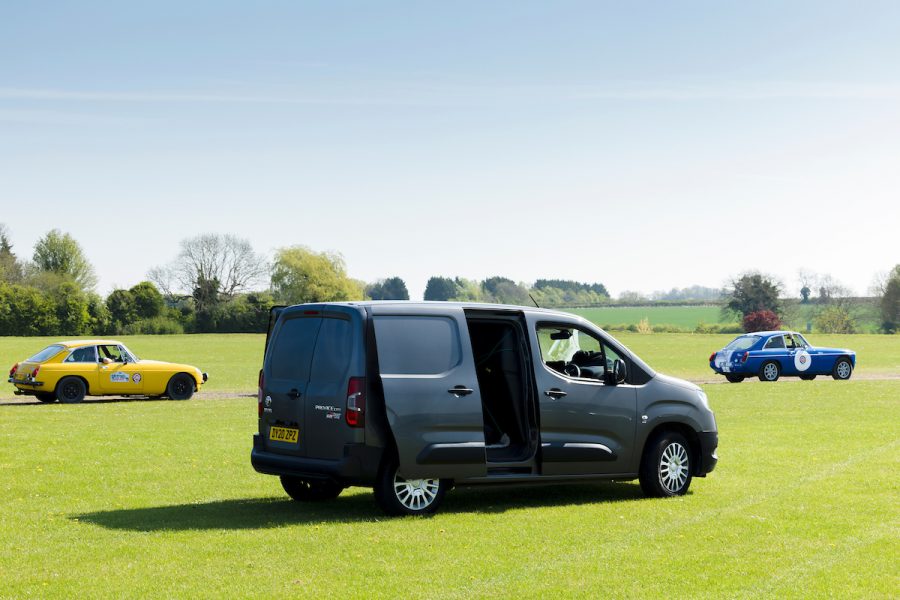 I then spent Saturday charging around the Northamptonshire countryside photographing classic rally cars taking part in the Spitfire Scramble. Starting and finishing at Sywell Aerodrome, the cars – many of them looking like priceless museum pieces – were driven around a series of off-road gravel and tarmac timed stages around hangars on the former WW2 airbase.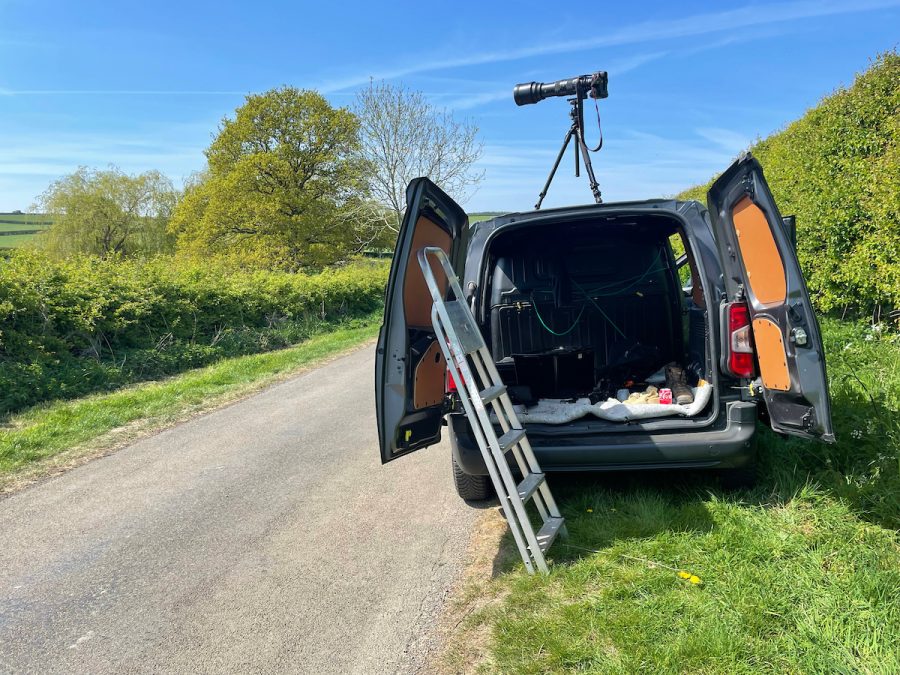 This was followed by a series of navigation and average-speed challenges on an 85-mile road route. I used my Proace to follow the cars around and also experimented with putting a tripod on the roof to take some remote long-lensed shots. The winner of the rally won a flight in a Spitfire. There was also a 1979 Triumph Spitfire taking part – I couldn't resist the opportunity to photograph both Spitfires together.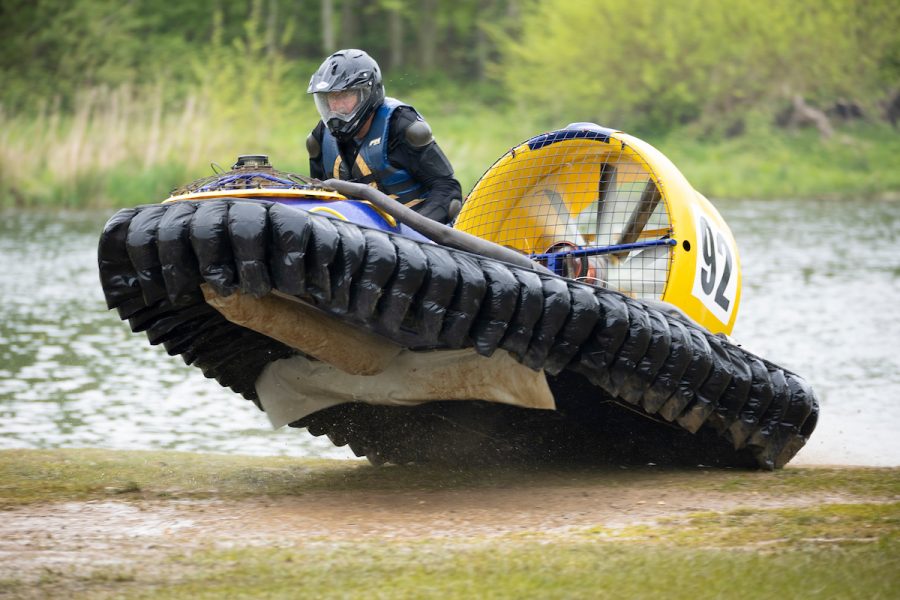 It was another early start on Bank Holiday Monday. I was in North Yorkshire before breakfast to watch and photograph the Hovercraft Club of Great Britain's first race meeting of the year. Many of the hovercrafts are fitted with two engines, one for thrust, and the other for lift and can reach speeds of 70 – 80 mph over the half-water, half-grass course.
24th April 2022: Land Cruiser cruising
I've spent thousands of miles in the back of Land Cruisers, filming rallies all over the world for Bespoke Rallies and 2CV Adventures but I've never actually driven the mythical king of off-roaders. So when I told Toyota I was disappearing to Devon for a week's family holiday and would be leaving my little van at home, they offered me a Land Cruiser and I jumped at the chance.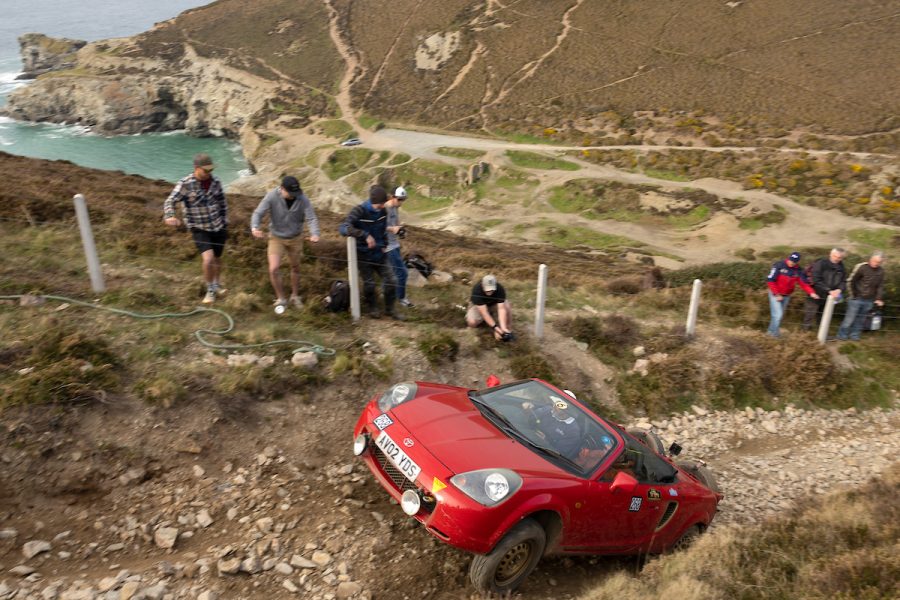 Sadly, I'm not very good at holidays. I don't switch off easily. I'm enticed by the photo opportunities a change of scene brings. On my first 'day-off' I was behind the wheel of the Land Cruiser well before dawn bound for the narrow streets of St Ives to photograph some electric vans. Then I drove up a steep narrow lane to a rocky outcrop to shoot a feature about a man with a bicycle. After this the satnav got lost, so I used an OS map to navigate along a bumpy track leading to the cliff-top car park where I photographed hundreds of competitors attempting to make it up a very picturesque but challenging climb at the end of the 300-mile-long Land's End Trail. I photographed the Land Cruiser here as the sunset behind it.
Later in the week I hauled my other half out of bed early – she didn't complain TOO much – so she could drive the big Toyota through some sand and puddles while I photographed it.
I really gelled with the Land Cruiser – it's a proper grown-up car which copes with anything it's asked to do in a relaxed and un-fussed way. I've already begun thinking if I should swap my van for a Land Cruiser Commercial.
Oh, our holiday, this blog was meant to be about our holiday. We ate ice cream, walked on the beach every day, the kids went surfing and we drove around in a Land Cruiser.
18th April 2022: Family tree
My little Toyota Proace City is a very functional vehicle. It's packed with modern tech and safety features, but it's fundamentally a utilitarian vehicle built to do a job. If you trace the family tree of vehicles built with functionality as their primary purpose back to its root, you reach its genesis, the Willys MB. Production of the American military 4×4, better known as the 'Jeep', began in 1941 and half-a-million were made before the end of the Second World War.
The Rover Company and Toyota were quick to take inspiration from the design, with the Land Rover and Land Cruiser being unveiled in 1947 and 1951 respectively.
Last week, I visited Everrati, a company based in a hangar on an old American cold-war air base in Oxfordshire. They are grafting new branches to the Willys family tree by electrifying old Land Rovers.
After the shoot, I parked my van next to a pair of Everrati's beautifully restored Series IIA Land Rovers and wondered if they'll ever electrify an old Land Cruiser? And if they do, would I ever have deep enough pockets to buy one?
11th April 2022: My other van is a GR Supra
I'm lucky to have a rather unusual arrangement with my local Toyota dealer. They know I'm a photographer and, every now and then, like to loan me a car for a few days in exchange for a set of photos.
Last week there was a Supra or a Hilux on offer. My daughter was away on holiday with friends, so the two-seater was the obvious choice. My other half dug out a posh frock and booked a table at a country gastro-pub while I headed off to Pinkstones https://pinkstones.toyota.co.uk/ in Stoke-on-Trent to collect the car.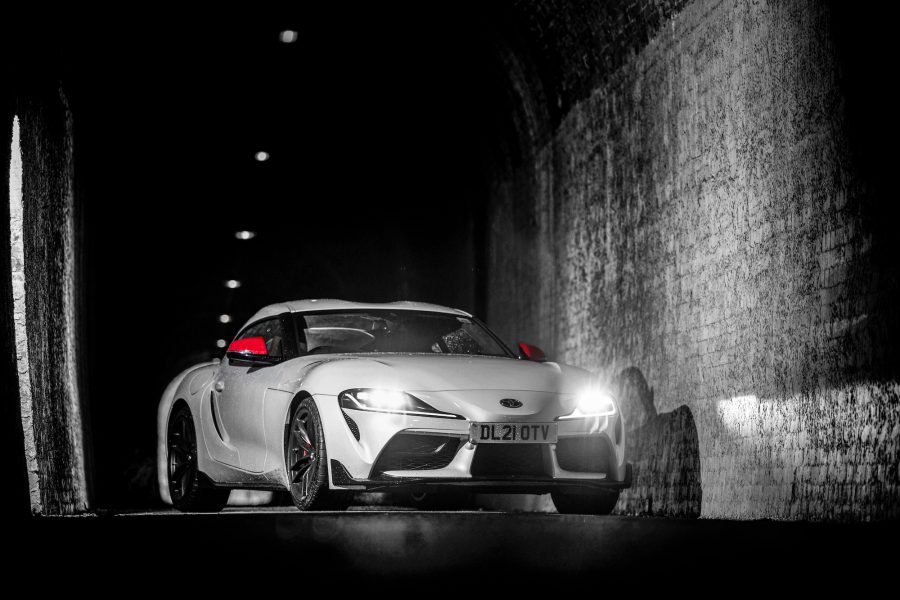 Dressed all in white with large black wheels, red wing mirrors and matching brake callipers, the 2.0lt GR Supra Fuji Speedway looked stunning. And it drove as well as it looked. I hit the 'Sport' button and a barrage of words and superlatives, describing how good the car felt, raced into my head.
Perhaps I should start writing car reviews? But how would I talk about the Supra without it sounding too much like a Toyota advert? And how would I describe the ludicrous boot without upsetting Toyota? It only opens via a button on the arm-rest and then slams shut when you close the driver's door. But all these thoughts quickly evaporated as I immersed myself in the drive – the eager engine auto-blipping as it downshifted through all eight gears. Sublime.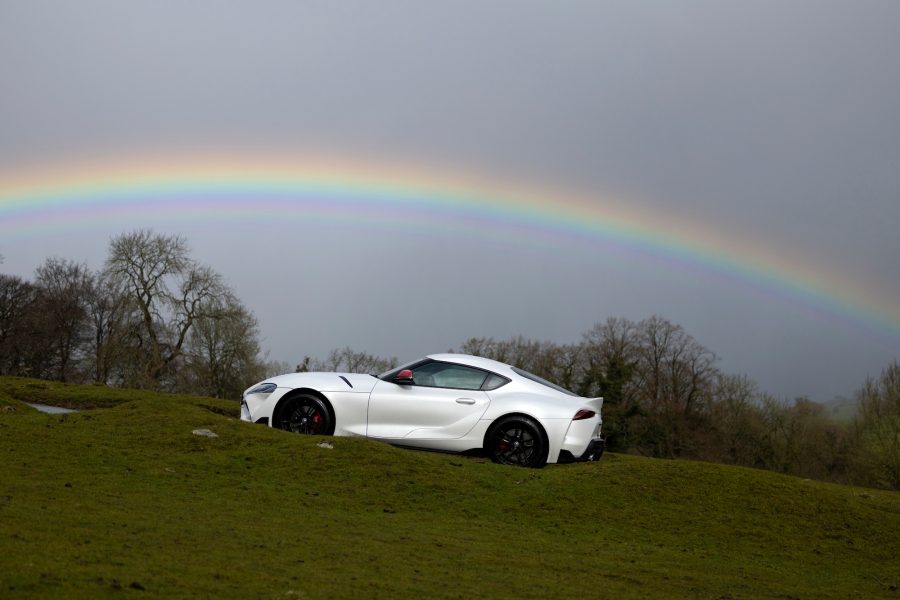 Clean shoes donned and with my arm resting nonchalantly on the door, I asked my frock-wearing passenger if she thought the car suited me. "No" she replied quickly, "I think something older would suit you better."
4th April 2022: A 'GR'eat all-rounder
The highlight of a dull trip to Tesco a few months ago was parking next to a GR Supra with a number plate that almost spelt out GAZOO. I chatted with the lady who owned the car. She told me how much she loved her Supra and was impressed that I'd understood the relevance of her registration number. "Most people don't know what it means," she said.
The moniker given to Toyota's in-house racing team is slapped on the company's finest WRC, endurance and Dakar race vehicles. And it's true, outside of motor racing or Toyota circles you'd be forgiven for not realising the 'GR' badge on the hottest Toyotas stands for Gazoo Racing.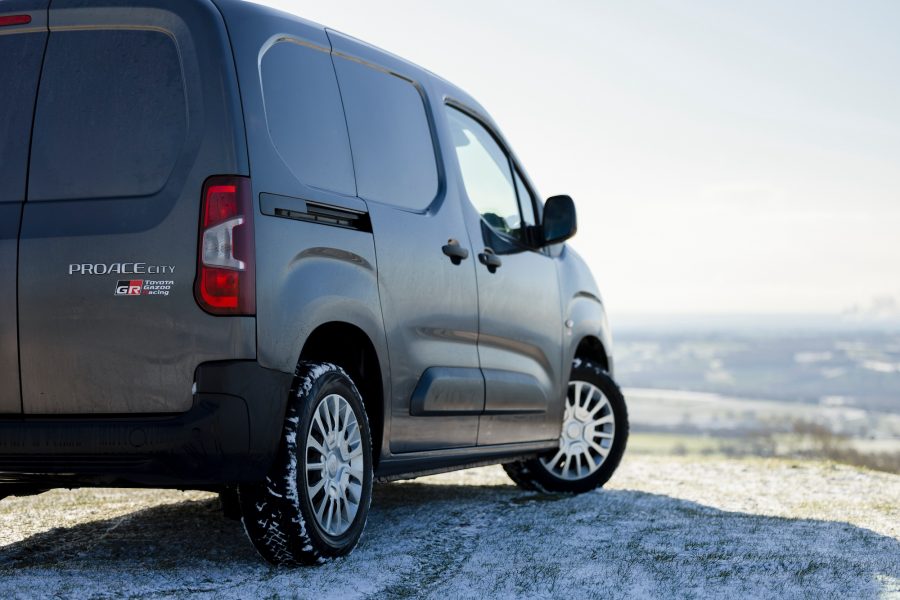 In an ironic way, I thought it might be fun to sprinkle a few GR stickers on my van. It's a completely stock vehicle – about as far from a high-performance model as you can get. Plastic wheel-trims disguise small steel wheels. The suspension is tuned for carrying heavy loads and it's not even fitted with the higher powered engine option.
So, I ordered a pack of stickers from ShyTot Graphics. They arrived the next day and after a quick going-over with a sponge, it took about ten minutes to complete the GR Proace City upgrade. Those in the know might now wonder if my little van is a 'sleeper' – a wolf in sheep's clothing – a van not to be messed with when the lights switch to green.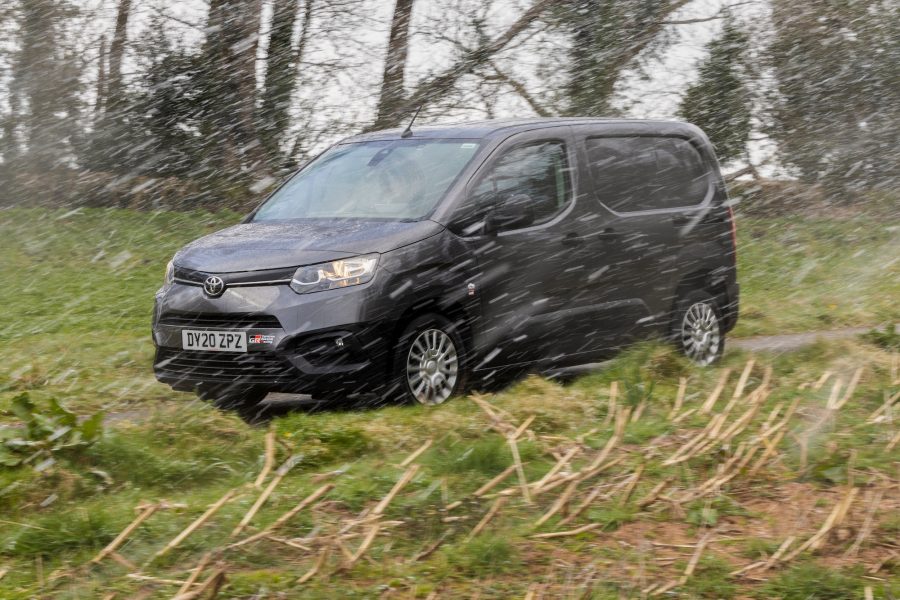 In fact, driving my new GR in last week's snow felt far more engaging and fun. The turbo-charger, all-wheel-drive system and limited-slip-diff (all included with the sticker kit) gave astonishing grip and a huge power increase. I was so impressed, that I decided to give my other half's Lexus the same treatment. She hasn't noticed the addition of a single red and black 'GR' sticker on the boot-lid of her UX 250h yet. But when she discovers the car's improved handling and performance, I'll be delighted to tell her how cheaply I managed to modify her little hybrid.
27th March 2022: Flower Power
Two miles from my front door there's an avenue of mature trees. They once lined the driveway to a country house which now lies disused. Each spring thousands of daffodils turn the avenue into a floral spectacle of yellow and white. I've driven past it thousands of times, and for years I've wanted to use it for a shoot location.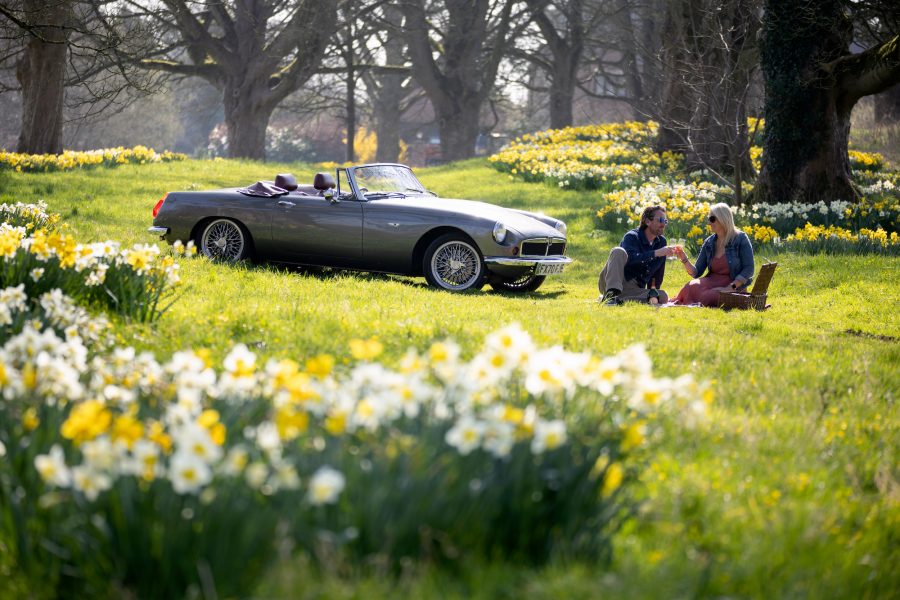 So last week, I stopped and spoke to a man who lives in a little bungalow next to the padlocked entrance. I explained I had a very special car to photograph and asked his permission to take it into the daffodils for a few snaps. He was almost as excited as I was and was waiting by the gate with the key a few mornings later when I returned.
In addition to all my camera and lighting equipment, my friends Will and Claire had thrown a wicker picnic basket and blanket into the back of my Toyota van. I'd 'volunteered' them as models for the shoot. They were driving RBW's achingly beautiful Roadster. Inspired by a 1960s MG, the car is fully electric – a brand new ground-up design manufactured just down the road in Lichfield.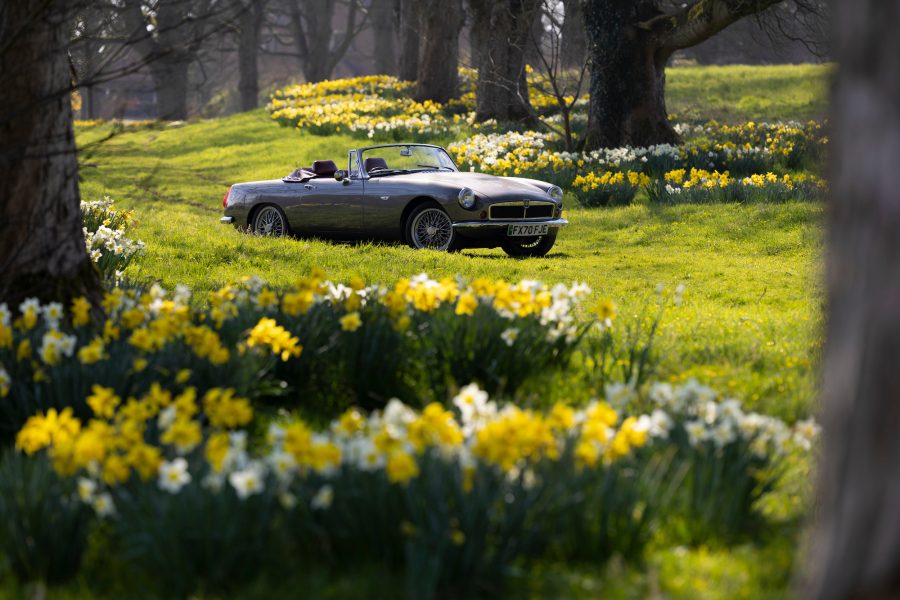 We spent a few minutes positioning the little prototype sports car to find the best angles for the shoot. Claire opened the picnic basket and out popped a bottle of champagne. It was open and fizzing into their champagne flutes before I had a chance to blink.
People's cooperation and willingness to help me with my shoots often surprises me. I didn't expect it would be so easy to get permission for the shoot and I hadn't asked my friends to bring champagne – and I certainly didn't expect them to open it. So it's a big thank you to everyone who went the extra mile to help make this rather beautiful set of pictures happen.
21st March 2022: Sock it to me
My van used very little fuel this week. That's because I hardly used it. The welcome reduced spend on diesel is probably the only silver lining to come from having Covid. I fired up the Proace City this morning after a week's slumber. I pushed and pulled on both electric window buttons. The rubber seals on the doors cleared a mix of frost and dew from the glass as the windows shut again. I'm sure spring is overdue.
But why wasn't the passenger window as clear and smear-free as my side's? Two weeks ago, I took my youngest daughter, Freya and her friend to hockey training in Lichfield. The two front passenger seats make this slightly cramped, but a possible option.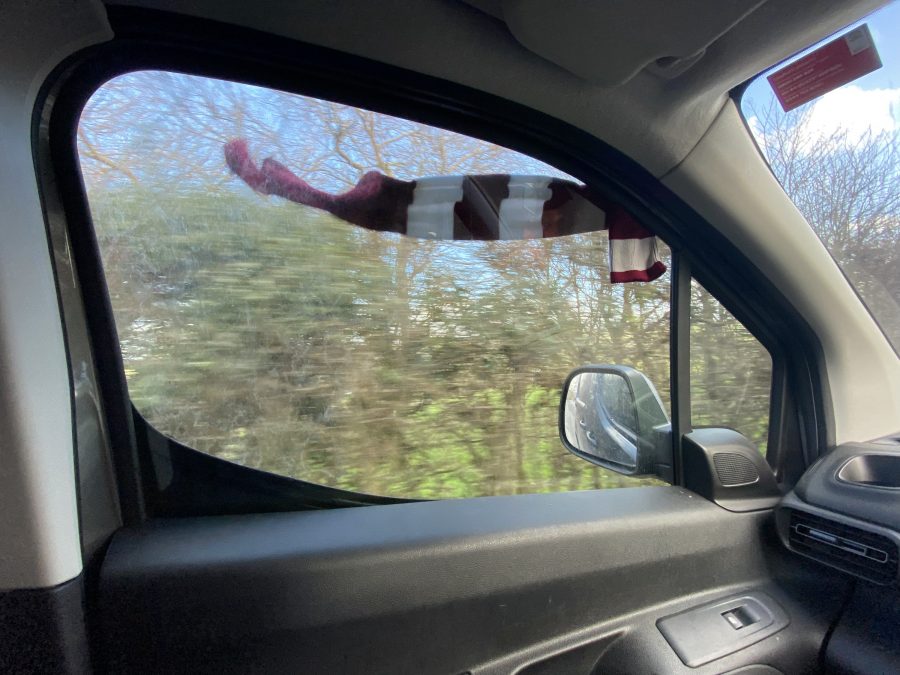 Freya was only wearing one sock. The other, which she'd fished out from the bottom of her kit bag, was wet. In an attempt to dry it, she hung it out the window. We must have looked like away-team supporters with the maroon and white sock flapping about as we sped along the A50.
As her nylon knee-length sock repeatedly smacked into the window it left traces of mud, grime and other unidentifiable stuff on the glass. This was not a pleasant sock.
But the sun shone and the 70mph wind dried the sock just in time. I jet-washed the van a few days after sock-gate. But it looks like I still need to give the passenger window a good scrub to remove the crust of caked-in sock juice.
13th March 2022: Wrong Way Street
This week my little van and I went on a little jaunt to Wales to photograph a Land Cruiser – a recent iteration of Toyota's iconic mud-plugging, desert-crossing off-road King.
Determined to try and completely de-skill myself, I was blindly following the blue line displayed by Waze on Apple CarPlay.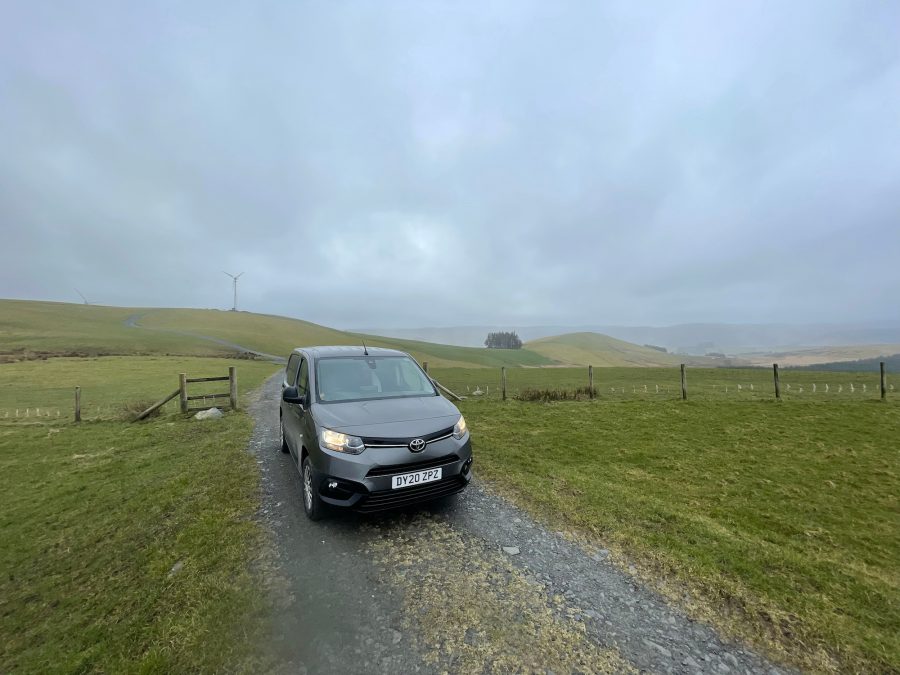 In search of AA batteries and a sneaky Caramac, I deliberately drove off-route to find a shop, in a sleepy town spelt with a greedy amount of Ls. This should have been a brief excursion. But 15 minutes later, instead of re-joining the A470, I'd climbed high up into the hills and was opening my third gate on an unmade single-track road. Wind turbines swished loudly as the tips of their blades disappeared into the fog. Sheep bleated, scattered and pooed, simultaneously, when they caught sight of the Toyota emerging through the gloom.
The track got rougher and rougher as it dropped into the valley below. I winced as the sump clouted one of many raised drainage channels running diagonally across the route. An off-road track is my red rag to a bull. It was a welcome adventure but I began to wonder if blithely following the satnav had not been such a good idea. I had somewhere to be and my arrival time was getting pushed back with every fence post I passed.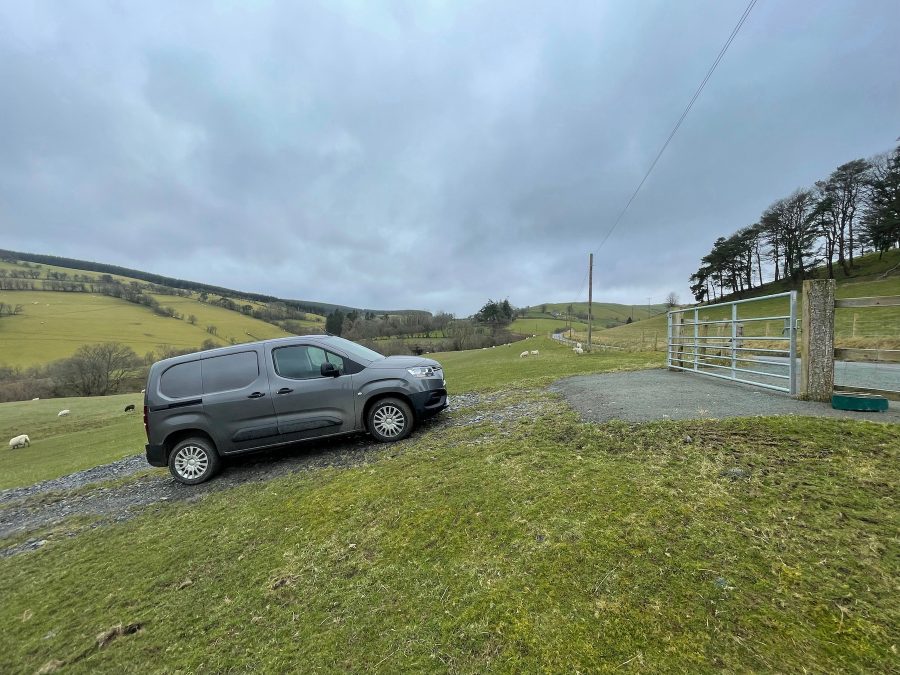 My mind started to wander and paranoia set in as the route took me further away from civilisation. Why didn't I carry a road atlas with me like I always had in the past? Where the hell was I? Was I trespassing? Why did the two farmers, in their pickup truck, look so confused as I re-joined the road by the final gate?
The blue line soon took me back to the main road and on to the waiting Land Cruiser. And just to complete all the Welsh stereotypes; it then began to chuck it down with rain.
6th March 2022: Polar Opposites
On Thursday I spent the day in the West Midlands – the birthplace of the British car and motorcycle industry – photographing a fab, new electric motorcycle made by Maeving. The bike features styling cues from the 1920s and 30s and is designed to be a solution for environmentally friendly commuting.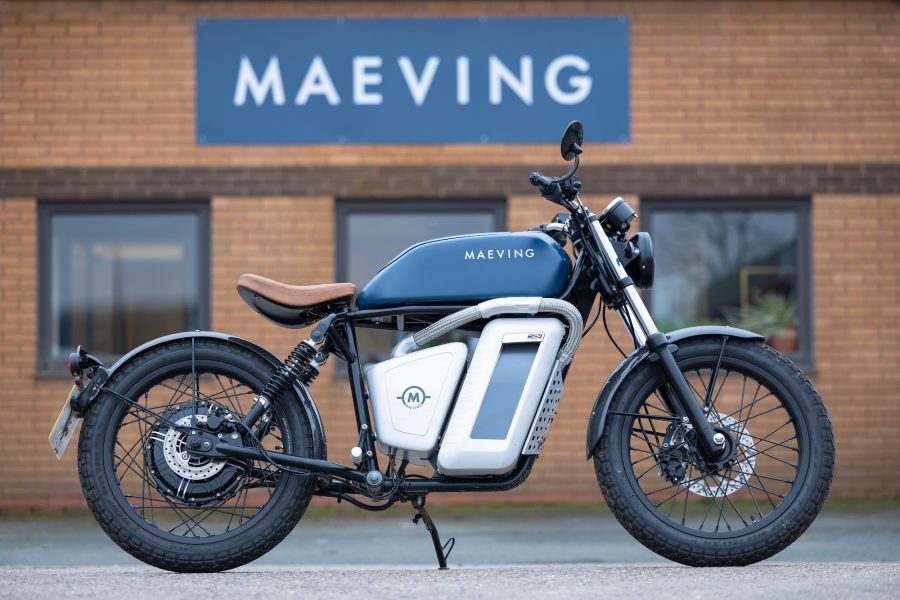 On my way home, I spotted the price of diesel at the services on the M1 was advertised at an eye-watering 179.9p per litre, a staggering £8.18p per gallon. I pulled off the M1 and thankfully found some marginally cheaper diesel. As I filled up, a motorcyclist next to me on a red bike topped up his tank. The rider still sat astride his Triumph (another firm with Coventry roots), clicked his fuel-cap closed and quickly sped off. "Another drive-off", said the cashier, "we get them all the time these days – it's not even worth calling the police" he shrugged. If fuel prices continue to rocket, perhaps we'll need cheaper-to-run electric vehicles sooner than we thought.
Fast-forward to Saturday afternoon, I was stood, ankle-deep in mud, watching cars slide, lurch and claw their way up a steep woodland track. I snapped away with my cameras as competitors on the John Hall Trial tackled the section known as 'Stone Edge Squiggle'. But these weren't everyday cars, they weren't even modern rally cars. Many of them were only a few years shy of one-hundred-years-old and they were all being given a good old larrupping ​by members of the Vintage Sports-Car Club – with little regard for fuel economy.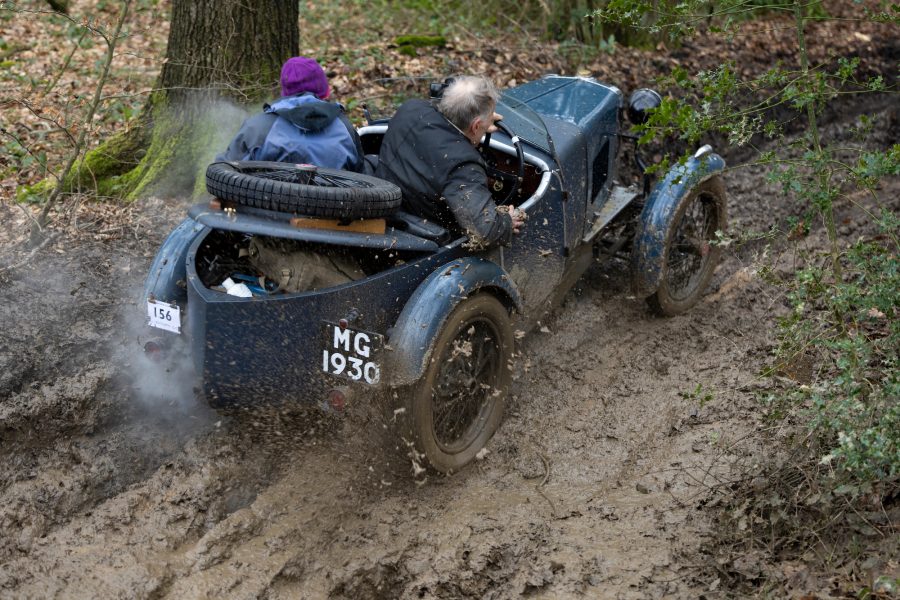 The majority of these cars were also built in the West Midlands. With most of the Austins, MGs and Rileys dating from the 1920s and 30s. As I walked back to my little van, which looked huge parked behind a diminutive Austin 7, I pondered on how the landscape of vintage motorsport would look in a hundred years' time. Perhaps the first generation of Toyota electric and hybrid cars will be slogging up muddy tracks alongside Maeving motorcycles.
27th February 2022: Mobile Office
When I'm out taking press photos it's crucial for me to edit and send my photos off as quickly as possible. So this week my Proace City was, once again, my mobile office. I was storm-chasing, but this time my focus was on the deluge of rain and snow which caused misery and disruption for so many.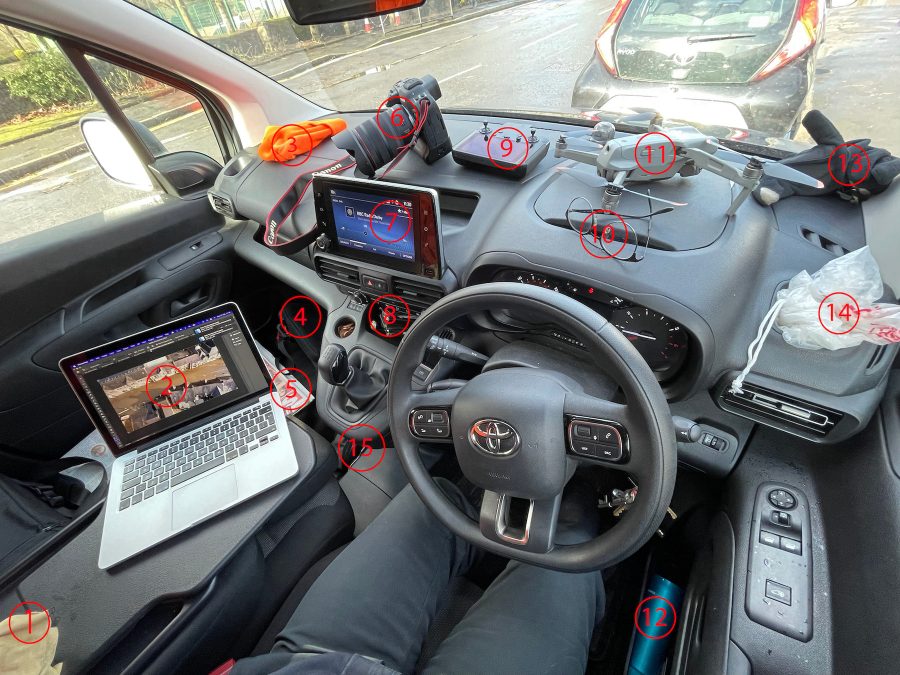 As my working day progresses, a great deal of my kit often finds its way from the back of the van to the front. So here's a little snapshot of what's in the cab with me after a shoot.
Chamois leather
Apple MacBook, showing a drone shot of flooding in Matlock.
Hat with LED light
Laptop bag with cables and chargers
Today's newspapers
Canon R3 camera with RF 24-70 f2.8 lens
DAB radio tuned in to local BBC Radio station for the latest flooding news
Wallet
DJI drone 'smart controller'
Driving glasses
DJI Air 2S drone
Zokirushi flask of coffee
Gloves with touch-screen finger-tips
Waterproof camera cover
300W Inverter 12V DC to 230V AC for powering the laptop and other chargers.
You'll notice I'm parked behind a Toyota Aygo. Since beginning this blog I tend to spot, and photograph Toyotas whenever I go. This week I saw a snow-covered red Toyota C-HR successfully making it over a slippery hilltop pass on the Cheshire, Derbyshire border and a smart white Hilux, with a snorkel attached, making light-work of a deep ford in Nottinghamshire.
20th February 2022: Stormageddon
I don't usually suffer from travel sickness, so trips to foreign countries are a breeze. But as I sat on the seafront being buffeted by the strongest winds I'd ever experienced, I began to feel decidedly queasy. I think I was suffering from air sickness – perhaps I shouldn't have parked side-on to the storm-force winds.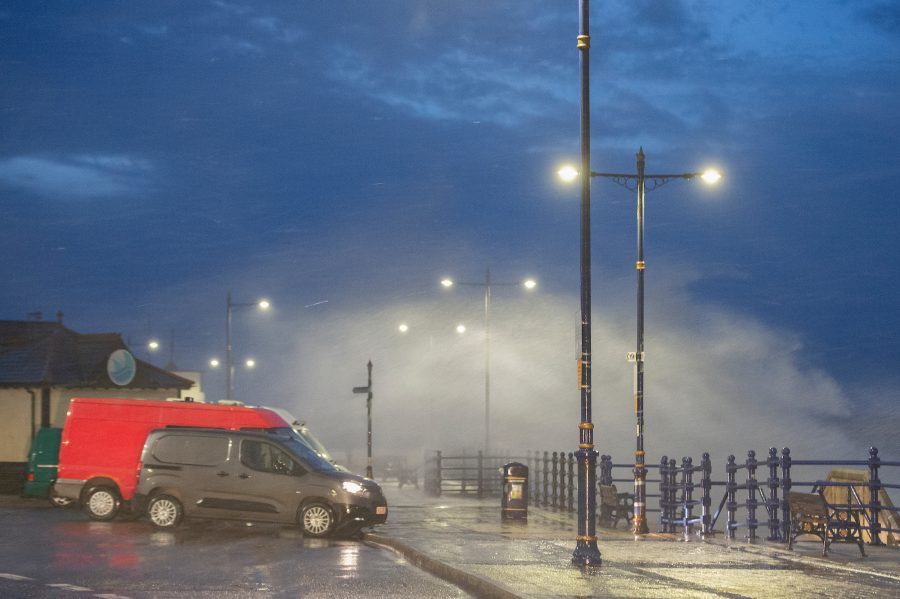 As I focussed on my laptop screen, deciding which photos to edit, I worried the van might tip over. And as the turbulent air hammered into the van I wondered if I should fasten my seat belt. Had I stowed any sick bags under my seat? Did I have a life-jacket and was there a whistle, with a little light on it, in my camera bag?
I had left home at 2am to drive almost 200 miles to Porthcawl in Wales. Arriving before dawn, I donned my waterproofs, wrapped one of my brand-new cameras in a protective plastic bag and scouted out the best places to get a good view of the lighthouse and harbour wall. High tide, sunrise and the strongest winds for decades were all predicted for just after 7am. This was a perfect storm I just had to photograph.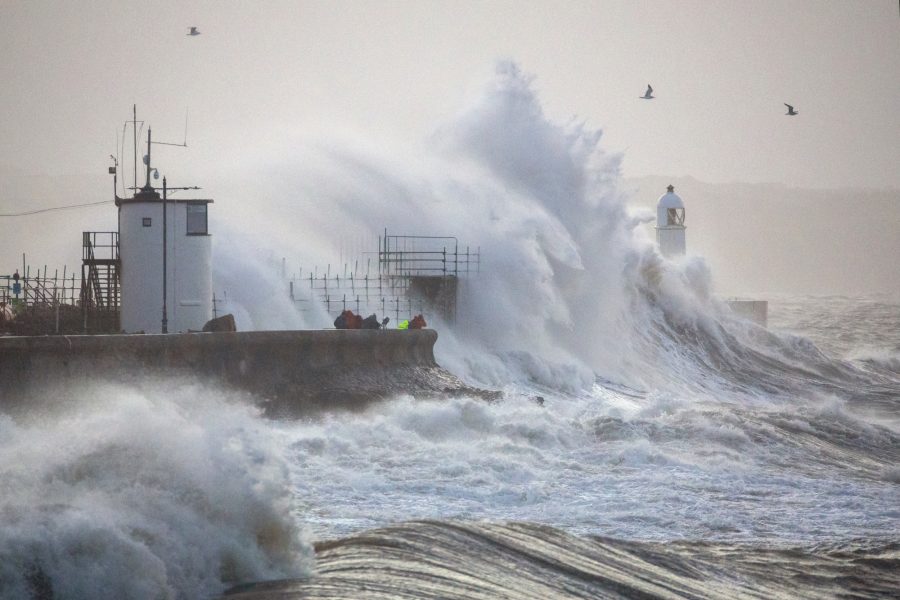 It wasn't long before giant waves, backlit briefly by the sun, were sent crashing over the lighthouse. Storm Eunice had arrived. And she looked fantastic. But, despite her best efforts, the van stayed on its wheels. People clung to railings and each other as they struggled to stand. One man held on to the van and clouds of foaming spray flew horizontally along the seafront.
I put away my laptop, folded up the plastic desk into the middle passenger seat-back. A long blue line, showing the route home, popped up on the sat-nav screen. I think I may have even muttered 'arm doors and cross check' as I prepared for a swift, tail-wind assisted, journey back to England.
13th February 2022: Only Fools and Florists
Derek Trotter had a little yellow three-wheeler van. British Telecom's old vans – the ones with Buzby perched on the side – were yellow too. And the AA's breakdown vehicles have always saluted the colour. Yellow vans get noticed.
So when I was Googling to find a florist who uses a Toyota van, for a Valentine's Day story, my eyes were immediately drawn to photos of Margaret Mason's fleet of canary yellow delivery vans. I pinged a few messages and arranged to drive to her shop in Preston to take some snaps.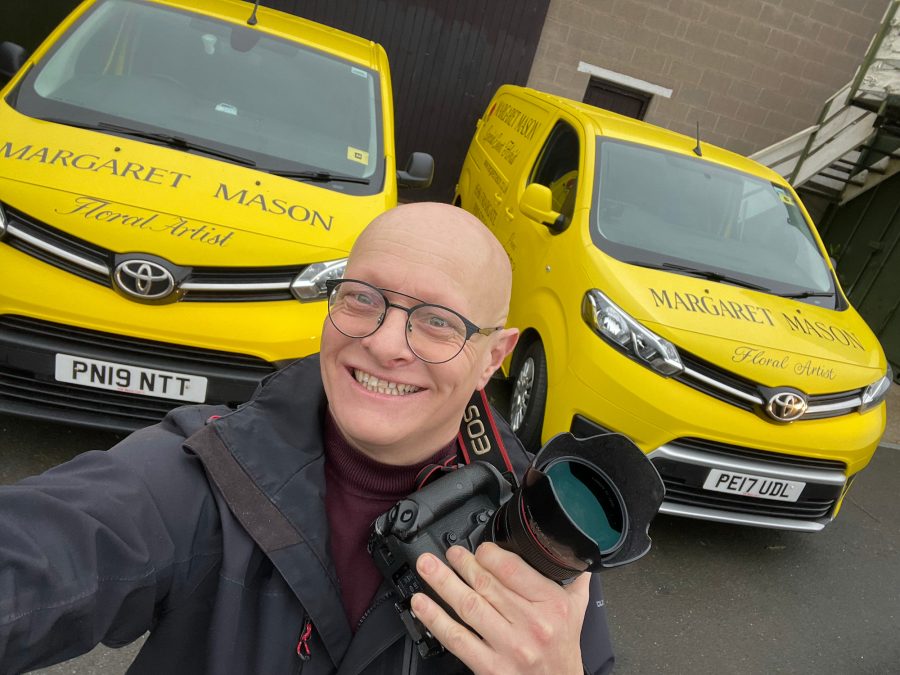 I imagined the photoshoot would simply be a selection of shots showing the vans being loaded with red roses. That would be enough. And to start with it was. I began photographing both Proace vans, each with a red rose and Margaret Mason emblazoned on the side with matching square yellow AA stickers in their windscreens.
But as soon as I met 85-year-old Margaret, I quickly realised her story was even more colourful than her vans. I'd struck gold – yellow gold.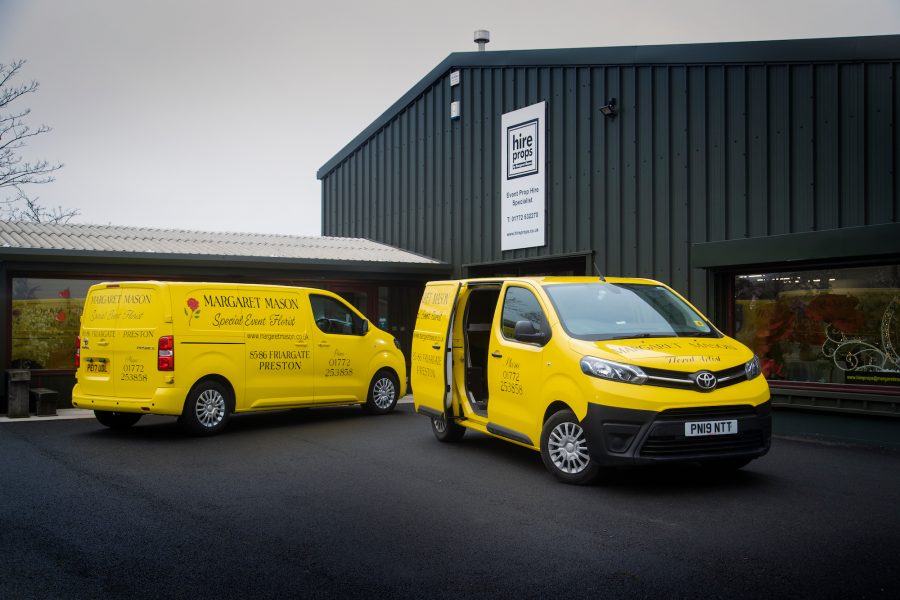 She was enthused about how she'd been buying Toyota vans – all painted yellow – from her local dealership since the 1970s and had also owned eight Toyota cars. She still works six days a week, only taking Sundays off to play the organ at church. Rather than just her Toyotas, the story suddenly became all about Margaret. I took some portraits of her, proudly standing next to her yellow vans.
To keep the Buzby analogy going, I'm tempted to call Margaret an 'old bird', but I won't. That would be disrespectful to the sprightly florist who first began selling flowers from her shop 60-years-ago.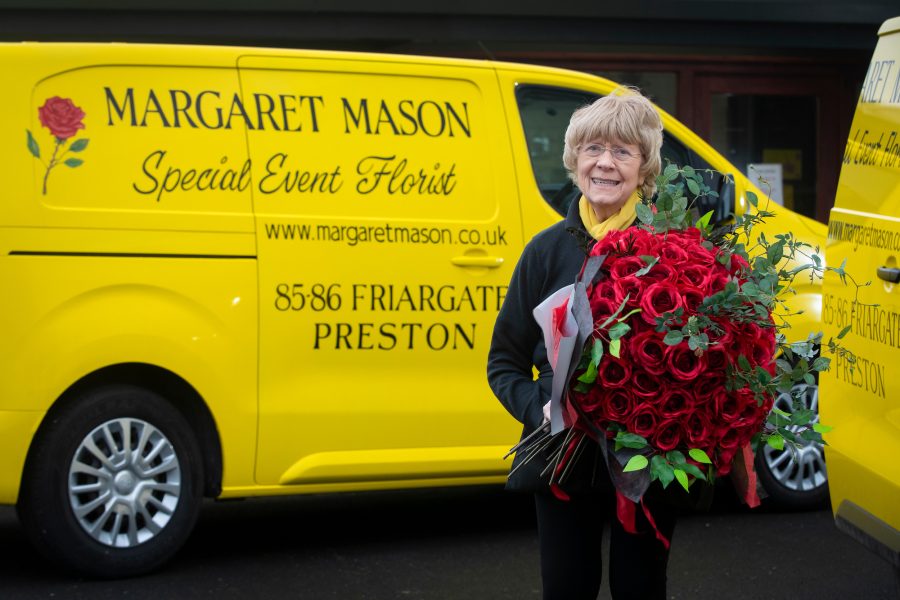 I now think my grey Proace City looks a little dowdy. I might wrap it in bright yellow vinyl, remove one of the front wheels and have 'Kirkpatrick. Independent Photography. New York. Paris. Ashbourne' written on the side – and perhaps add a red rose too – cushty.
6th February 2022: Van for hire
As soon as people found out I owned a van it started. Friends and family urgently needed things collecting, dropping-off or moving from A to B. The Facebook Marketplace 'buyer to collect' option suddenly became available to everyone I knew. My little Proace was pressed into service, carting around hulking great lumps of furniture, awkwardly shaped garden equipment and loads of other valuable junk.
A friend of mine has bolted racking into his van – it's a useful way to carry his tools. But he confesses the immovable shelving has actually become a convenient excuse for dodging most 'man-with-a-van' duties. And I'd be lying if I didn't also admit to opting out of the odd time-consuming sofa delivery or two.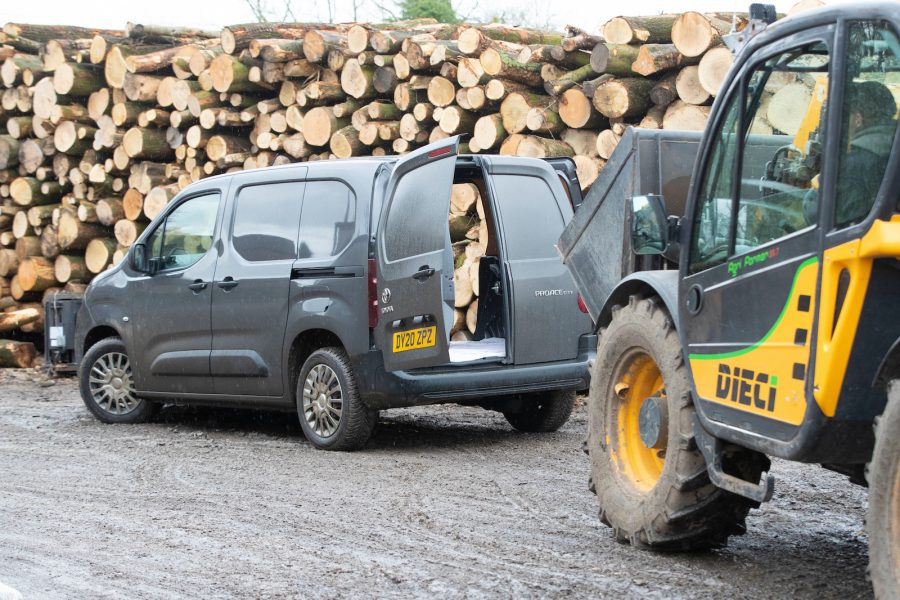 But there are some errands which just need doing. Jobs which cannot be avoided, especially if Jo, my other-half, has requested my van's services. Yesterday, with yet more cold weather forecast and our stock of firewood dwindling, she asked me to pop into the local log merchant.
Before I'd even had time to don my old lumberjack shirt, I'd driven to TJR Logs in Hulland Village and loaded almost half a tonne of logs in the van. I will spend this afternoon stacking them up neatly in the garage and then sweeping bits of bark and sawdust out from the load bay.
As I write this blog, I can hear Jo squirting furniture polish on our old kitchen table. I just shouted through and asked her what she was doing, "I'm about to take a picture of it and put it on Marketplace" she replied.
30th January 2022: On yer bike!
For decades van-makers have had the Olympian task of positioning their vans as more than just commercial tools. In addition to their products being rugged, do-it-all, carry-anything vehicles their, once crude, utilitarian offerings now need to be seen as comfortable, high-tech and desirable. In marketing speak they are called 'car-like' and 'luxurious'. Vans need to be aspirational. Performance figures are championed in sales brochures and sporty styling added to help disguise and sweeten the rudimentary work-like and sensible underpinnings of every van.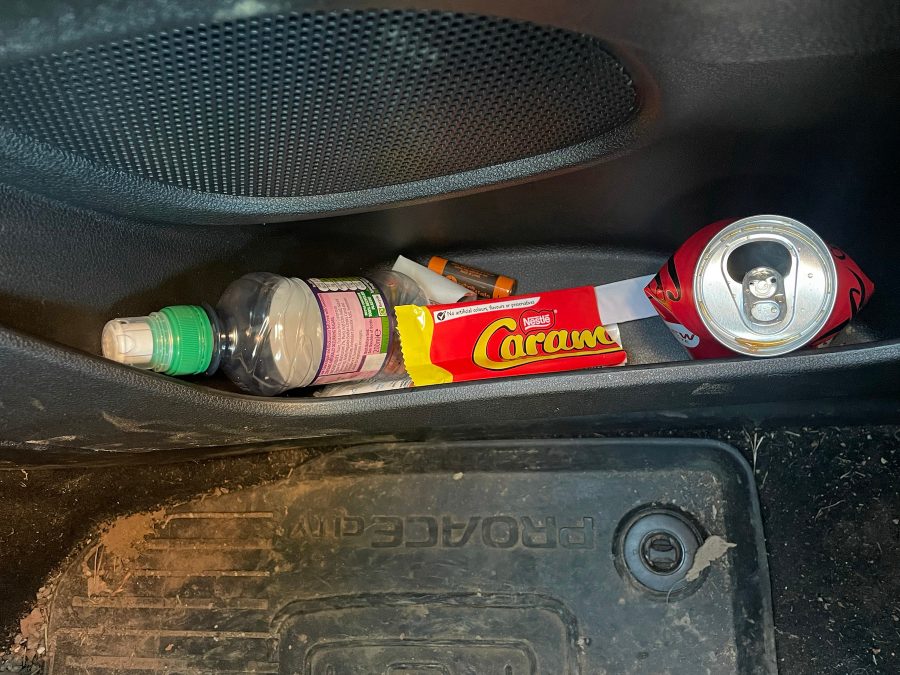 Most of the time I don't really give a second thought to how my Proace City looks. But there are times when I'd be ashamed to let others see inside the cab. I have a Caramac habit – their wrappers end up all over the place. Scrunched-up brown bags, from the most well known fast-food outlets, are stuffed into the door bins. Empty cola cans, plastic drink bottles and old AA batteries roll across the muddy floor mats when I brake hard. It's certainly far from aspirational.
But every now and then I have to take a passenger. This means emptying out the rubbish and making the Proace look, and smell, a little better. I think it's only fair my passengers shouldn't need health insurance to travel in my van.
Two weeks ago I gave a friend and his dog a lift so they could pose on a rock while I photographed a giant full-moon rising behind them. Later today I'll be ferrying a reporter around as we do some good old-fashioned investigative journalism. And last week the van needed to look good as Toyota had asked me to photograph five-time Olympic cycling champion Dame Laura Kenny with her new Yaris Cross. I spent a couple of hours snapping her and her car. The Yaris smelt new and was spotlessly clean. I wonder if Laura will ever leave Caramac wrappers and scrunched-up fast-food bags in her car?
21st January 2022: Location, Location, Location
I don't have to go very far – an hour at most – to reach some jaw-droppingly spectacular vistas. I live on the edge of the Peak District where unlimited backdrops shout out to be photographed around every bend. Snaking roads undulate into infinity. Single-track lanes slice through gravity-defying rock formations. And vertigo-inducing switchbacks rise high into the sky. Put a brightly coloured car anywhere in the mix, add a sunset, the golden light of dawn or perhaps some fresh snow and it's hard not to take a great photo. This is magazine cover-shot territory – dialled to 11.
But when I'm stretched for time, I need to shoot much closer to home. I have my favourite hilltop which often pokes out above the early-morning fog and is only a six-minute drive away. But I've overused this spot.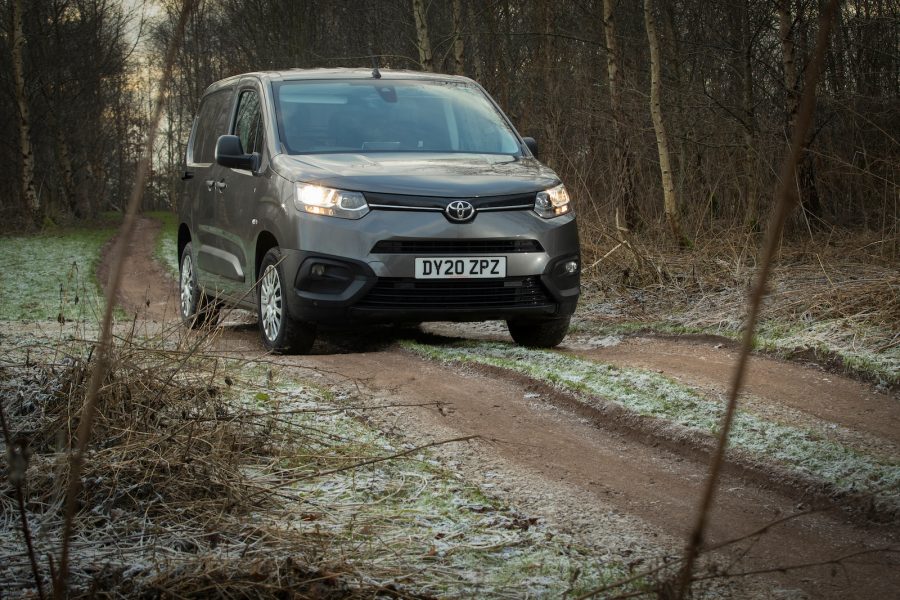 So, this morning, I shelled out 12 quid at the local hand-car-wash and took a circuitous drive home looking for somewhere new to photograph. The plan was to also take a few practice shots to see which worked best. With a grey sky and only my silvery-grey van to photograph, I'd have my work cut out to create an image that popped. Oh for a lime-green sports car or bright orange off-roader!
I found an un-made stony road leading into a frosty woodland. Rickety tree-houses and old mobile homes hid among the leafless trees. This would make a great horror movie set. I shot a few photos and left. A mile further a short muddy track led up to a double five-bar-gate with a huge field dropping away to farmland beyond. I opened the gates, backed the van into position and set up my remote strobe lights.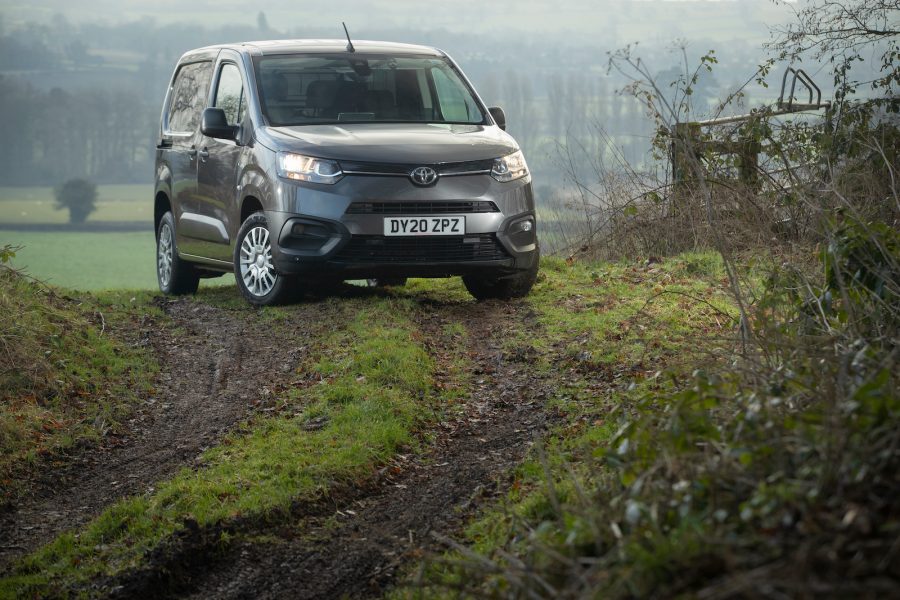 The van looked great positioned on the crest of the track. I used a polarising filter to help control the reflections and a 200mm lens to help show off the distant landscape. They may not be magazine cover-shots, but I like the photos. And I now have another nearby location to use in the future. Job done.
14th January 2022: Kitchen refurb
I hate DIY. I am also clueless and completely inept when it comes to making stuff. So there was only one choice when we decided to get a new kitchen – we had to call in a professional to fit it. Although to keep the cost down and to 'do my bit' I volunteered to collect things from DIY stores. After all, I have a van.
The last two weeks have been a steep learning curve. One morning I stood shoulder-to-shoulder with tool-belt-wearing builders looking vacantly at bags of latex floor leveller. Another was spent figuring out how to push those flat trolly-like things. Some steer with just one pair of wheels. Others are all-wheel-steering – these are dangerous and should be avoided at all costs.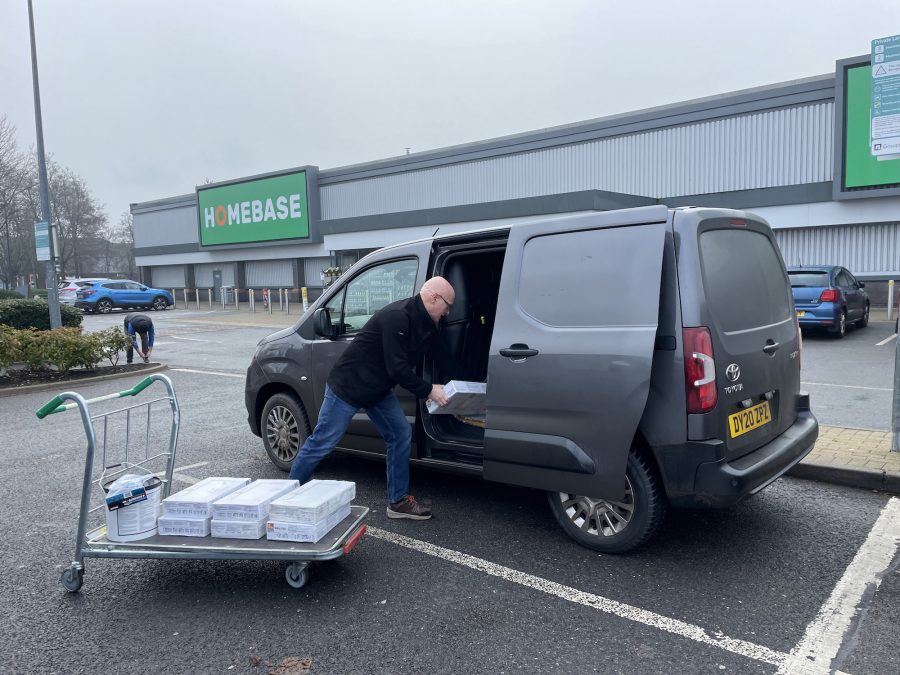 I've stared aimlessly at buckets of tile adhesive – some with the words 'grout' some without. Some measured in litres, some in kilos. I've crisscrossed the county, finding stores with the tiles we want actually on the shelf, in-stock. Who knew there were so many types and sizes of white tiles – they all look the same to me!? Thankfully driving the van was the easy bit. It's made for carrying these kinds of hateful items.
7th January 2022: Mannequins
I wouldn't be going out-on-a-limb if I described my first job of 2022 as my weirdest photo shoot ever. When I arrived it wasn't just the sub-zero temperature that gave me goose-bumps; I was confronted by thousands of human-like figures and a colossal heap of assorted body parts. It was like a scene from a sci-fi zombie-apocalypse movie.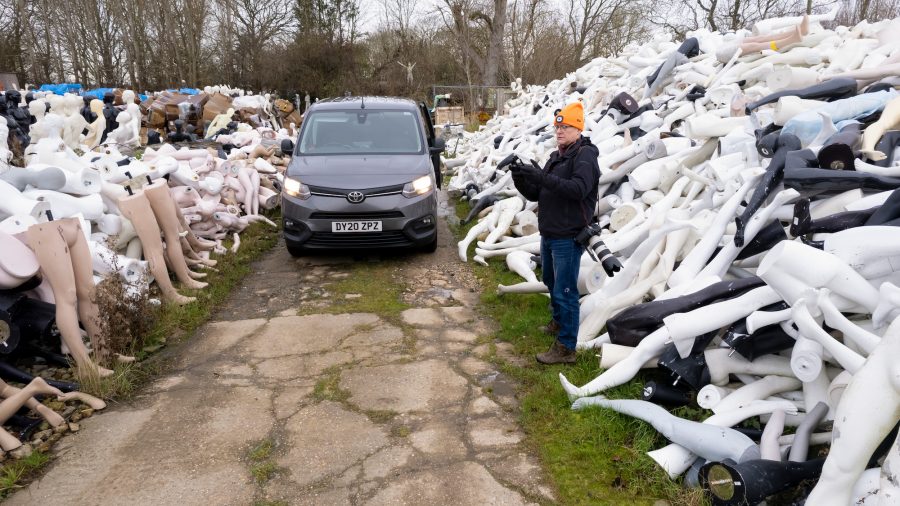 I was on assignment for a national newspaper. They wanted photos of the 'Mannequin Mountain' in Lincolnshire. The roadways running around the farm buildings and past old shipping containers were lined with platoons of faceless figures, limbless children and topless women waiting for the sun to come out. Many wore bizarre and horrifying costumes.
Snow was forecast so I needed to work quickly. Keeping the van nearby was vital as I switched between using the drone and my hand-held cameras to capture the dystopian scene. The van was also my sanctuary – a warm place to thaw out my hands and somewhere to take refuge when the inevitable mannequin attack began.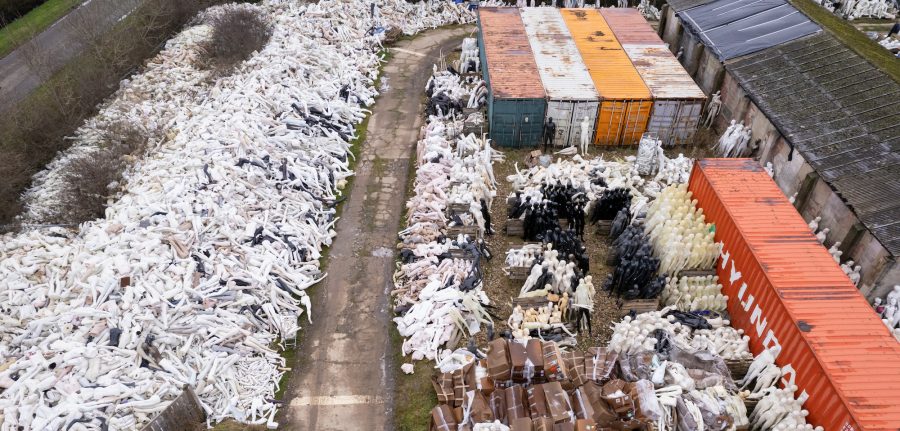 Roz Edwards (49) set up Mannakin in 2008 and estimates to have saved 30,000 mannequins from all over Europe being sent to landfills.
After taking her portrait I offered Roz a lift back to her office – a journey of 150 yards or so. But it was freezing so she hopped in. As I selected reverse gear, she immediately laughed like a drain when she spotted the words 'Check surroundings before manoeuvring [sic]' pop-up on the camera screen exclaiming: "The surroundings are pretty weird aren't they?!" Her business repairs, re-sells, and rents out mannequins. She also hosts Halloween evenings and 'supermarket-sweep' style events where people can cram as many body parts into their cars as possible in 15 minutes!
31st December 2021: Betwixtmas
I didn't do much with the van between Christmas and New Year. In fact, I didn't do very much at all. Which was nice. I'd normally expect to wake up with at least one headache at this time of year, but the first of January marked a whole year with no booze. Not a drop. So this Christmas was completely hangover-free. Which was even nicer.
But I did get a headache creating this blog. I didn't have a clue what to write about. I could have made something up but it's important to me for my ramblings here to be authentic. So after much brain-ache, I decided to simply celebrate the New Year with a bit of light painting. I would stand next to my Toyota and write 2022 in the sky with a torch and take a selfie. Simple.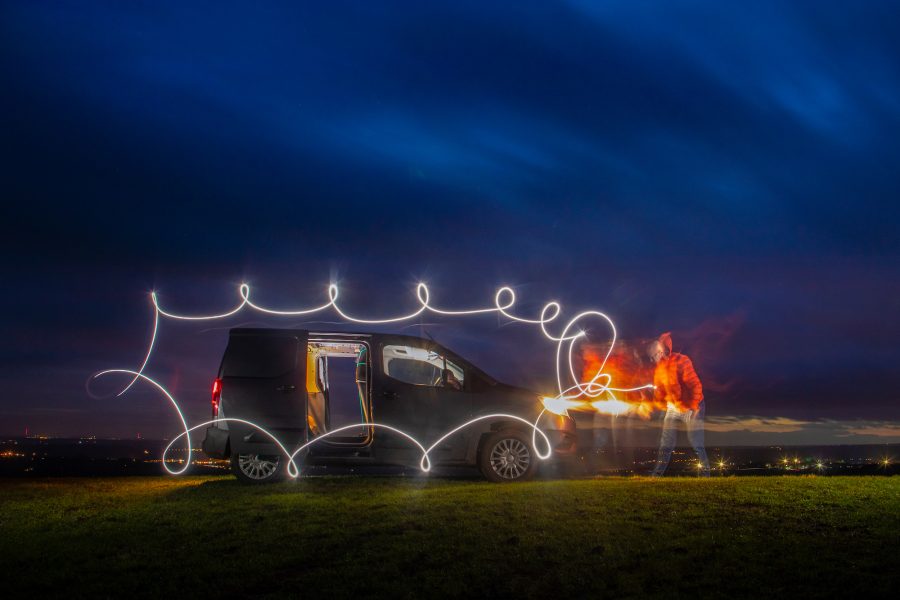 I had 20 seconds to write out '2022' above my head before the camera's shutter closed. For the numbers to look correct they would need to be written in reverse. They all had to be roughly the same size and I needed to cover the torch up with my hand between each digit so as not to make them look joined-up.
I tried and I tried. My main problem was the number '2' and there are three of the damn things. Most often one was back-to-front, occasionally all of them. Sometimes I took too much care and ran out of time, other times the figures overlapped or were in the wrong place. Finally, I managed a few half-decent recognisable numbers, all in the right order. But I looked miserable. Hardly the face of a man celebrating a new year and 12 months of sobriety. So for my 34th and final attempt, I abandoned my plan and just scribbled a wiggly line around the van. I think this was the best shot.
23rd December 2021: Chicken run
I heard about a poultry producer who was giving 100 birds to a charity in Derby. A bunch of volunteers were planning to stuff the birds into a convoy of their cars. So I volunteered to load them into my van instead. Giving away a little of my time at Christmas costs me nothing.
I removed all my camera gear and carpet underlay from the back of the van and swept it out to make sure everything was spotlessly clean. I drove into Ashbourne at first light this morning to meet my friends, Rachel and Derek outside Moy Park – one of the UK's supermarket poultry suppliers.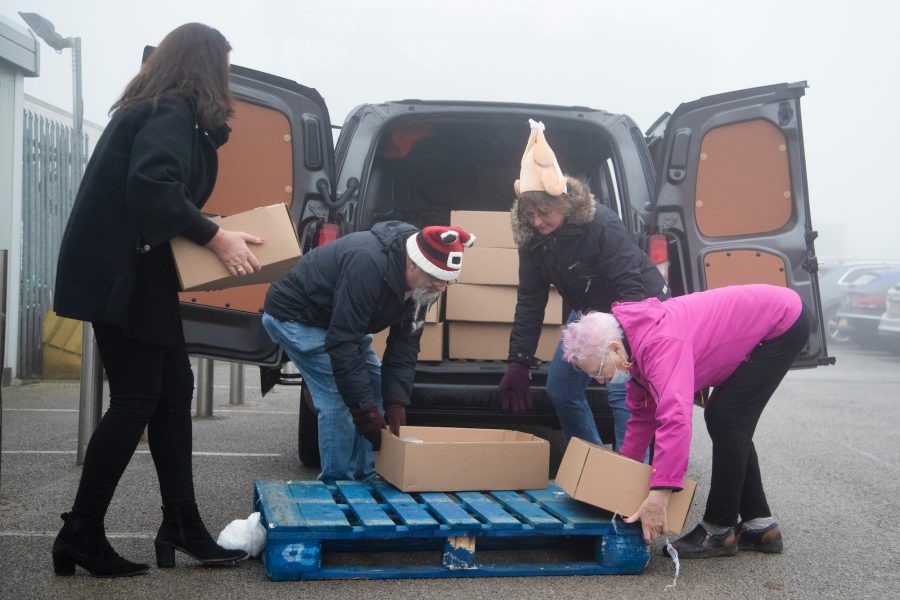 One pallet-load of boxes later we were on our way to Doorways Derby, a charity set up in 2015. A queue of people, many with colourful little shopping bags on wheels, lined the pavement as we arrived. The chickens were included in Christmas hampers given out by the charity to people on benefits, asylum seekers, refugees and other low income, nominated families in Derby. Operating under a giant gazebo pitched on the street outside the co-founder's home, the charity will give out 200 Christmas boxes this week – 100 more than their normal weekly average.
And to top it all off, my little Proace City only used a paltry amount of diesel to deliver these festive birds.
17th December 2021: Boxing day
We hardly ever use our dining room. It's a cold, ugly room with a red carpet which we try to forget about. It's home to some equally unpleasant furniture. The wooden sideboard drawers are full of stuff. The kind of things you keep just in case you need them one day – an old Nokia phone charger, an obsolete Sky remote control and a key to a little black Peugeot we sold ten years ago.
For the last year, we've also been filling it with packaging and boxes. In fact, we've had so many things delivered to our door over the last 12 months the cardboard has become a fire hazard. We even started to refer to it as the 'flammable room'.
But buried under paperwork and lots more mess is our dining room table. In less than a week's time, there'll be six of us sitting around it tucking into our turkey. So today was time to start the annual tidy-up. I shifted a mountain of boxes, bubble wrap, and polystyrene revealing the red carpet which now looks almost festive.
I flattened the cardboard and loaded it in my little Toyota van and took it to the local tip. And we all know it's not really the festive season until you've done at least one tip run.
10th December 2021: Puppy week
When the engineers at Toyota designed the Smart Cargo system they were probably very chuffed. They'd made it possible to lengthen a van's load bay with an ingenious combination of a bulkhead flap and folding passenger seat. They even put a large cavity in the dashboard to maximise the load-extending feature.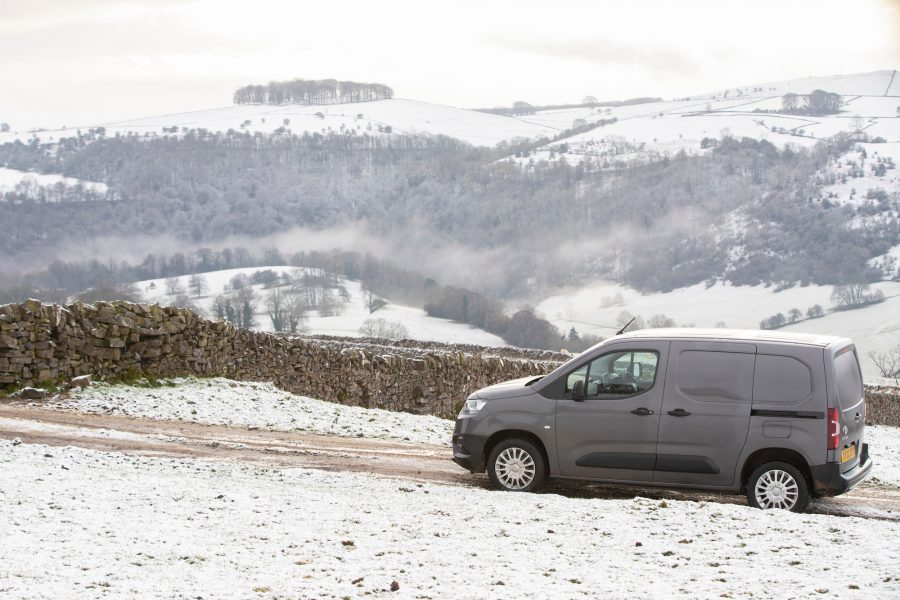 Toyota tapped into what tradesmen need – plumbers can fit in longer pipes and carpet fitters are no longer floored by a short van. But they probably hadn't imagined how useful this little hatchway would be for people when they're not at work.
This week my diary was pretty clear and commissioned work was thin on the ground. Instead of relaxing and taking things easy, I drove to Moreton-in-Marsh and bought a puppy.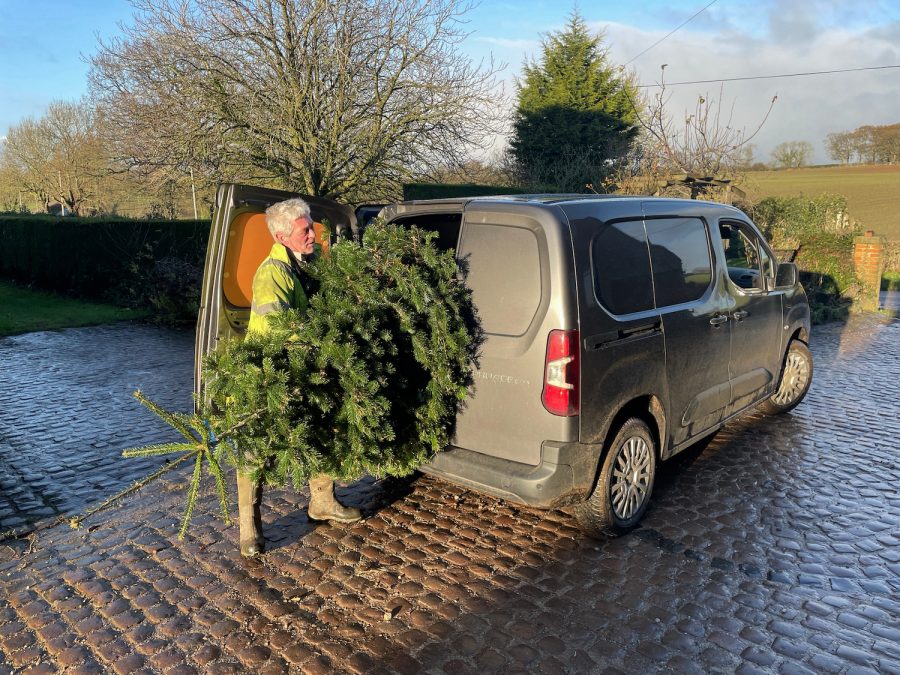 The 13-week-old Hungarian Vizsla was already huge – far too big for the cat carrier I'd planned to take him home in. A large cardboard box in the footwell was also far from ideal. When I arrived home I strapped a large dog crate in the back of my Proace City. I switched on the interior light, pushed the open cage door up to the Smart Cargo hatch and filmed him coming through for the first time.
Yesterday I collected our Christmas tree from a farm near Derby. Even with its top bent double, it was still just a few centimetres too long for the back of the van, so I folded the front seat down and deployed the Smart Cargo system again. I think Santa would be proud of Toyota's engineers.
3rd December 2021: Snow week
Like Second World War fighter pilots sitting on wicker chairs on an airfield waiting for their call to take off, the first report of snowfall is my call to scramble; to hop off my office chair and head out into the cold. My mission is to hunt down snowdrifts and take photographs with my Canon cameras.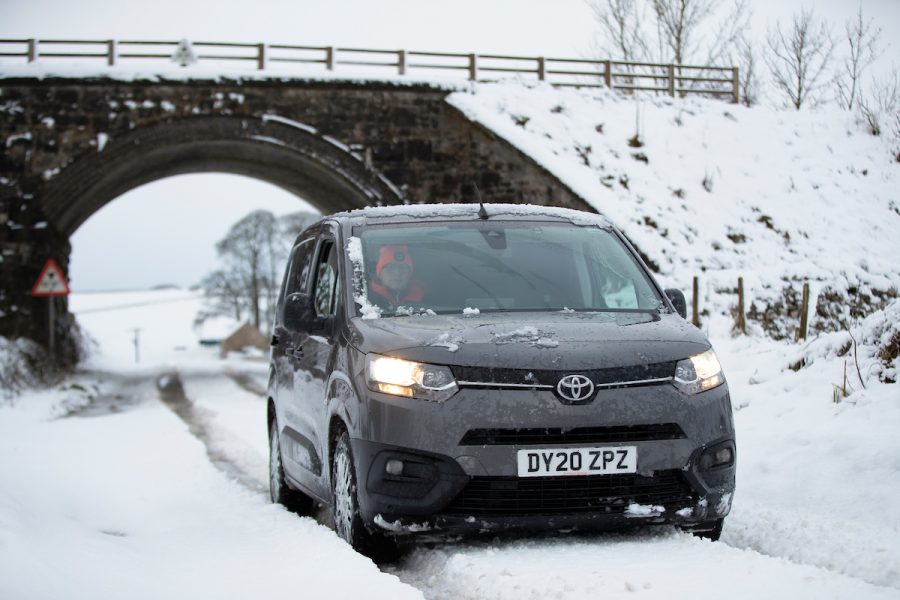 This week, Storm Arwen blew in, bringing with it a significant amount of snow. I've had my winter tyres fitted for a few weeks and this was the first time I'd really used them properly.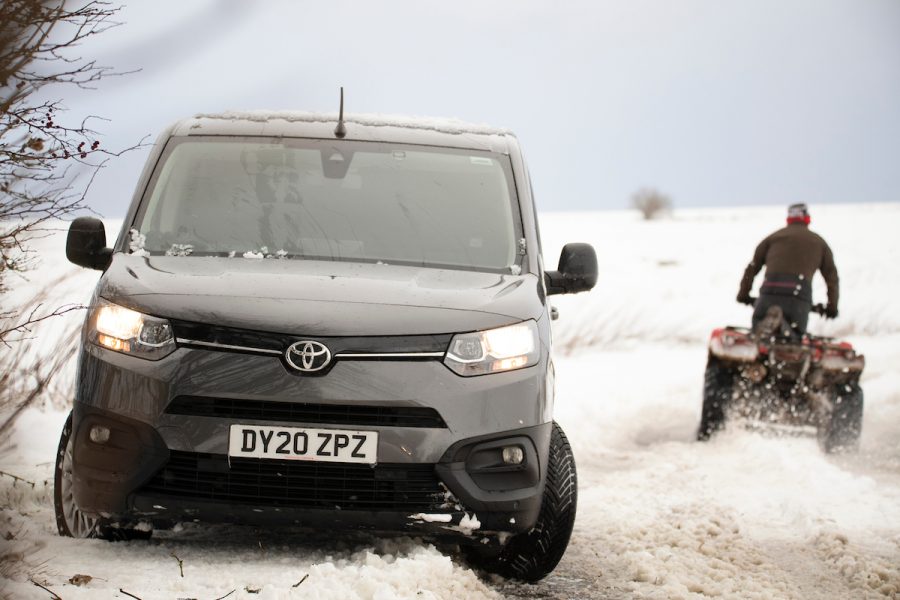 Only a few minutes after leaving home I was passing lorries and cars floundering in the icy conditions. My little Proace City coped really well on its first winter deployment. On a couple of occasions, I turned the traction control off to allow for a little more wheel spin to help scrabble through the deepest drifts.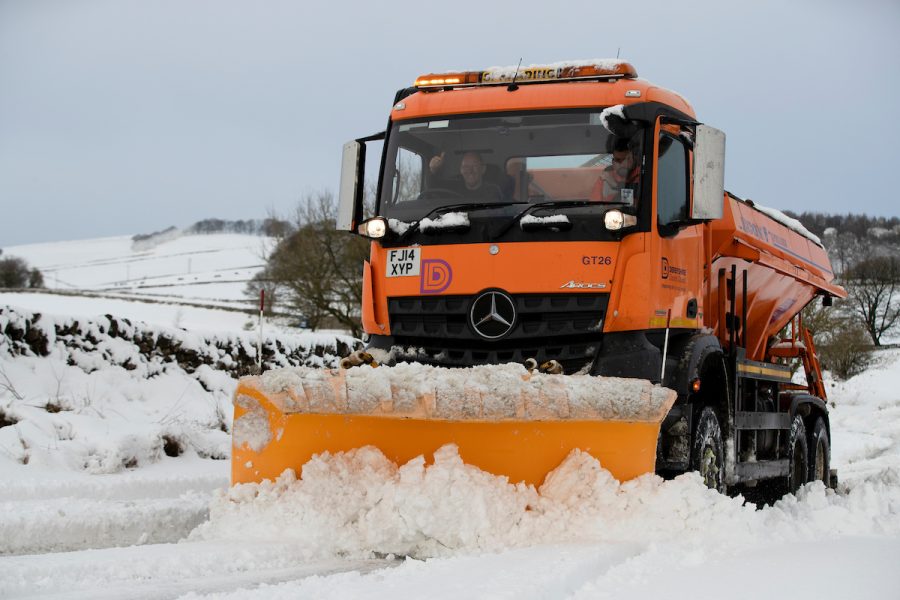 My photographs, many appearing in the national press, included shots of people pushing cars, a Hilux with a sheepdog in the back successfully making it up a steep snowy hill, a snowplough clearing the way and a few scenic drone shots. Flying my drone is perhaps not as risky as piloting a Spitfire but I did get very cold hands!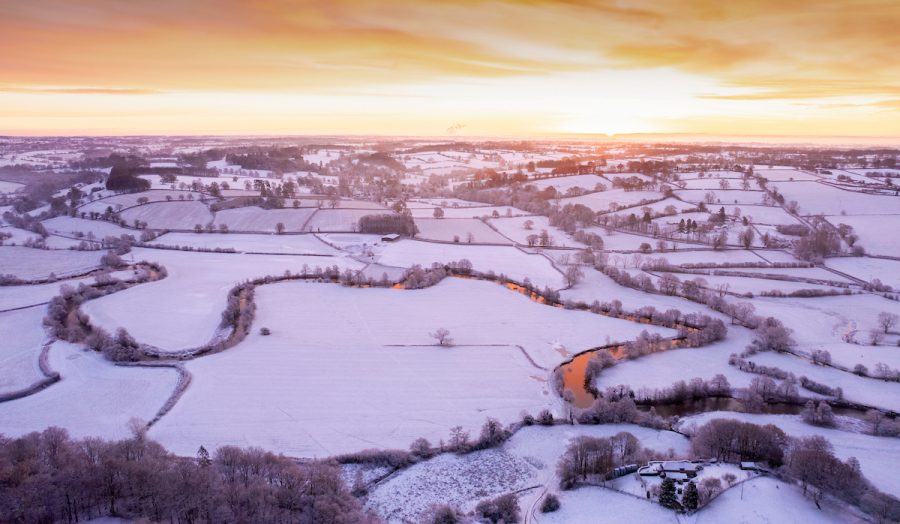 26th November 2021: Eco power and punctures
My recent jobs have had a lovely – energy-related – synergy to them. First-off was a set of photos at an awards ceremony in an old red-brick industrial building in Derby. Hanging above the entrance hall to the Museum of Making is an art installation made from suspended Toyota Corolla components. The 'exploded' Corolla was made at the Burnaston factory only a few miles away.
I was there to photograph another pioneering Derbyshire company, MasterMover, being presented with The Queen's Award for Enterprise. They make electric tugs for moving bits of heavy kit and equipment around and received the award in recognition of their outstanding growth in overseas sales over the past six years.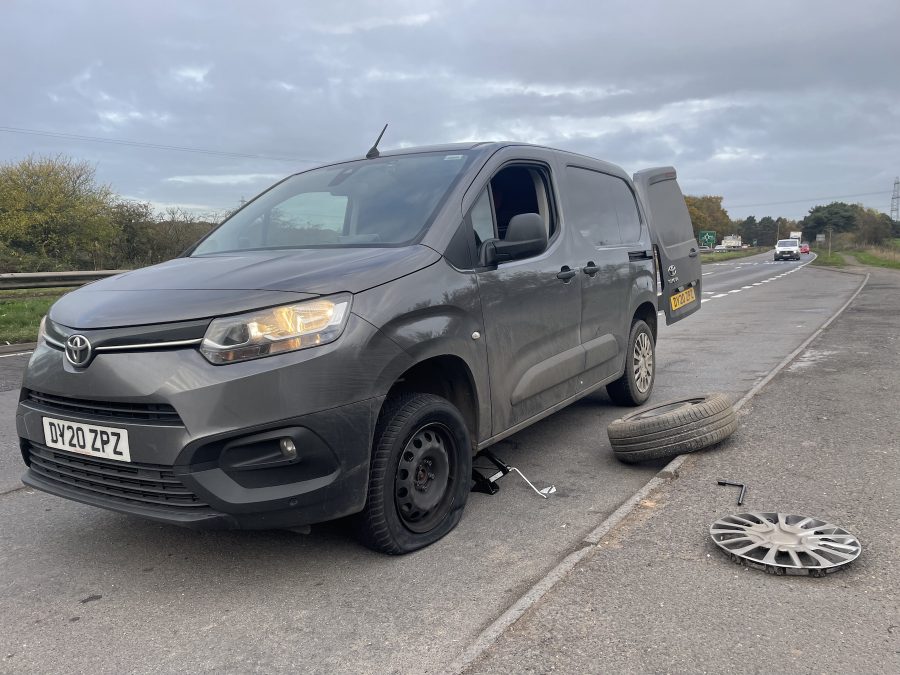 I could have done with one of their rechargeable electric machines to help me lift up my van on Tuesday when my nearside-front-tyre suddenly punctured on the A38 near Birmingham. Instead, I had to resort to my own feeble manpower and some old-school skills, to hurriedly change my wheel in a lay-by. The Proace City doesn't come with the longest of wheel braces. It was a bit of a struggle, but thankfully I was only a few minutes late for that day's assignment.
Next up was a trip to Yorkshire to photograph and film a wind farm at sundown and again the following dawn. The huge, yet strangely elegant, turbines are linked by miles of gravel tracks that criss-cross over a former colliery site.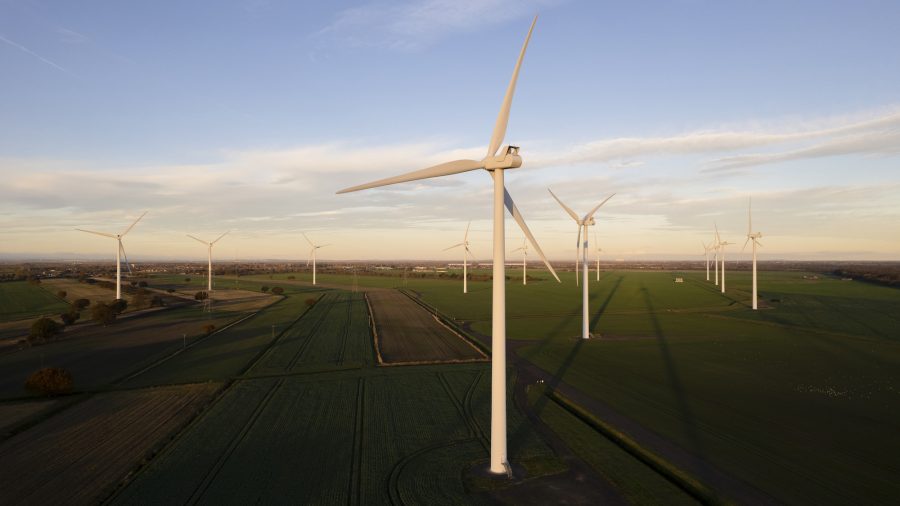 I was escorted by two engineers from the power company. Each of them drove a little van, just like mine, and we trundled around the industrial landscape of the future in convoy as the sun set and electricity were pumped cleanly into the grid with each swish of the giant turbines' blades.
21st November 2021: Speed week
This week was an unusual one as I was invited to an old airfield in Yorkshire to document the half-bike half-aircraft being run for the first time. The two-wheeled contraption has been built in a shed in Essex with only one purpose – to break the world motorcycle land speed record (which currently sits at 376mph).
The 30ft-long '52 Express' is powered by a fifty-year-old Rolls Royce helicopter engine and will be ridden, or perhaps piloted, by the UK's foremost daredevil of our time; Guy Martin as he attempts to reach 400mph on the salt flats of Bolivia in 18-months' time.
With fog lights piercing the mist, I set off early on Monday morning. Navigating using the Proace City's Apple CarPlay screen I slowly made my way through the gloom to Elvington runway.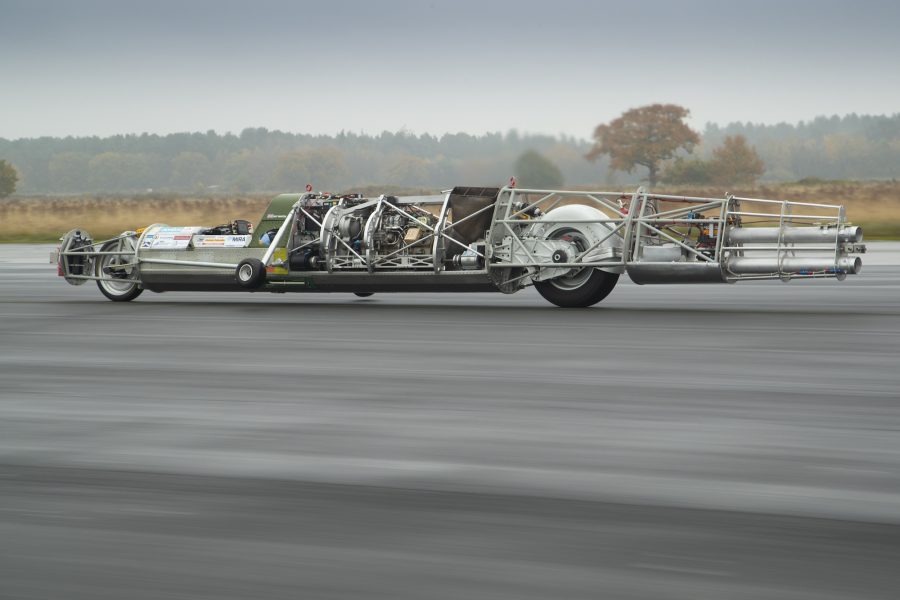 My first plan was to stand near the starting line to get photos of Guy launching off. I would then lie in the back of the van for later runs, shooting tracking shots with the side doors slid open. After only two runs Guy had already hit 100mph. And we all knew he would try for more. However much I wanted the star of this blog, to keep up with a world record-breaking speed machine, it simply wasn't going to happen. To get significantly more than 100mph, I think Toyota's engineers would need to bolt a seriously large turbocharger onto the 1.5 diesel powerplant under the little van's bonnet. I was going to need faster wheels.
For the second day of testing, I decided to head to the former RAF base on my motorcycle. I would strap a camera to a footrest and try to keep up with Guy. My old Suzuki can do well over 100mph.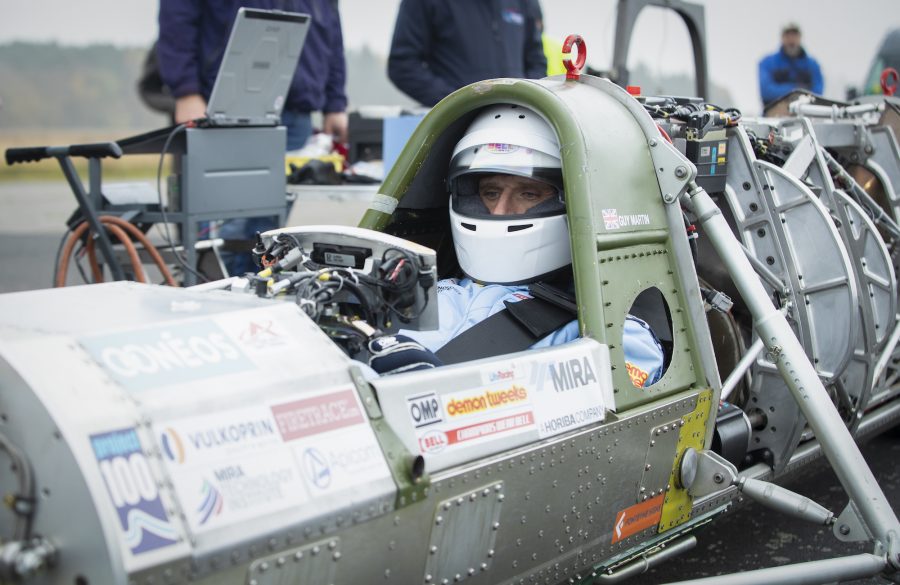 But my 1984 Katana 750 sports bike, even with its pop-up headlight folded away to reduce drag, still wasn't quick enough. Following a little wobble off the start line, Guy immediately accelerated to over 130mph, leaving my motorcycle embarrassed in its wake. I jumped in a crew member's Jaguar for the next run. With my camera poking out the rear window, the bike, resembling a 1950s' jet fighter, flew up the runway accelerating so fast it left us for dead. First 140mph, then back again adding yet another ten miles an hour of velocity.
The two-day test surpassed all the team's dreams. Guy Martin's bravery, or perhaps craziness, helped him achieve a much-higher-than-expected maximum test speed. He really is in another league. A true British hero.
10th November 2021: Fireworks and fuel saving
As you might have gathered from the previous diary entries, I'm a man of many skills and this week I added a new one to my ever-growing repertoire, kitten saviour. My daughter's Swiss Cheese plant could potentially prove toxic to her pet Rupert, which meant the rather large plant needed to go ASAP. Luckily the deadly fauna easily fit into the rear of the Proace and I was able to correctly dispose of it.
Later that evening was my second of three nights shooting the Alton Towers firework displays. To mix it up a bit I decided to photograph the 27-minute rocket and laser show from the top of a hill, one-and-a-half miles from the resort. This would surely give a great view, showing the scale of the pyrotechnics and how they played above the landscape surrounding the historic towers.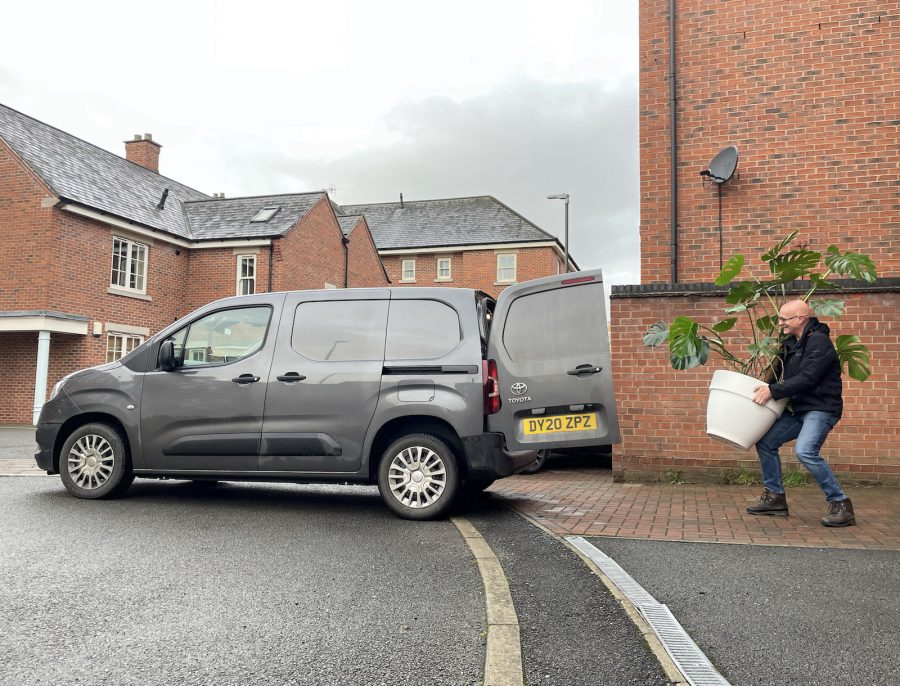 I was wrong. Very wrong. The wind, gusting to over 50mph, brought with it a spray of rain sharper than a garage jet wash. I left my drone safely in its box – it would have been blown out of the sky. But I set up my heftiest tripod and long-lensed camera combo hoping they would cope with the full force of the weather. But the buffeting deluge made it impossible to successfully take any long exposure shots.
I shifted the little van alongside the camera and attempted to use it as a windbreak. For a few minutes, I convinced myself it was working. Genius. Crouched beside the Toyota, I snapped away as the Staffordshire skyline lit up with splodges of colour. But all my shots were out of focus and blurry – it was a totally disastrous shoot.
As it happens, a Proace City is not actually a very good windbreak after all – it's just not big enough. But its slabby sides and boxy proportions don't really make it one of the most aerodynamic vehicles on the road either. With the COP26 climate change conference falling the same week UK fuel prices hit record highs, my fuel economy – always a big factor in my business' bottom line – suddenly came into a much sharper focus.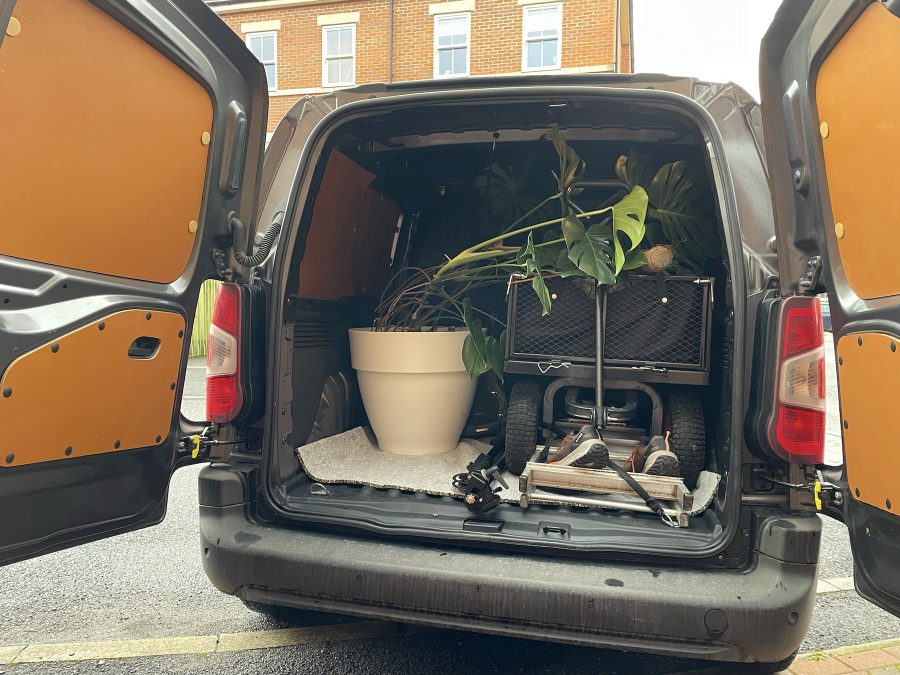 But there is a simple solution to extending miles per gallon. I don't want to sound Puritanical, but it is something we can all do. Whether our vehicles are diesel, petrol, hybrid or electric, there's an easy way to drastically reduce our carbon footprint simply by using less energy. This very simple, non-rocket-science range-extending solution? DRIVE MORE SLOWLY. Yes, that's it. Drive slower.
When driven slowly my van can squeeze 62 miles from a gallon of diesel. This figure is closer to 48 miles per gallon when I'm not driving carefully – that's 29% more fuel. Aerodynamics have less of an effect the slower you go, so my van's brick-like profile is almost irrelevant when trundling along the motorway at 55mph. Sure, it might not be the most thrilling drive of your life but you can afford a smug smile when you realise how much money you're saving and how your careful driving may be changing the climate for the better and saving a few kittens in the process.
5th November 2021: Northern lights
As a photographer, I'm constantly on the hunt for good light – a commodity in short supply at this time of year.
I'm often on the road early, getting to shoot locations in time to snap my subjects in daylight. This week started with an early morning 100-mile dash to Worcestershire to photograph a funky blue electric van made by Morris Commercial. The retro van looked fab against the autumnal colours.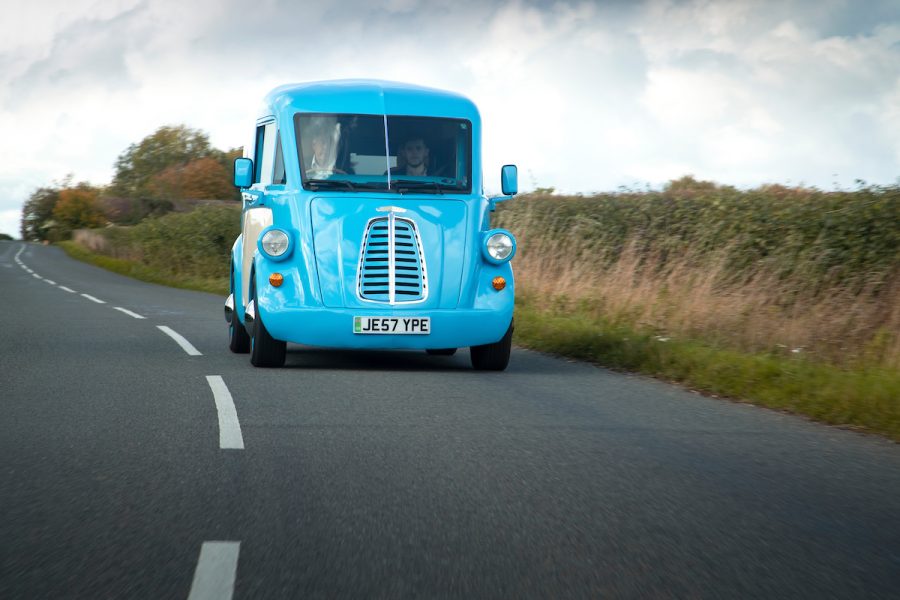 The next day I was much closer to home for some video and drone filming at the end of a very long and bumpy Derbyshire track. This was another shoot timed to show off the wonderful kaleidoscope of seasonal woodland hues.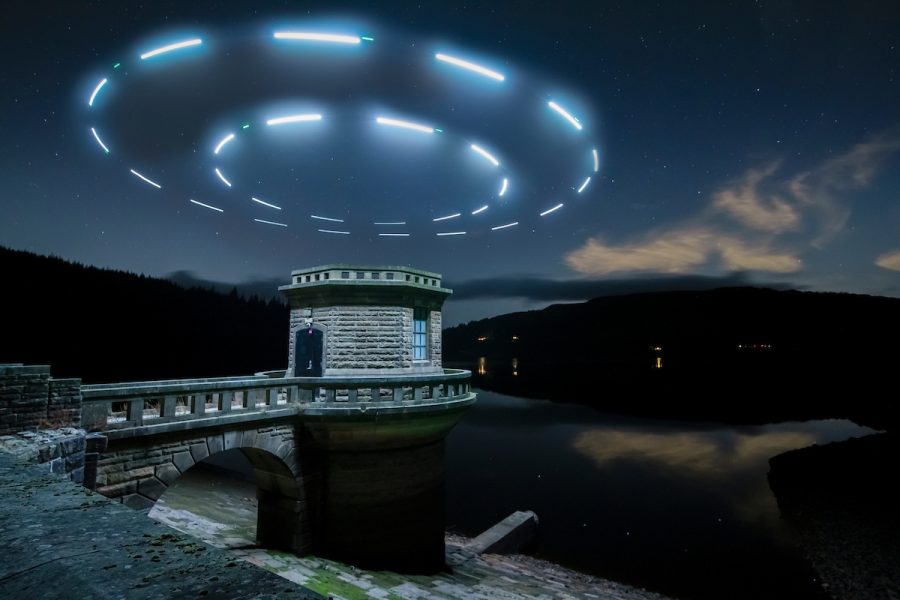 Night-time light was also my focus this week. A solar flare on Thursday came with predictions for a northern lights show over the Peak District. So on Saturday evening, I went aurora borealis hunting with my youngest daughter. We first stopped at Ladybower Dam where the natural light show was reluctant to show. But we had a supernatural 'close encounter' of our own kind, as we watched a man flying his drone, fitted with fancy LED flashing lights, around one of the towers. It made for a proper-spooky "THEY'RE HERE!" type photograph. Next, we drove to a Hathersage for a midnight torch-lit hike to the top of the moors. My daughter climbed on a rock and we were soon rewarded with a brief glimpse of a spectacular green and purple sky before the mist rolled in to obscure our view.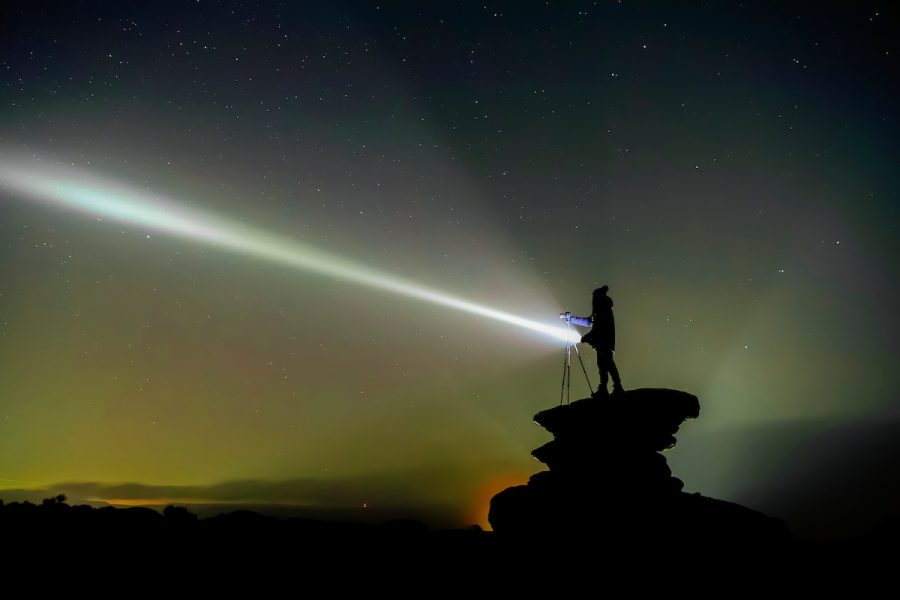 Six hours later, it was my eldest daughter's turn to ride shotgun with me in the Toyota. We were off to watch and photograph hundreds of cyclists attempting the National Hill Climb – a competition to pedal up the near-vertical Winnats Pass as quickly as possible. It rained. And it rained. And it rained. An umbrella-breaking tailwind may have helped push the bicycles upstream along the half-mile road-cum-waterfall but it soon blew us back to seek shelter and sanctuary in the van.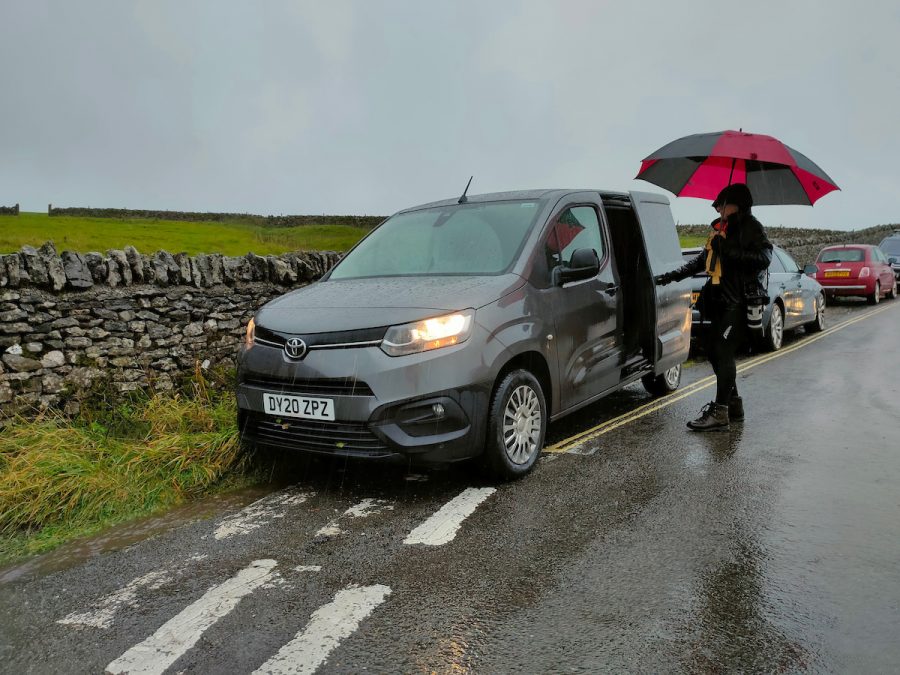 It's weeks like this when the modern tech inside my van takes second place to dependability and safety. None of that other stuff really matters – the touch-screen infotainment system, electronic handbrake, stop-start engine, air conditioning, class-leading payload capacity – I can live without all of it. What's important is to have a workhorse I can simply trust and rely on to deliver when the conditions get tough. Whether it's in the dark or in horrendous weather, my Proace City delivers this dependability, unfalteringly, in spades.
29th October 2021: Thumbs up
This week a customer cancelled a couple of days' work, so with unexpected time-off, I decided to go for a bike ride.
You will understand my immeasurable delight in discovering my large mountain bike, with its colossal 29 inch wheels, fits in the back of my small van. It just simply fits. Strapped-in neatly or slung in on its side covered in mud, my bicycle, without the need for anything taking-off, loosening or being unscrewed, is no longer a hassle to take to my favourite trails.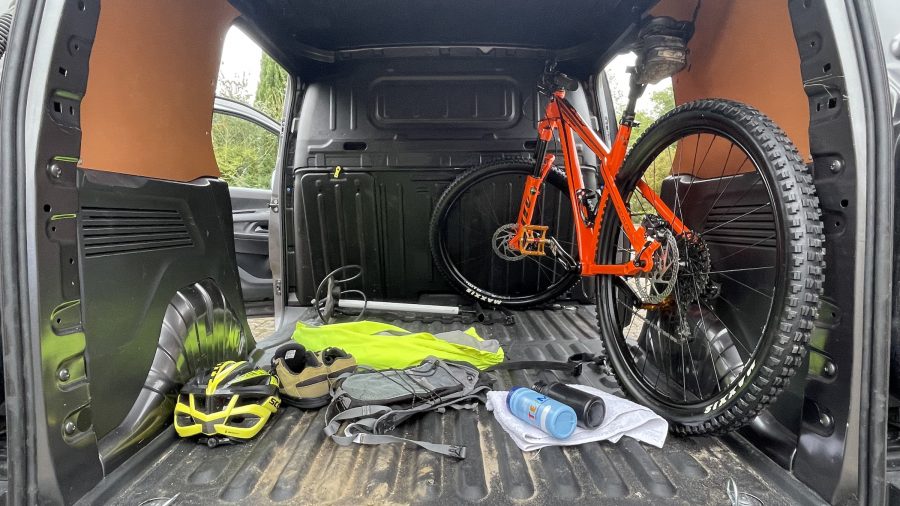 I don't even have to worry about the mud. I can quickly wipe-down or sweep-out the back of my Proace City. The mud on the outside is a different story. The autumnal roads do their best to coat my little Toyota with layers of crud within seconds of driving anywhere. And it won't be long before salt is added to the mix to really test my ability to keep my little workhorse clean. Upfront the screen-wash is sprayed from numerous nozzles within the wiper blade arms – a neat feature which delivers the soapy water exactly where it's needed. But there's little to save the van's rear-end though. Tail lights, number plate and reversing camera all quickly succumb to the splatter of road filth.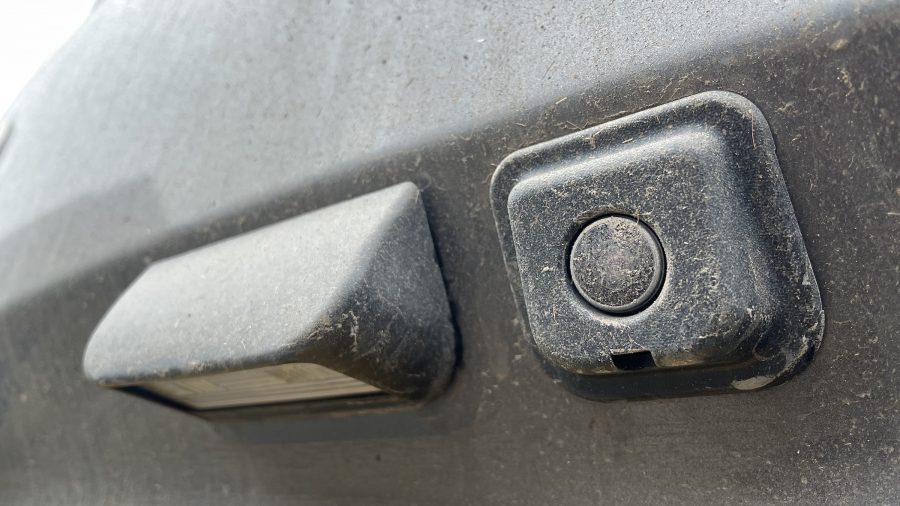 I do try to keep the reversing camera clean. Every time I walk past it I give it a little wipe – with my thumb! There's probably a much better way to do this. A gadget with an in-built sponge perhaps? Have you found a better way to keep your reversing camera clean? If you have, let me know!
22nd October 2021: getting a grip
On Tuesday I drove to an autumnal forest on the Welsh border in Shropshire. Toyota had asked me to go there to shoot a feature about a man who uses a Hilux for his forestry work.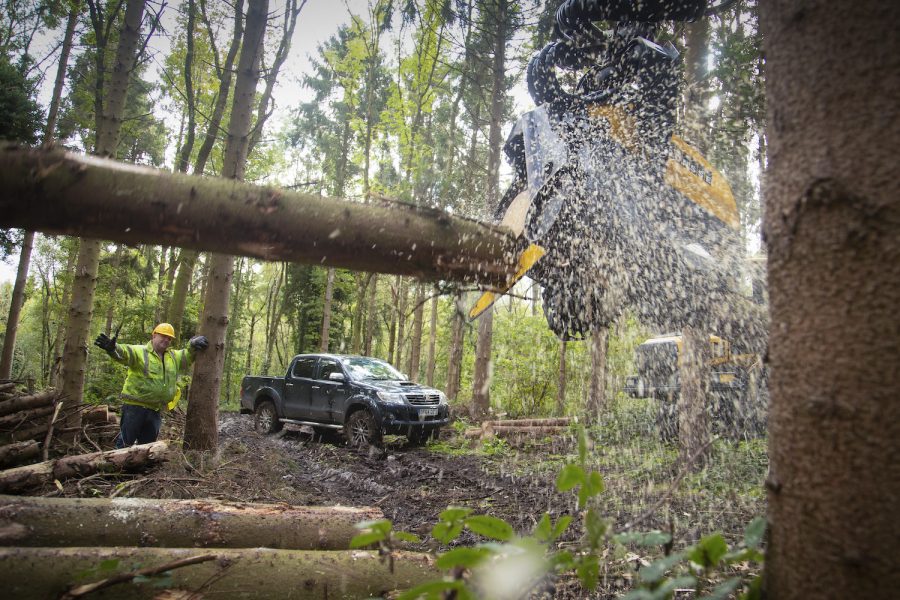 I carry a lot of gear in the back of my van and always try to drive as close to my shoot locations as possible – and I wasn't going to let a little woodland track stop me. The muddy track wound its way for a mile-and-a-half down into the damp pine forest. My Proace City is a working vehicle so a few mud splatters are par for the course.
The final few hundred yards of the route climbed sharply up a steep, greasy left-hand bend. Undaunted, I ploughed on, attempting a flat-out ascent of the hill. Imagining I was a rally driver taking on one of the iconic Welsh forest stages, I floored it but then began immediately drifting sideways.
I thought I had a good grip of the fundamental laws of physics but the front wheels quickly showed off their superior knowledge of all things relating to friction, momentum, mass and force; spinning wildly as they searched in vain for traction. This was the limit of the terrain for my little front-wheel-drive van. Crest-fallen, I backed down the slope.
Moments later I'd thrown a bunch of camera and lighting equipment in the back of the Hilux I'd come to photograph. It charged up the hill, all wheels spinning, but still finding plenty enough grip to the summit without fuss.
This is why the forestry contractor uses a Hilux – it's all about having the right tool for the job. Having off-road tyres fitted to the forester's Toyota also really helped him drive through the gloopy-under-tyre woodland.
This jogged my memory to call my local tyre shop to order a set of tyres for my Proace. I always do this at about this time of year, when the nights draw in and temperatures start to fall.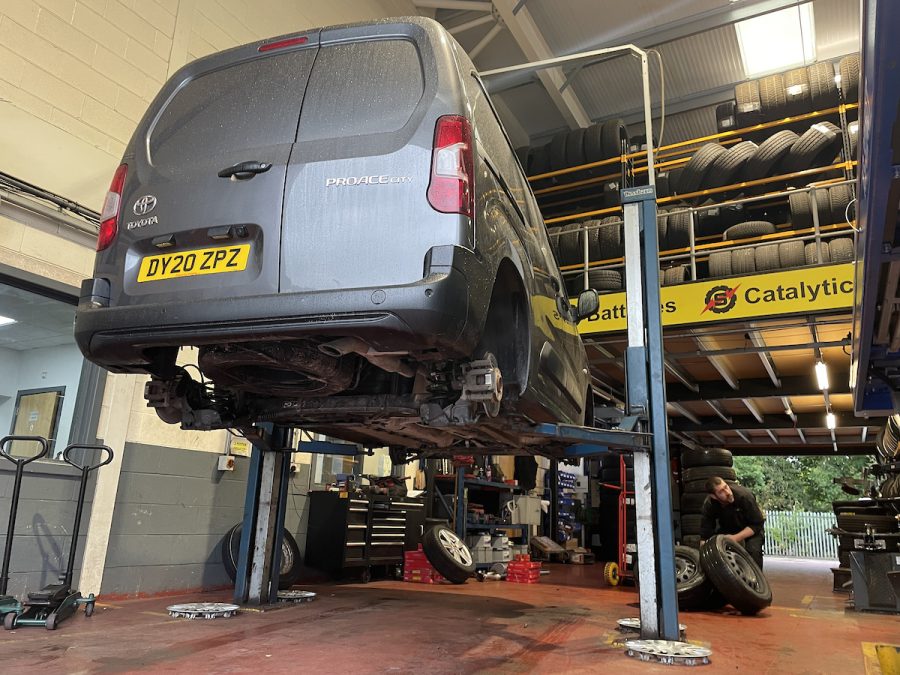 I'm writing this post on my iPhone sitting on a square-sided, black, faux leather sofa in my local tyre shop. But it's winter tyres, not off-road rubber, being fitted to my little Toyota.
I live in the Derbyshire Peak District and actively search out the worst, or best (as I prefer to think of it) wintry weather conditions. Photographing and filming winter scenes – the snowier the better – for newspapers, TV and social media is a passion of mine. I tell myself, and my family, that it's all just work. I won't let on that I love the challenge of working in freezing weather.
With winter tyres fitted, even to a two-wheel-drive car or van, I can safely get to some of the wildest, most remote and frigid locations – places most people wouldn't dream of attempting to get to. Even when it's not icy, winter tyres, compared to regular summer rubber, are said to give more grip when temperatures are lower than seven degrees celsius. I actually think they are so good they should be a legal requirement for UK winters.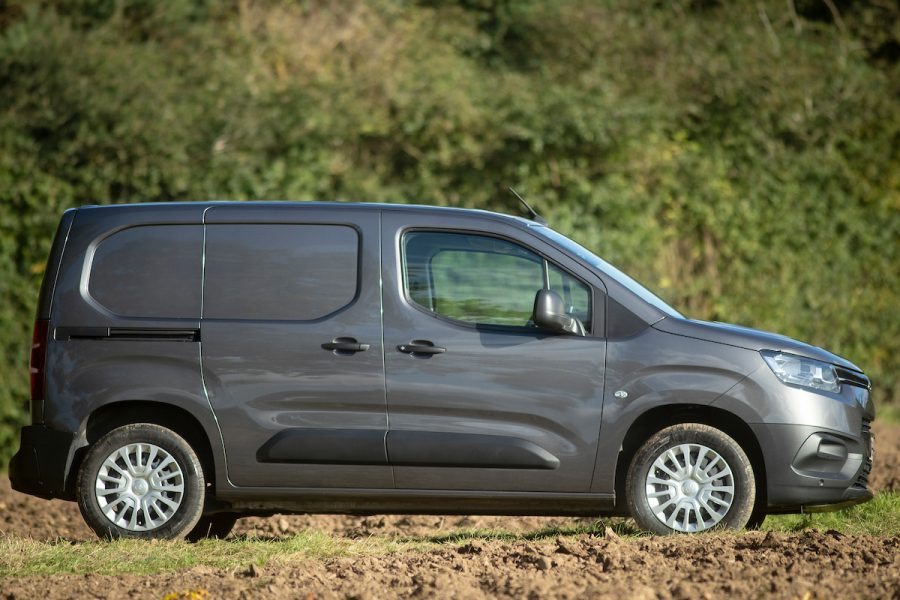 Yes, they are an extra investment, but summer tyres aren't being worn down when they're off your vehicle and you put them back on again in the spring. This effectively lengthens the time between buying new ones.
I couldn't work effectively and safely throughout the cold months without winter tyres. And perhaps, now with added grip and vastly reduced stopping distances I'll be able to get up and down a few steep snowy hills this winter without the need of another Hilux rescue.
Proace City owner: How much can you fit in a Toyota van?
With my ever-growing collection of photography and videography equipment – including cameras, tripods and even ladders – I needed a vehicle that was both easy to load and could transport all of this safely, and the Proace City does that job extremely well. See the video below.
11th October 2021: Becoming a Proace City owner
For years I carted all my photographic gear around in the back of estate cars. The daily grind of folding the rear seats flat and cramming everything in was monotonous but seemed to do the trick well enough.
But as I began to invest in more equipment – especially for the developing videography side of my business, I began to run out of space.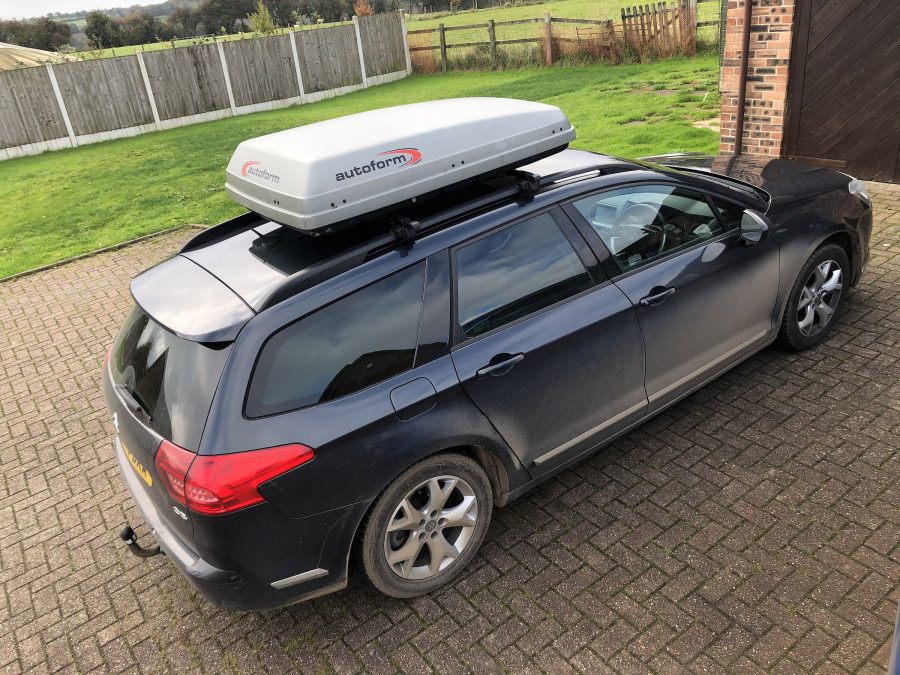 My collection of tripods, poles, ladders and other long pointy things was growing almost daily; the car was permanently packed to the gunnels. This made work-life tough due to the constant packing and unpacking needed to reach cameras and equipment for each shoot. It took its toll on me and my trusty workhorse, with it rapidly showing signs of wear, rips and general degradation. The headlining tore first, then the rubber seal around the boot lid fell off and a mysterious dent appeared on the rear bumper.

"A van," I thought to myself. "Maybe I should get a van?" This might be the solution to the blindingly obvious problem that my car could no longer do the job. In June, I toured the dealerships of several manufacturers test-driving everything I thought I fancied and a few I didn't. Within a week I'd narrowed down a shortlist of little vans which I thought would fit the bill, and make work life a lot easier.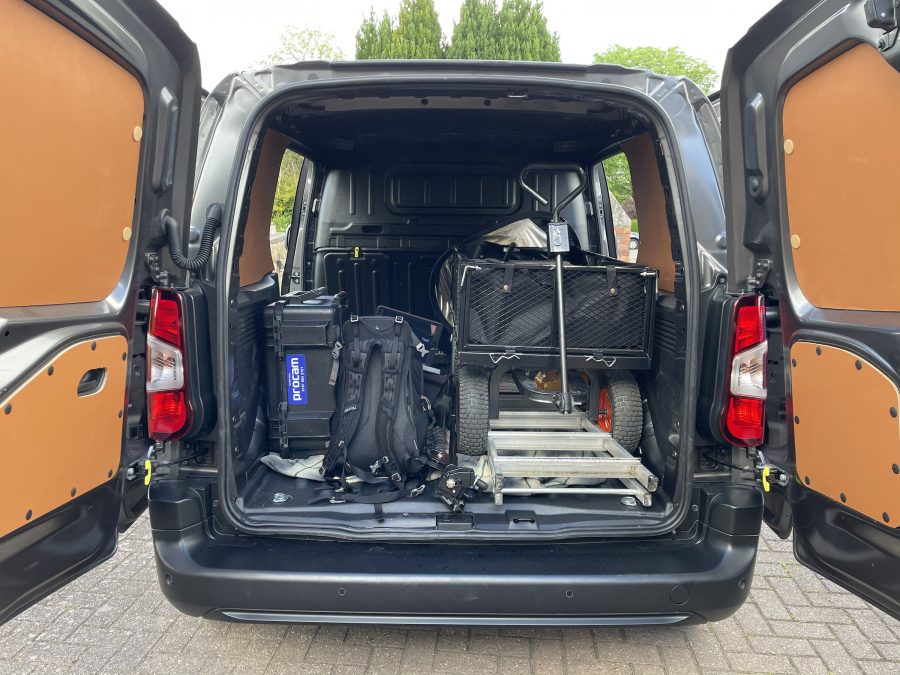 I asked for a couple of quotations. One of these took nine days, and was for the wrong van! The other, from Toyota, was waiting for me in my inbox by the time I got home from the test drive. It gave me three options on financing and a staggeringly good deal on an ex-demonstrator Proace City I'd driven earlier in the week. But it was the five-year warranty, extendable to ten through Toyota Relax which swung the deal.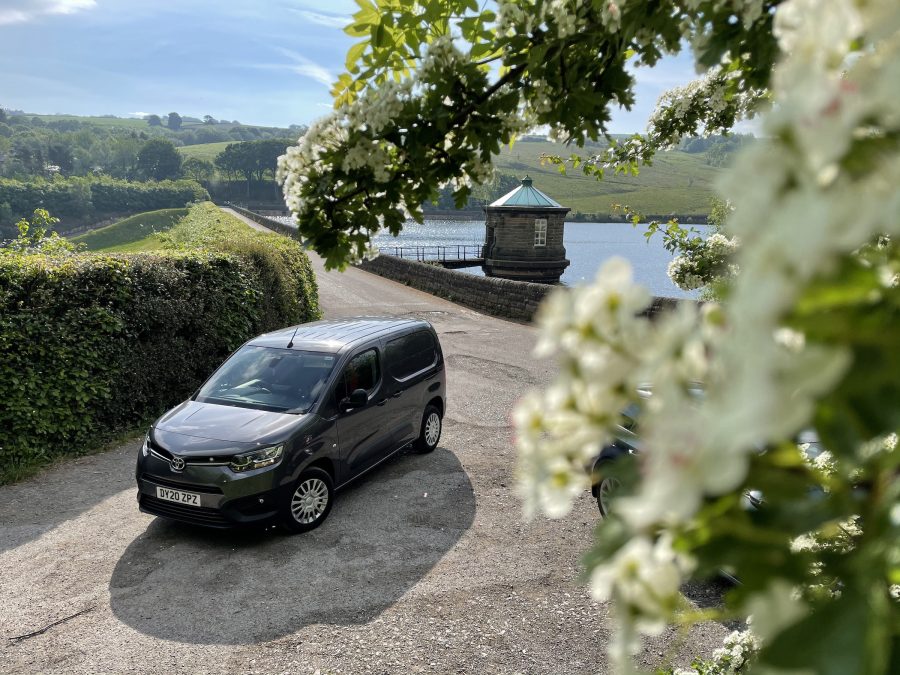 Three days later, after a quick clean and polish, I put my estate car up for sale, photographing each of its tears, dents and missing seals before my nearly-new Proace City Compact Icon was delivered to my door.
Watch this space to find out what it's like to live and work with a little Toyota van.