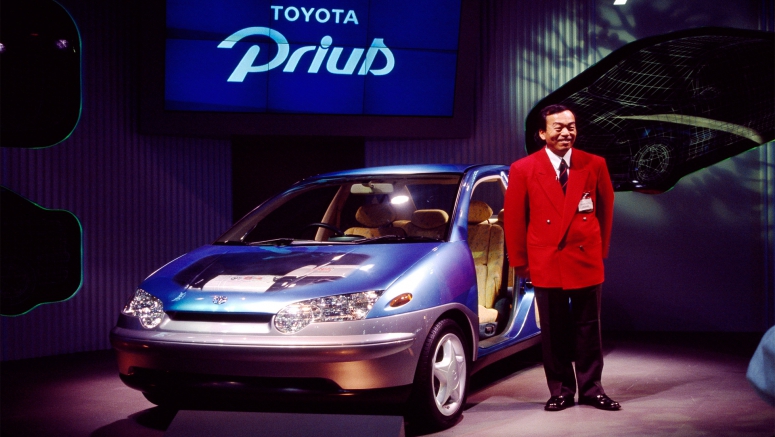 The Toyota Prius is such a familiar sight on the roads these days that it's easily forgotten just how revolutionary the notion of a mass-produced hybrid car was only two decades ago. Yet Toyota changed the face of the motoring landscape with the hybrid-powered Prius, which debuted in concept form at the 31st Tokyo Motor Show on October 27, 1995.
The Prius concept is a fantastic example of how concepts can foreshadow forthcoming production models. Even though the exterior design evolved in the two years between the 1995 concept and 1997 production reveal, the 'Toyota Hybrid System' (THS) technology in the Prius concept car was developed to underpin the production version and has gone down in history as bringing hybrid motoring to the masses.
The 1995 Prius concept was the result of 18 months of hard work by Toyota engineers and designers. In early 1994, they had identified the need to develop and build a car that was kinder to the environment and Earth's resources while retaining the benefits of a modern car. By the end of 1994, the project team had designed a hybrid concept car and coined the name 'Prius', and they then had around a year to bring it to fruition in time for the Tokyo Motor Show in 1995.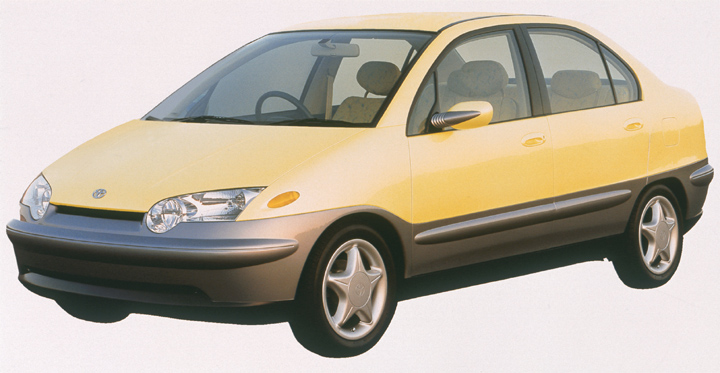 Approval for the development of the hybrid vehicle, codenamed '890T', was given at the end of June 1995, leaving only four months to get the concept ready for its public debut. The early THS system in the Prius concept used a capacitor to store its electrical energy rather than the battery pack that eventually became part of the production model's system and which continues as a main component in Toyota's current Hybrid Synergy Drive system. Interestingly, Toyota has carried on its development of capacitor-based hybrid systems, most notably in the TS030 and TS040 Hybrid endurance race cars which use supercapacitors to store energy.
By the time the Prius concept was shown to the public, Toyota had already made significant advances with its hybrid vehicle development and was so confident that it could deliver an affordable, mass-produced car that, in December 1995, Toyota president Hiroshi Okuda established a launch date of December 1997 for the production version in Japan.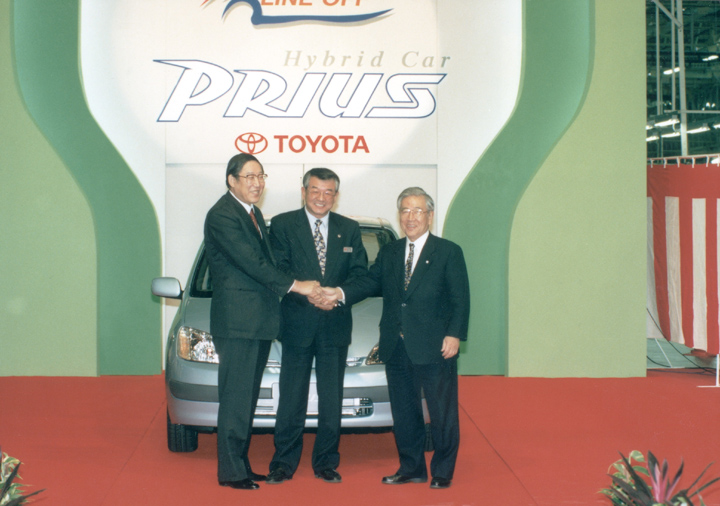 In the subsequent two years, the final design was selected from a proposal submitted by Irwin Lui at Toyota's CALTY Design Research studio in California, and the full-hybrid THS system was developed and formally unveiled in March 1997. As promised, the Prius concept became a production reality in December 1997 and went on to become the world's best-selling hybrid car.
Explore other Toyota concepts in this series:
2014: Toyota FT-1
2013: Toyota i-Road
2011: Toyota Fun-vii
2011: Toyota FT-86 II Sports Concept
2003: Toyota FINE-S
2001: Toyota RSC
1995: Toyota Moguls
1981: Toyota SV-2
1971: Toyota RV-1
1971: Toyota SV-1
1970: Toyota EX-7
1962: Toyota Publica Sports
See also: Looking into the future with Toyota's concept cars