Fredric Aasbø's motorsport career takes him drifting all over the world. But when the talented Norwegian competes in Europe he usually arrives with three things: his mighty 86-X drift car, his mechanic Erik Nilssen, and the team's trusty Toyota Proace service van.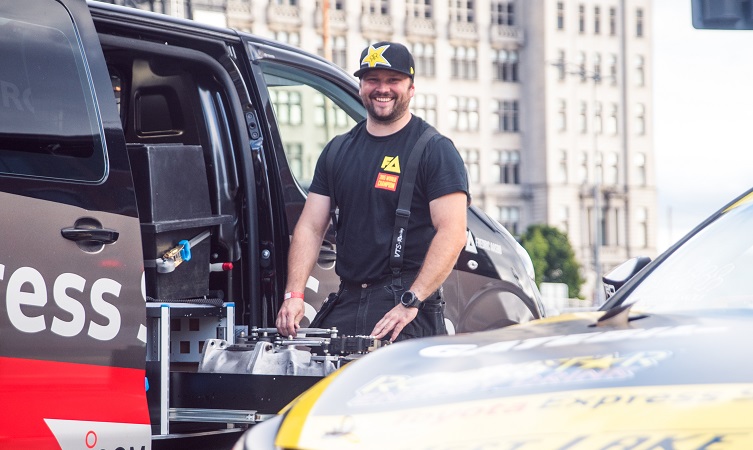 Erik and his Proace are the unsung heroes of Fredric's operation. Together they cover thousands of miles a year towing the 86-X to meets, with Erik making full use of the van's capacity to carry everything needed to maintain the 1,000hp machine during the course of an event. To understand how this successful partnership keeps Aasbø at the top of his game, we collared Erik for a chat during the recent Drift Shifters event.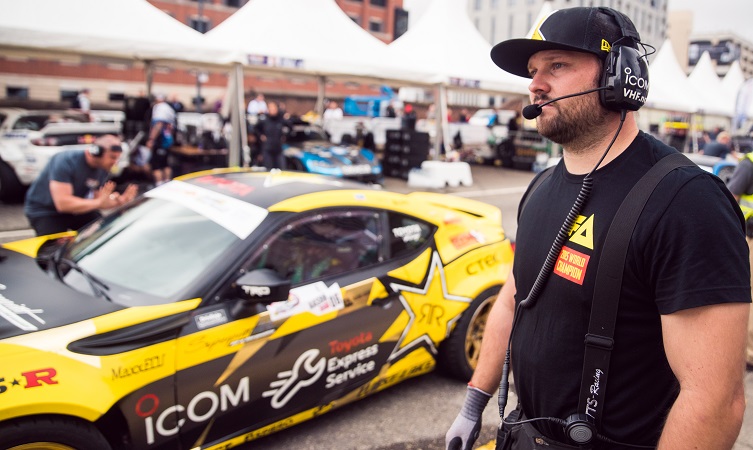 Why did you choose a Proace as your service vehicle?
Erik: "We're an all-Toyota team, so a Proace panel van was the natural choice for carrying all our equipment and for keeping it locked up safe and weather-proof inside. The Hilux has a little more towing capacity, which could be useful sometimes, but as it's an open pick-up it's not as practical for the team."
How long has the team been running Proace models?
Erik: "This will be the third year. For the first two years we ran a first-generation Proace, and then last year we switched to the latest one. It's already racked-up over 21k kilometres and taken us from the very north of Norway through central Europe to here in the UK – the vast majority of that time towing a pretty huge trailer with the 86-X on top. We're using the full towing capacity and are loaded up to the maximum train weight, so the van is always worked pretty hard."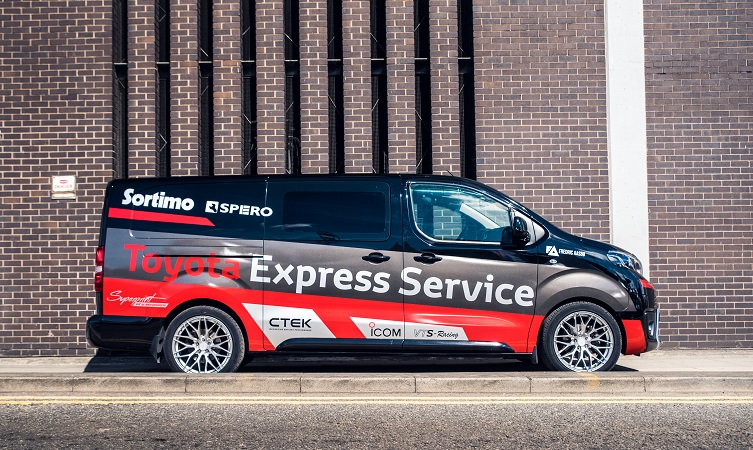 What modifications have you made to the Proace?
Erik: "Outside it wears the race livery designed by Fredric. In fact, in Norway you can have a simplified version of this livery fitted as a special order on new Proace models, so that's pretty cool. Apart from that it only has a set of alloy wheels, Toyota accessory window deflectors and a Toyota towing hitch.
"Inside, the cockpit area is all original, though we have a document stack in place of the middle seat so we can keep all our paperwork together. But in the back is where all the good stuff is. We hooked up with a specialist cargo company to design a custom racking system and a spare parts wall so that everything is secured yet quickly accessible. We have two huge drawers to store a gearbox and replacement differentials, and a double-height, portable box for our tools. This box can be taken out in two separate halves or together and wheeled wherever we need."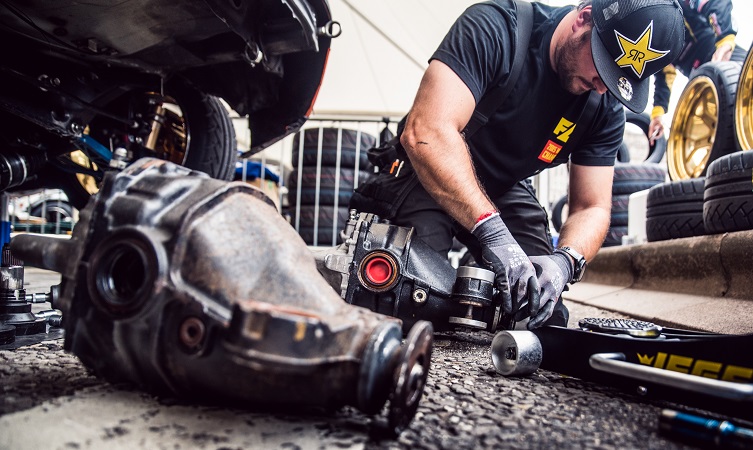 How much equipment can you fit inside the van?
Erik: "Oh, we have a whole car in parts. Right now, we don't have a spare engine in the back, but if we were in Norway we'd have one there as well. And then under the passenger seat we have all the vinyl material and spare decals to repair any damage to the wrap on either the 86 or the Proace. Like I said, we're pushing the limits of what the van is physically allowed to carry."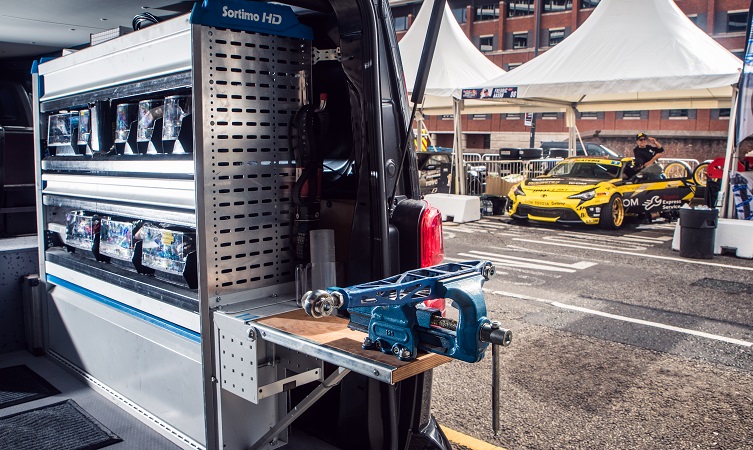 What role does the Proace play on race days?
Erik: "It's our command centre, our HQ. It has everything in it and we've wired up a 230V inverter so we can power an angle grinder or a welder if we need to. With the document table between the front seats, the cab also becomes a meeting room so we have somewhere quiet to talk. If it could hold more weight we'd probably turn the roof into a viewing platform, or something…"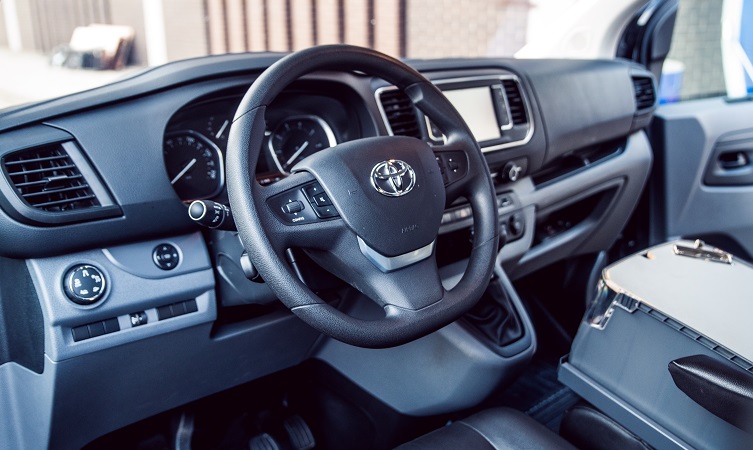 Do you use the van for anything else?
Erik: "We use it as a daily from time to time. The design and layout in the back means that when we're not using it for events, I can easily remove each module and becomes a normal van again. It's got plenty of length and the space to carry at least ten spare wheels and tyres."
Are there any features about the Proace you particularly like?
Erik: "It has to be the layout in the back. When you open the doors it's as well-equipped as a full workshop, yet when you close it all up again it looks as discreet as a normal van."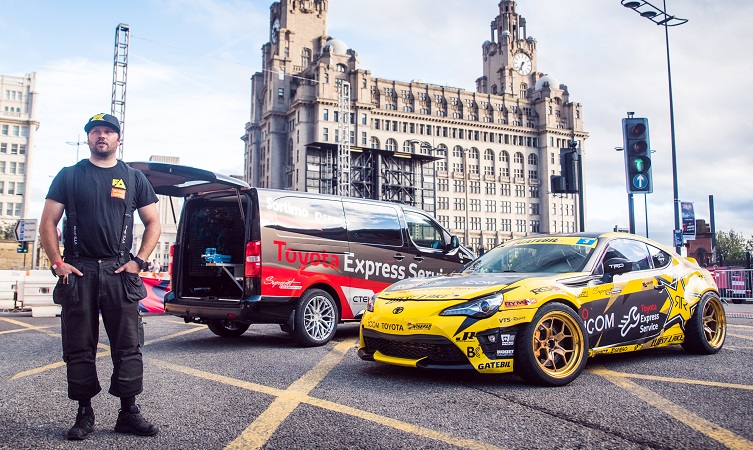 One final question: What would you rather have, your Proace or Fredric's GT86?
Erik: "Oh, that's just mean. I've put so many hours in both of them… and it means I have to choose between practicality and fun. Hang on, if I could take the engine from the 86 and put it in the Proace, then I'll definitely take the Proace. Yes, that's the solution."
Click here to learn about and configure your own super-practical Toyota Proace