There was no funkier vehicle in the Toyota range in the mid-Nineties than the first-gen RAV4. It offered an utterly unique concept that was packed with surprises: compact, sporty on the road, capable off it, and well-equipped. But once the initial launch frenzy had calmed down, the first-gen RAV4 was treated to a handful of even more surprising special editions.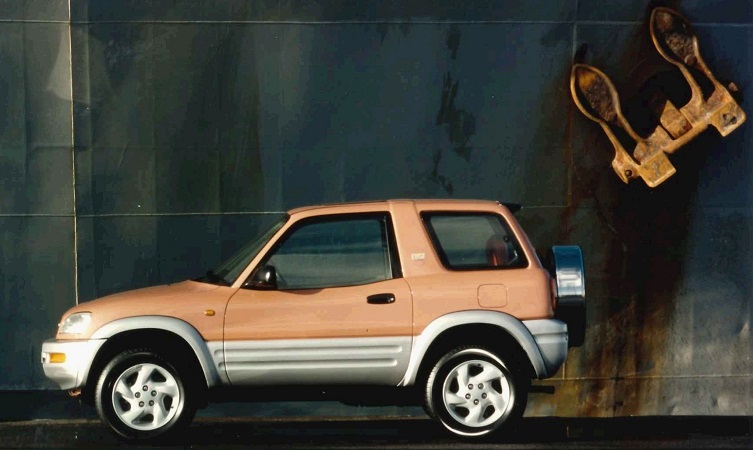 These quirky special editions tempted buyers with extra equipment and jazzy graphics, not to mention bold assertions about what they might do for your lifestyle. We've delved into the Toyota GB archive to re-publish snippets of text, images and graphics taken from the original launch materials of these special editions. Ready to go back to the nineties?
RAV4 Max – July 1996

When the heat's on this summer, the new limited edition RAV4 Max will be scorchingly hot. Based on the best-selling, award-winning compact off-roader, the RAV4 Max hits the road with real attitude and an amazing array of standard equipment.
Standard air conditioning means you can keep cool in the summer heat and control the cabin atmosphere in the winter. The four-speaker stereo system has been upgraded to an impressive Sony CD/tuner. There's a dashboard-mounted Trafficmate system to help you avoid motorway jams. Not to mention electric front windows and mirrors, power steering with tilt adjustment, a glass sunroof with blind and remote central locking.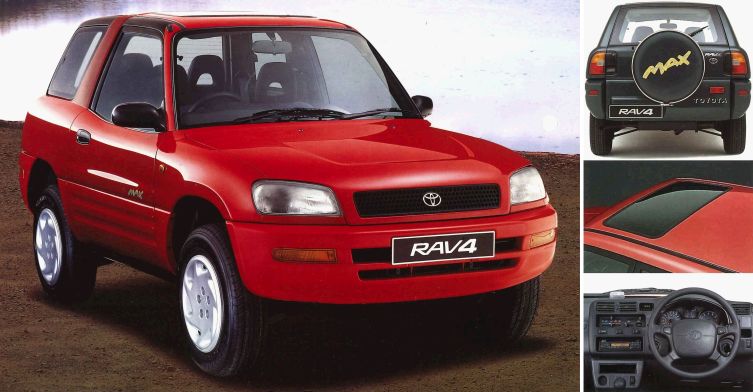 The Max's stunning style is further enhanced by colour-keyed bumpers with side cladding, unique new wheel trims, stainless steel spare wheel cover and, of course, the Max decals. Available in three striking colours – Sunset Red, Forest Green metallic and, unique to the Max, Astral Black.
RAV4 Edge – January 1997

Get the edge on everyone else with this new limited edition RAV4 Edge – the striking compact 4WD off-roader that performs like a hot hatch.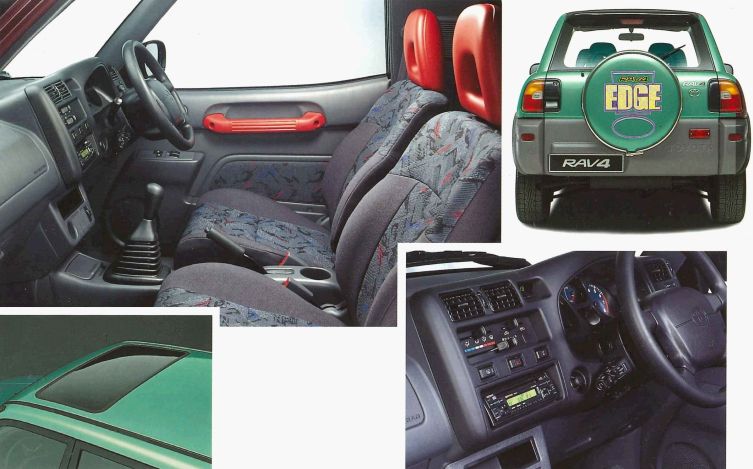 The RAV4 Edge takes this best-selling, award-winning concept even further. It has real street cred with a rear spoiler and chunky, wide alloys, plus a gleaming stainless steel spare wheel cover. All set off by metallic paintwork in a choice of three stunning new colours – Poseidon Green, Coral and Morello – and distinctive badging. The bumpers, side cladding and wheel arch enlargers are painted silver for two of the three exterior colours (Poseidon Green and Coral).

This three-door edition also takes interior style and standard equipment to the limit with features such as a superb Sony CD player/RDS tuner (which can be controlled by a joystick on the steering column), electric front windows and a glass sunroof.
RAV4 Stax – July 1997

Stacks more features, stacks more fun. That's the brand new limited edition RAV4 Stax. This best-selling, award-winning, compact 4WD off-roader is now even cooler, thanks to air conditioning and a superb four-speaker Sony radio/cassette controlled by a handy joystick on the steering column.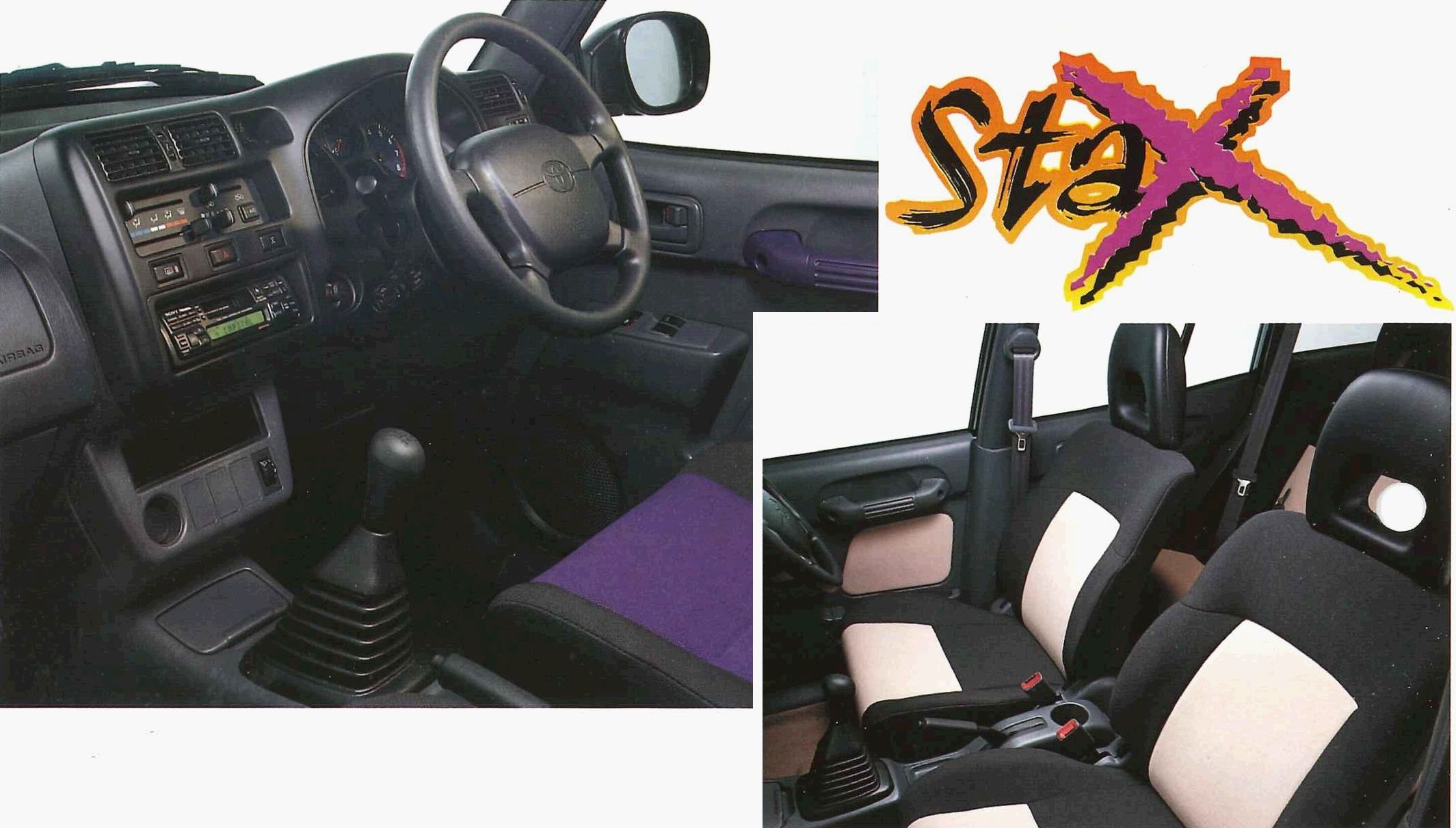 This limited edition looks even more appealing with its stunning metallic paintwork in a choice of three special colours, each with its own colour-coordinating interior. The lively, sporty image is further reinforced by a set of smart alloys.

Meanwhile, thanks to permanent four-wheel drive, central differential lock and generous ground clearance, the RAV4 Stax relishes the kind of off-road terrain that's far beyond the reach of any conventional car. So if you want stacks more from a compact 4WD, make sure you don't miss this limited edition.
Learn more: History of the Toyota RAV4
RAV4 Heat – July 1999
This RAV4 is the ultimate challenge to convention. Self-expression is what matters most and individuality is not negotiable. If you want a vehicle with attitude, the Heat and you were made for each other.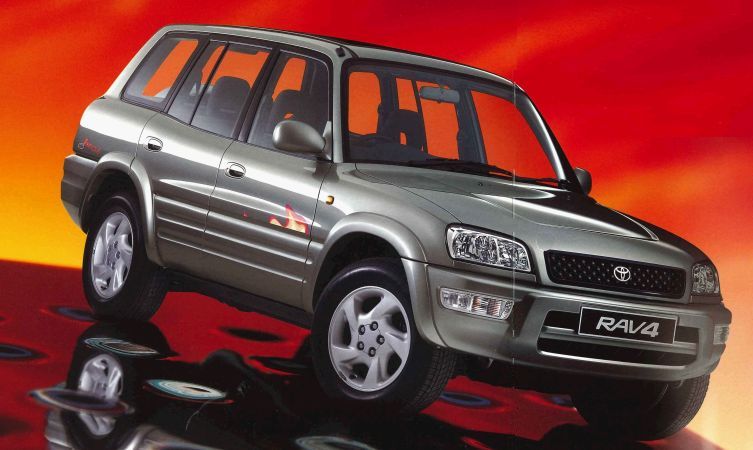 It's a driving experience that's far removed from tin-box-on-wheels technology. The RAV4 Heat is a strictly for kicks 4WD off-roader. But one with on-road performance that gives the same buzz.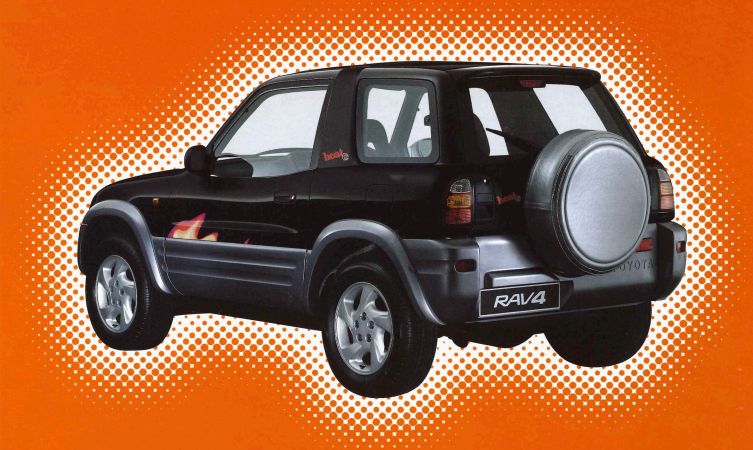 There are special decals, CD player, alloy wheels and a striking choice of exterior paintwork for another chance to make a highly personal statement on wheels. Whatever you decide (three-door in Astral Black, Cool Water or Silver Graphite, and five-door in Astral Black or Silver Graphite), it won't be the colour of convention. The RAV4 Heat – you'll warm to its non-conformity in an age of clones.
RAV4 Giant – July 1999
This RAV4 goes where no 4WD vehicle has gone before. The Giant comes with such high levels of fitted luxury it soon turns casual interest into unbridled enthusiasm.
The stunning shape of this top-of-the-range model makes it love at first sight. You'll find the full body styling package irresistible with its extended wheel arches, front bumper mouldings with integral driving lamps – and flattering rear spoiler. You simply won't want to wait to put its five-spoke 17-inch alloy wheels through their paces. And there's ABS and air conditioning supplied as standard.
The excitement builds as you catch sight of its power-activated sunroof, windows and door mirrors. And you'll just love the thrill of its responsive handling on the road. But when you run out of track, you certainly won't run out of fun. This RAV4 comes complete with a Giant Boulder Shock mountain bike to explore parks, peaks and pastures new. In a world where real choice is shrinking, this 4WD's a true Giant.
That's enough Nineties nostalgia for now. The RAV4 has come a long way since these first-gen RAV4 special editions, but the one thing that hasn't changed is its pioneering attitude. Experience the new RAV4 Hybrid and book a test drive today.