Although the venerable Mk1 Toyota MR2 might seem like an unlikely rallycross challenger, its combination of comparatively light weight, agile handling, a mid-mounted engine and rear-wheel drive means it has plenty of potential in mixed-surface motorsport.
That's the theory to which Tony Lynch subscribes. After more than a decade of success in myriad divisions of the sport, the driver from the north west of England is in the process of developing an MR2 in the OPB Motorsport Retro Rallycross Championship.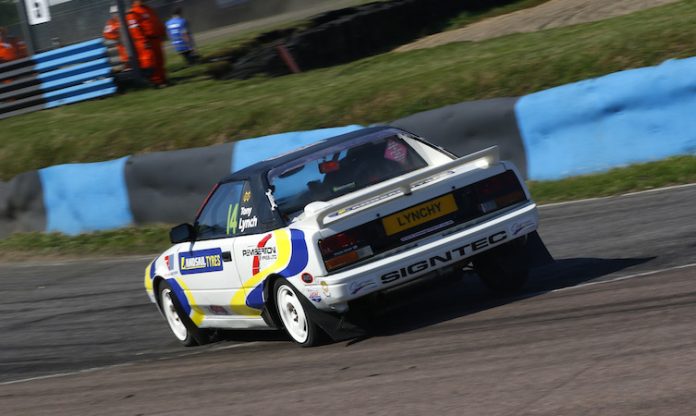 Lynch and his merry band of friends and supporters participate as Team Geriatric, a self-deprecating moniker that reflects the fact that many of the volunteer team members have spent time in hospital with various illnesses but they share a strong desire to remain involved in motorsport.
The MR2 was acquired at the start of the season, with 2019 earmarked as a year of development before a proper assault on the title in 2020. We caught up with Lynch to hear the full story.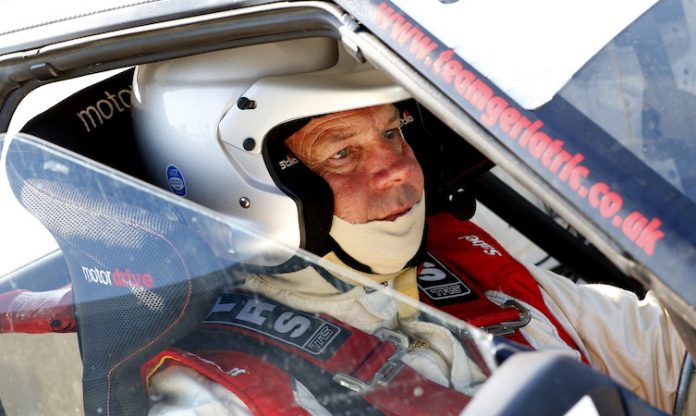 How did you end up competing in Retro Rallycross with a 1985 Toyota MR2?
"I've been competing all through the ranks in rallycross since 2005. I started in Stock Hatch and went all the way through to the Modified class and became champion in that. I have four MSA titles to my name and the next step was either the Supercars class, which was out of my financial reach, or retro rallycross. Even when I was competing in the Modified class, I thought that mid-engined and rear-wheel drive was the way forward for rallycross, so when we decided to make the move into the retro class, we thought the Toyota MR2 was exactly what we wanted."
Your MR2 didn't start life as a rallycross car, did it?
"We saw this car advertised for sale in Scotland as a rally car. We bought it, not knowing what to expect from a mid-engined, rear-wheel-drive car because I had driven front-wheel drive since 2005 when I first went into rallycross. That didn't worry me too much, because when I was much younger I had competed in Mk2 Ford Escorts, so I thought rear-wheel drive wouldn't be too much of an issue."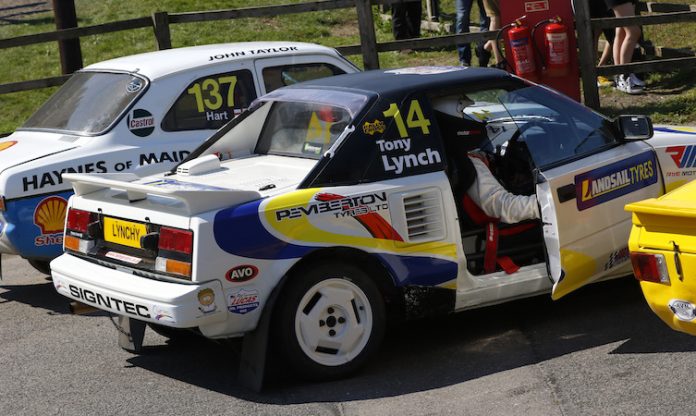 Your first event was at Silverstone in March. How did that go?
"The car was still in rally specification. We did okay and finished third, but that was probably more down to luck than judgement, in as much that I didn't feel particularly quick in the car. However, the prospects were good and I felt comfortable. The suspension needed altering, but the first step was to get rid of some of the weight. A rallycross car doesn't need all the equipment that comes in a rally car, such as a navigator's seat, map-reading kit, extra fire extinguishers and so on. We got rid of all of that and put fibreglass front wings on. We probably saved about 30kg in total.
"Our second event was at Lydden Hill and we got second place. However, we were not on the ultimate pace and I'm such a competitive guy that I realised even with the weight saving, we now needed additional power. So I missed the next round at Pembrey to save finances and we bought a replacement 4A-GE engine from Kevin Gallagher of KGP Motorsport in County Donegal, Ireland."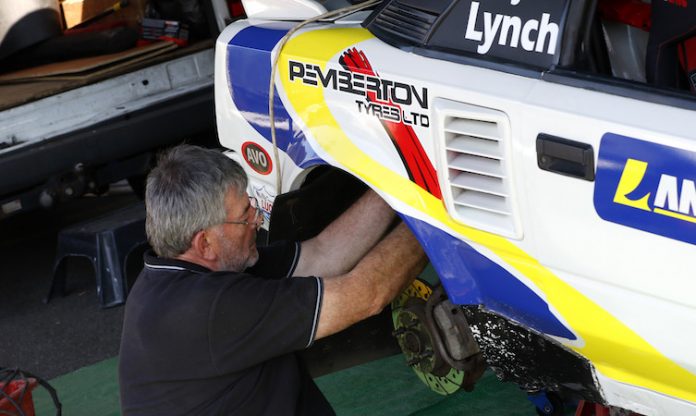 How much difference did the replacement engine make?
"Whereas the old unit produced about 115bhp, which we didn't think was too bad given the age of the car, the new engine produces 209bhp on the dynamometer. It's still a naturally aspirated engine, albeit with throttle bodies on it. Modern electronics are allowed within the Retro Rallycross regulations as long as the engine block is from the correct era, which is pre-1991."
I have to carry the speed but try to control the power slides
"We were also fortunate to get shock absorbers from a sponsor, AVO. They took a pattern off the shocks on the car and produced some new examples.
"We went out with the revamped car at Lydden Hill in August and it felt really good. In the first few meetings of this year, I really had to grab the car by the horns and give it everything I could. Now that it has more power, I have got to carry the speed and momentum but try to control the power slides from the rear.
"It responds well and I have to learn to use the power to full advantage. We were second-fastest at Lydden Hill, but then discovered an oil seal leak and didn't want to risk the new engine, so we withdrew from the meeting."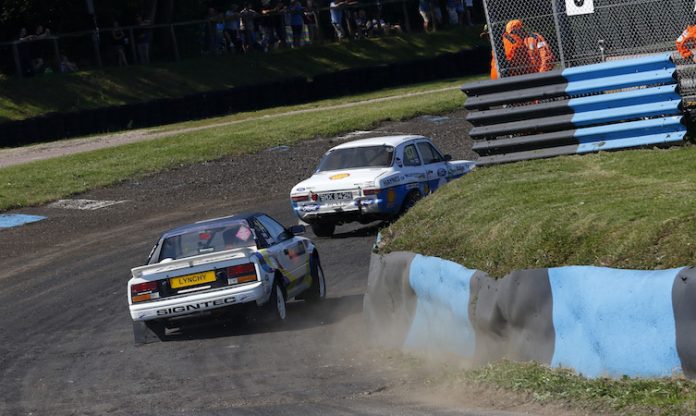 How has the MR2 rallycross car been received by enthusiasts?
"There are MR2 clubs all over the place and people really seem to love the car. We have had more interest in the MR2 than we ever did in the modern cars. It's proving to be a great package. I'm proud to be flying the flag for Toyota; our new livery is a tribute to classic Toyota rally designs.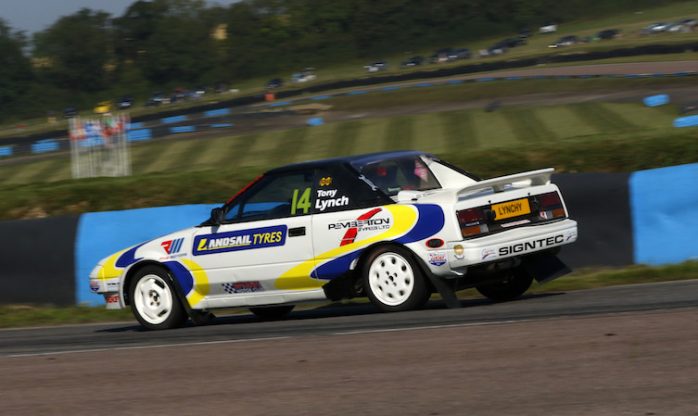 "This year we are trying to develop a package that we feel can win the championship in 2020. In the remaining races of this season I have to prove to my sponsors that I have a car good enough to do that. I truly believe I can get the Toyota to the pinnacle of this category of rallycross."
Catch the Team Geriatric Toyota MR2 rallycross car in action at Pembrey (22 September) and Croft (26/27 October).
Photographs by Hal Ridge.
Toyota People: Koen Beckers, Dutch explorer
Toyota People: Joel Clark, hand-cut vinyl artist
Toyota People: Gemma Wade, young restorer
Toyota People: Gerard and Kieran, dedicated job-for-lifers
Toyota People: Julia Albu, epic adventurer
Toyota People: Fergus McIver, resto-modder
Toyota People: Guy Nicholls, world-class Hilux collector
Toyota People: Warner Lewis, rally's Mr Toyota