Thanks to its TNGA platform, the 2016 Toyota Prius has a lower centre of gravity and greater body rigidity to help deliver a safe and secure driving experience. The proportion of high-tensile steel has been increased to almost one fifth, and the use of high-tech construction methods such as laser screw welding and structural adhesives has increased rigidity by more than 60 per cent.
The increased engagement offered by the car's new generation hybrid powerplant is another important factor in its stronger emotional and performance appeal. But now we would like to examine a handful of further elements that make important contributions to this engaging quality.
Prius: improved real-world performance
The new Prius accelerates from nought to 62mph in 10.6 seconds. Overtaking acceleration from 50 to 75mph can be despatched in just 8.3 seconds and the top speed is 112mph.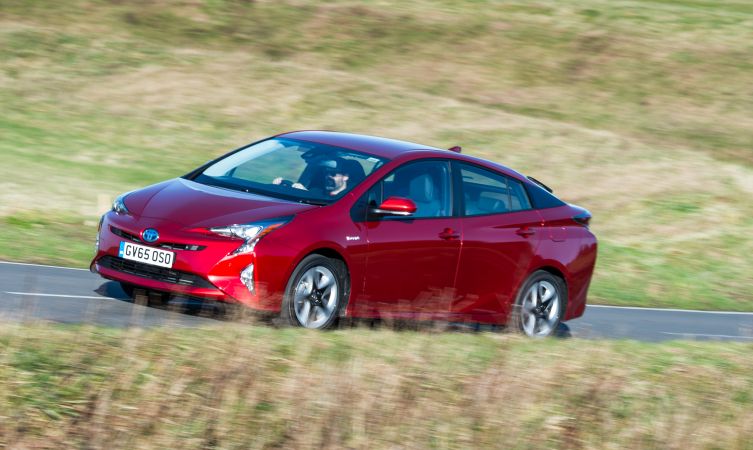 The combined output of the petrol engine and electric motor is 121bhp, which is delivered in a more user-friendly manner by the system allowing a greater draw from its electric resource. Acceleration therefore feels more natural and less 'elastic', with the engine revs building more gradually as the car picks up speed.
Such improvement in day-to-day usability means the fourth-generation Prius is the first to be able to pull a trailer. Its towing capacity (braked and unbraked) is 725kg.
Prius: selectable drive modes
The 2016 Prius maintains the smooth, quiet and refined drive that has characterised previous generations. But that drive can be fine-tuned into three selectable modes – Normal, Eco and Power – to suit prevailing conditions and personal preference. It is also possible to switch to EV mode for short distances.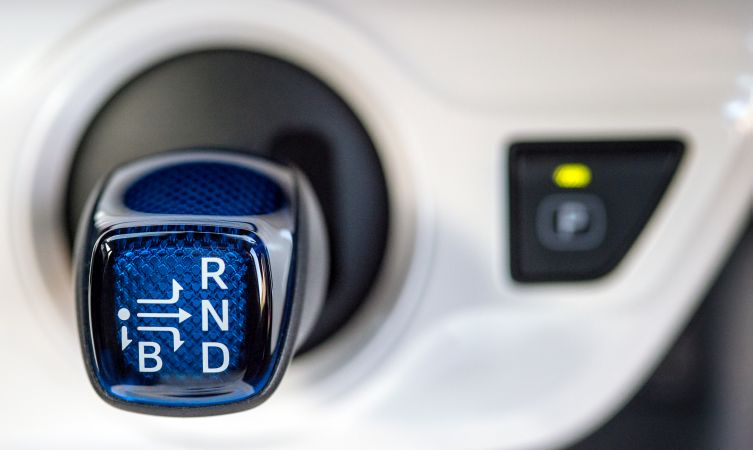 As the name suggests, Normal mode provides a well-judged base line balance between fuel economy and throttle responsiveness. Switching to Eco mode prioritises fuel saving, allowing the vehicle systems to adjust elements such as throttle response and air conditioning performance.
Power mode, on the other hand, gives emphasis to acceleration feel. It also activates an adaptive system that monitors the vehicle's G-forces to understand and respond to the driver's behaviour by making further adjustments to engine braking performance and throttle response.
Prius: improved front suspension
The high-rigidity body of the 2016 Prius provides an ideal platform from which the suspension can work efficiently. A sophisticated development of the MacPherson strut suspension has been implemented on the front end, with a focus on improved steering, handling response, stability and ride comfort.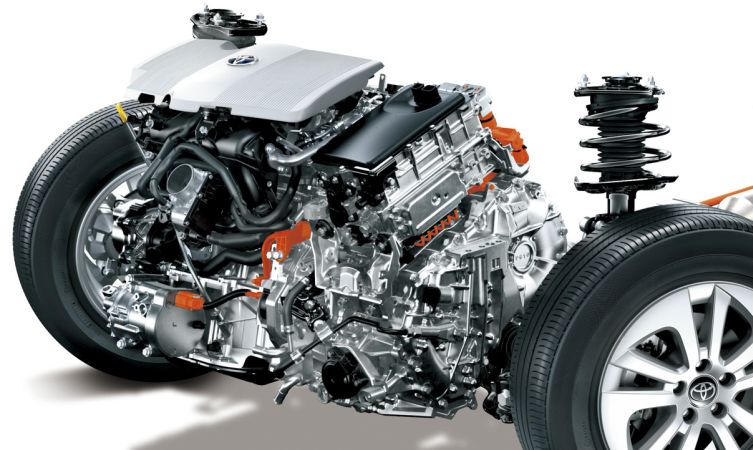 The suspension hardware, geometry and calibration have all been revised. New low-friction shock absorbers contain a new piston valve that generates damping force at very low damper speeds and optimum damping characteristics at higher compression speeds, leading to better body control across all surfaces.
Impact harshness has also been addressed with recalibrated spring rates and spring pre-loading. The front anti-roll bar is mounted on a ball joint to keep uncontrolled body roll to a minimum, while the bushes have a fluorine-resin coating to minimise friction while twisting.
Prius: new double wishbone rear suspension
The outgoing torsion beam rear suspension has been replaced with an all-new double wishbone set-up for higher levels of handling stability and ride comfort, as well as more than 50 per cent improvement in impact shock damping.
Key design features in its hardware and geometry include wide-mounted, forward-angled shock absorbers and compact coil springs. These offer reduced friction for improved ride quality, while their size and position free up more luggage space. As part of a comprehensive under-floor aerodynamic package, special covers have been designed to smooth airflow around the suspension system.
The forward angle of the new shock absorbers and careful tuning of the wheel movement curve combine to reduce vibration and suppress road shock. Meanwhile, the geometry is optimised to control toe change during suspension travel for confidence-building stability.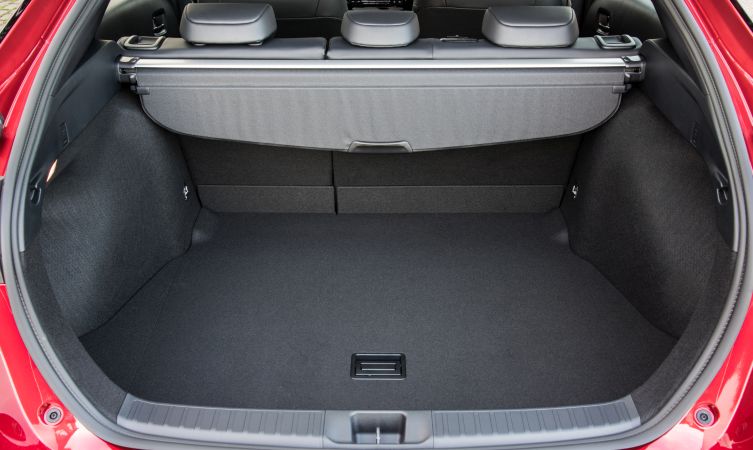 Compared to the outgoing torsion beam design, the new double wishbone system includes an anti-roll bar for a comfortable, 'flat' ride, and features several bushes per side, each of which is tuned for stiffness characteristics in two planes. For example, the trailing arm bushes are larger and calibrated to reduce lateral-force steer while controlling longitudinal force compliance.
The trailing arm mount is also positioned relatively high to optimise suspension travel, with the shock absorber strut and trailing bush mounting angles set to reduce harshness, road shock and stuttering.
Prius: new electric power steering
Changes to the steering hardware and control software combine with the benefits of the car's new platform to improve control and reduce the turning radius (from 5.2 to 5.1m). New, faster steering rack ratios have been applied (13.4:1 for models with 15-inch wheels and 13.6:1 for models with 17-inch wheels), both of which include a new, high-rigidity intermediate shaft for greater feedback and a new, brushless electric motor for extra assistance.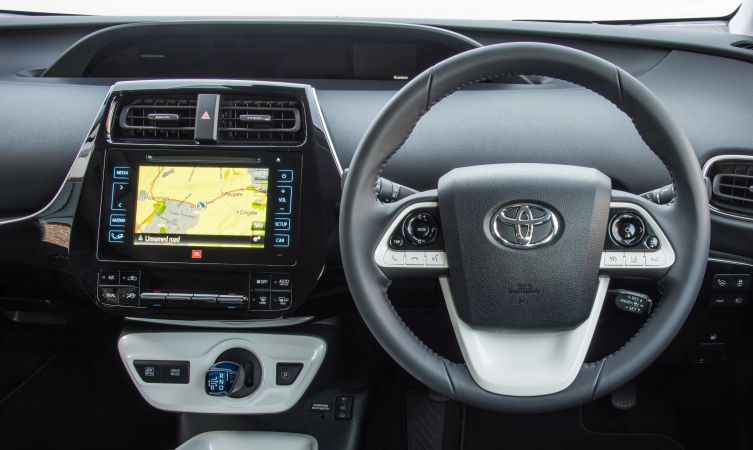 Centring feel has been improved by using an elastic support structure for the worm gear mechanism and new assistance programming. The 'no assistance' area around the straight ahead has been reduced for improved straight-line controllability, and the damping control has been equalised between steering and return phases. At low speeds the control logic generates a lighter feel, while there is a precise feel and quicker response at higher speeds.
Prius: new wheels and tyres
Toyota has developed two new lightweight alloy wheel designs to complement the chassis of the 2016 Prius.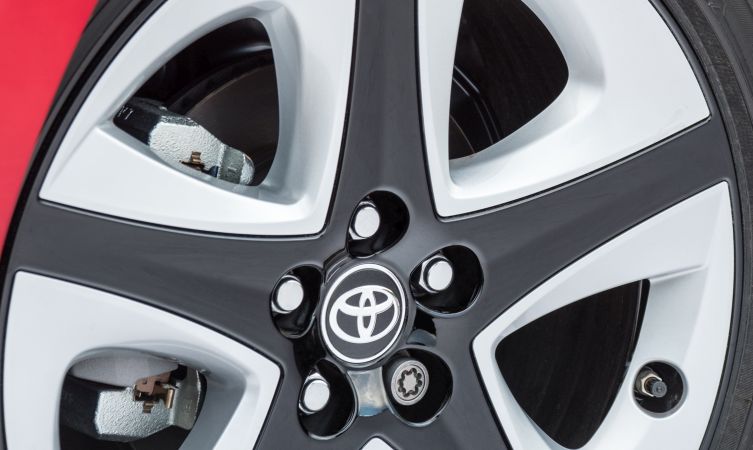 The 15-inch wheel is 30 per cent more rigid and half an inch wider at 6.5 inches, enabling better grip to be gained from the new low rolling resistance tyres. The larger, 17-inch wheels feature new resin ornamentation and are 0.7kg lighter than the outgoing versions, reducing the car's unsprung weight and contributing to better handling and fuel economy. Keen to make savings wherever possible, a kilo has also been shaved off the weight of the temporary spare wheel.
Prius: electronic brake control
The 2016 Prius features a state-of-the-art electronically controlled braking system that balances the requirements of both regenerative and friction braking. It also cooperates with the vehicle's active safety technologies.
The regenerative braking function uses the electric drive motor as a generator, converting kinetic energy created when the vehicle slows down into electricity that can be stored in the hybrid battery.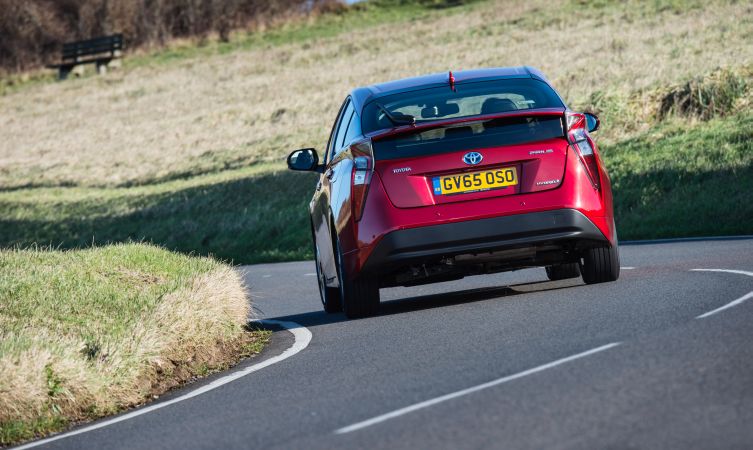 The friction-braking system uses lightweight, floating aluminium front calipers with lightweight resin pistons and ventilated 255x25mm discs. The rear solid discs measure 259x9mm and are also fitted with aluminium calipers.
A new active hydraulic brake booster and new pedal ratio help deliver quiet performance, controllability and improved braking feel. There has been a reduction in the degree of play in the pedal and an extension to the side of the brake pedal to smooth the transition to the accelerator.
Learn more: Why styling and design is a crucial element of the 2016 Prius
Learn more: How much will the new 2016 Prius cost?