The new Toyota AYGO is a compact four-seater city car that's designed to be the perfect urban runaround. This all-new second-generation AYGO, like the first, has been co-developed with the Peugeot 108 and Citroen C1, but in this group, it's the AYGO that really stands out from the crowd thanks to a radical new design and extensive customisation options.
Longer, wider and lower than the car it replaces, the new AYGO is available as a three and five-door model in a choice of three model grades – x, x-play, and x-pression – and three special editions: x-cite, x-pure and x-clusiv. All AYGO models are powered by a 1.0 VVT-i three-cylinder unit with 68bhp and 95Nm of torque – that means a 0-62mph time of 14.2 seconds and a top speed of 99mph, with fuel economy of 69mpg and CO2 emissions as low as 95g/km. Each model is available with a choice of five-speed manual and x-shift automated-manual gearboxes.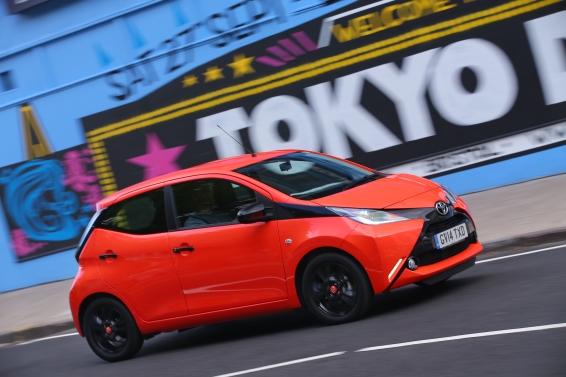 Driving
The new AYGO has always been known for its plucky character, and this new car is no different. It enjoys the same performance as its predecessor even though its even more efficient, meaning you can have the same fun on less fuel. Its three-cylinder 1.0-litre engine loves to rev and fills the interior with a throaty three-cylinder sound. The new AYGO's manual gearbox slots neatly into gear, while the x-shift automated manual is the surprise package – downshifts are accompanied by a sporty blip of the throttle and make it even more fun than the manual to drive fast.
At lower speeds the smooth power steering and tight turning circle make urban driving a doddle, while the car's ride quality is excellent on the motorway or on bumpy B-roads. It's a car with a playful character, yet Toyota has ensured that its overall refinement has increased too.
Comfort
The new AYGO is 8mm wider than its predecessor, and 9mm longer. All of this means more room inside, so the AYGO's interior is more spacious than you'd expect from a car that looks so compact from the outside. There's still space for two in the back, and up front there's an extra 7mm of headroom due to to a smoothly curved double-dome roof and seats mounted 10mm lower.
The extra comfort afforded by its increased interior space is supplemented by the new AYGO's high levels of equipment. All models have electric front windows, with power adjustable door mirrors and air conditioning as standard on all grades except the entry-level AYGO x. Toyota's new x-touch multimedia system (optional on x-play, standard from x-pression upwards) is controlled by a seven-inch touchscreen and incorporates a high-quality DAB radio, MirrorLink capability to seamlessly integrate with your mobile phone and also displays the view from the Rear View Monitoring system (a first in the city car segment).
And for those warmer days when you want to be closer to nature, Toyota has released the x-wave retractable canvas roof on the five-door AYGO x-pression. The roof is a factory-fitted option that is electrically operated, and runs the full length of the car so that even rear seat passengers can enjoy the wind in their hair.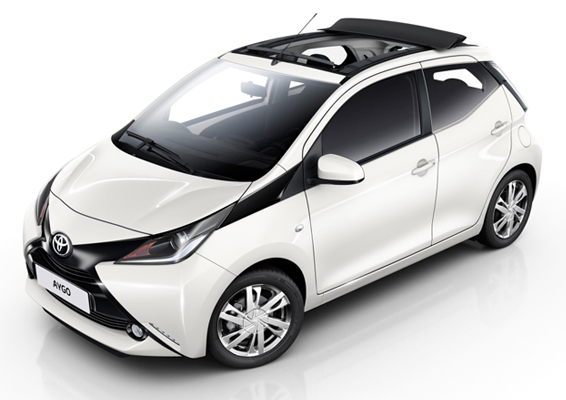 Practicality
You don't buy a city car if you want to carry furniture, but the new AYGO makes the most of its compact dimensions. The boot is 29 litres (about one squashy overnight bag) bigger than its predecessor's at 168 litres – enough for a couple of suitcases or a set of golf clubs with the drivers removed.
There are two cup holders and a useful cubby in the centre console, as well as a good-sized glove box and door bins big enough to hold a 500ml bottle of water. The five-door model clearly makes it even easier for rear passengers to get in and out, without spoiling the AYGO's compact look.
Safety
It comes with a broad range of safety equipment as standard, including anti-lock brakes, curtain airbags, Isofix child seat mounting points, a tyre pressure monitor and a Hill Start Assist function. Additionally, the construction of new AYGO has resulted in a more rigid bodyshell that is therefore safer in front, side and rear collisions.
Running Costs*
Although the 1.0 VVT-i is fundamentally the same award-winning engine as the previous AYGO, it's been thoroughly overhauled for the new model. A higher compression ratio of 11.5:1, a new low-friction timing chain and a cylinder head with built-in exhaust manifold to save weight have all helped to improve efficiency.
Fuel economy and CO2 emissions have improved to 69mpg and 95g/km in the five-speed manual model, while the x-shift auto returns 67.3mpg and 97g/km. As all new AYGO models fall below the current 100g/km threshold for annual road tax, meaning you won't pay a penny.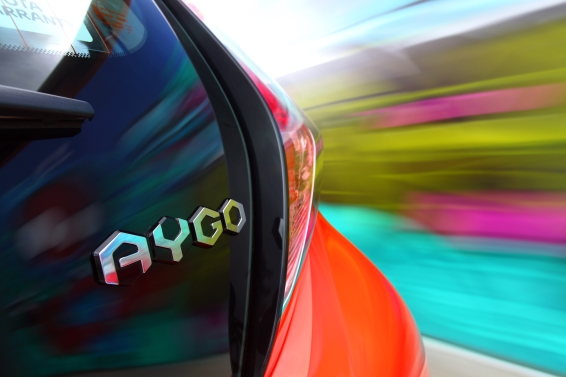 Quality
The Toyota AYGO is built to the same exacting quality standards as all Toyota vehicles, and enjoys the same comprehensive warranty cover. This includes a five-year/100,000 mile mechanical warranty and, regardless of mileage, three years' warranty against rust and paint defects and 12 years' anti-corrosion protection.
The materials used in the new model's interior represent a step-up in quality over the outgoing car, with shiny coloured plastic panels breaking up the darker plastics elsewhere. There's also a feeling of solidity to the way the new AYGO drives that really impresses.
Prices*
The new AYGO starts at £8845 on-the-road for the entry-level three-door manual AYGO x. The three-door manual x-play and x-pression models are priced at £10,095 and £11,245 respectively, with five-door manual models costing just £400 more than the three-door across all grades and editions. Adding the optional x-wave retractable roof costs £895 extra on the five-door AYGO x-pression. The special edition x-cite and x-pure models begin at £11,445, with the x-clusiv from £12,995. Toyota's x-shift automated manual is only available on five-door models from x-play upwards, costing an extra £700. Toyota also offers a range of interior and exterior customisation options, starting from only £165 – speak to your local dealer or download a brochure for more details.
Find out more about the new Toyota AYGO at the designated section of the Toyota website or leave a comment below and we'll contact you to arrange a test drive.
*Prices correct as of 09/03/16
Toyota Aygo review round-up
Some the of the UK's top motoring sites have reviewed the all-new Toyota AYGO. Here is what they had to say.
Autocar 4 stars
To our eyes, the Toyota remains the most distinctive [between Citroen C1, Peugeot 108 and Toyota Aygo]. Bold colours and design touches make a welcome entrance, as does a 7-inch touchscreen on some models.
The handling is crisper and, while the Aygo is not an enthusiast's car, there's fun to be had driving any car this small and agile and whose three-pot motor is so easy to warm to.
There's much to like about the Aygo. Having received a healthy dose of interestingness and objective improvement, this one deserves to do even better.
Auto Express 4 stars
Toyota's Aygo has succeeded in stealing the headlines from its Peugeot 108 and Citroen C1 sister cars with its dramatic design and clever personalisation options, and it's impressive from behind the wheel, too. Although the mechanical package isn't very different from its predecessor, refinement has taken a big step up without losing any of its old playful character – and its loaded with enough technology to keep up with the class leaders. The only question mark is whether the price will be right.
Auto Express Toyota Aygo review
Top Gear
David Terai, chief engineer of the new city car and a man involved with Aygo since 2008, admitted to Top Gear that growing up as a kid, he loved watching the Astroboy cartoon. "As a child, he was a hero of mine," he says. He basically wanted a car version of Astroboy; something simple that's easy to recognise. A CAR VERSION OF ASTROBOY. This is, quite simply, brilliant. The world needs more cartoon-inspired cars. We'd recommend [the Toyota Aygo] on looks and character, and a decent, comfortable drive.
Top Gear Toyota Aygo review
What Car? 3 stars
The Aygo brings a distinctive style and low emissions to the supermini class. We'll have to wait until prices are confirmed, and we've driven the car in the UK in final production form before we can give a definitive verdict, but on this evidence it seems that the Aygo is competitive in most key areas, and lots of fun.
For more information visit Toyota UK website.