The new 2016 Toyota Hilux is like a master tradesperson equipped for almost every eventuality. It arrives with a similar line-up – Active, Icon, Invincible and Invincible X – but with even more generous specification levels.
In view of its popularity as both a trade and leisure vehicle, Toyota has a range of over 100 centre-fit accessories for the Hilux. These have been developed to specialise and personalise the vehicle to individual requirements.
But with such a broad selection available, deciding which accessory boxes to tick can seem daunting. So to ease the decision-making process we have gathered a selection and bundled them into related packs.
Toyota Hilux Accessories
PARKING PACK
Cost: £525
Applicable grades: Active, Icon, Invincible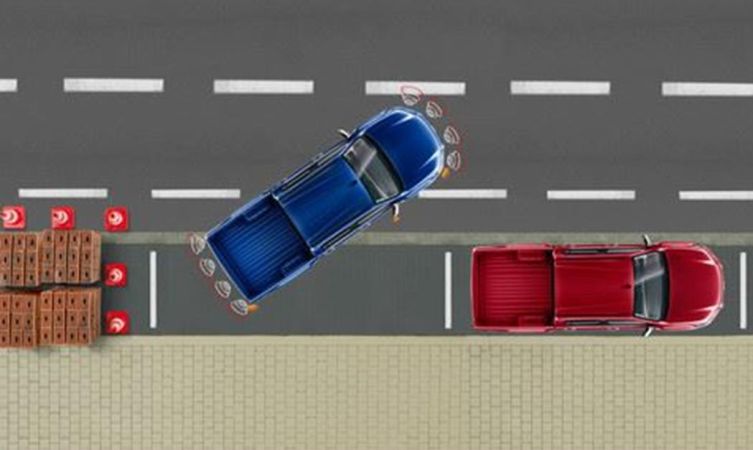 The parking aid system features ultrasonic sensors in the front and rear bumpers. These link to in-cabin alarms that grow progressively louder the closer you get to obstacles. The front and rear alarms have different tones and can be cancelled via a switch if not required, such as when towing.
ALARM SYSTEM
Cost: £360
Applicable grades: Active, Icon, Invincible, Invincible X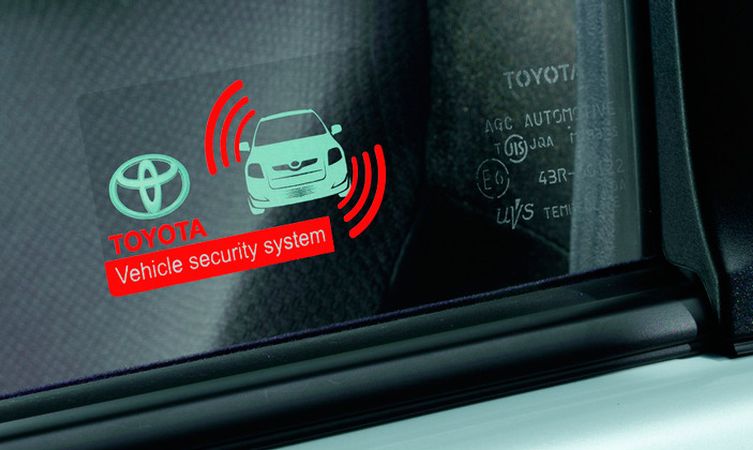 Genuine Toyota security system offers an alarm with a powerful siren to complement the car's standard immobiliser. All doors and bonnet are sensor-protected, and the interior is guarded by ultrasonic intrusion detection technology. An optional incline sensor is also available to warn of attempted wheel theft and towing.
TOUCH 2 WITH GO MULTIMEDIA SYSTEM
Cost: £750
Applicable grades: Icon, Invincible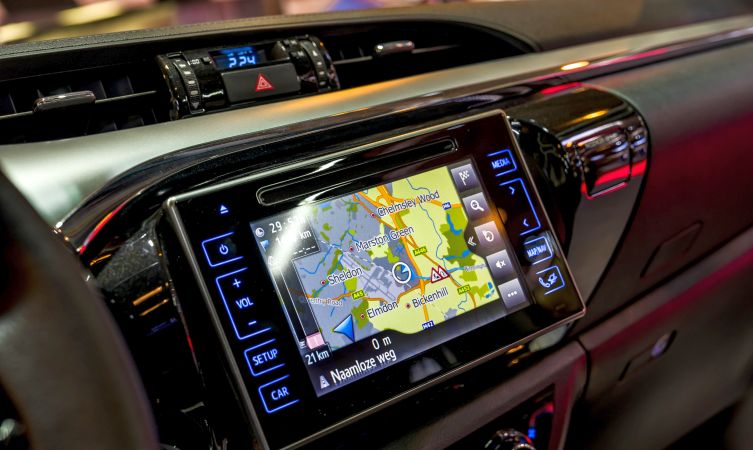 Touch 2 with Go is the latest multimedia package, which adds pan-European navigation to the Toyota Touch 2 audio and information system.
Learn more: New features of the Toyota Touch 2 with Go system
ALLOY WHEELS
Cost: £800-900
Applicable grades: Active, Icon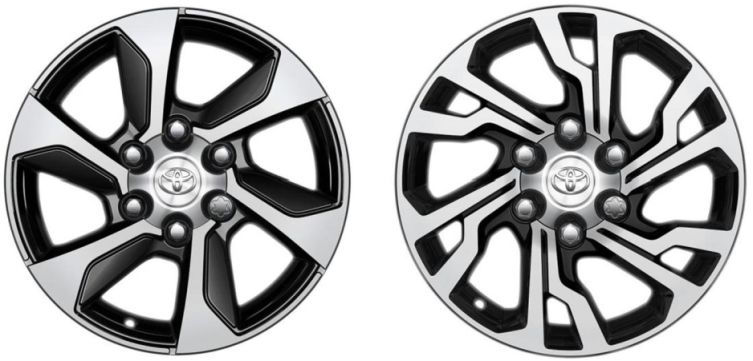 Precision engineered black machined-face alloy wheels which combine strength and durability with optimal balance for assured road-holding. Choice of two designs: 17-inch six bold spoke (left), or 17-inch six double spoke (right). Prices are £800 and £900 respectively.
STYLE PACK
Cost: £700
Applicable grades: Icon, Invincible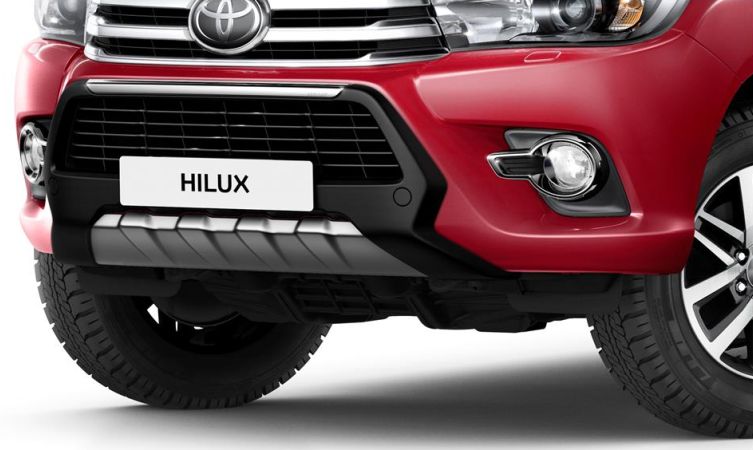 The Style pack brings together a striking front guard and chrome fog lamp surrounds to make the front of the Hilux appear more rugged, along with Hilux (Icon grade) or Invincible (Invincible grade) branded aluminium scuff plates for stylish sill protection.
The above products are available individually and can be paired with chrome door handle garnishes (£95-155), headlamp bezels (£115), front bumper trim (£85 – not compatible with front guard) and rear light bezels (£345).
Protective items such as side cladding (£275), wheel arch protectors (£245) and bonnet deflectors (£120) can enhance the car's appearance, while a range of decals (£70-120) is also available. Please visit your local centre for more details.
TOWING PACK
Cost: £450-600
Applicable grades: Active, Icon, Invincible, Invincible X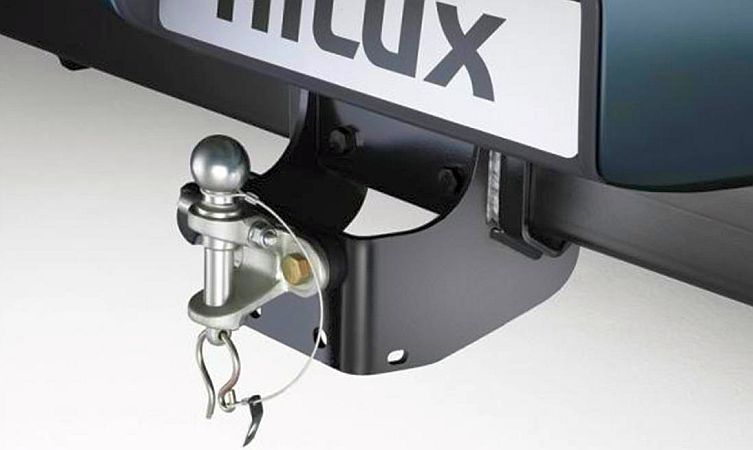 Flanged towing hitches attach to the Hilux body for maximum towing stability and are ideal for small boats, caravans and trailers. Traditional fixed towing hitch and optional ball-and-pin hitches (see image) are available, each with either 7- or 13-pin wiring kit included.
Dedicated 7- or 13-pin wiring kits for Toyota towing hitches are available separately at a cost of £250 or £285 respectively. Tow bar harness adapters are also available at a cost of £10 (13- to 7-pin) and £25 (7- to 13-pin).
INTEGRATED ENTERTAINMENT PACKS
Cost: £750-1,250 (DVD)
Cost: £400-500 (iPad 2)
Cost: £900 (DVD and iPad 2)
Applicable grades: Icon, Invincible, Invincible X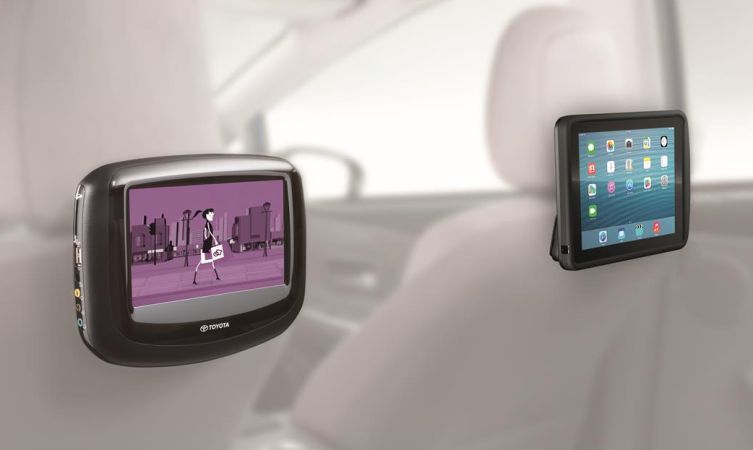 The Toyota integrated entertainment system gives rear passengers access to a choice of entertainment on the move through powered mounts on the back of the front seats. A range of options for DVD and/or iPad 2 media is available.
The dedicated DVD system can be specified in one of three ways – as a single master screen (£750), twin screens running as a master and slave set-up (£995), or twin master screens (£1,250) that can play different movies simultaneously.
The iPad 2 system can be specified with either one (£400) or two (£500) powered mounts (iPad is not included) so rear seat passengers can watch movies or surf the internet.
A combination DVD/iPad 2 system (£895) is also available that pairs a single master DVD player with a single, powered iPad 2 mount.
Toyota also provides a range of unpowered and USB-powered docking stations and tablet mounts. Please visit your local centre for more details.
LEATHER PACK
Cost: £1,800
Applicable grade: Invincible

The stylish and elegant leather interior kit uses top quality leather, coupled with strict manufacturing processes, to give you the assurance of comfort, practicality and long-lasting durability. The kit includes a padded arm rest, heated front seats and handbrake lever cover. It is fully compatible with airbag operation.
Viewed from left to right on the image above, colour options consist of black mechanical, black leisure, dark rose red, dark grey, and beige.
The black leather padded arm rest and leather handbrake lever cover is available separately at a cost of £75 and £135 respectively, while other interior extras such as floor mats (from £58), blue footwell illumination (£220), and a removable cup holder ashtray (£40) is also available.
Fabric cover options are available to protect both front and rear seats, with prices ranging from £277-487.
BED LINING PACKS
Cost: £215-335 (polyethylene)
Cost: £480 (Line-X)
Applicable grades: Active, Icon, Invincible, Invincible X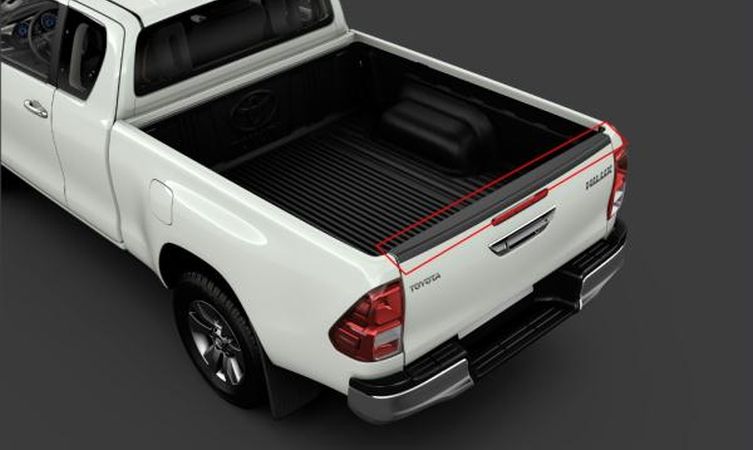 Specially shaped high-density, rigid polyethylene bed liners are available to protect the deck bed, side panels and rails against paintwork scratching. Over-rail bed liners are specified for Single and Extra Cab body styles, and can be joined by an over- or under-rail tailgate liner (£40) for additional protection. Under-rail bed liners are available on Extra and Double Cab models, with rail protection offered through separate rail caps (£140-144).
Unlike a traditional bed liner, the Line-X protective coating is sprayed on to offer an airtight and watertight seal. It is available in both over- and under-rail applications at the same price.
Tough, transparent adhesive film (£95-145) is also available to protect paintwork around the front, side deck and tailgate rails.
SPORT DECK PACKS
Cost: £1,800-2,500 (aluminium roll and lock)
Cost: £2,000-2,300 (hard tonneau cover)
Applicable grades: Icon, Invincible, Invincible X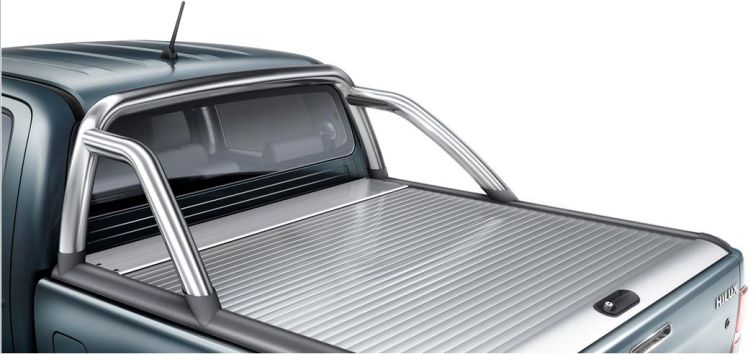 Sport deck packs provide alternative methods and configurations for covering and securing the rear bed of Double Cab models. The two options consist of either a retractable aluminium roll cover (see image above) or a colour-coded and hinged ABS hard tonneau cover.
Having decided on the type of cover, you can choose whether to add a stainless steel high-over bar (also available separately at a cost of £680). Finally, you need to decide between a hard-wearing plastic liner or more permanent Line-X spray-on coating for the bed itself.
Optional deck cross bars (£310) are available to mount or transport items over the aluminium roll cover.
Are there any more accessories available?
Absolutely! This post has concentrated on the primary accessory packs available for the 2016 Toyota Hilux. Many more individual accessories are available, the full details of which can be discussed with your local Toyota centre.
Click the following link to be taken to our dealer locator tool.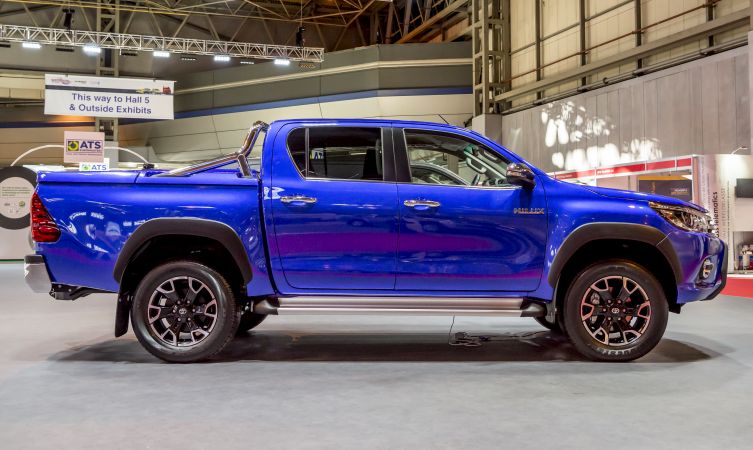 Learn more: Prices and specifications of the 2016 Toyota Hilux