The new Toyota Avensis aims to make things easy for the customer, with new style, new engines and innovative technology. Regardless of version or equipment grade, it is designed to be a prestigious, trustworthy, safe and comfortable companion.
Designed and engineered in Europe and built exclusively in Britain, more than 1,711,800 Avensis across four model generations have appeared on European roads since the original was launched at the end of 1997.
Since then, quality durability and reliability have proved to be among Avensis's strongest suits, reflected in the current model achieving consistently high QDR ratings and achieving the highest score in the J.D. Power Vehicle Ownership Satisfaction Survey in Germany in 2014.
Although Avensis has traditionally appealed to private customers, it is the fleet market that easily commands the largest proportion of sales.
In response to private customers' demands for greater prestige, luxury and elegance, and the desire of user-chooser driver for sportiness, dynamism and a dash of chic, the new 2015 Avensis has been designed to deliver significant improvements in five key areas: –
• Styling: a new, more prestigious and dynamic exterior design with LED lamp technology.
• Sensory quality and comfort: an all-new, more elegant and refined interior, with an emphasis on significantly improved sensory quality, comfort, trim, finishes, colour schemes and NVH.
• Safety: a comprehensive upgrading of safety systems, designed to achieve a five-star Euro NCAP rating. A focus on active safety technology introduces the new Toyota Safety Sense package, provided as standard across the range.
• Equipment and value for money: a new, more clearly differentiated grade structure with class-leading standard equipment levels and advanced technology, such as the Toyota Touch 2 system and an eight-inch multimedia screen.
• Driving pleasure and running costs: two new Euro 6 diesel engines, lower CO2 emissions across the entire range, longer service intervals, lower servicing costs and chassis enhancements to improve ride and handling.
Toyota anticipates that these improvements will not only promote greater loyalty within the model's existing customer base, but will also increase Avensis's appeal to new customers as a genuinely attractive proposition.
See also: 2015 Toyota Avensis price and specs
Avensis design
Both the new Avensis saloon and Touring Sports wagon have a more distinctive and dynamic appearance.
Overall vehicle length has been increased by 40mm and the front there is a strong new interpretation of Toyota's current design language.
The Toyota emblem is set more prominently with a smaller but sharper-styled upper grille. The grille itself has a chrome trim bar which anchors new LED headlamp clusters which incorporate LED daytime running lights, giving new Avensis and individual illumination signature.
The lower grille has been made significantly larger and it encompasses a centre bumper section finished in gloss black. The fog lamp housings have been pushed out to the extremities of the bumper, making the vehicle appear broader.
To the side, a new garnish along the sill creates a strong horizontal emphasis, giving the impression of a lower centre of gravity. The more elegant profile appearance is supported by new 17 and 18-inch alloy wheel designs.
The rear of the vehicle has also been designed to add emphasis to the broad road stance. The rear light clusters use LED light guide technology to create a high-tech lighting signature.
Toyota Avensis interior
One of Toyota's aims in creating the new Avensis was to guarantee comfort and convenience across the range and the elegant, refined interior makes an important contribution to this goal. Sensory quality and NVH have been taken to the next level and the cabin is enhanced by new trim finishes and colour schemes.
The instrument panel is divided into two sections. The sleek, full-width upper element contains an instrument binnacle with tubed tachometer and speedometer dials either side of (on higher grade models) a large, 4.2-inch colour TFT multi-information display. The lower section houses a centre console that is separated from the transmission tunnel and dominated by an eight-inch full colour touchscreen. A redesigned steering wheel and gear lever complete the driver's cockpit.
The feel and operation of all the switchgear have been improved and sensory quality has been further heightened by harmonisation of graphics and symbols and more consistent back-lighting.
Satin chrome highlighting on the instrument binnacle, steering wheel, console switchgear, air vents and gear lever presents a crisper, higher quality appearance.
A new range of more appealing interior finishes is available, including fabric and Alcantara seat upholstery and a new, Dual Ambient colour scheme, with a choice of Terracotta or Light Grey interior finishes (further details in the equipment and value for money section below).
The cabin is further improved with the introduction of a new front seat design, making for more comfortable long-distance travel.
The size of the upper backrest has been increased and the backrest bolsters have been redesigned, giving both extra shoulder support and better lateral holding performance. The seat suspension mat has also been redesigned to improve pressure distribution and reduce long-haul fatigue. The cushion angle has been increased to give better thigh support and the cushion side bolsters have been reshaped to improve lateral holding performance.
NVH levels have been significantly reduced, ensuring that the increase in new Avensis's interior quality is matched by a perceptible decrease in cabin noise.
New and thicker materials provide additional sound absorption and insulation, and seal quantity, thickness and width have been increased throughout the body shell.
The thickness and density of the bonnet insulator and the thickness and size of the of the engine under-cover insulator have been increased. Diesel models further benefit from the addition of an underbody damping sheet. A polyurethane foam over-moulding has been incorporated within the wing protector.
Air conditioning noise has been reduced by integrating the heater's air duct seal lip. Versions fitted with a Skyview panoramic roof gain a damping sheet in the roof lining, while Touring Sports models now feature a dynamic damper within the rear door.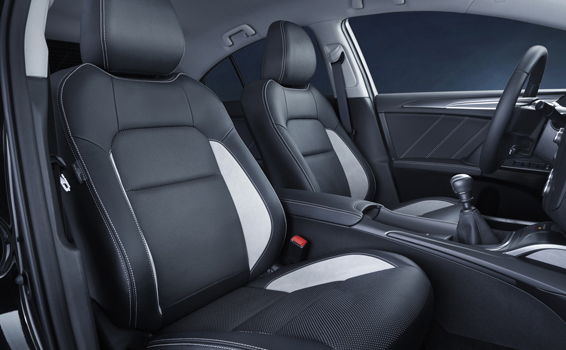 Avensis equipment
New Avensis adopts a clearly differentiated grade structure as part of its mission to appeal to private buyers and to meet the requirements of exacting fleet customers (details of UK grades and specifications will announced later).
The European template is for new entry, mid, mid+ and high grades, delivering higher standard equipment levels with improvements in sensory quality, and advanced technology such as the Toyota Touch 2 range of multimedia systems.
As well as class-leading equipment levels, the mid-grade will be unique in its class in offering Alcantara upholstery as standard and a new Dual Ambient colour scheme giving a choice of Terracotta or Light Grey interior finishes.
Entry grade models come with a black and grey interior colour-way and are equipped as standard with manual air conditioning, cruise control with speed limiter, LED daytime running lights, a radio/CD audio system with Bluetooth and USB port and the Toyota Safety Sense system.
The mid grade showcases the new Dual Ambient colour scheme and builds on the entry-level specification with automatic air conditioning, a 4.2-inch colour TFT multi-information screen, Automatic High Beam and dusk-sensing headlamps, rain-sensing wipers, 17-inch alloy wheels, fog lamps, combination fabric and Alcantara seat upholstery, an enhanced version of the Toyota Safety Sense system and the Toyota Touch 2 multimedia system, incorporating a rear-view camera.
The mid+ grade is tailored specifically to meet the requirements of fleet/business customers, building on the core specification with the addition of LED headlights, LED daytime running lights with light guides, cornering fog lights, rear privacy glass, combination leather and Alcantara upholstery and machined-face 17-inch alloys.
High grade offers customers the most comprehensive range of equipment features, adding to the mid+ grade with smart entry, full-leather upholstery and Toyota Touch 2 with Go Plus, incorporating satellite navigation.
Customers will be able to extend the high grade specification with a premium pack, adding new-design 18-inch wheels, LED headlamps with an Adaptive Front Lighting system, power-adjustable front seats with a memory function and a Skyview panoramic roof.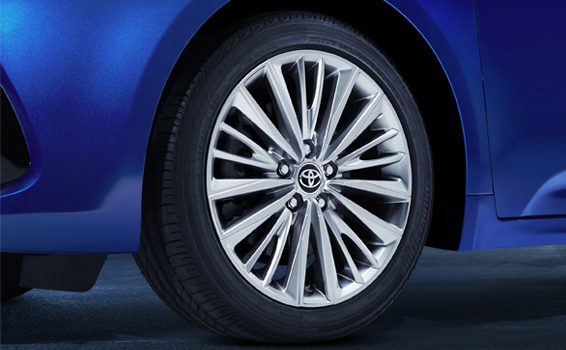 Engines and running costs
Toyota has comprehensively revised the powertrain line-up for new Avensis, building on its reputation for reliability and durability and providing customers with the benefits of lower fuel consumption, emissions and ownership costs.
Avensis diesel engines
The five-strong European engine range features two diesels, both new: a 1.6-litre D-4D and, making its first appearance in a Toyota, a 2.0-litre D-4D unit.
The 1.6 D-4D generates CO2 emissions of just 108g/km*, 11g/km less than the 2.0-litre unit it replaces. The new 2.0-litre engine's 119g/km* represents a 24g/km reduction on the performance of the outgoing 2.2-litre unit.
An increase in service intervals to 20,000km and a reduction of about 20 per cent in the 90,000km/three-year servicing costs for both units have helped make the diesels cheaper to run.
New 1.6 D-4D
In tune with the current move to downsize powerplants to achieve better fuel economy, lower emissions and better driving dynamics, Toyota is replacing Avensis's previous 2.0-litre D-4D diesel engine with a new 1.6 D-4D.
This Euro 6-compliant engine, working with a six-speed manual transmission, is 20kg lighter than its predecessor. It develops 110bhp at 4,00rpm and 270Nm of torque from 1,750 to 2,250rpm. This gives 0 – 62mph acceleration in 11.4 seconds and a top speed of 112mph.
The engine posts an eight per cent improvement in fuel efficiency compared to the previous 2.0 D-4D, with combined cycle fuel consumption of 68.9mpg*; at the same time, CO2 emissions have been reduced from 119 to 108g/km*.
The engine has been tuned for fast throttle response throughout the rev range. It generates good initial response at low rpm, then, as turbo boost develops, a linear build-up of torque. The availability of torque has been extended, so the engine will rev feely beyond 3,000rpm without running out of breath.
New 2.0-litre D-4D
The new Euro 6-compliant 2.0-litre D-4D shares the low fuel consumption and emissions performance of its 1.6-litre sister unit, but it has been tuned for a stronger focus on performance.
The new engine develops a maximum 141bhp at 4,000rpm and a generous 320Nm of torque from 1,750 to 2,500rpm. Its linear torque build-up and willingness to rev gives it particularly strong in-gear responsiveness and acceleration: it will move the car from rest to 62mph in 9.5 seconds and reach a top speed of 124mph.
Numerous developments, including a new timing chain, ensure quiet running at all speeds, and Toyota's stop and start technology, coupled with a tall sixth gear for motorway cruising, help the 2.0 D-4D return average fuel consumption of 62.8mpg* with 119g/km* CO2 emissions.
Avensis Petrol engines
Toyota has also made improvements to the fuel economy and emissions performance of Avensis's established petrol engines: 130bhp 1.6; 145bhp 1.8; and 150bhp 2.0-litre Valvematic units.
Measures taken to reduce fuel consumption include higher compression ratios; optimisation of fuel injection angles and timing; the adoption of Teflon and resin coatings; the use of low-friction materials; and auto-tensioning of the accessory belt.
A further four per cent improvement in fuel economy has been realised through extensive revisions to the Multidrive S continuously variable transmission available with the 1.8 and 2.0-litre engines. These include a new torque converter, continuously variable unit, oil pump, reduction and differential gears, hydraulic control unit and CVT fluid warmer.
The CVT control logic has also been adjusted to reduce engine revving at medium throttle settings, more closely matching engine speed to throttle inputs, like a conventional automatic transmission.
These improvements produce lower fuel consumption across the petrol engine range. The provisional, pre-homologation, figures for the 1.6 manual improve from 43.5 to 46.3mpg; for the 1.8 manual from 43.5 to 47.1mpg; and for the 2.0 Multidrive S from 40.9 to 46.3mpg.
There is a simultaneous improvement in CO2 emissions: in the 1.6 manual these fall by 8g/km to 142g/km; in the 1.8 manual the figure is down 14g/km to 139g/km; and in the 2.0 Multidrive S the reduction is 19g/km to 142g/km (provisional figures).
Improved driving dynamics
The new 2015 Avensis retains the proven MacPherson strut front and double wishbone rear suspension design of its predecessor, but both elements benefit from significant changes to improve ride comfort and handling.
At the front there is a new strut bearing and support, a reduction in the spring rate and an increase in the spring side-load compensation. Damping force has been tuned and, in the case of diesel models, the spring set load has also been retuned.
Similar adjustments have been made to the rear, together with a new piston valve design that gives a perceptible improvement in ride comfort.
Steering feel and responsiveness have been improved by the use of a new intermediate shaft, a change in the diameter of the anti-roll bar and an increase in body shell rigidity through the use of a high-strength urethane to bond the windscreen.
Avensis safety
In anticipation of securing a five-star rating in the Euro NCAP crash test programme, new Avensis takes active safety and driver assistance to new levels with the Toyota Safety Sense system (described fully here). This is fitted as standard across the entire range.
This provides a Pre-Collision System, Lane Departure Alert, Automatic High Beam and Road Sign Assist, functions which process information provide by a compact laser and camera unit mounted on the head of the windscreen.