Virtually every city in the world is a mish-mash of history. London's roots, for example, go back 2000 years and many of the streets still reflect the shape of the city's Medieval era.
Even modern post-war cities such as Tokyo or capitals that emerged in the 20th century such as New York are made up of layers of development which include what were once cutting-edge technologies but are no longer as useful or relevant as they once were.
Lift up the road surfaces and you'll see a dense network of gas and water pipes, electrical and telecom cables, drainage systems. Dig down further and you'll probably find underground rail infrastructure.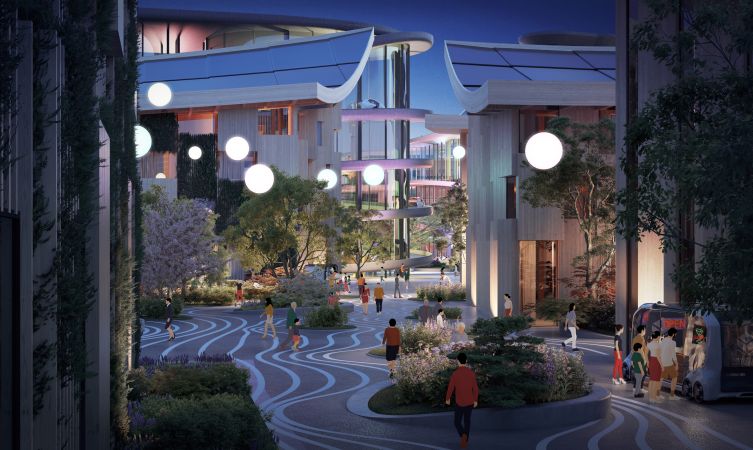 Above ground, buildings are being retro-fitted to become network-friendly and mobile phone masts are bolted randomly on roof tops to speed the radio signals that are now indispensable for modern life.
Moreover, the complexity of safely merging people, cyclists, cars and commercial vehicles has also become increasingly difficult on roadways mapped out as recently as the 1960s.
And another urban planning theory has become very popular. The '15-minute city' harks back to the urban settlements that existed before the Modern Movement, where all the shops and facilities needed on everyday basis are within a 15-minute walk of the resident's home.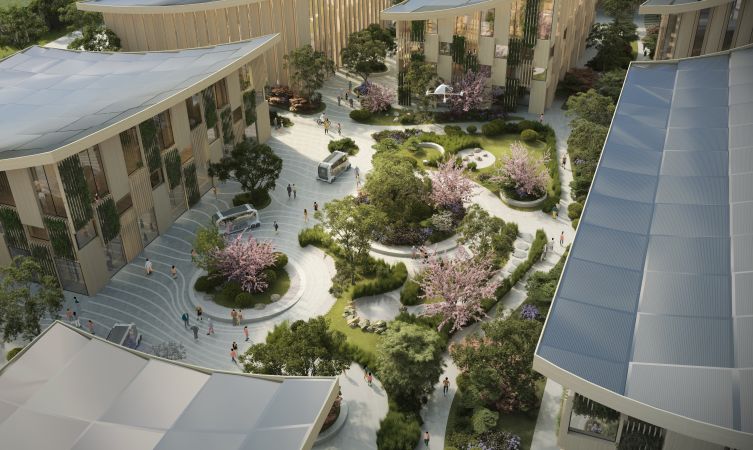 On top of all that, the last 20 years has seen technical shifts unprecedented in human history. The move to decarbonise energy-hungry modern life and the rise of 'big-data' has, arguably, rendered much of what has already been built obsolete.
Even cities built in more recent times could now be seen as outdated because the analogue world and its expensive and complex structure of 'hard connections' may be reaching the end of the line.
In the wake of the growth of megacities – themselves the natural result of businesses and creatives needing to gather together in a pre-big data era – it is Toyota that has decided to experiment with a completely new way of building a city for the future.

Woven City: a connected way of living
Dubbed the 'Woven City', it's a name that's both a nod to Toyota's roots as a manufacturer of looms, but also hints at how the technologies of the future have to be deeply 'woven' into the built fabric of new cities.
This 'fully connected ecosystem' is planned as a 175-acre site at the base of Mount Fuji and its main energy supply will be electricity generated by hydrogen-powered fuel cells, similar to the technology used in Toyota's ground-breaking Mirai car.
Officially, Toyota say the Woven City is envisaged as a 'living laboratory, home to full-time residents and researchers who will be able to test and develop technologies such as autonomy, robotics, personal mobility, smart homes and artificial intelligence in a real-world environment'.
"Building a complete city from the ground up, even on a small scale like this, is a unique opportunity to develop future technologies, including a digital operating system for the city's infrastructure," says Akio Toyoda, president, Toyota Motor Corporation.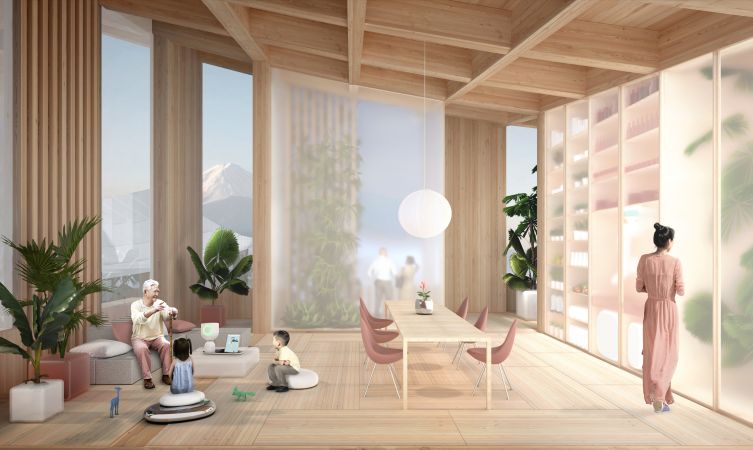 "With people, buildings and vehicles all connected and communicating with each other through data and sensors, we will be able to test connected AI technology… in both the virtual and the physical realms… maximising its potential."
And Woven City is a particularly interesting proposal because it's an automotive company that is leading this project. So, rather than betting everything on a grand scheme developed on paper and screen in two dimensions, as is common in mainstream architectural practice, Toyota is using its automotive experience to build a prototype city as a proof of concept.
This is a prototype that can be used to check assumptions and it can be tweaked to establish the soundness of the theories behind it. When such a radical concept is polished though real-world use, then more and bigger versions of the prototype can be built with minimal risk and with greater success.

Woven City: a design for life
Toyota has hired Danish architect, Bjarke Ingels, founder of Bjarke Ingels Group (BIG) to bring the Woven City to life, with ground-breaking at the Mount Fuji site due in early 2021.
The Woven City philosophy is one that recognises that huge sky-scrapers may be too energy-intensive, complex and wasteful for future living and working. And one that sees how embedded sensors and high-speed connectivity will allow a completely different way of living and working.
To these ends, many of the buildings in Woven City will be built of wood and use ancient Japanese woodworking techniques, but executed by industrial robots. The wooden houses will also use solar panel-covered roofs for powering everyday needs. Vegetation will be closely 'woven' into the buildings and surroundings, maintained by in-built watering systems. Local parks will also be a feature.
But it's the use of hydrogen that is perhaps most intriguing. In effect, hydrogen is a way of storing electricity. It can be made using wind power to 'crack' sea water into hydrogen and oxygen. Unlike connecting a city directly to intermittent wind power and relying on large, expensive and mineral-intensive batteries, hydrogen can be stored easily in a far less expensive way.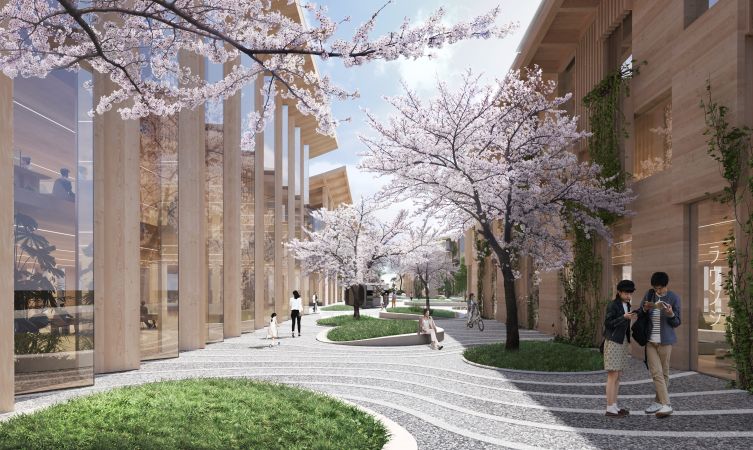 Vehicles and people will be separated on three types of road, with faster-moving traffic kept away from the core of the city. Residents will be transported by zero-emissions, driverless vehicles and deliveries made by Toyota's e-pallet autonomous vehicle, originally designed for the Tokyo Olympics. An interesting twist is that the e-pallet could also be used to transport retailers. Instead of visiting the bakery or bike shop, they will come to you.
And imagine how smart watches of the near future will be able to upload the vital signs of the Woven City citizens to a central medical diagnostic cloud. Approaching medical problems could be monitored via Artificial Intelligence and diagnosis could be done in the background without formal trips to doctors.
Two thousand people will initially occupy Woven City, some of them Toyota employees, some retailers and retired people.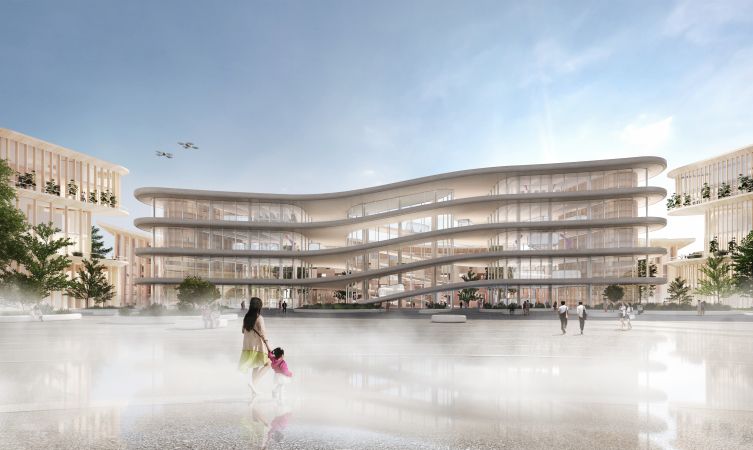 Toyota's project could well establish that the cities of the future will be nothing like cities of today and, perhaps, much more like the villages and small towns of the past. Empathising the local, using low-impact technology and reducing the need to travel. Indeed, the only thing 'big' about cities of the future will be the silent, unseen utilisation and beneficial leverage of 'big data'.
Written by Hilton Holloway