Cars, like music or art, need to be classified. In the same way that there's 'pop' and 'rock', or 'modernist' or 'renaissance', us automotive scribes like to be able to nail a neat moniker onto the cars we drive. Is it a coupe? A supercar? An SUV?
Having witnessed the welcome return of the Supra in its shapely new guise, I couldn't help but wonder what this incarnation would be. A cosseting 'grand tourer' that could eat miles in superb comfort, or a pin-sharp sports car that could clip apexes, and embarrass more expensive machinery on track? Either would be most welcome, of course, but I did wonder just what dynamic talents this couth coupe might possess.
A trip to the fabled Nürburgring would be my chance to find out. A non-stop dash across France, Belgium, Holland and then Germany would reveal whether the GR Supra had any GT chops. Once I got there, two days of non-stop track time at the place where the great and the good of the automotive world go to test, refine and torture their latest creations should reveal whether this young upstart was worthy of its forebear's badge. They're some pretty big shoes to fill, after all.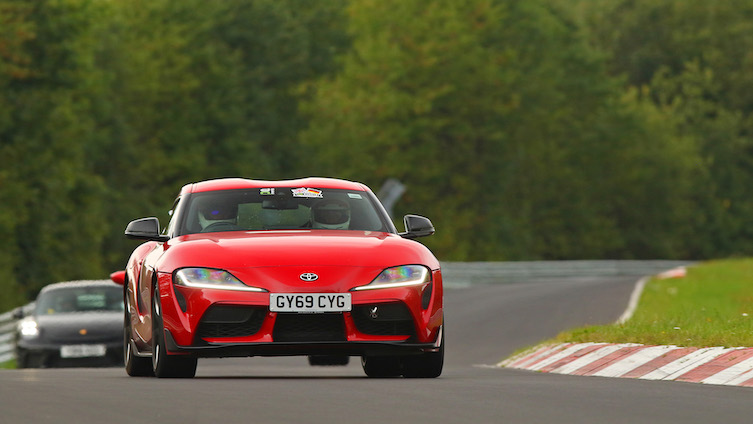 The 'grand tourer' element of the test was further compounded by the Covid-19 situation as it was at the time of my trip in late September. Not having the time to quarantine upon my return, and with all the countries on my route, with the exception of Germany, demanding a 14-day lock-in should I even alight for a second upon their fair soil, I had to think creatively…
The British Embassy in Paris was most helpful. "As long as you don't stop in any country along the way," they explained with suspense worthy of Mission Impossible, "Then you are considered to have only transited through these countries. It doesn't count."
Paraphrased then, the GR Supra would need to dash from Dover to the German border, across three other countries, in one single, unbroken drive… with no fuel stops. Or comfort stops…
Read more: History of the Toyota Supra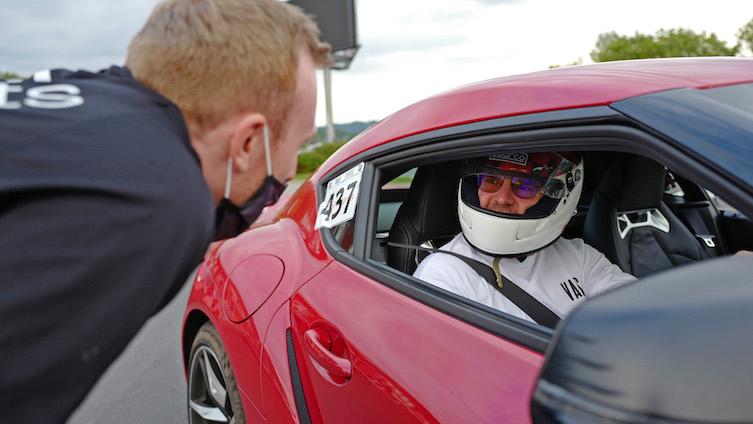 GR Supra track day: getting there
Doing the maths, it appeared that both the GR Supra and I just about had the liquid capacity to do it. I reckoned on at least a 400-mile range from the Toyota's tank, and, if I sipped water gently en route, I could just about make the 6hr 30min journey time without stopping. I'm not ashamed to say, dear reader, that there was a suitable receptacle, should the call of nature prove too strong, but I'm even prouder to say that I didn't need it.
The initial dash was as uneventful as you might hope. On motorways, the GR Supra rides surprisingly well, despite its low slung stance and huge, staggered alloys. As well as a compliant ride and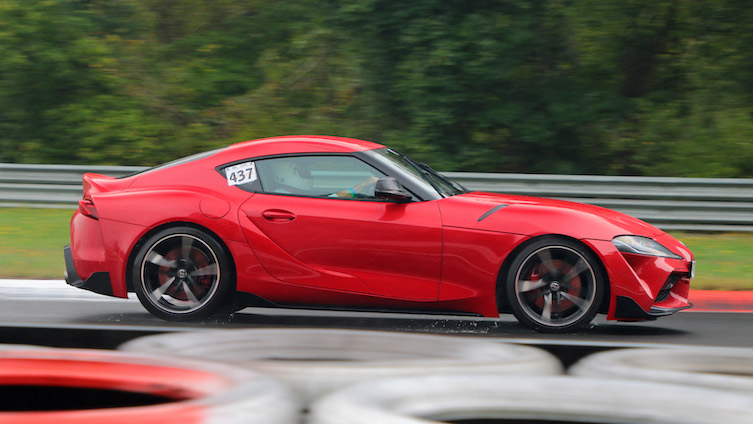 fantastic seating position (even for a lanky 6ft 4in soul like me) the miles disappeared as fast as the speed limits would allow with the frugal lump even returning more than 40mpg at certain points. Climate control and Apple CarPlay made traversing almost half of our continent as easy as a trip to the in-laws. Only perhaps with more fun and better food once I had arrived.
So, the GR Supra is a GT then, I mused as I tucked it up for the night. Excellent. I do love a nice GT. But, that did make me wonder how well it could hold its own on the world's most challenging racing circuit.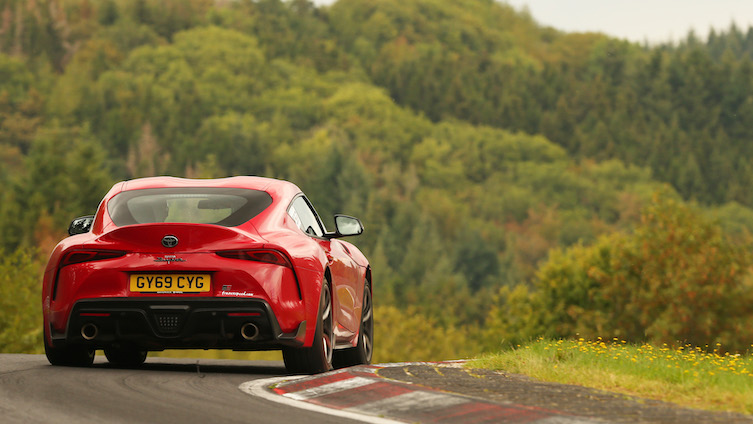 GR Supra track day: at the circuit
Rather well, it turned out, as I completed my first sighting laps the next morning. It may be a GT if you want it to be, but a simple flick of the GR Supra's drive mode switch reveals it to also be the kind of car that you probably wouldn't take home to meet your parents. It's fast, it's agile – and it's a little bit rude, with a quicker steering response, louder exhaust noise and a power delivery that seemed to upset some of those lovely chaps with those nice German sports cars.
The event I was on was the superbly organised Destination Nürburgring track day, which runs in an 'open pitlane' format. What this means in essence is that, should you want to, you can stay out on track, lap after lap, without having to come in for a new ticket as the circuit usually demands. This allows you to remain out on the circuit and bond with your car, learn how it performs on each section, where to brake, where to gas it. It's the quest for a perfect lap that will probably never come, but my word, it's fun trying.
On track, the GR Supra was easily as capable as it was on the road, if not more so, suggesting that it also has the sports car minerals that you'd hope would be handed down from such impressive lineage. After two days of almost non-stop action, it was a simple flick of the switch for the tiger to become a pussycat once again, ready for the equally continentally-continent style dash back.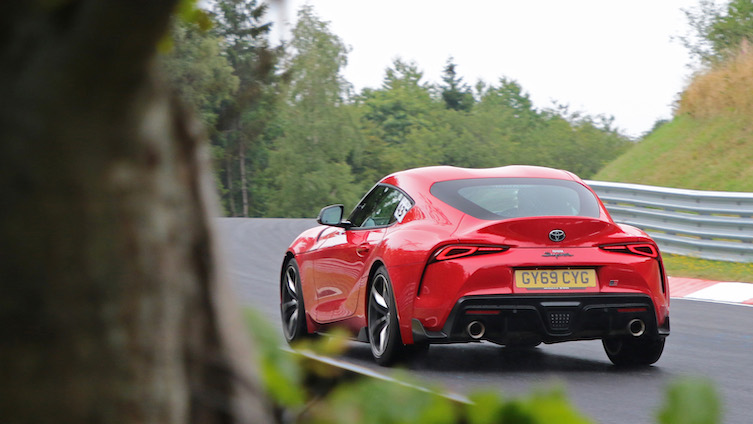 It's that rare thing then, the new GR Supra. It eats miles. It devours tracks. It'll even accommodate the weekly shop, if you ask it nicely. There's a half-decent boot back there behind that killer stereo, after all. So, if you're thinking of one, and your friends asking you whether you're getting a GT or a sports car… just say 'Yes'.
Words by Paul Cowland
Images by Frozenspeed