The Toyota Auris is sponsoring movies on ITV and to celebrate we're giving you the chance to win* a £100 voucher.
All you have to do is join us on Twitter at 1pm tomorrow (July 23) and tweet us your synergistic versions of classic films using #HybridMovies.
Perhaps you'd like to combine animation with screwball comedy and see 'Despicable Me, Myself and Irene', romance and horror in the form of 'Scent of a Woman in Black' or just show us how great you are at wordplay with 'The Good, the Bad and the Coyote Ugly'. Whatever your hybrid movie, send it to us on Twitter tomorrow from 1pm using #HybridMovies to be in with a chance of bagging a summer of cinema.
We'll be retweeting, quoting and favouriting the best submissions to help spread your 'punderful' tweets far and wide.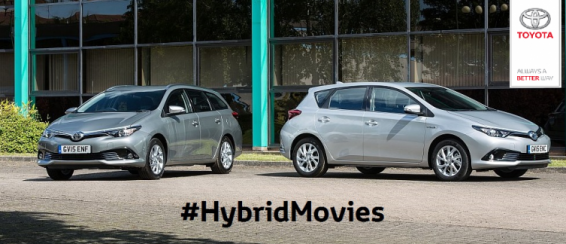 We've chosen the hashtag 'HybridMovies' in recognition of the fact that the Auris is the only car in the small family car class available with a choice of petrol, diesel and full hybrid powertrains.
Hybrid models are exempt from vehicle tax and return up to 80.7mpg combined cycle economy**. Selected models are currently available with 0% finance a £750 deposit contribution***.
Anyway, we're off to watch Birdman of Steel and Full Metal Jackie Brown – see you tomorrow!
Where next?
Follow us on Twitter @ToyotaGB ahead of tomorrow's #HybridMovies event.
Build your Toyota Auris on the designated section of the Toyota UK website. Leave a comment below if you would like to take a test drive and we'll be in touch shortly.
**Figure applies to models fitted with 15-inch alloy wheels.
***Terms and conditions apply.
UPDATE 24/07/15 – This competition is now closed.