For more than three years, the hard-working Toyota Hilux has been aiding West Midlands Fire Service (WMFS) as a Brigade Response Vehicle (BRV), a valuable asset to the fire service due to the Toyota's dependability, load-carrying capability and rugged off-road ability.
The fire service, which provides a fire and rescue response to more than 2.7 million people across an area of 350 square miles, has a compelling need for reliable, robust and excellent off-road vehicles like the Hilux Invincible.
Being smaller than a normal fire engine, the Hilux can provide faster response times through traffic to reach incidents, and its legendary all-wheel drive performance gives the firefighters better access to remote locations.
After a thorough evaluation of the different vehicle options, West Midlands Fire Service decided upon the Hilux as its impressive 3.5-tonne load-carrying capacity allows it to carry all the equipment necessary to cover a range of incidents, including the large hydraulic 'jaws of life' so often used to save lives during road traffic accidents.
"With the equipment we can carry, we can deal effectively with most incidents the same as a larger fire engine," explains West Midlands Fire Service crew commander Paul Martin.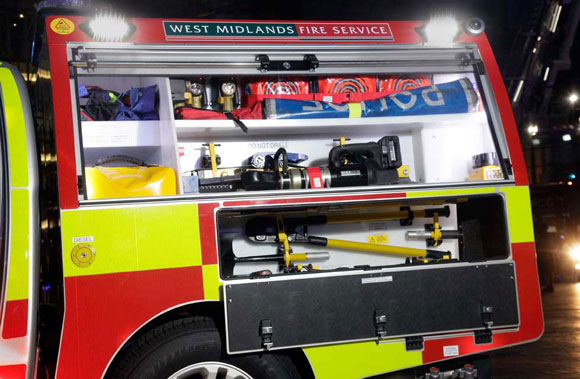 With years of service under their tyres already, the Hilux BRVs have proven themselves to be valuable members of the team, reliably coming to the rescue of people in the West Midlands several times every day.
Discover how you can benefit from the same dependable service by visiting the dedicated Hilux section of the Toyota website.
See also:
Toyota Stories: Bob Bacon's 30-year old Toyota Hilux
Toyota Stories: Imerys and the Toyota Hilux
History of the Toyota Hilux
Have you got a Toyota story?
We'd love to hear your Toyota stories, so please contact us by leaving a comment below or contacting us on our social media channels and we'll be in touch!
Details correct at the time of publication.