Mario is a street sketch artist working aside Montmartre in Paris. It's a place where a combination of renowned and emerging artists peddle their creative wares and Mario has been doing just that for 15 years. Myself and photographer Jayson have just been offered a self-portrait each but we politely decline and instead ask him to sketch something else entirely – a Toyota Yaris Hybrid.
We're here in Paris to see how well suited the Yaris Hybrid is to congested and often stressful city driving.
Our reason for choosing Paris as the setting for our investigation is not a random one, nor is it solely due to the fact that Yaris and Paris rhyme – though we do quite like the fact that they do. We're here because the car is built on French soil, at the Toyota Motor Manufacturing France factory in Onnaing, four miles from the city of Valenciennes in Northern France.
Looking around, Paris seems to have taken the Yaris Hybrid to heart. The sheer volume of the fuel-sipping superminis that Jayson and I keep spotting around the French capital mean that a Yaris Hybrid version of the game Punch Buggy quickly has to be abandoned as we develop bruised arms.
It's a similar story across Europe. Last year, Yaris and Yaris Hybrid sales were so strong that Toyota Manufacturing France introduced a third shift. Doing so enabled the factory to increase its annual production output by 15 percent to 225,404 units.
Mario's black and white sketch is nearing completion. Pulling out a pastel from his coat pocket, he comments: "I have a blue pastel for the badge. I know you said that you wanted black and white but I think this part is important to highlight because it's a hybrid."
He's right. The fact that our Yaris is a hybrid is important – especially in Paris – where in December, it was announced that the city's mayor Anne Hildalgo, wishes to enforce a blanket ban on the dirtiest diesel vehicles in the city by 2020 as part of radical plans to reduce air pollution.
And its a similar story in London, where the European Commission has launched a legal challenge to the government for failing to deal with the issue of air pollution.
With Mario's sketch complete, we head out onto the crowded roads of Paris, where it's hard not be appreciative of the pint-sized hybrid's attributes. The low speed ride is silent while new soundproofing measures were introduced as part of a July 2014 refresh.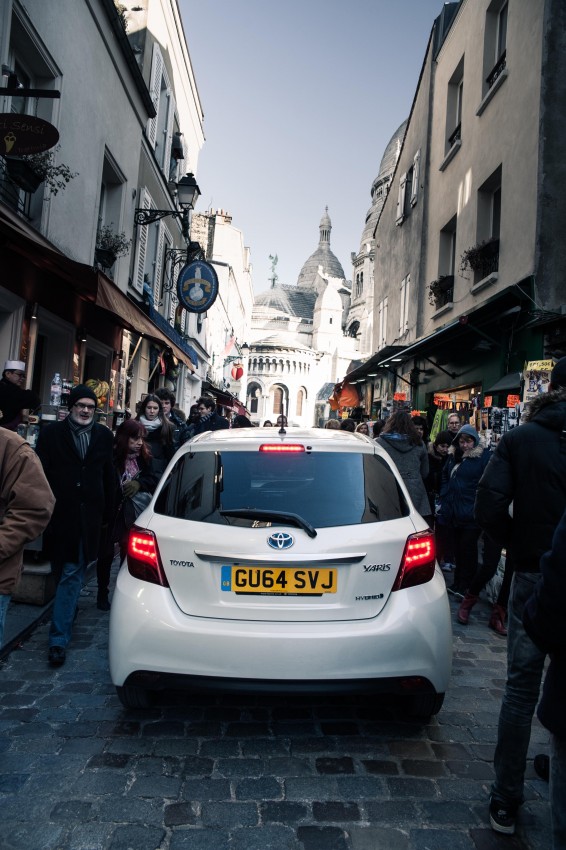 As we move along, the continuously variable transmission (CVT) alleviates the need to worry about maintaining clutch control, allowing us to concentrate solely on which lane is which and which traffic light corresponds to which junction – both difficult tasks when it's rush hour and one is driving on the 'wrong' side of the road.
Size is on the Yaris' side too. The car's compact dimensions – it is 3,950mm long and 1,695mm wide – mean it is ever-so-slightly shorter and narrower than the Ford Fiesta and Volkswagen Polo, so weaving through packed Parisian back streets is a doddle. Despite being shorter than the aforementioned rivals, the Yaris has a longer wheelbase, maximizing cabin space.
Having navigated our way through Paris' slender cobbled side streets, a croque-monsieur-based pit stop was in order. Through the dusty neoclassical window of an artisan bistro, we couldn't help but admire our Arctic Pearl Yaris. Last year's revisions included a significant visual overhaul, which is most pronounced at the front where a new X-shaped grille bestows a chic look upon the car.
Our lunch break gave us time to reflect on our tour of Paris thus far. The shoot had piqued the interests of tourists and locals alike. A Greek student approached us to ask whether he would be able to take photos of the car, while Toyota-driving taxi drivers offered up location tips to us. Everyone seemed interested or wanted to help in some way or another, which added piquancy to our Parisian escapade.
Brimmed with coffee and croques, we climbed aboard our Yaris once again, this time hoping to take what Jayson calls 'the money shot' – the car in the centre of the Eiffel Tower.
On our way, we stop at The Basilica of the Sacred Heart of Paris – commonly referred to as Sacré-Cœur. Construction of the Sacré-Cœur began in 1875 after France was partially occupied by German troops. French governors and militants attributed France's wartime defeat to an absence of spirituality in the country at the time and consequently, the building of Sacré-Cœur was decreed to be in the public interest. In 1873 Cardinal Guibert, Archbishop of Paris, requested that parliament make land available for its construction. Consecration finally took place in 1919.
It's difficult to comprehend how challenging the construction of Sacré-Cœur would have been. Pits 33 metres deep had to be dug using manually operated machinery, which were then filled in with sediment to form the building's supporting pillars.
Similarly, developing the Yaris Hybrid proved to be a real challenge for Toyota engineers. In order to accommodate the hybrid system and maintain the same 286 litre load space as petrol and diesel Yaris models, Toyota Motor Corporation in Japan had to redesign the rear seats and develop a new, smaller fuel tank. Doing so created space for the battery beneath the rear seats.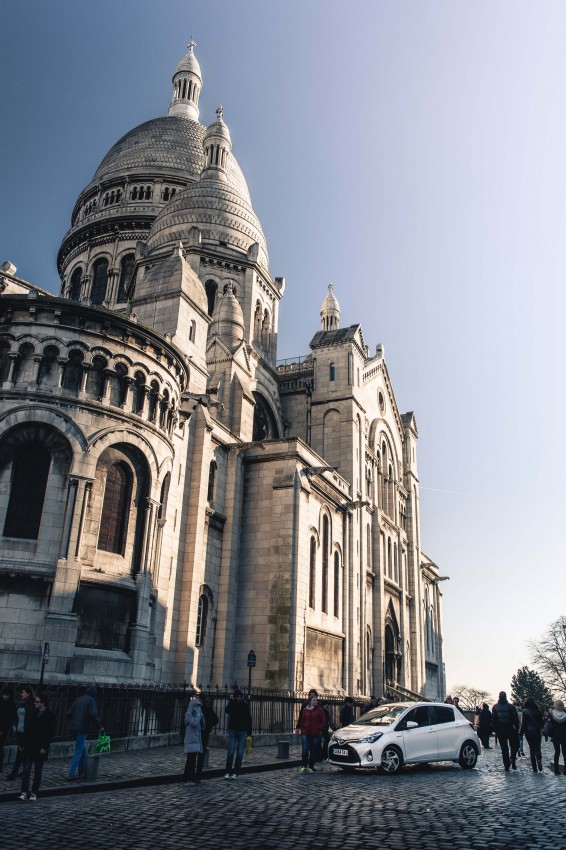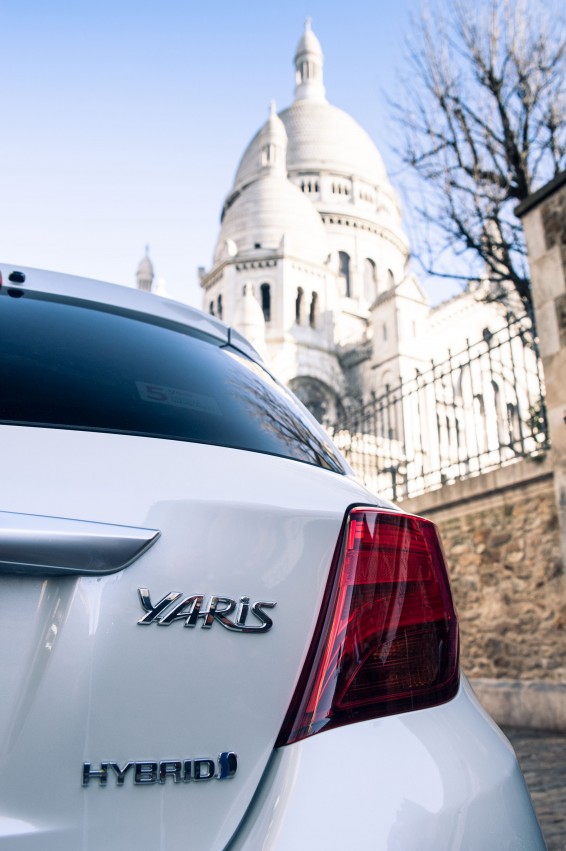 Our time in Paris is drawing to a close and we still haven't had a chance to visit the Eiffel Tower and capture that elusive shot that we've been lusting after for the past 12 hours. With our Eurotunnel crossing time drawing ever closer, we're in something of a rush to get to the tower now. Fortunately, our Yaris Hybrid is no slouch. Its 1.5-litre Atkinson Cycle petrol engine and electric motor have a total power output of 98bhp and the car pulls away eagerly thanks to the instantaneous torque that the electric motor provides.
Once the Atkinson Cycle petrol engine takes over, the Yaris Hybrid's inherent nippiness continues. In an Atkinson Cycle engine, the inlet valves close later than in a traditional Otto cycle unit, delaying compression. Doing so helps convert combustion energy to engine power more effectively, bestowing an added sense of urgency upon the car.
Arriving at the Eiffel Tower, we have to move quickly to get our picture postcard shot of the car nestled between the iconic landmark's arches. As Jayson sets up the shot, I ponder the question upon which our entire trip rests – how well equipped is the Yaris Hybrid to city driving?
In a word, very. Being able to creep along silently in EV mode, not having to worry about shifting up and down through the gears in stop/start traffic, and most importantly, seeing the trip computer record 70+ mpg make the car a compelling proposition for commuters, urban dwellers and fleets alike. The fact that it looks good counts in the car's favour too.
As for that shot? Suffice to say we got it. See for yourself below.