If you love to stay on top of exactly which tracks and artists are heading for the big time, you'll already know that Aygo sponsors VVV by Vevo. We're pleased to reveal that today, VVV gets better, and funnier, than ever with Music Videos in Real Life.
Featuring VVV hosts Yasmin Evans, Maya Jama and Phil Taggart Music Videos in Real Life is a new series that sees the team bring the gloss and anything goes-lifestyle shown in Vevo's top music videos to a more realistic level. Or at least try to.
Vevo #MVIRL episode 6: One Direction
Here it is – the big one! MVIRL takes on One Direction's 'Night Changes' for the sixth episode. Yasmin Evans is given the enviable task of dating Zayn Malik, Harry Styles and Niall Horgan, with mixed results.
Vevo #MVIRL episode 5: Jonas Blue feat. Dakota
Riding dirt bikes and beautiful white horses in a sun-dappled desert? Not if Music Videos in Real Life has anything to do with it.
A donkey and mountain biking on a drizzly beach  – much more realistic. Yasmin plays all the roles this week in the MVIRL take on Jonas Blue's Fast Car featuring Dakota.
Vevo #MVIRL episode 4: Duke Dumont feat. Jack Jones
No Maya? No Yasmin? No problem. Phil Taggart is flying solo this week and re-living the exotic locations and amazing beach parties seen in the video for 'I Got U' by Duke Dumont featuring Jack Jones.
Vevo #MVIRL episode 3: Calvin Harris
This week's new episode see Maya and Yasmin head to the track while Phil plays the mystery man as they recreate the video to 'Summer' by Calvin Harris.
Vevo #MVIRL episode 2: Sigala
Episode two sees the trio try their hands (or should that be feet?) at rollerskating, as they recreate Sigala's 'Sweet Lovin' featuring Bryn Christopher.
Vevo #MVIRL episode 1: Avicii
Watch the first episode below to see the pair relive the adventure and spirit of 'The Nights' by Avicii on the streets of central London.
Stay tuned for more Music Videos in Real Life from Vevo over the coming weeks – and keep your eyes peeled for some very special competitions too!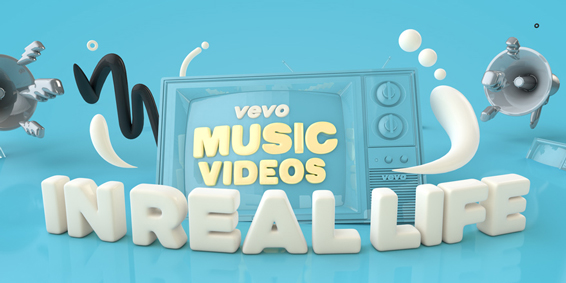 VVV Music Videos in Real Life
It all started with Vevo's first real life music video, in which Maya and Yasmin re-lived the video to Afrojack's 'SummerThing' at a London petrol station. Watch it below to see why trying to bring the video's sunshine, dancing, posing and ice cream to the UK had decidedly mixed results…
You can find out all you need to know about the Toyota Aygo by clicking here.
See more on Vevo VVV sponsored by Aygo here, or go straight to the VVV show playlist on Vevo here.