Lost car keys are no reason to panic.
Although losing your car key is always inconvenient, it doesn't have to be the end of the world – and your Toyota dealer can certainly help. Read on for our advice on what to do if your car keys go walkabout.
Situation: I've lost one of my car keys
Don't worry. If you have another key your Toyota dealer can supply a new one for you relatively simply. Give them a call (find their details here) and arrange an appointment. They can examine your car and the remaining key, and organise for a new key to be ordered, cut and programmed for you. This usually takes one or two days.
If you do not live within close proximity of a Toyota centre, many police forces recommend contacting a member of the Master Locksmiths Association.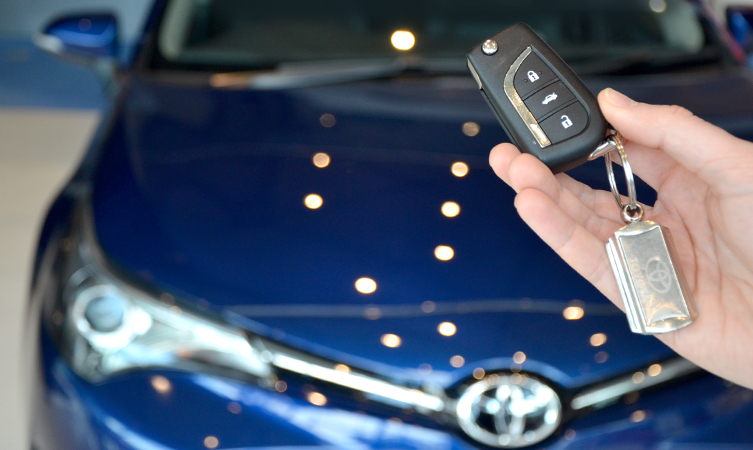 Situation: I've lost all of my car keys
This is a trickier scenario. If you don't have any of your car keys and your car has remote locking or other similar features, it will likely have a code that will need to be reprogrammed. It's also possible that your car will need a new ECU. Toyota has to comply with legal standards when supplying security products, so each process must be carried out by the book.
Due to the security technology within a key and the work involved in getting a new set of car keys, losing all your keys can be expensive. This varies by model but will usually be several hundred pounds or even more. It will also usually take one or two days for the keys to be ordered, cut and programmed.
If you cannot move your car you may need to arrange for it to be recovered to your dealer. And if you do not live within close proximity of a Toyota centre, many police forces recommend contacting a member of the Master Locksmiths Association.
Situation: I've locked my keys in the car
Locking the keys in a car is a rarer problem than a few years ago, as smart entry or keys with transponders make it much harder to do.
However, if you do manage to lock your keys in the car you should call Toyota Roadside Assistance or your breakdown provider.
Best advice: don't lose them!
True, this might not sound very helpful if you have lost your keys, but the best course of action is to not lose sight of them in the first place. Get into the habit of keeping your keys in a regular place. Whatever suits you, as long as it's safe and out of immediate sight.
If your car has so-called 'keyless entry', we recommend not leaving your key fob anywhere close to where you park your car, because it could present an opportunity for thieves to use a device known as a 'relay transmitter' to remotely access your car.
Why are car keys expensive?
While it might seem that cars keys are simple (they just open the car, right?) they are actually pretty complex. This is one of the reasons why Toyota Car Insurance policies include key cover (vehicle, house and office) as one of the many benefits for policy holders.
From remote locking to keyless entry and start for more recent models, a key can contain a sender, receiver, the physical key itself and other parts – most importantly, the coding that lets it only communicate with your car. It's the reprogramming process that costs money, as strict control is needed over codes. Like other manufacturers, Toyota must comply with EU standards.
Depending on the car you have, parts may need to be ordered and this can take time. Re-coding keys can be relatively straightforward but nevertheless takes time and labour.