Own a Toyota Yaris, and you already know that it's a dependable small car, while regular servicing will only help to keep it that way. And where better to get your Toyota Yaris serviced than at a Toyota dealer or approved service centre?
Scheduling regular service appointments, as per your car's maintenance schedule, maintains its health. What's more, it helps to prevent mechanical issues further down the road. With Toyota Yaris servicing carried out by specialist Toyota Trained Technicians, as well as highly-rated customer service from our dealer network, the Toyota service network is the perfect place to keep your Yaris in top condition.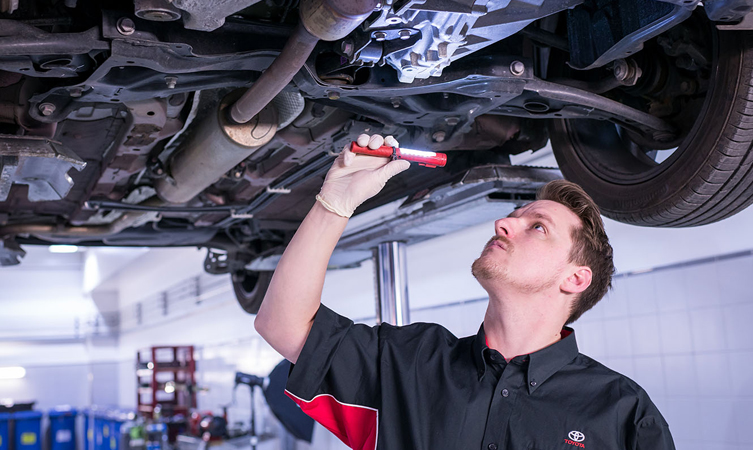 All Toyota Yaris models have annual service intervals of every 12 months. Hit the maximum mileage limit before the year is out, and your Yaris will need a service then. To find out the annual mileage limit for your Toyota Yaris, we've listed the maximum for each version here.
Book your Yaris into a service centre, and it will be treated to a thorough inspection. This includes a 37-point Vehicle Health Check, while only Toyota genuine parts will be used to replace worn items. If your car is more than three years old, then your Toyota service centre can also carry out an MOT test. This can be part of its annual service, or as a separate booking.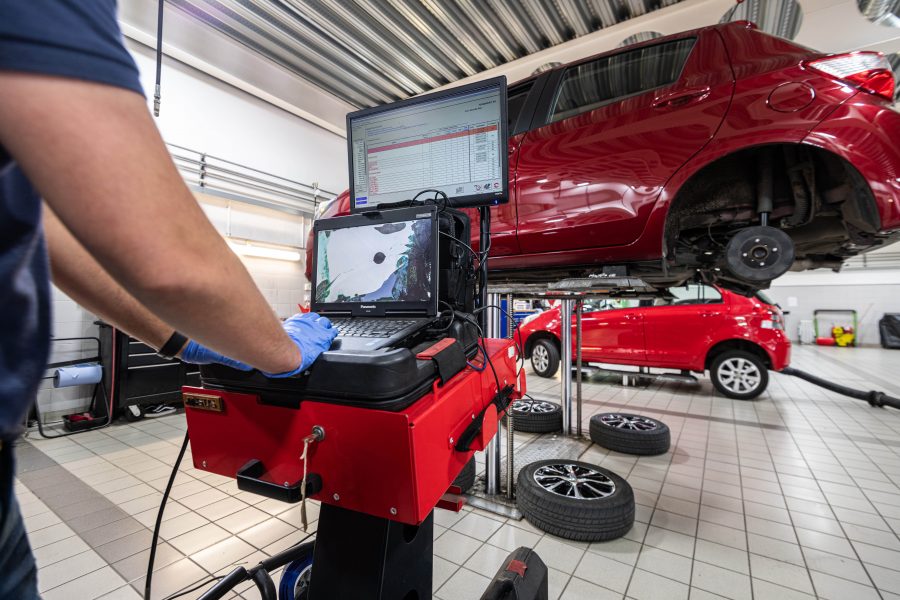 If you drive a Toyota Yaris Hybrid, then you also benefit from Toyota's Hybrid Electric Service. This is an extra health check (at no extra cost) for your car's hybrid battery and electrical system that will ensure everything is working correctly. In addition, the car's battery warranty is extended by 12 months for up to 15 years of coverage.
Toyota 10-year warranty
Every new Yaris is eligible to be covered by up to a 10-year/100,000 miles (whichever comes first) Toyota warranty. This is provided through an initial three-year manufacturer warranty, and up to an additional seven-year service-activated Toyota Warranty. Under Toyota Warranty, a 12-month/10,000-mile warranty is included with every Toyota service, giving you a chance to relax in the knowledge that you and your vehicle are in safe hands. Terms and conditions apply.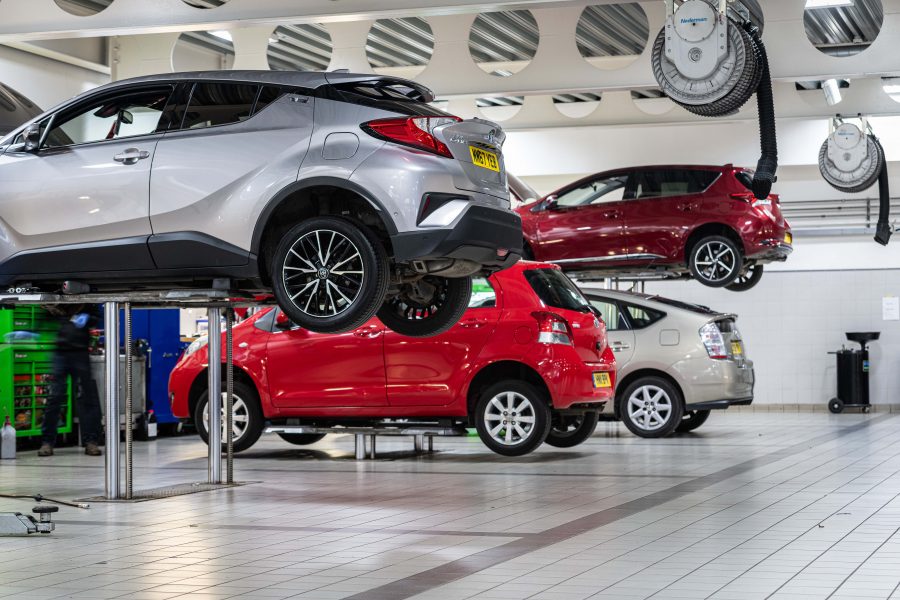 Toyota Yaris Service Plans
To help with the cost of maintenance, Toyota offers service plans that can help you manage your finances. A service plan can last for 24 or 36 months – so it will cover two or three services. These plans help to spread the cost of servicing, so you're not left with a big bill to stump up when you collect your car.
To find out how much a service plan costs for your car, simply enter your car's registration and mileage, and the Toyota Service Plan calculator will do the rest. As well as service costs, the calculator also offers extras such as Toyota Roadside Assistance and can also include your MOT costs.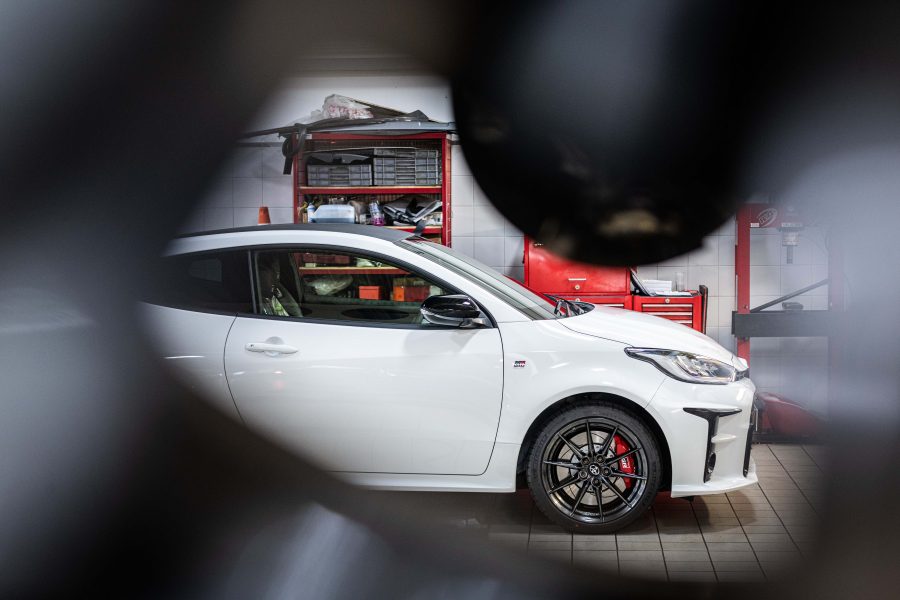 DIY maintenance of your Toyota Yaris
If you own an older Toyota Yaris, are handy with a set of tools and looking to save money on maintenance, then there's nothing stopping you from carrying out your own servicing. Even if your car is out of warranty, Toyota can still help with providing parts for your car via our official eBay store. These parts are fully approved by Toyota, and they come with a 12-month warranty coverage, subject to terms and conditions.
What happens in a Toyota service?
Toyota Yaris servicing alternates between Intermediate and Full services, with the latter providing a comprehensive inspection of the car's mechanical, electrical and safety equipment. Depending on the age of the Yaris (and whether it's petrol, hybrid or diesel), this includes:
Replacement of the engine oil and oil filter, windscreen washer fluid, air filter, brake fluid, pollen filter and the battery of the remote-control keyfob.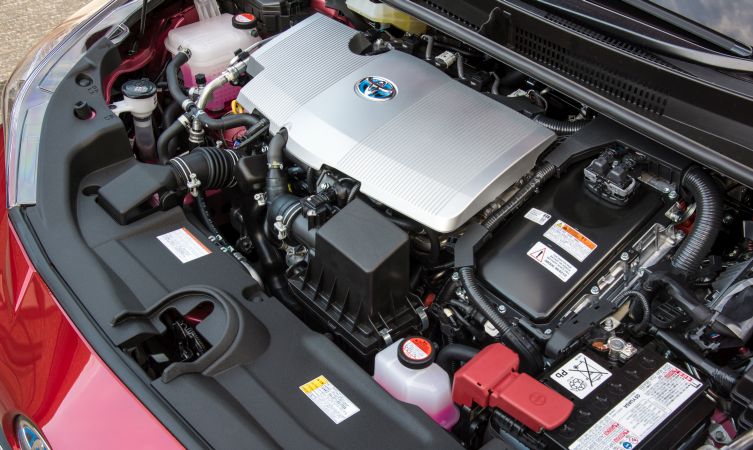 Checks of all fluid levels (and topped up as required), brake pipes and hoses, the exhaust, wheel rim damage and wheel nut tightness, handbrake operation, brake pedal travel, lights, horns, wipers & washers, the function of all warning lights, seat belts for damage & operation, installation of the driver's floor mat and the operation of the alarm.
Inspection of the 12-volt battery, cooling system, radiator and condenser, engine and inverter coolant, valve clearances, brakes, fuel system, automatic transmission fluid, steering wheel, gear & linkages, drive shafts, ball joints, wheel alignment and bearings, suspension, tyres, glass and light lenses.
Finally, and if possible, your Yaris will be washed and vacuumed, and a visual safety report will be made.
Toyota Yaris repairs